What is the FBI government block on tablet? My friend was recently using my Samsung tablet and I think he was looking up porn and he tried copying the link of the video he was watching and he got this FBI moneypak virus warning message on my android tablet saying we need to pay $500 or we will be fined? What to do if a friend has borrowed your android tablet and you get it back and there's a message of illegal porn? So I had paid for it, it said wait for 24 hours than my tablet was able to be used again but as soon as I tried to use it it went to photos of pornography and has been frozen there, I am unable to get out of it or turn off my tablet please help. I got a pop up virus of a marshalsgov claiming I was watching child porn which I wasn't and wanted me to pay 500 dollars. I didn't think this was real and looked up if this happened to anyone else and I found that it did. They said it's not real and I have to take it off step by step. How do I do this? Help! My Samsung tablet was hit by this FBI Moneypak virus and it was blocked completely. I can't do anything on my tablet, as all I saw on the tablet screen was the scaring FBI warning message saying "Your tablet has been blocked". The fake FBI alert took over my whole tablet and it asked me to pay a fine ranging from $100 to $500 to unlock device. It listed up details of my violation of related laws, claiming that I would be caught by the police and go to jail once I didn't submit the fine within certain time. I was really scared and worried about my tablet situation. What should I do if I receive A message saying my tablet is seized by the FBI police government and I need to pay 150 through money gram? I went to get on my android tablet Samsung galaxy and I use the browser to get on Facebook and it popped up some porn thing and said it was downloading something to my Samsung tablet, then I hit cancel and it popped up something about PayPal and something illegal was viewed. And I hit cancel and it popped up some FBI saying my camera is now recording and I'm concerned! It locked my tablet up and I didn't download what it asked. I can't remove this FBI Moneypak virus off my tablet. How do i do it? My husband's tablet got locked saying he watch some kind of child porn which he didn't and now it says that he needs to pay $500 is that true? I was on the Internet and got a pop up notification with my android tablet location and it said something about pornography and if I do not pay 500$ they will lock my tablet. I googled what this is and I found this website that said you might be able to help me. Is the FBI Moneypak thing a fake police alert or reliable one? How to unlock my tablet from this FBI Moneypak malware? Any FBI Moneypak Ransomware removal on tablet will be highly appreciated.
A Description of Tablet Locked by FBI Moneypak Virus Scam
The FBI Moneypak Virus turns out to be a horrible Ransomware virus which targets computers, smartphones, tablets and other possible devices. Nowadays, it becomes a big problem to tablet users all over the world. Tablet becomes a popular and convenient device for worldwide users to enjoy Internet browsing tasks. Many users are apt to surf the Internet, play games, watch videos and make e-payment on their tablets of different brands including Samsung, Sony, HP and Dell and so on. However, tablet is not always secure for users to perform online activities. Any of your improper online activities, such as visiting malicious sites, reading spam email attachments and downloading doubtful freeware etc. will cause your tablet to be blocked by this FBI Moneypak virus unexpectedly. As a matter of fact, cyber criminals have well explored the tablet market and found out loopholes of tablet to load with various versions of this FBI Moneypak malware. Once you pick up this Moneypak virus on your Samsung, Dell, Acer, ASUS and Sony, etc. tablets, you won't have access to tablet programs or settings. Every time you turn on your affected tablet, you just see this FBI virus alert covering your whole tablet, saying "Your tablet has been blocked". Absolutely, this FBI alert is fake and false, only to trick you into its scam. To save your tablet, users should take actions to get rid of this FBI moneypak Ransomware virus completely.

Originally, the FBI Moneypak virus is designed to attack tablet users located in America. As a risky malware, it has been changed into different variants which are capable of targeting worldwide tablets. It shares same features with other different malwares like AFP virus, Vanilla Reload virus, RCMP virus and U.S.A Cyber Security virus etc. to perform malicious actions on victimized tablets (Samsung, Sony, Dell, Toshiba and HP etc.) on purpose. Upon arrival, the FBI virus blocks your tablet and demands you to submit a fine ranging from $100-$500 to get your device unlocked. To make victims scared, the FBI moneypak malware claims that your tablet has been blocked due to your violation of copyright and related rights law (downloading of pirated music, video and software). Any delay of submitting the ransom will cause you to suffer from a punishment of deprivation of liberty for terms 5 to 11 years. However, this FBI moneypak warning message is nothing legitimate but a harmful tablet malware itself.
Soon as the FBI Moneypak virus seizes your tablet, it blocks your access to anything stored on the tablet. If you send money via its fake payment system to submit the fine, you will lose your money and leave your tablet to be damaged terribly. Indeed, you should not trust this FBI Moneypak malware or pay the $100-$500 penalty, but all you should do is to uninstall the FBI malware from your tablet immediately. How to unlock your tablets (Samsung, Sony, Dell, Toshiba and HP etc.) from this FBI Moneypak virus? Since the FBI moneypak malware is changeable, it is able to bypass your security programs installed in the tablet. Actually, there is not any perfect anti-virus program will protect your tablet against such a risky malware. In this case, the FBI moneypak virus should be removed from your tablets (Samsung, Sony, Dell, Toshiba and HP etc.) manually and promptly.
If you find any symptoms listed above showing on your tablet, then your tablet must be suffered with a malware infection (which can be Vanilla Reload virus, FBI Moneypak virus, Prism virus, U.S.A Cyber Security virus, AFP Crime Commission virus and GVU Ukash Virus etc.) that blocks your access to your tablet. Welcome to contact YooSecurity Online Experts for manual removal guide. Also, we will provide a short removal guide below for tablet literate.
NOTE: Being afraid to do any wrong operation during the process of removing this FBI moneypak virus? Please contact YooSecurity Online Experts, we are here to help you:


A Screen Shot of the FBI Moneypak Virus Scam Alert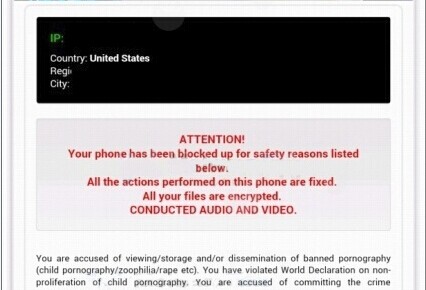 Danger of This FBI Moneypak Ransomware Virus
#The FBI Ransomware is designed to lock your tablets of different brands like Samsung, Sony, HP and Dell etc. and it asks that you need to pay for a fine to unlock your device. In fact, it is just a big scam.
#It locks your tablet, claiming that you've violated the law of local office by visiting illegal information online.
#Soon as the FBI Moneypak malware scam targets your tablet, it blocks your device and prevents you from doing anything there.
#It allows remote access to your tablet for your personal information and other sensitive information.
FBI Moneypak Virus Manual Removal Guide on Tablet
1. Since your Tablet is blocked by this FBI malware virus, you will need to restart your tablet to safe mode which starts up without loading any third-party add-ons. By this way, you are capable to carry out malware removal steps on your tablet. Here are two examples for you to put your tablet to safe mode. Take Dell Tablet as an example:
For Dell tablet: 1) Power down. 2) Turn on till you see the Vendor's logo, press and hold Volume Down key till you access to safe mode.
Note: Samsung, Sony, HP and other brands' tablet users can also try the same way as Dell's to put your tablet to safe mode. If you have put your tablet to safe mode successfully, you should see a text "Safe Mode" at the bottom left corner.
2. Once you have put your tablet in safe mode, you are capable to uninstall malicious apps you're your tablet. However, the manual removal process of harmful apps requires sufficient expertise. To safely deal with the FBI virus and other hazardous apps, you had better contact an expert online for further removal help.
Conclusion
My Galaxy tablet has an FBI scam virus on it that doesn't let me access any of the functions on my tablet. As soon as I get it to restart, within 10 to 15 sec the virus pops up and dosen't allow me to exit, what should I do? Tablet users should have been cautious at your online activities on your Samsung, Sony, Dell, HP and other brands' tablets, as the tricky FBI Moneypak virus mainly spreads through network and it is capable to seize worldwide tablets. Can you be put in prison for watching adult porn on tablet by FBI? Well, I have a fake FBI notice spamming my safari app threatening me to pay 500$. It wont let me gain control of my safari app at all. I am trying to take it off. I was on Facebook and I received FBI warning saying that I was watching child porn. It said I had to pay a fine of 500 and that my Apple ID will be locked until I pay the fine, how to remove fbi moneypak virus on samsung tablet? I clicked on a link on Twitter for how someone broke their leg or something and it took me to this page and I got a fake FBI warning that I was being watched and stuff because I was looking at child porn or something? How do I get rid of this crap? The FBI malware can be changed into different vicious versions like GVU Ukash virus, AFP virus, Interpol virus and ICSPA virus etc. Indeed, it becomes a great threat to worldwide tablet users. Once the FBI Moneypak malware gets downloaded to your tablet, it will block your whole tablet screen and demands victims to submit a fine ranging from $100-$500 to unlock your device. To make you convinced, it displays fake information telling that you are accused of violating copyrights and related laws rights. Actually, this FBI Moneypak alert is nothing reliable but a malicious tablet malware which should be removed immediately. To regain a clean tablet, tablet users should figure out a prompt manual removal way to get rid of the FBI virus scam as early as possible.
Suggestion: Have spent a lot of time but can't get out of FBI Moneypak virus scam on your tablet? Contact online experts for tech support now!


Published by Tony Shepherd & last updated on February 7, 2018 6:12 am