Some FBI site pop on my screen saying I was a criminal and I should pay 500.00 dollars in three days. I was browsing and things kept popping up up. I search online just know I got the FBI Prism Virus on my phone and I don't know how to remove it?
I have a Samsung note 4 and downloaded a video player and it has a FBI prism virus warning page and locked up my phone, and the notice on the screen is about watching illegal porn. I haven't. How can I fix this? I have read about this virus which can hack into sensitive files. I have a Samsung Galaxy S5 which was blocked by the Prism ransomware yesterday. I was on my cell phone going thru the internet saving some bookmarks and downloading a few videos, all of a sudden I picked up this Prism virus on my Android phone. All I saw on the phone screen is the Prism warning message saying "Your Phone has been blocked". It claimed that I was accused by cyber security and required to pay a fine of $300 to unlock device. Is it a real police alert or fake one? Am I really involved in a cybercrime? How do I get rid of this Prism warning message from my android phone? I need my cell phone unlocked as i have important pictures on it. I really need help! Any Android phone unlock guide will be highly appreciated.
A Description of Phone Locked by Prism Virus Scam
The Prism Virus, also known as NSA Internet Surveillance Program Scam, is a horrible Ransomware virus scam that is designed by cyber criminals to perform malicious actions on target devices. Apart from targeting computers and mac machines, this Prism virus has been changed into different variants such as FBI Department of Defense virus, AFP Crime Commission virus, Interpol virus and GVU Ukash Virus etc., which are capable to affect Android devices of different brands like Samsung Galaxy, HTC and Motorola and so on. Cyber criminals have well explored the phone market and found out loopholes of mobile devices, which makes this virus scam possible to target phone users all over the world. These cyber hackers obtain tricky tactics to distribute this PRISM virus through network. So phone users may pick up this prism scam on your phones running with Android and Mac OS X accidentally during your Internet searches. For example, you may be hit by this alert when you read e-books, make e-payment and visit doubtful sites on your smartphones. Upon arrival, the malware can be downloaded on your Android phone automatically. It blocks up your Android device and demands you to pay a fine of $300 to unlock device. However, this Prism alert is totally fake and false, only to trick you into its scam. Indeed, the Prism virus should be removed from your Android phones (Samsung, HTC and Motorola) immediately.

As designed by cyber criminals, the Prism Ransomware virus keeps running in your Android phone and displays a fake police alert saying that your phone has been blocked and you are accused of violating copyright and related rights law (downloading of pirated music, video and software). According to the Prism alert, phone victims are demanded to submit a fee of $300 through greendot moneypak, or you will be involved in a punishment of deprivation of liberty for terms 5 to 11 years. Many phone victims are extremely scared and go ahead to submit the fine through non-existing payment system without giving it a second thought. If you ever trust this Prism malware scam and send the fine of $300, you will lose your hard earned money and leave your phone to be damaged miserably. It is a fact that this Prism virus (also called NSA Internet Surveillance Program Scam) is nothing legitimate but a phone malware itself.
How to unlock your Android phone from this Prism virus scam successfully? Once the fake Prism blocks your phone, it won't allow you to access any app on victimized device. Besides, there is seldom security app will help you deal with the risky malware even if you have chance to download one on your affected Android. Absolutely, the Prism malware has been designed to bypass security detection to target your smartphones aggressively. To save your Android phone like Samsung Galaxy and HTC one, phone users should get rid of the Prism virus/ NSA Internet Surveillance Program Scam manually and promptly.
If you find any symptoms listed above showing on your Android phone, then your phone must be suffered with a malware infection (which can be Vanilla Reload virus, FBI virus, Prism virus, U.S.A Cyber Security virus, AFP Crime Commission virus and GVU Ukash Virus etc.) that blocks your access to your Android. Welcome to contact YooSecurity Online Experts for manual removal guide. Also, we will provide a short removal guide below for Android phone literate.
NOTE: Being afraid to do any wrong operation during the process of removing this Prism malware virus? Please contact YooSecurity Online Experts, we are here to help you:


The Screen Shot of Prism Virus/ NSA Internet Surveillance Program Scam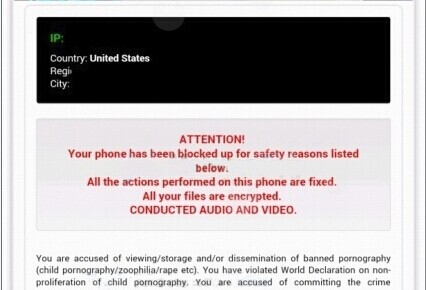 Danger of This Prism Ransomware Virus
#The Prism Ransomware is designed to lock your Android phone asking that you need to pay for a fine to unlock your device. In fact, it is just a big scam.
#It locks your Android, claiming that you've violated the law of local office by visiting illegal information online.
#Soon as the Prism virus targets your phone, it blocks your device and prevents you from doing anything there.
#It allows remote access to your Android device for your personal information and other sensitive information.
Prism Virus Manual Removal Guide on Android Phone
1. Since your Android phone is blocked by this Prism malware virus, you will need to restart your phone to safe mode which starts up without loading any third-party add-ons. By this way, you are capable to carry out malware removal steps on your Android. Here are two examples for you to put your Android phone to safe mode.
a. For Samsung Galaxy S5 and others: 1) Power down. 2) Turn on till you see the Vendor's logo, press and hold Volume Down (Galaxy S3 and others), Volume Up (HTC One and others), or Volume Down and Volume Up together (various Motorola devices).
b. For Samsung Galaxy S4: 1) Power down your Android phone. 2) Turn on and repeatedly tap the soft-button for "Menu."
Note: If you have put your Android phone to safe mode successfully, you should see a text "Safe Mode" at the bottom left corner.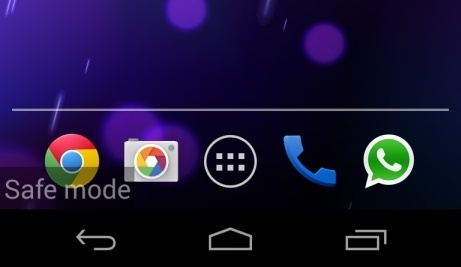 2. Once you have put your phone in safe mode, you are capable to uninstall malicious apps you're your Android phone. However, the manual removal process of harmful apps requires sufficient expertise. To safely deal with the Prism virus and other hazardous apps, you had better contact an expert online for further removal help.
Conclusion
Android phone users who suffer from this Prism virus scam should be aware of its high threat level and go ahead to remove it from the affected Android immediately. As this Prism virus blocks your access to target phones and asks you to submit a fine of $300 through fake payment system. It displays fake police alert saying you've violated copyrights law and related laws, leading to your Android blocked by the Prism Ransomware. Such a Prism alert is not from any law enforcement agency as claimed, but it is a risky phone malware/virus which brings great troubles to phone victims. Whenever you suffer from this virus, you should not send any money through non-existing greendot moneypak to supposedly unlock your phone. All you need to do is to uninstall the Prism malware/ NSA Internet Surveillance Program Scam from your Android phone quickly. Since there is not any perfect security app that helps you deal with the Prism virus, manual removal is considered to be a better choice.
Suggestion: To follow removal guide that mentioned above, a level of Android phone knowledge is needed. Still can't get out of Prism virus scam? Contact online experts for help now!


Published by Tony Shepherd & last updated on January 24, 2017 8:24 am