I was looking at adult content and a page popped up saying i was watching child pornography. It says I have 3 days to pay $500. I was not watching anything with children. It is my android SamSung j7 was hacked by FBI Vanilla Reloadcard Virus, I didnt visit any illegal website, It appears in my screen by his own. My Android phone has just received this FBI Vanilla Reloadcard alert saying "Your phone has been blocked". My phone is a Samsung Galaxy S5 which I bought five days ago. I tried to make e-payment on the Android when I picked up the scaring FBI Vanilla Reload warning asking for a fine ranging from $100 to $500 to unlock my device. I can't close the FBI warning page or access any app on the phone. What shall I do? Is it a real Vanilla Reloadcard notification from a law enforcement agency or just a phone malware scam? If it is a fake FBI Vanilla Reload alert, how can I get it off my Android phone? I'm just sending a message because a couple of days ago, i got some fake pop up blocker accusing me of watching illegal pornography. it demanded $500 or something, claimed it was FBI, multiple windows with porn ads popped up and then this blocker with all of these fake articles/laws telling me they've caught me viewing illegal pornography, which obviously, i was not doing. Do these people have access to other info of mine now? If you have tried but to no avail, please go over this post and unlock your Android phone from the virus scam manually with following removal tips.
Description of FBI Vanilla Reloadcard Virus on Android Phone
FBI Vanilla Reloadcard virus is a dangerous ransomware which is similar to DOJ virus, FBI Maneypak virus, AFP virus or RCMP virus etc. It now also targets on phones with android system and Mac OS X system. And more and more phone users now are trouble with this virus. Once FBI Vanilla Reloadcard virus infects your phone, it will lock your phone and start showing a huge warning message which occupies the whole screen and asks you to pay a ransom via MoneyPak, Vanilla Reload or RELoadit prepayment systems within a limited time. It performs evil activities as what DOJ virus, FBI Moneypak virus does on the phone. FBI Vanilla Reloadcard malware pretends to be FBI or some legitimate law enforcement agency or branch of government to display a fake police warning telling that your phone has been blocked due to your violation of United States of America law and you are accused of breaking the law and involving such activities as distributing and sharing copyright material, sending spam email messages, and distributing pornographic material online, and you are demanded to pay a fake fine of $100-$500 to unlock your phone within a limited time. FBI Vanilla Reloadcard malware also displays a threatening message that you are obligated to pay a release fee of $100 or more within 24 hours or 72 hours, otherwise your device is still locked and you may undertake legal consequences. Many people, even some clearly know they don't do anything bad, will be freaked out and pay the fine without a second thought as it requires, because they scare and are worried about facing prosecution or being caught by police. Actually this virus has nothing to do with FBI or legitimate law enforcement agency or branch of government. FBI Vanilla Reloadcard virus just wants to scare you by blocking infected phone and displaying fake message in order to cheat you into paying the fine. Even though you send the fine, your phone is still locked. Don't be such a fool, but instead you should take prompt actions to kick it off from your phone.
FBI Vanilla Reloadcard virus is widely distributed online, which increases a high risk of getting infected with this ransomware when you surf online on your phone. Most people get infected with FBI Vanilla Reloadcard virus by browsing unsafe websites. Cyber hackers can upload this virus files to websites that they have already hacked into. Those websites could be porn web pages, game website, gambling website, music and video websites, and so on. There might be several malicious links, flash pictures, ads, fake security alert or fake software updating message. For example, it may pop up a message that your Java, Music or Video Player is outdated and if you want to continue to browse this page, you need to update your application right now. If you don't make a second thought but just choose to click to update, you may really let this virus get a chance to access your phone. Once FBI Vanilla Reloadcard malware gets downloaded, it can be automatically activated right away. This virus will change some system settings of your phone while getting on your device. Thus FBI Vanilla Reloadcard malware can control your phone to display a warning message that occupies the whole phone screen which can't be closed or minimized. Phone users can't even use the power button to shut down the infected phone. Therefore, you should be cautious when you surf online on your phone. Don't usually visit suspicious websites or carelessly click malicious links. Don't trust or click fake messages popping up suddenly from webpage.
You must notice that if your phone is infected with FBI Vanilla Reloadcard virus, it will be hard for you to remove it with security tool completely, because there is no perfect antivirus to kill threats on phone and also this virus is very tricky and can escape from security apps. In this case, removing it manually with sufficient expertise online is the best way for phone users to completely eliminate it from android phone.
Main Traits of FBI Vanilla Reloadcard Virus on Android Device
1. It is designed to lock your Android phone asking that you need to pay for a fine from $100 to $500 to unlock your device. In fact, it is just a big scam.
2. It locks your Android, claiming that you've violated the law of local office by visiting illegal information online.
3. As soon as this virus targets your phone, it blocks your access to your device and prevents you from doing anything there.
4. It allows cyber criminals to remote access your Android device for stealing your personal information and other sensitive information.
If you find any symptoms listed above showing on your Android phone, then your phone must be suffered with a malware infection(which can be this FBI Vanilla Reloadcard virus, FBI virus, Australian Federal Police virus and RCMP Ukash virus etc.) that blocks your access to your Android. Welcome to contact YooSecurity Online Experts for manual removal guide. Also, we will provide a short removal guide below for Android phone literate.
NOTE: Being afraid to do any wrong operation during the process of removing this FBI Vanilla Reloadcard virus from Android phone? Please contact YooSecurity Online Experts, we are here to help you:


A Screenshot of FBI Vanilla Reloadcard Malware Blocked Android Phone

FBI Vanilla Reloadcard Virus Manual Removal Guide on Android Phone
1. Since your Android device is blocked by this FBI Vanilla Reloadcard virus, you will need to restart your phone to safe mode which starts up without loading any third-party add-ons. By this way, you are capable to carry out malware removal steps on your Android. Here are two examples for you to put your Android phone to safe mode.
a. For Samsung Galaxy S4: 1) Power down your Android phone. 2) Turn on and repeatedly tap the soft-button for "Menu."
b. For Samsung Galaxy S3 and others: 1) Power down. 2) Turn on till you see the Vendor's logo, press and hold Volume Down (Galaxy S3 and others), Volume Up (HTC One and others), or Volume Down and Volume Up together (various Motorola devices).
Note: If you have put your Android phone to safe mode successfully, you should see a text "Safe Mode" at the bottom left corner.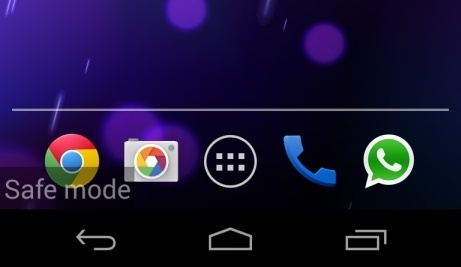 2. Once you have put your phone in safe mode, you are capable to uninstall malicious apps you're your Android phone. However, the manual removal process of harmful apps requires sufficient expertise. To safely deal with the FBI Vanilla Reloadcard virus and other dangerous apps, you had better contact an expert online for further removal help.
Conclusion
Android phone users who suffer from this FBI Vanilla Reloadcard virus should figure out a feasible method to get it off your phone immediately. As the risky malware scam has been designed to block your phones running with Android and Mac OS X and swindle money from unknown victims. The interface of the FBI Vanilla Reloadcard alert seems quite reliable, for it lists up details of your violation of copyrights and related laws on the warning page. In order to collect fake fines, it demands you to pay a big amount of fine through non-existing payment systems like Moneypak, Vanilla Reload and so on. There is seldom chance that you can unlock your Android phone by submitting the fake fine which is actually collected by cyber criminals. The Vanilla Reloadcard warning is nothing legitimate but a malicious phone malware that needs to be deleted completely. It has been modified into different variants which are possible to target phone users all over the world. Since the Vanilla Reloadcard malware is hardly removed via any security app, phone users had better uninstall it manually.
Kindly Reminder: Have tried many ways but still can't get rid of FBI Vanilla Reloadcard virus on phone? Contact online experts for help now!


Published by Tony Shepherd & last updated on February 7, 2018 8:19 am