Does the Antiviral Factory 2013 Virus pop up on your computer persuading you to purchase the full version of this program? Do you have other antivirus protection tools installed on the computer? Have you ever given permission for this application to install on the computer? Does it keep displaying constant security alerts while other programs remain quiet? Can people trust this sudden pop up Antiviral Factory 2013 software? How to stop it from blocking other programs to run?

Antiviral Factory 2013 Virus – How to Remove Rogue Antispyware
Antiviral Factory 2013 Virus is believed to be a newly released rogue antispyware which can attack PC users who have Windows OS installed on their computers. Pretending to be a legitimate antivirus application, it tries to get as many PC users as possible to purchase the full version of the program via threatening to them that their computers have been infected with many viruses. With a deceitful appearance, Antiviral Factory 2013 rogue can fool lots of innocent computer users and help cyber criminals benefit. As a matter of fact, this isn't a rare situation. Rogue antispyware like Attentive Antivirus Virus has also been reported to attack PC users in these days. Both programs are playing the same trick here to scam PC users from all around the world. When having this Antiviral Factory 2013 software popped up on your computer, please be careful and do not believe anything this rogue antispyware says. It will just end up scamming money instead of helping you get rid of all the infections on your PC and providing future protections.

Even though it's not a new issue for PC users, it is certainly a tough one. Rogue antispyware can be created by computer hackers every once in a while and be released on the Internet waiting for their victims to step into the traps. The Antiviral Factory 2013 Virus, being able to distribute on the Internet via malicious links and pages, free programs and spam attachments, can show up on computers located in different places. And because of that, it doesn't need approval from PC owners to get installed. Computers that run Windows OS are the major targets of this scam. It is potentially unwanted by many users.
When the infection is done, this Antiviral Factory 2013 can set itself as a start-up process of the system which will help it launch its program automatically each time the computer is turned on. It's very confusing that the program looks like a legit antivirus and performs like one. When the PC starts, it will pop up out of nowhere and start running security scans through your computer pretending to help you protect the system. Each time you try to stop this scanning process, you will find it impossible to do so because the Antiviral Factory 2013 Virus screen will keep popping back up which has somehow prevented you from running other programs on the computer. Many infections will be detected by this software and constant security alerts will be generated at the same time. By the end of the security checks, Antiviral Factory 2013 rogue will report many infections to you. Do not be fooled by these fake reports! It's just trying to scare you so as to scam you. After you have tried all means with no success of removing all the fake infections, you will be required to purchase the "Registered" version of this Antiviral Factory 2013 if you need help from it with a complete removal. But once the payment is entered, nothing will change and neither will your computer receive further protection.
To completely remove this Antiviral Factory 2013 Virus from your computer, contact YooSecurity Online PC Experts for removal help if you are not a PC expert yourself but want this unwanted pop up rogue off the PC ASAP.


Antiviral Factory 2013 Rogue Screen Shot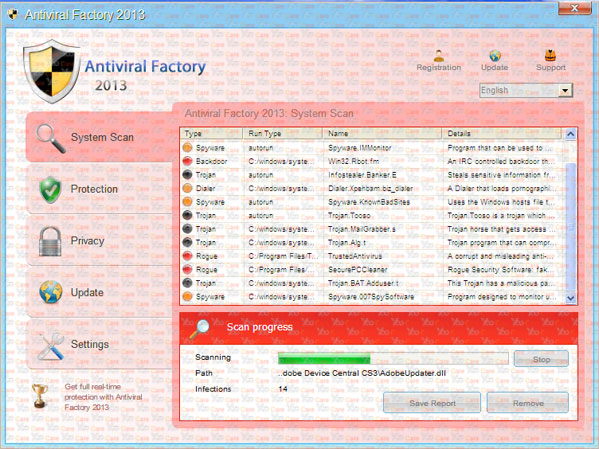 Fake Antiviral Factory 2013 Firewall Alert Screen Shot
Consequences To Be Experienced With Antiviral Factory 2013 Virus
When the infection is done, Antiviral Factory 2013 rogue can modify the default structures of the system for its own good. Victims can get unpleasant experiences when using the infected computers:
1. This rogue antispyware will automatically pop up running security checks through the system and detect many fake infections on the computer;
2. PC users will be prevented to run other executable programs on the computer because of the constant pop up virus screen;
3. Constant security alerts will also be displayed to get PC users to sign up for the "Registered" version of this rogue;
4. System will be frozen more often and CPU usage is usually high;
5. Cyber criminals can benefit from the money spent on the fake full version of Antiviral Factory 2013.
Fake Antiviral Factory 2013 Manual Removal Guide
Note: Usually, it's hard for PC users to run other programs on the infected computers due to the block of this Antiviral Factory 2013 Virus. A manual removal is suggested here as it can guarantee a complete removal. Expertise will be required during the removal process to deal with the changeable virus files and entries:
Step 1: Press Ctrl+Alt+Del at the same time to open the Windows Task Manager; go to Processes tab on top; then End processes associated with fake Antiviral Factory 2013 or processes that are not belonging to system.

Special tips: If Windows Task Manager has been disabled under normal mode and other programs can't be run because of the constant pop-up Antiviral Factory 2013 Virus screen, please try to restart the infected computer into Safe mode with Networking first. To put the computer in Safe mode with Networking, please hit F8 key repeatedly while system is booting up BUT before it's logging in till you get advanced options on a black screen; use arrow keys to highlight Safe mode with Networking option and hit enter key to proceed system loading files into that mode.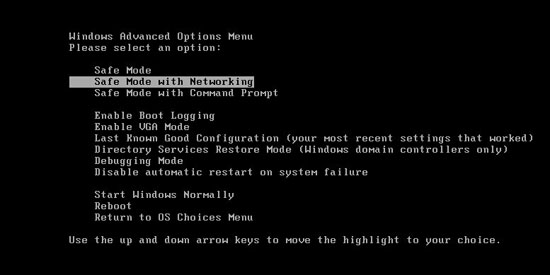 Step 2: Open Control Panel from Start menu. Go to Uninstall a program list, scroll down and find this rogue program to Uninstall.

Step 3: Open Control Panel from Start menu. Go to Folder Options and under View tab, select Show hidden files and folders and non-select Hide protected operating system files (Recommended) then click OK.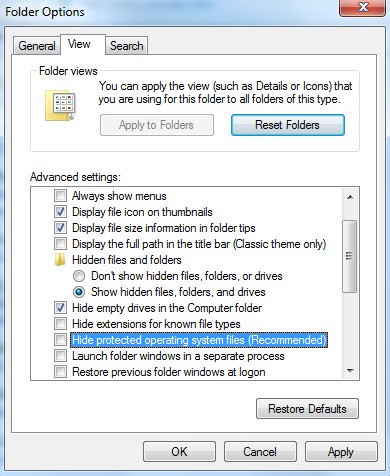 Step 4: Pull up Run box by hitting Windows+R keys then type regedit to open Registry Editor. Delete all the files related to the Antiviral Factory 2013 Virus.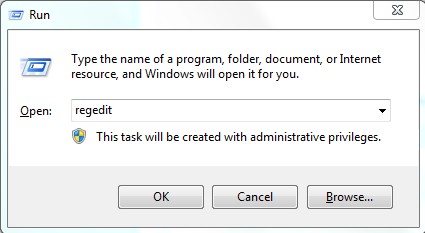 Step 5: Restart the system to take effects and see if the rogue screen still pops up after the removal.
Video Guide to Remove Rogue Antiviral Factory 2013 In Registry Editor
Conclusion
Antivirus applications are created to help PC users protect their machines from the attacks of viruses or malware. But ordinary computer users often confuse these programs with fake antivirus applications like this Antiviral Factory 2013 Virus. We can see that the rogue software also looks like a legitimate antivirus program. However, it only shares similar looks with authentic antivirus programs. Its behaviors on targeted computers will give it away. First of all, the installation of this rogue doesn't need permission from PC users as it can be distributed on the Internet via many malicious resources or mediums. Once installed, it will automatically pop up and run security checks through the system to detect lots of errors and infections which are actually fake. By reporting these fake results to you, this Antiviral Factory 2013 rogue is trying to get you to sign up or activate its full version so that it can help you remove all these detecting infections and provide further protections. However, such full version does not exist. If you pay, you will be helping cyber criminals benefit. Hence, the Antiviral Factory 2013 rogue should not be trusted and should be removed from the computer ASAP.
Notice: Have spent hours on the removal with no success? Please contact YooSecurity Experts now to get further assistance on a complete removal to save your computer from all the potential troubles.


Published by Tony Shepherd & last updated on August 15, 2013 4:00 am