What is Cheshire Police Authority Ukash Virus? I have the Cheshire Police malware virus on my mac book pro it seems to be only affecting my Google chrome and i am also unable to shut down my computer. I was really scared the other day when my computer was locked! What happened was that my computer screen suddenly got completely locked while I was watching online movie. The locking screen was titled with Cheshire Police Authority United Kingdom Police Police Central e-crime Unit PCeU. It was telling me that I violated some laws and would be in trouble unless I paid to unlock my PC. But I was pretty sure that I haven't done anything it said! Computer blocked by United Kingdom Police virus pop up asking for £100 fine? How to get rid of this Cheshire Police Authority pop up? How to unblock computer from Cheshire Police Authority Ukash scam?

Is Cheshire Police Authority Ukash Legit?
Cheshire Police Authority Ukash (also known as the obnoxious PCeU virus/United Kingdom Police Ukash virus) is known to be a huge and common online scam in these days that is similar to the ICE (ice) Cyber Crimes Center virus. With the big United Kingdom Police in the title and specific reasons listed on the page, this Ukash virus sure has scared a lot of computer users especially when legal laws and regulations are involved. This version of the Ukash virus specifically targets PC users from the United Kingdom and some other European countries. If you happen to be familiar with other online scam viruses, you'll know it's not that big a deal. As a matter of fact, it is the same old trick by threatening computer users and forcing them to pay to unlock. If your computer by any chances has been locked by this Cheshire Police Authority Ukash scam, please do not panic or be tricked into paying the £100 fine to get your PC unlocked. Some online researches or chats with computer experts will assure you that it is indeed a virus! It's not legit at all! And there isn't such block-your-computer-and-pay-to-unlock real thing from the real police or organizations. All you have to worry about is how to get rid of this nasty ransomware.

Similar to other ramsomware viruses in the same category, this Cheshire Police Authority PCeU ukash virus also contains the following contents on its warning page. First of all, your IP address, country, location and even your personal picture will be listed to make it more real. Then reasons of computer being blocked will also be given in the warning and usually Copyright and Related Rights Law is mentioned. You will be accused for viewing or distributing prohibited Pornographic content online and so forth. Next, a fine of certain amount, in this Cheshire Police Authority Ukash case it's £100, will be required from you in order to unlock your computer and get you out of legal issues. Methods of payment including PaySafeCartd, Ukash, Voucher or MoneyPak will be given right after that. Generally, these are the main contents in this kind of ukash scam. PC hackers who create this Cheshire Police Ukash thing can add any more contents to make it look real and legit so that more computer users will be scammed. One should know that paying the requested fine will not help unlock computer; instead, the spent money will be wasted as PC hacker will be the one who benefits in the end.
Don't want to pay £100 to this Cheshire Police Authority Ukash virus but have no idea how to unlock computer since anti-virus is your only chance to help but now you have been totally blocked out of the infected computer? Contact Online PC Expert now for removal assistance and get rid of this online scam ransomware ASAP.


A Screen-shot of This Fake Cheshire Police Authority Ukash Virus – United Kingdom Police Ukash Message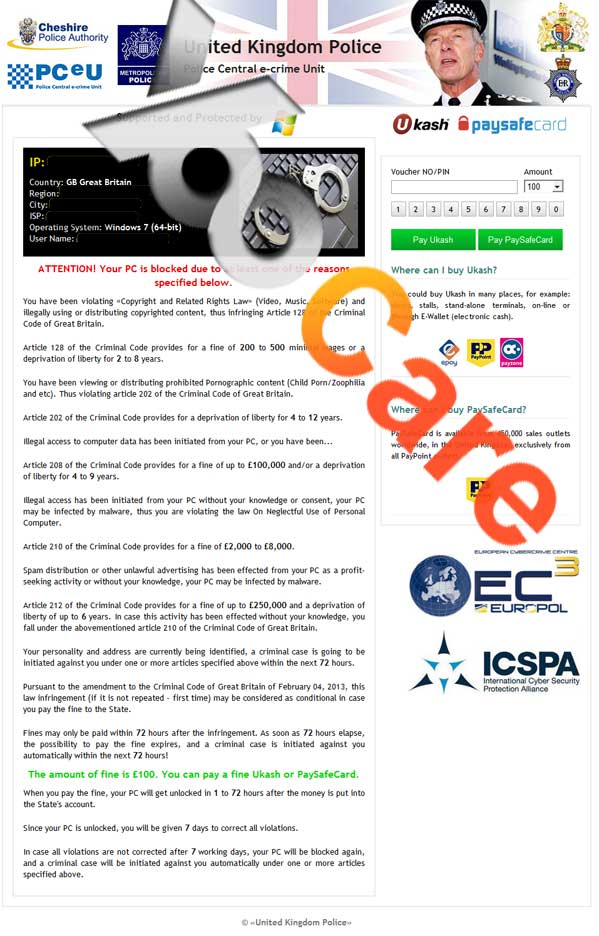 Some specific reasons you will be able to see on the locking screen – "Attention! Your PC is blocked due to at least one of the reasons specified below":
You have been violating "Copyright and Related Rights Law" and illegally using or distributing copyrighted content, thus infringing xxx Criminal Code of Great Britain.
You have been viewing or distributing prohibited Pornographic content (Chile Porn/ Zoophilia and ect). Thus violating …
Illegal access has been initiated from your PC without your knowledge or consent, your PC may be infected by malware, thus you are violating the law on Neglectful Use of Personal Computer.
Fines may only be paid within 72 hours after the infringement. As soon as 72 hours elapse, the possibility to pay the fine expires, and a criminal case is initiated against you automatically within the next 72 hours!
Manually Unlock PC from Cheshire Police Ukash Virus
Anti-virus may be your only rely when coming across computer viruses. But now your computer is completely locked and you cannot gain access, this way has been failed. However, even if you do have access still on the infected computer, anti-virus may not be able to help you get rid of this Cheshire Police Authority Ukash virus completely since it has failed to catch it in the beginning. The truth is, this Ukash scam virus can bypass most of the anti-virus programs and sneak in without permissions from PC owners to help hackers benefit later on. Hence, manual removal way is suggested here in order to completely remove this ransomware out of your computer. Advanced computer knowledge and skills will be required, so be prepared. Also, a backup of important stuff is suggested if in case you may lose any necessary data or programs during the manual removal process. Basic steps are listed in the following:
Step A:Usually, you will not be locked out in safe mode on the infected computer. Reboot your infected computer and keep hitting F8 key on your keyboard; if successfully, safe mode options will pop up on the screen. Then use the arrow keys to highlight "Safe Mode with Networking" and press E/Enter to load files into that mode.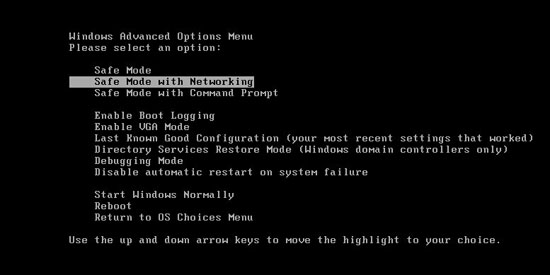 Step B: Press Ctrl+Alt+Del keys together to open Windows Task Manager and then end related process in the list [Cheshire Police Authority Ukash].


Step C: Press Windows+R keys to open the Run window and then type in regedit to open Registry Editor. Find out and delete all these associating files and registry entries as below:
%AppData%\Programs\[rnd].exe
%AllUsersProfile%\Application Data\.dll
%AllUsersProfile%\Application Data\.exe(rnd)
HKEY_CURRENT_USER\Software\Microsoft\Windows\CurrentVersion\Run "[\].exe"
HKEY_CURRENT_USER\Software\Microsoft\Windows\CurrentVersion\Settings "net
HKEY_LOCAL_MACHINE\SOFTWARE\Microsoft\Windows NT\CurrentVersion\Winlogon\Shell ""
Step D: Restart computer back to regular mode after the removal is finished to see if the virus screen still comes up.
Video Guide On How to Remove Cheshire UK Police Malware Scam

Conclusion
Computer locked by PCeU Ukash virus pop up asking for a £100 fine via Ukash? Cannot access PC because of the Cheshire Police Authority virus block? You can tell right away that this Cheshire Police Authority Ukash is in fact a virus if you are familiar with the FBI MoneyPak scam virus. This kind of online scam program may be the major way of computer hackers collecting benefits because they usually look legit and scary to innocent computer users. And what's worse, these issues have been widely spread through the networks to various countries and areas. For instance, this Cheshire police ukash may be named with United Kingdom in it and specially infect PC users in the Great Britain areas, but people from other areas can also be suffered from this scam malware. That's because it has the ability to spread online! So we now know where it comes from. Besides from locking up your computer and asking money from you to unlock, this UK ukash pceu virus can also bring other chaos on your computer. It can disable certain functions of a computer; collect activity histories; drop more malicious programs. Therefore, the last thing you want on your computer is this Cheshire United Kingdom ukash virus!
Note: Have failed to remove this Cheshire Police Authority Ukash virus out of your computer? PC still gets locked when restarted back to regular mode? Cannot decide between which files to delete? Please contact YooSecurity Online Expert to get help on removing this stubborn malware scam ASAP so it won't get the chances to change or upgrade to more complicated version.


Published by Tony Shepherd & last updated on December 29, 2013 2:29 pm