Last night, I was on Youtube watching a funny talk show, all of sudden, my Safari had been redirected to a strange page which I have never seen before. It claims that it comes from ACMA saying that I have watched some inappropriate materials on the web and broken the law. I swear I didn't do anything about that. I was shaking and crying when seeing the warning. My safari crashed and they want me to pay a 500 dollar fee as a fine, if I don't pay, I will be arrested by the police. There is a timer showing on the page and I only have 72 hours to finish paying. It says that I created a felony, is it true? Am I in great trouble with the police?
Description of ACMA Scam Virus on iPhone or iPad
Nowadays, cyber hackers have developed more and more ways to get illegal benefits from innocent people. This ACMA Virus is one mean that created by those bad guys recently. This virus used to attack Windows and Mac computers, but recently, mobile devices and tablets become the main targets of this malicious virus. Technically speaking, this virus belongs to a kind of ransomware which is similar to FBI virus and DOJ virus. This ACMA virus has a specific target group, which means it mainly attack users who live in Australia. Once it pops up on users' IOS devices, it can lock the browsers all the time with a fake warning and ask people to pay a large amount of money to unlock the devices.
There are many ways for cyber hackers to spread this ACMA Virus to target devices. Mostly, they can hide this infection to the pages which have already been corrupted and controlled by them. So in this case, once people go to the infected pages, their iPhones or iPads can be blocked right away. What makes this scam virus so dangerous is because this virus can even be spread from some famous websites. We have realized that some victims have their devices locked by this infection when they are on some reputable websites and do all the regular things as they always do.
As a malicious scam virus just like others, this ACMA Virus can threaten people with a government authority. Cyber hackers forge this page with a legitimate look. Victims can be accused for doing illegal activities on the devices and the devices are blocked for safety reasons. To make the virus page be more confusing and real, cyber hackers can list the laws on the page and the basic information like IP address and device model on it. Some people can be convinced once they find the right information about themselves on the virus page and pay the so-called fine on the page without any hesitation. If people can think twice before paying, they will not fall into this trap and lose money. Under no circumstance, should people pay to this virus as it is a virus used by cyber hackers to rob money from innocent people.
If ACMA Virus message pops up on your iPhone or iPad and you had a javascript alert to pay a fine, your device is infected with a dangerous scam virus, it will be hard for you to remove it with antivirus completely, because there is no perfect antivirus to kill threats on iPhone or iPad and also this ACMA Virus is very tricky and can escape from security apps. In this case, removing it manually with sufficient expertise online is the best way for iPhone, tablet or iPad users to completely eliminate it.
Main Traits of ACMA Virus on iPhone or iPad
1. It is designed to lock iPhone or iPad and asks you to pay for a fine of $500 unlock your device. In fact, it is just a big scam.
2. It locks your Apple device, claiming that you've violated the law of local office by visiting illegal information online.
3. As soon as this virus targets your Apple device, it totally blocks your access to the Internet and prevents you from doing anything there.
4. It allows cyber criminals to remotely access your Apple device iPhone/iPad for stealing your personal information and other sensitive information.
If you find any symptoms listed above showing on your iPhone or iPad, then your device must be suffered with a malware infection(which can be this ACMA Virus, Department of Justice Virus, Ukash Paysafecard Virus, FBI warning notice virus, Australian Federal Police virus and RCMP Ukash virus etc.) that blocks your access to your device. Welcome to contact YooSecurity Online Experts for manual removal guide. Also, we will provide a short removal guide below for device literate.
NOTE: Being afraid to do any wrong operation during the process of removing this ACMA Virus from iPhone or iPad? Please contact YooSecurity Online Experts, we are here to help you:


Similar Screenshot of ACMA Virus Ransomware on iPhone/iPad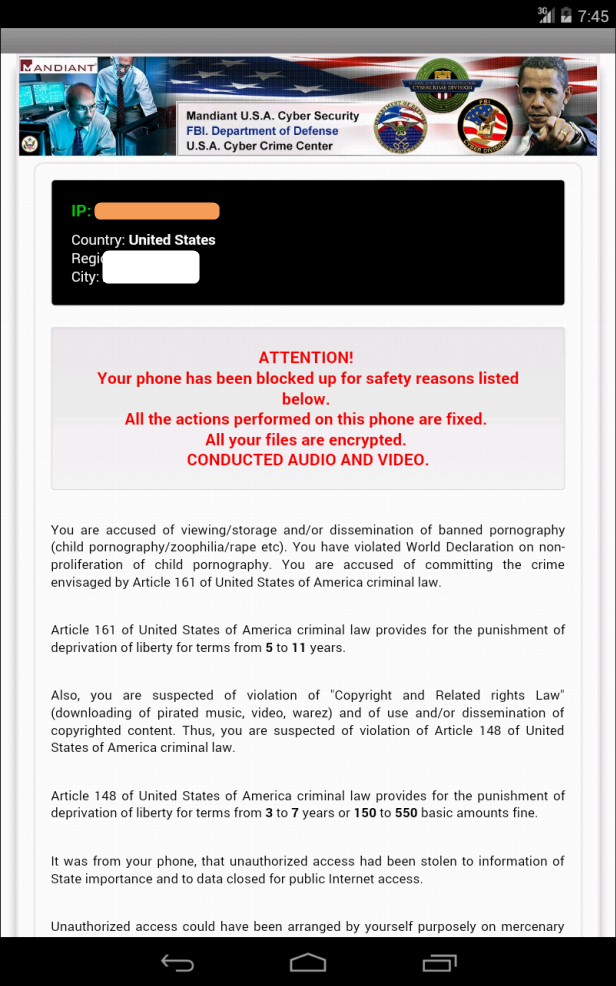 Stop and Remove ACMA Virus Screen on iPhone/iPad Immediately
I was trying to get on my internet on my phone and then ACMA Virus pop-up blocked my access to my internet on my iphone with something regarding pornography, how can I get the tab off of my internet viewing to continue using my internet? ACMA Virus is upgraded by hackers to target more and more iPhone or iPad or other Mac OS X system product to get more illegal profits. We used to believe that Apple products with Mac OS X system is greatly immune to viruses and malware. However, since this version of virus is improved to attack iPhone/iPad, this Mandiant USA Cyber Security malware will easily spread online and hits Apple iOS device.
1.ACMA Virus will pop up and lock your iPhone/iPad you visit a phishing site, open a junk e-mail attachment, click on an unknown link or download an application from an unsafe source, especially after you jailbreak your device.
2.Once you see ACMA Virus message on your iPhone or iPad, please get this ransomware off your iPhone/iPad manually.
3.Currently no app is able to detect or remove this malware scam, even for preventing the virus from attacking the mobile device again.
4.Manual removal process requires sufficient expertise. To safely deal with the Mandiant USA Cyber Security Scam from iPhone/iPad, you are recommended to contact an expert online for further removal help.
Conclusion
Do not think ACMA Virus is a real police punishment, instead, this virus is a tool designed by cyber hackers. All the things it talks about are completely fake and you don't need to pay to the fine to escape from jail punishment. It is a vicious thing that can block your Safari or other browsers on your iPhone or iPad. Once this infection is activated on your device, you will not be able to use the Internet as it can always pops up when you launch the infected browser. You can't exit the virus warning or bypass it which means you don't have Internet access anymore. To keep your personal information saved on the infected device safe from this virus, what you need to do is to remove this ransomware as soon as possible.
Kindly Reminder: Fake warning on iPhone/iPad wants you to pay them and it won't go away? Contact online experts for help now!


Published by Tony Shepherd & last updated on January 14, 2016 5:41 am