My iphone 5s has been blocked by a GB Police Scam Virus demanding that I need to pay a fine of £100.  All I did was to download some stickers on Facebook messenger then this popped up and completely shut down my iphone. It says ATTENTION! Your apple ID and your mobile device has been blocked for safety reasons. If you let 24 hours pass without payment, all photos movies games documents will be deleted and you will become the subject of criminal prosecution without the right to pay the fine and the possibility of unlocking your apple id express and then it says 5 to 11 years of jail. This freaks me out and I am so worried. My photos of my son and wedding are all on there and they are irreplaceable. Plus my partner works nights and without my phone she has no way to contact me?? What can I do now? Please help!
Description of GB Police Scam Virus on iPhone or iPad
GB Police Scam Virus is a kind of malware to attack phone and tablet device especially iphone/ipad device. Usually it will take over the whole screen of the device and display a fake warning police message titled with United Kingdom Police or United Kingdom Government. GB Police Scam ransomware usually will block the Internet browser on iphone/ipad like Safari or Chrome browser, so you cannot use your web browser. Whenever you open Safari or other browser, this fake message will just show up and block you to do anything on Internet. Even worse, this GB Police Scam malware can lock the whole device. And you will not use your phone to make a phone call or send message and so on. This GB Police Scam Virus usually will say that your device is locked for safety reason. It claims that you are accused of viewing / storage and/or dissemination of banned pornography. GB Police Scam notification blames you for violating Copyright and Related Rights Law. (Video, Music, Software) and illegally using or distributing copyrighted content. And meanwhile, GB Police Scam Virus says if you want to unlock your phone, you have to pay a fine of £100 through Ukash or Paysafecard within 24 hours. If you cannot pay, your all data and your Apple ID will be deleted and you will be arrested or prosecuted or serve in jail for 5-10 years. All these words seem to be really from United Kingdom Police. But actually it's a ramsomware created by cyber hackers to swindle you out of money. Don't trust it.
If you see GB Police warning notification on your iphone/ipad, you should think carefully and logically, and don't be rush to pay that fine. Even though you pay the fine as it asks, this police warning message still blocks on your iphone/ipad. And even though you don't pay for that fine, you will not be trouble with police or served in jail. It is not really with authentic United Kingdom Police as it mentioned.  This ransomware displays this scaring message mainly to defraud money from people. Usually this GB Police Scam Virus would come into your iphone/ipad when you download free apps like video application, game app or store app, as some free apps are bundled with virus files or extension. While you're installing the app you need, the GB Police Scam Virus would also get into your iphone/ipad if you cannot check all downloading steps. Also, cyber hackers would put this GB Police scam malware into unsafe and unlicensed websites especially porn sites. When people visit those websites or click on something like flash picture, porn video, ads, or message banner, this GB Police scam ransomware would soon drop into iphone/ipad device and then block the web browser like Safari soon. Now cyber hackers make GB Police Scam ransomware an attachment files in spam email to trick more people. When people check and open those spam email attachments, this virus will soon get installed within several seconds. To get more illegal money, this GB Police Scam Virus will be distributed on the Internet worldwide via many other new ways, so you should be cautious to what you do online to protect your iphone/ipad or other device from getting this GB Police Scam malware.
If GB Police Scam warning message pops up on your iPhone or iPad and you had a javascript alert to pay a fine, your device is infected with GB Police Scam malware, it will be hard for you to remove it with antivirus completely, because there is no perfect antivirus to kill threats on iPhone or iPad and also this GB Police Scam malware is very tricky and can escape from security apps. In this case, removing it manually with sufficient expertise online is the best way for iphone, tablet or iPad users to completely eliminate it.
Main Traits of GB Police Scam Virus on iPhone or iPad
1. It is designed to lock iPhone or iPad and asks you to pay for a fine of £100 unlock your device. In fact, it is just a big scam.
2. It locks your Apple device, claiming that you've violated the law of local office by visiting illegal information online.
3. As soon as this GB Police Scam targets your Apple device, it totally blocks your access to the Internet and prevents you from doing anything there.
4. It allows cyber criminals to remotely access your Apple device iphone/ipad for stealing your personal information and other sensitive information.
If you find any symptoms listed above showing on your iPhone or iPad, then your device must be suffered with a malware infection(which can be this GB Police Scam Virus, Mandiant USA Cyber Security virus, Department of Justice Virus, Ukash Paysafecard Virus, FBI warning notice virus, Australian Federal Police virus and RCMP Ukash virus etc.) that blocks your access to your device. Welcome to contact YooSecurity Online Experts for manual removal guide. Also, we will provide a short removal guide below for device literate.
NOTE: Being afraid to do any wrong operation during the process of removing this GB Police Scam Virus from iPhone or iPad? Please contact YooSecurity Online Experts, we are here to help you:


Similar Screenshot of GB Police Scam Virus on iPhone/iPad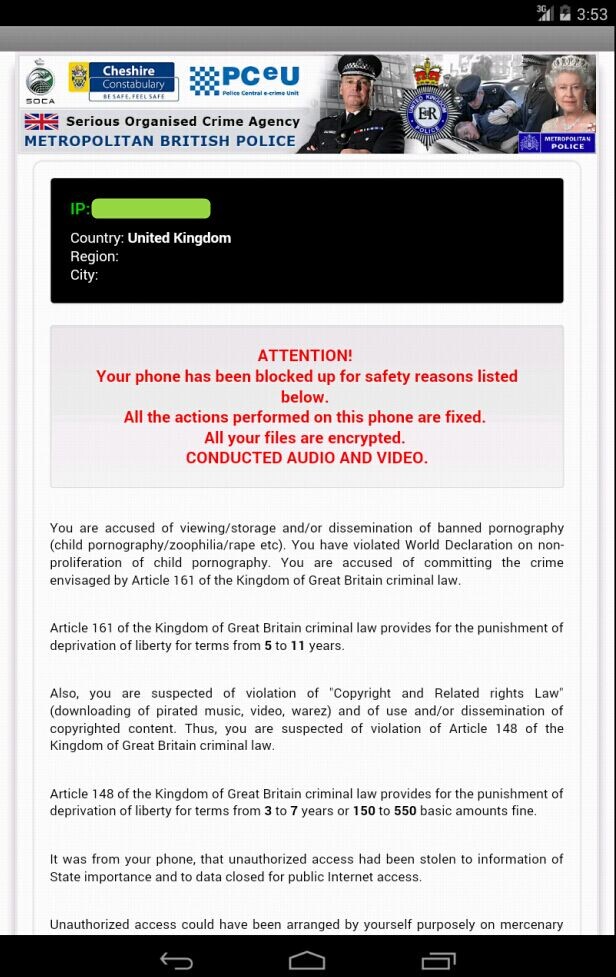 Stop and Remove GB Police Scam Virus on iPhone/iPad Immediately
I was trying to get on my internet on my phone and then GB Police Scam warning pop-up blocked my access to my internet on my iphone with something regarding pornography, how can I get the tab off of my internet viewing to continue using my internet? GB Police Scam Virus is upgraded by hackers to target more and more iPhone or iPad or other Mac OS X system product to get more illegal profits. We used to believe that Apple products with Mac OS X system is greatly immune to viruses and malware. However, since this version of virus is improved to attack iPhone/iPad, this GB Police Scam malware will easily spread online and hits Apple iOS device.
1.GB Police Scam warning infection will pop up and lock your iPhone/iPad you visit a phishing site, open a junk e-mail attachment, click on an unknown link or download an application from an unsafe source, especially after you jailbreak your device.
2.Once you see GB Police Scam Warning message on your iPhone or iPad, please get this ransomware off your iPhone/iPad manually.
3.Currently no app is able to detect or remove this malware scam, even for preventing the virus from attacking the mobile device again.
4.Manual removal process requires sufficient expertise. To safely deal with the GB Police Scam Virus from iPhone/iPad, you are recommended to contact an expert online for further removal help.
Conclusion
GB Police Scam Warning Scam is a nasty ransomware which pretends to be United Kingdom Police  and police to accuse you of watching child pornography and distributing adult contents and so on. It said you're suspected of a whole list of porn crimes, break related law article and will be subjected to possible imprisonment. And it demands you a fine of £100. What it tells on this GB Police Scam Virus Warning message screen is all false and not with real United Kingdom Police. Its final goal is to extort your money from you. This GB Police Scam Virus malware infection locks Safari on iPhone/iPad, so you cannot minimize or exit out the warning page easily. Once you find this annoying fake GB Police Scam warning alert on your iPhone or iPad, you should figure out an effective way to eradicate from your device, or will be a big threat to your personal information.
Kindly Reminder: Fake warning on iphone/ipad wants you to pay them and it won't go away? Contact online experts for help now!


Published by Leo R. Oscar & last updated on December 31, 2015 12:41 pm