Recently, pop-up ads have been popping up whenever I'm on Firefox browser. This has never happened before but now the ads just come up when I click a link to google or go onto my school website. I've scanned with Malware-Bytes and it picked up PUP.Speed Cleaner. Any ideas on how to stop pop-up ads and remove this threat? This virus keeps coming back after removal. I really need help!!!! Thanks in advance.
PUP.Speed Cleaner Description:
PUP.Speed Cleaner is another PUP (as known as potentially unwanted program) found by Malwarebytes Anti-Malware recently. Technically speaking, PUP doesn't belong to a virus because it can neither spread nor replicate itself. Therefore, it can escape from the detection of many advanced anti-malware programs. However, this kind of threat can perform a lot of harmful activities on a target machine once it is downloaded. The most obvious symptom you can see after your computer is attacked is unstoppable commercial ads and misleading information which will pop up on your browser whenever you go online. Now Internet Explorer, Google Chrome, Mozilla Firefox and Apple Safari are the main targets of this malware. It is urgent to remove PUP.Speed Cleaner once upon detection.
Getting a potentially unwanted program installed is a frustrating matter because it is hard to be uninstalled. Users cannot uninstall PUP.Speed Cleaner by using the same way they uninstall other legitimate programs because this threat will not even show in Control Panel/Add or Remove Program. It hides in the root of your system and does everything it can to interrupt your browsing experience and even damage your computer system. It is very important to know the way it comes to your computer because no one would like to get such an annoying thing on their computer. As similar as a browser hijacking threat, it usually gets installed on your computer by bundling itself to programs, music or flash player etc. which you downloaded from the Internet. Computer users should be cautious when they are about to download things on the Internet. If you detect any symptoms listed below, please clean up the computer as soon as possible.
Home page is replaced and favorite search engines are disabled.
Unknown toolbars or extensions are automatically installed.
Annoying pop-up ads are everywhere on the webs.
Users are constantly redirected to unwanted results.
Browser is slow in loading pages.
…
How to delete PUP.Speed Cleaner adware on browsers completely?
This type of browser problem normally cannot be fixed by antivirus software. Manual removal, on the other hand, is believed to be more efficient. Besides from resetting browser defaults including home page and getting rid of unfamiliar extensions, users will also need to go through the process of checking for odd program files and registry errors which could be caused by potential malware problems brought onto the computer by this browser hijacker. The manual removal process requires certain computer skills to follow. This passage contains a general guide for the manual removal.
Suggestions: If you are not a computer literate who knows a lot about computers, contact YooSecurity Online PC Experts for help now to delete this pop up hijacker and prevent things from getting worse:


How to get rid of PUP.Speed Cleaner from computer without coming back?
Manual removal is much more efficient and guarantees a successful uninstall of this adware from computer compared to anti-virus removal. As the browser hijacker is not only able to reset browser defaults to cause disorders, but adjust certain files and registry keys to make its effect last longer. Thus, besides from resetting browser defaults, uninstalling unknown extensions and clearing browsing histories manually, users will also need to check for program files and registry errors in order to completely fix this browser problem. A guide is contained below to walk you through the basic steps to remove the pop up hijacker.
Browser Hijacker Manual Removal Instructions
A step-by-step guide to remove the hijacker popup manually from Mozilla Firefox:
1. Windows Task Manager.


Press CTRL+ALT+DELETE or CTRL+SHIFT+ESC; or pull up Run box from Start menu to type in taskmgr
Right click on items you want to end, select Go To Process
Click on End Process
or
Click on Processes tab
End process of all Firefox items/ PUP.Speed Cleaner pop up hijacker
2. Delete virus files and adjust registries from system.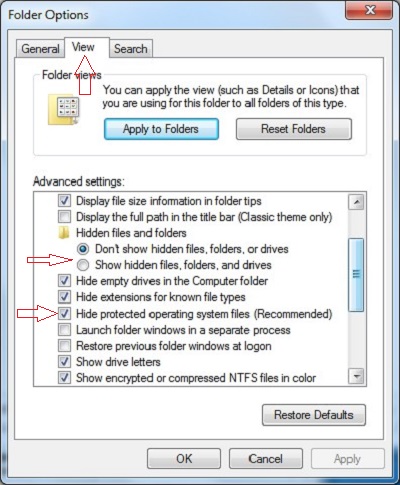 Click on Start button
Control Panel
Search for "folder options" on top right corner
Click on View tab
Show hidden files, folders, and drives
C:\Users\profile name here\AppData\-
HKCU\Software\Microsoft\Windows\CurrentVersion\Run\-
* Files and registries of the PUP.Speed Cleaner adware can be changed or renamed time from time in order to keep the infection functioning longer. If you are not able to identify the related items, contact online experts for help instantly.
3. Reset Firefox.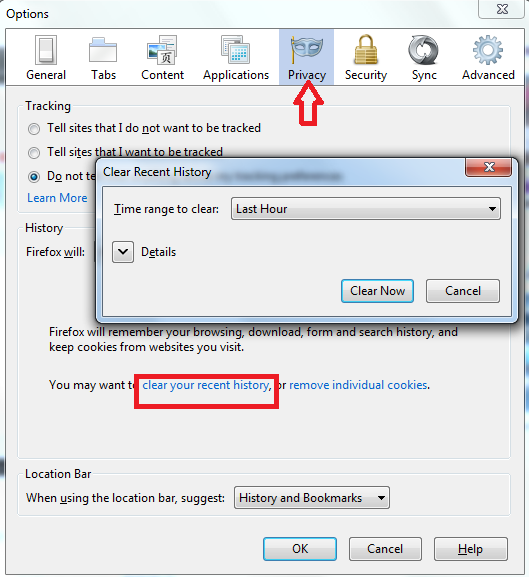 Click on Tools – Options
Under General tab – reset home page on Firefox
Under Privacy tab – clear browsing histories
4. Close out all the windows and restart the system to take effects.
Video guide on browser hijacker removal:

Alternatively, you can view this browser hijacker removal video guide directly on our website:

Conclusion
If you keep seeing PUP.Speed Cleaner shown on Malwarebytes, then your computer must be at risk of browser hijacking attack. This useless program can be bundled using custom installers and dropped on your computer during the installation process. Once downloaded, it can cause a series of problems on your computer like downloading other malicious programs, creating a backdoor in your PC security and creating advertisements. In addition, it aims to block most antivirus programs in order to protect itself from being removed, so using the traditional removal programs is not able to erase this PUP. It is suggested advanced PC users follow the manual removal instruction to get rid of it permanently or contact YooSecurity Online Experts to do it for you if you are not a computer wiz.
Note: Can't get rid of PUP.Speed Cleaner from Malwarebytes? Browser is still messed up? Please contact YooSecurity Online Experts for help now to completely remove the PUP from your computer as soon as possible:


Published by Michael Myn & last updated on May 9, 2014 7:17 am