Cyber attacks continue to increase on a global level. Norton, a big name in the antivirus industry, released a virtual private network called Norton Secure VPN in order to protect your personal devices against malware, viruses, ransomware and other online threats and make you stay protected while using a public Wi-Fi. So, how does it work? Is it fast? Does Norton Secure VPN store logs? Is it worth the money? In this review, you are going to learn everything about Norton's VPN. Whether you're traveling or at home, using Norton Secure VPN allows you to access your remote desktop and home network with minimal risk. Check out the review below and get an additional layer of protection for yourself.
What is Norton Secure VPN?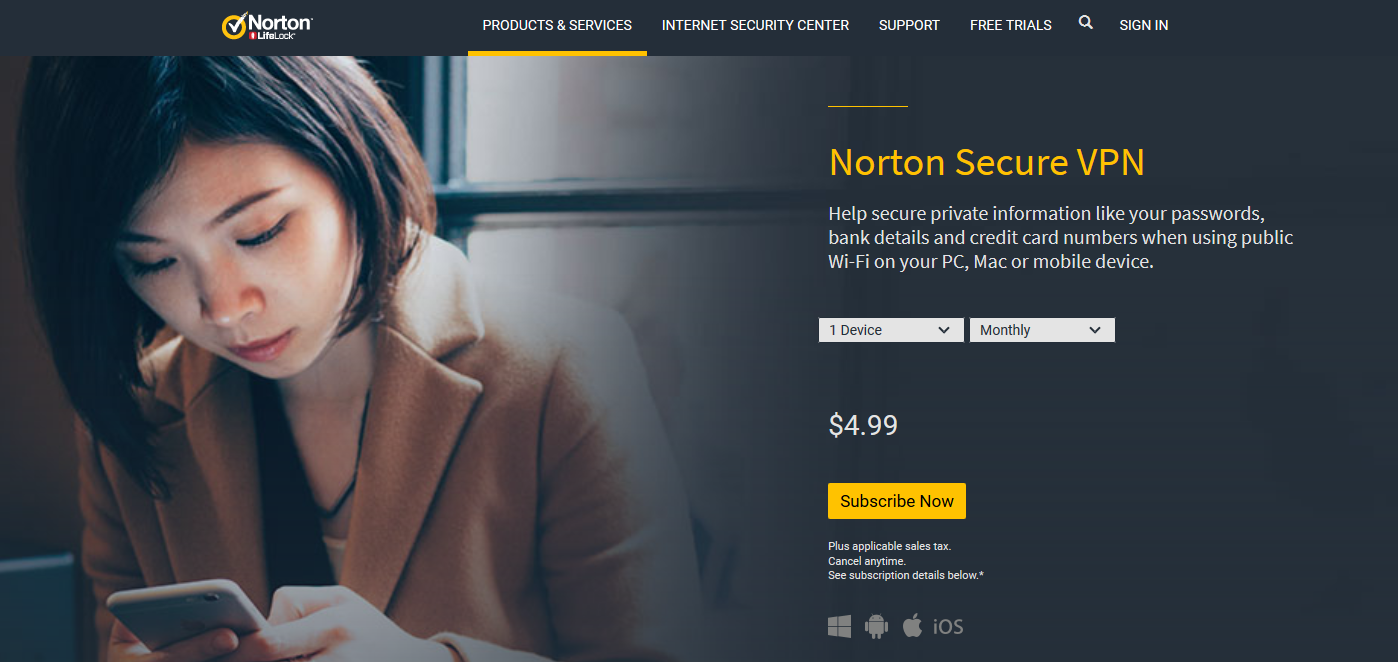 Norton Secure VPN is a powerful VPN by Symantec designed to keep your online identity secure, private and anonymous. Most of us go online without giving thought to how much personal info is being shared. This information could be your online activity, like the sites you visit, the files you download and even the information you provide through forms which may contain your phone number or other vital information. All the information just show how much you're exposing yourself online. Have you ever realized that most of the data and activity could probably be sent through unsecured and unencrypted connections? And the worse is that Congress just passed a law that allows your Internet service provider (ISP) to sell your personal data. So, if you don't get the right protection, your personal information could become public and anyone could intercept your data for malicious purpose.
Norton Secure VPN creates a secure tunnel between your computer and any network, encrypting your data with military-grade technology which means no-one can intercept or understand your private data. Even you are using a public Wi-Fi, it gives you the best protection and anonymity. No one can see what you're doing, and there is no way for them to swipe personal information or steal your financial info. With Norton Secure VPN, you can use your PC, Mac, smartphone or tablet on any public Wi-Fi hotspot without worry because it uses AES 256-bit encryption to encrypt your Internet traffic. This is the same level of encryption used to secure government and military data. In addition, Norton Secure VPN offers you additional benefits. It not only allows you to browse the internet anonymously without be traced by your ISP or even the government, it also provides you a free Internet with no restriction. Many countries in the world censor parts of the internet, including social media, messaging platforms, and adult sites. But using Norton's VPN, you can bypass censorship and unblock any site easily while you are traveling. The VPN enables you to choose a completely different country from a list of their fast servers around the globe, changing your IP address as you wish. For example, if you are a native American and want to access Facebook in China, just do a few clicks and you can use Norton Secure VPN to locate yourself back in the United Sates. Norton Secure VPN is available on Windows, Mac, Android and iOS. It offers unlimited data and you can choose to leave it running continually or just when you need that additional layer of protection. Privacy is your right and using a VPN service will let you protect it. Start protecting yourself from the increasingly sophisticated online threats with Norton Secure VPN now!
Why You Should Use Norton Secure VPN?

Norton, a big name in cybersecurity, has been protecting millions of users worldwide. Their VPN product – Norton Secure VPN – is a robust virtual private network employing bank-grade security encryption and VPN technology to keep prying eyes at bay. If you haven't got a VPN yet to encrypt your internet traffic and protect your online identity, it is the time to consider one. Norton Secure VPN provides best-in-class and military-grade encryption for protecting you on public Wi-Fi networks, as well as unblocking geo-restricted contents. While using this VPN service, you will be impressed by its advanced features to ensure your anonymity. The VPN doesn't keep any logs of your activities, and it doesn't put any kind of bandwidth cap or limitation while surfing the web. It just gives you a better online experience by offering the following advantages:
Stay safe on a public Wi-Fi
Free public Wi-Fi is available in shopping malls, airports, restaurants, coffee shops, libraries, public transport, hotel rooms – you name it. However, these networks are a super easy place for hackers to gain access to your personal information such as passwords and banking details. Using Norton Secure VPN is one of the most secure options to help you surf anonymously and safely on public networks. It can encrypt all of your traffic, thus stopping you from having your money and identity stolen. While using this VPN you will get an additional layer of security in all aspects because all your information is protected by the best-in-class, AES-256 encryption.
Enjoy the internet with no restrictions
Wherever you are, Norton Secure VPN lets you access to your favorite websites and entertainment content with no restriction, and forget about censorship or bandwidth limits. Many countries in the world censor parts of the internet, including social media, messaging platforms, and adult sites. Whether it's blocking YouTube, denying you access to your personal email account, or stopping you from connecting to your favorite social media accounts, by simply connecting to a VPN, you can easily bypass censorship and unblock any site.
Secure peer-to-peer file sharing
Users who share files and participate in torrenting often want to do so anonymously while ensuring their activity is encrypted and secured. Norton Secure VPN allows you to unblock torrent file sharing safely without putting you and your online privacy at risk. It protects your torrent traffic, enabling you to download and share torrents worldwide with other users and to access the content securely. While connecting to this VPN, your ISP can't detect that you are sharing files and shape your connection accordingly. P2P files and all other data you send and receive travels through a strongly encrypted tunnel.
Norton Secure VPN can save you between hundreds and thousands of dollars on online purchases. Why? Several online purchase sites change their rates depending on the country you're located in or based on your previous online activity. Using this VPN allows you to circumvent location monitoring and web tracking and see the prices available in other countries.
So, if you value your privacy or need to better ensure your security, you should look into getting Norton Secure VPN. Using a VPN is quite easy. Especially for a non-tech savvy user, Norton's VPN is the easiest VPN service to get started with. Secure your phone to all your devices with Norton Secure VPN now!

Pricing Plans:
Norton Secure VPN offers three pricing plans for users to choose from. Here are the details: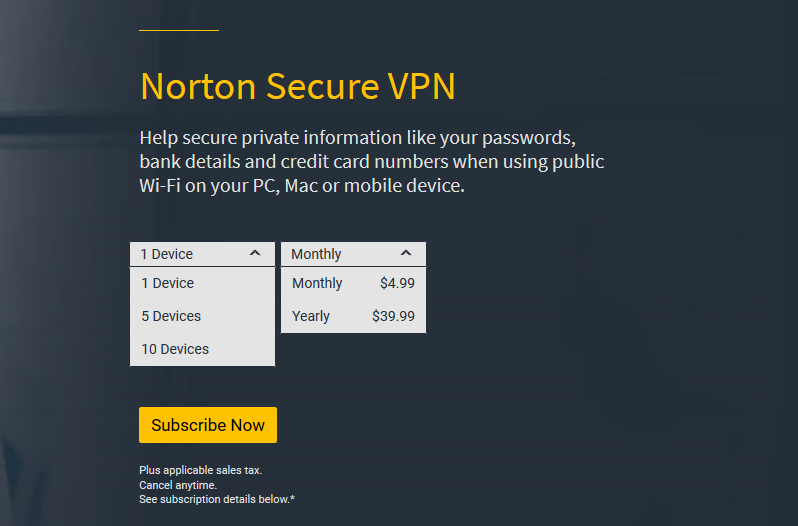 1 Device – $4.99/monthly or $39.99/annually
5 Devices – $7.99/monthly or $39.99/annually
10 Devices – $9.99/monthly or $59.99/annually
Norton Secure VPN may be used on one, five, or ten Windows PCs, Macs, iOS, and Android devices, with unlimited use during the subscription term. All plans enable users to enjoy secure their online activities whenever they connect to Wi-Fi hotspots or unsecured connections. Norton Secure VPN is also available in bundles with Norton 360 Deluxe. The service comes with a money-back guarantee. If you are not satisfied with your purchase, you can contact Norton for a refund. You'll enjoy free world-class support as part of your Norton Secure VPN subscription.
Norton Secure VPN Features:
Here is the highlight of a few notable features of Norton Secure VPN:
No logs VPN – Norton Secure VPN is a no-log VPN meaning that it does not collect, or log any information transmitted through the network. Where you go online, what you download, or what you search for, all this information will not be stored on Norton server. Therefore, your online privacy and anonymity are protected from everybody.
Unlimited Bandwidth – Norton Secure VPN doesn't limit your bandwidth usage and it never caps your internet usage. This is an unlimited bandwidth VPN so you can free yourself of ISP speed limits.
Multi-device VPN – The VPN is available on Windows, Mac, iOS and Android.
Simultaneous Connections – A reliable VPN with simultaneous connections is what you need if you want to stay safe from hackers and snoopers on a bunch of devices. Norton Secure VPN allows connection on up to 10 devices simultaneously.
Ad-Tracking – Have you felt annoyed of the same ads keep on popping into each website that you visit? By using a Virtual Private Network or VPN, the information you work with online can be hidden not only from advertisers but from your ISP as well. Norton's VPN does a great job in blocking ads and preventing ad tracking.
Bank-Grade Encryption – Norton Secure VPN secures your data with Advanced Encryption Standard (AES) 256-bit VPN encryption, recognized as one of the most powerful forms of encryption available.
Enjoy high-speed browsing, logless networks, and the ability to bypass content filters with Norton Secure VPN now!

Norton Secure VPN Pros & Cons:
Pros:
1. Norton Secure VPN is easy-to-use and it can work seamlessly across your devices, whether you are on Mac, Windows, Android, iPad or iPhone.
2. The ability to connect up to 10 devices using the same VPN account.
3. Unlimited Bandwidth & Server Switches.
4. It contains an ad-tracker to stop unwanted pop-up ads from interrupting your browsing.
5. Norton offers phone support.
6. 60 days money back guarantee.
Cons:
1. Norton Secure VPN doesn't support on routers, smart TV and Linux system.
2. It lacks in features like ad-blocker and split tunneling.
3. The number of server locations is limited.
4. Bitcoin payment is not accepted.
5. No browser extension.
Customer Support:
For users who are new to VPN, it is essential to find a VPN with excellent customer support. While many providers today only allow for customer service communication via email, which might take a really long time for them to get back to you, Norton offers chat support, and their chat support is open 24 hours a day, 7 days a week. There is also an official Norton Community where you can read, ask, and answer questions related to Norton products as part of a community of other users. You also can find answers from the 'Quick Help' pop-up window, or FAQ, without the need to contact support at all. And of course, Norton offers phone support as well but you have to submit your information through the form for faster help first before you get their number.
Top 10 + Best VPN Services Worldwide
View More Top 10 Best VPN Services Here »
Conclusion:
Norton Secure VPN may not be the best option for people looking for a VPN to download torrent files or stream online contents while traveling, because it lacks many security features in comparison to large VPN such as ExpressVPN or NordVPN. But for anyone who wants to stay secure on public Wi-Fi or protect from government and ISP snooping, it will be a good helper. However, Norton Secure VPN has its pro and cons that users might want to consider before deciding if they should go for it. While they offer military grade VPN encryption, ad-tracker, unlimited bandwidth, up to 10 simultaneous connections, 24/7 live chat support, the lack of router support along with other downsides might have to be considered before deciding if this VPN service is good to go. It is a necessity to protect yourself from the increasingly sophisticated online threats. Thankfully, Norton Secure VPN helps you stay secure and private when browsing the Internet. With this VPN on, all the data you send and receive travels via an encrypted tunnel so that nobody can steal your private information or spy on your online activities. Even if someone manages to intercept your data, they cannot decipher it. Encrypt your traffic with Norton Secure VPN and protect yourself from prying eyes!
Published by Tony Shepherd & last updated on June 15, 2020 4:24 pm