Do you need to pay for IPVanish if you want to use the VPN service? Does IPVanish have a free trial? At the moment, are you looking for IPVanish free trial offer before deciding to get a paid version? How do you get IPVanish risk-free trial to test their VPN services? Does IPVanish really offer a free trial for new users? If i need to input bank info to get a free trial without paying cost? How long can i get IPVanish free trial? Well, you will get the answers for all above questions here. When searching for a VPN tool, you may be confused while choosing between a free trial VPN and a paid VPN as you are not sure if it is secure, fast and works great for you. So if a VPN provider offers risk free trial only for some days would be more attractive for users. IPVanish doesn't actually provide a free trial for users instead of offering a 30-day risk-free trial (Oringinally, it offered 7-day risk-free trial) to all new users if you sign up from their official sites. That is to mean you can test it for 30 days with no risk.
Does IPVanish Offer a Free Trial? How Does the Free Trial Work?
Yes, IPVanish did offer a FREE TRIAL for those that sign up using IPVanish's iOS app (compatible with iPhone/iPod/iPad) before. iOS customers who signed up in the iOS app receive a free trial and do not qualify for the 30-day money back guarantee, but it stopped this offer days ago. IPVanish does not offer a free trial at this time, if a user sign up any one of the plans listed on sales via our website, he or she may get risk-free trial for 30 days. Why not start to try IPVanish risk free trial for 30 days now?
You can use IPVanish risk-free trial to experience advanced IPVanish features:
Unlimited bandwidth – IPVanish VPN will never limit the amount of data you transfer or throttle your network connection.
Zero traffic logs – IPVanish team have a strict policy against the collection and activity logs. They will never store the metadata about your VPN session or information about how you used the service.
OpenVPN and L2TP/IPsec VPN protocols – IPVanish team support multiple VPN connection types to make IPVanish as powerful and adaptable as possible.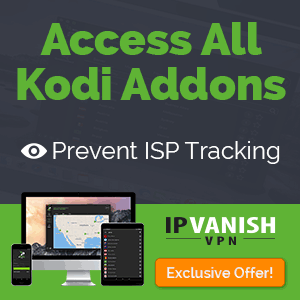 Does IPVanish Offer Money-back Guarantee? How does the Money-back Guarantee Work?
Yes, IPVanish offers a 30-day Money-back Guarantee. All IPVanish plans are covered with 30-day money-back guarantee and 24/7 support.
IPVanish offers a 30-day money-back guarantee to all new customers who choose to cancel before the end of the 30th day of their subscription and who have used a refundable payment method. When you cancel from the website, the refund is automatically processed. All eligible refunds should be processed within 10 business days. Please wait at least 10 days before contacting support if you don't receive the refund. Customers who sign up using a non-refundable payment method will not qualify.
Here are the terms of the IPVanish free trial. Their refund policy states:
If you are less than 100% satisfied with the VPN service, they will gladly refund your payment if the refund is requested within thirty (30) days from the date of the purchase. Requests made later than the 30-day purchase date will not be honored.

You also understand that certain cash equivalent or other payment methods may that refunds may have service fees associated with them. You agree and acknowledge that IPVanish is not liable if a payment method does not allow for refunds. You will receive an offer for service in lieu of a refund if a payment method does not allow a refund.

You understand that by paying using variably priced currencies, such as BitCoin, you are using a payment method that may fluctuate a large amount in value in a short period of time. You agree that any refunds for transactions using these methods will be assessed at the USD exchange rate at the time of the refund, and not at the time of the original transaction or refund request.

What You can Benefit from IPvanish VPN Within 30-Day Risk-Free Trial?
IPvanish trial allows new IPVanish customers a free trial within 30 days to freely test all features and functions of IPVanish. If you are a new customer of IPVanish, you can experience IPVanish's large network with 40,000+ shared IPs, 1,300+ VPN servers in 70+ countries. IPVanish free trial is not available but its 30-day risk-free trial also allows beginners to enjoy unlimited bandwidth, unlimited P2P traffic and unlimited server switching. You can also get unmetered connections on all your devices instead of 10 simultaneous connections on multiple devices. With IPVanish, internet-censored websites and apps can be soon accessed anywhere and anytime. You also can watch Geo-blocking streaming service like Netflix, BBC iPlayer, Sling TV, Amazon Video and HBO GO from anywhere across the globe. during the free trial period, you can experience IPVanish strong anonymous torrenting, 256-bit AES encryption and powerful VPN protocols including OpenVPN and L2TP/IPsec VPN protocols.
Details of IPVanish VPN Plan and Pricing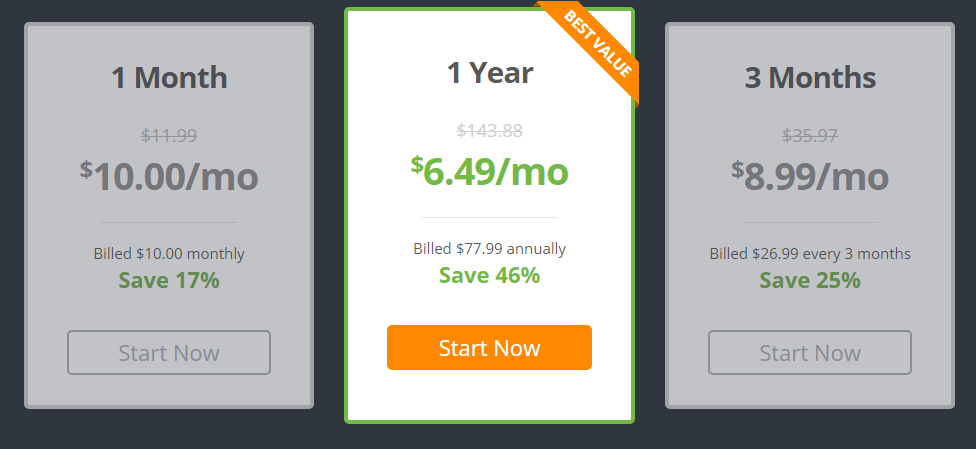 1-Month Plan $10.00/Month ($11.99 $10.00 billed every 1 month SAVE 17%)
3-Month Plan $8.99/Month ($35.97 $26.99 billed every 3 month SAVE 25%)
1-YEAR Plan $6.49/Month ($143.88 $77.99 billed every 12 months SAVE 46%)
All Plans Include All Basic Features as Following:
User-friendly apps for all of your devices.
Access to the world's fastest VPN.
40,000+ shared IPs, 1,300+ VPN servers in 70+ countries.
Unlimited bandwidth.
256-bit AES encryption.
Zero traffic logs.
Anonymous torrenting.
Unlimited P2P traffic.
SOCKS5 web proxy.
Access to censored apps & websites.
IKEv2, OpenVPN, and L2TP/IPsec VPN protocols.
Unlimited server switching.
Unmetered simultaneous connections on all your devices.
24/7 customer support.
30-day money-back guarantee.

What Device Can You Use IPVanish Apps and Software?
IPVanish apps and software are compatible with desktop, laptop, mobile device including Windows, Mac OS X, Android, iOS and Linux it also works well with different routers. All apps include advanced features to kill your connection if the VPN drops and the ability to rotate IP addresses. Easy-to-use mobile apps for iOS and Android don't need you to manually configure anything. Connect with OpenVPN (TCP or UDP), PPTP or L2TP. You can connect on multiple devices simultaneously which is really nice when you're traveling and want to secure your laptop and phone at the same time.

IPVanish VPN Servers: Fastest and Fastest Growing Top Tier VPN in the World
IPvanish always expands its huge network and now it provides 40,000+ IPs on 1,300+ servers in 70+ countries in Europe, North America, South America and Central America, Oceania, Asia and Africa: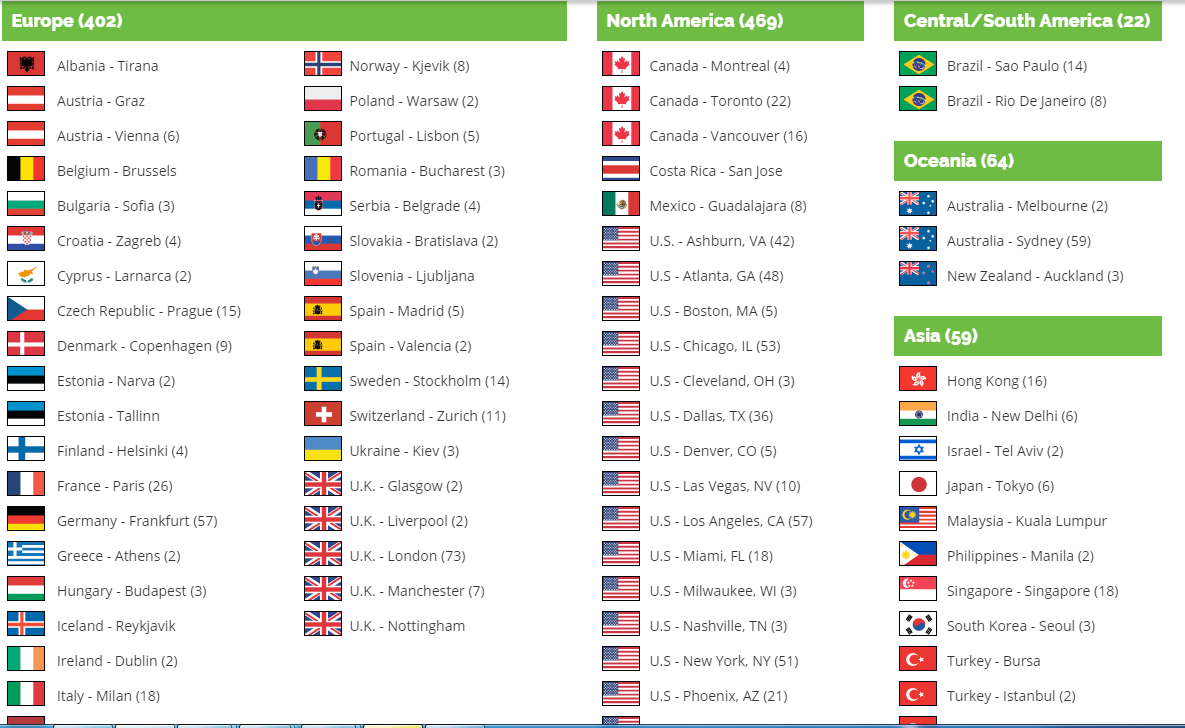 IPVanish Free Trial: Try IPVanish Free for 30 Days
IPVanish VPN Protocols:
PPTP
One of fastest protocols available. Great for low-risk speed-intensive activities such as HD streaming, but less secure than other protocols. No longer supported on all operating systems.
OpenVPN
Recommended whenever available. Faster than L2TP and more secure than PPTP, making it the perfect blend of speed and security. Support for mobile devices is limited.
TCP: The most popular OpenVPN connection type. Slower but more reliable than OpenVPN over UDP due to error correction.
UDP: Faster than OpenVPN over TCP, but less secure and not available on every network.
L2TP
Fixes the vulnerabilities of PPTP, but often slower than OpenVPN. Should only be used on mobile devices if OpenVPN is not available. Difficult to configure on routers.
IPSec
Available for most mobile devices. Does not encrypt or authenticate on its own, but rather provides secure transport framework. Often used with L2TP.
IKEv2
A more secure extension of IPSec. Only available in newer mobile devices. Allows devices to switch between a Wi-Fi and cellular network without disrupting the VPN connection.
Does IPVanish VPN Provides Coupon Code?
Yes, IPVanish VPN now is offering 20% off Coupon code for all plans, which saves up to 20%. In addition, IPVanish VPN also offer discount on different plans. The discount + 20% Off coupon code can definitely saves more money. After you free trial all features and performances of IPVanish VPN, you are suggested to sign up IPVanish VPN as right now it offers the best deal and biggest discount on all products and plans. You don't miss out on the best value.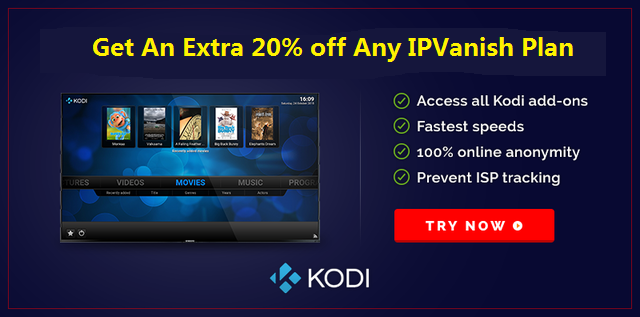 IPVanish Free Trial: Try IPVanish Free for 30 Days
IPVanish: The Best VPN for Kodi
Kodi media center is an award-winning free and open source cross-platform software media player and entertainment hub for digital media for HTPCs (Home theater PCs). It uses a 10-foot user interface designed to be a media player for the living-room, using a remote control as the primary input device. Its graphical user interface (GUI) allows the user to easily browse and view videos, photos, podcasts, and music from a hard drive, optical disc, local network, and the internet using only a few buttons. As a free, open-source software application, Kodi plays nicely with tons of different devices. The former XMBC isn't restricted to streaming video from official apps either; it allows users to watch live broadcasts from all over the world, download torrents, listen to the radio, and play nearly any other kind of digital media around.
It's highly recommended to connect a VPN like IPVanish while you're using Kodi, as hundreds of add-ons downloaded by users into Kodi are not able to use due to geo-restrictions or geo-blocking. What a VPN really does is to allow Kodi add-ons to shine. With IPVanish, digital boarders disappear and it males all of the Kodi add-ons accessible from anywhere.
There are certain add-ons that demand more privacy protection and censorship squashing than others. Some add-ons especially the official version like Hulu, BBC iPlayer, Netflix, IceFilms and NBC Sports have geographical restrictions. While other add-ons, such as Acestream, source data from torrents, a P2P file-format that regularly records the IP address of the file-seeders.
Circumvent Censorship
Regional censorship and corporate firewalls can prevent you from accessing many of the streaming add-ons you install. Why limit yourself to these restrictions when there's a truly World Wide Web waiting for you?
Identity Protection
Companies use tools to collect IP addresses from torrents and P2P file-sharers. Evade these faceless third-parties by cutting them off from your personal information with a replacement IP address!
Wi-Fi Hotspot Security
On an unsecured network, you become a prime target for hackers and tech-savvy identity thieves who are using the same local area network.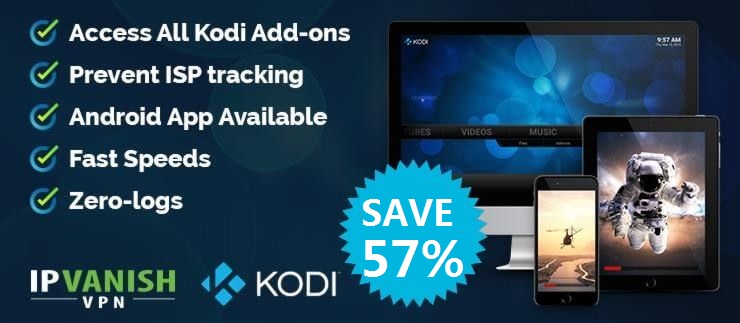 What Security Benefits Does a VPN for Kodi Provide?
IPVanish is the only true Top Tier VPN service in the world, which delivers the best VPN speeds, the most secure connections and the most competitive pricing anywhere. IPVanish VPN network spans 40,000+ IPs on 1,300+ servers in 70+ countries, giving you the ability to surf anonymously and access the unrestricted Internet every corner of the globe. Even if IPVanish free trial is not offered to new users at this moment, you still be able to test its great service by trying the 30-day risk-free trial.
IPVanish VPN creates a secure and encrypted internet environment, which avoid ISP surveillance, invasive ad trackers and spying government. IPVanish VPN hides your IP address which is the internet address issued by your ISP to identify your personal web activity. Once your real IP address is hidden, it will prevents websites, websites, online advertisers, and additional third-parties from monitoring your internet activity in real-time. IPVanish encrypts your whole internet traffic with military-grade encryption 256-AES encryption and multiple strong VPN protocols like OpenVPN and L2TP/IPsec VPN protocols. Therefore, no matter what apps and addons you are on running or contents you're torrenting on computer, all your internet traffic will not be decrypted and intruded by any third parties who try to log your data.

IPVanish Free Trial: Try IPVanish Free for 30 Days
IPVanish is the Best VPN for Online Service
1. Keep Your Messaging Apps Private
Nowadays, we usually rely on the internet to keep in touch with friends, family and make friends. We usually use messaging apps like LINE, WhatsApp, Viber, Snapchat, KakaoTalk, Slack and more to send and receive messages. Usually if we don't use a VPN, all the internet traffic will just go through directly the servers of the ISP. And all the data can be collected and read by the ISP, which is not safe as the sensitive information may be leaked out or transferred to the parties for different purposes. Especially when you are deliver message under the low-security internet like free WiFi network. Free WiFi network is the place where cyber criminals, hackers and snoopers usually invade internet user's network and steal the sensitive information.
Therefore, it is necessary and important to have VPN like IPVanish VPN. IPVanish VPN secures all of your private information while you're texting messaging with message apps, browsing and streaming online! Your message will be encrypted and protected by a secure tunnel. All your Sensitive data tied to your messaging accounts and the content of your communications are vulnerable to cybercrime without a VPN. Secure your online privacy with the Top Tier network privacy of IPVanish.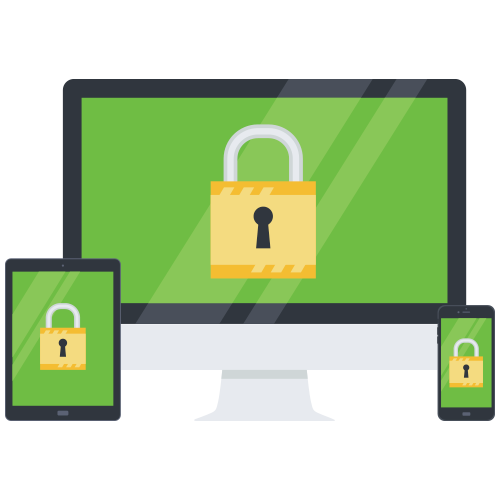 2. Access Streaming Sites from Anywhere
You may know that some websites can't be accessed due to internet censorship or geographical restrictions. Internet censorship controls and limits where and what people can view, access and publish on the internet. internet censorship like the Great Firewall in China has the strictest and strongest regulation and policies to keep away selected foreign websites and resources like Facebook, Twitter, Instagram, YouTube, Flickr, Spotify, Pandora Music and Popcorn Time etc. Websites and stream service like Netflix, Hulu, BBC iPlayer, HBO NOW, Sky Go and Sling TV are not allowed to access and watch due to the geo-blocking technology used by the owner who just want people in specific location to watch the contents. The websites can check your IP address and identify your location. IP address includes information like country, region, ISP and device information and so on. Since the IP address tells your identity, the best way to bypass the internet censorship and geo-restrictions is to hide the IP address.
To mask your real IP address is to use a reliable and strong VPN service like IPVanish VPN. IPVanish masks your true IP address and virtually changes your device's in order to bypass blackouts and censorship restrictions. No matter where you're in the world, you're still able to access all your favorite streaming service and sites without firewalls and restrictions. With IPVanish, you can watch what you want exactly when and where you want it!

3. Lightning-Fast Browsing Speeds
IPVanish spans its huge network to 40,000+ IPs on 1,300+ servers in 70+ countries, which offers the fastest speed and most stable connection speed while you're browsing and streaming anywhere around the world. The network is optimized by IPVanish's professional engineer team. IPVanish provides unlimited bandwidth, unlimited server switching and unlimited data transfer. You can watch and streaming Netflix and BBC iPlayer with no limits. It goes fast without throttling. IPVanish's network also protect your connections from pesky ISP throttling. IPVanish usually picks the optimal server for you so that your service remains uninterrupted from video buggering and lag times. In a word, you can securely access all of your favorite streaming site with IPVanish the fastest VPN service!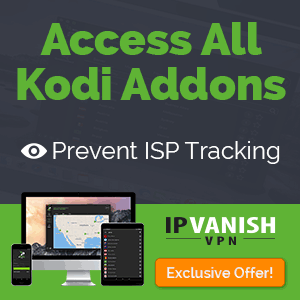 IPVanish Free Trial: Try IPVanish Free for 30 Days
Your Favorite Online Services Without Restrictions
From above you know that IPVanish keeps offerring thounds of servers around the world in more than 70+ countries, giving you the freedom to browse media anytime, anywhere. Simply change your location and IP address with one of our secure servers to begin privately browsing and streaming without restrictions! With an IPVanish account, you can freely access:
Crunchyroll
ESPN
HBO
MLB TV
NBC Sports
Sling TV
WWE Network
Facebook
Bing
Gmail
Google
Spotify
Twitter
CBS Sports
CBS All Access
WhatsApp

IPVanish Free Trial: Try IPVanish Free for 30 Days
How to Set Up IPVanish L2TP on Windows 10
1. Hit the windows key and type 'VPN' and hit enter.
2. Click "Add a VPN connection" in the Network & Internet Settings window.
3. When the "Add a VPN connection" window pops up, fill in the following information:
VPN provider: select Windows (built-in) from the drop down
Connection Name: type name that you will recognize for the connection (ex. IPVanish San Jose Server)
Server name or address: enter the IPVanish server address from our list here
VPN Type: select the Layer 2 Tunneling Protocol with IPsec (L2TP/IPsec) from the drop down
Type of sign-in info: leave the default User name and password
User name: type your IPVanish username
Password: type your IPVanish password
Remember your sign-in info can be unchecked if you would like to login each time you connect.
4. Before you connect, you will need to change some advanced settings. Please click the "Change adapter options" button under Related Settings.
5. Find and right click the VPN connection you created, then click Properties.
6. Under the Security tab in the Properties window, check "Allow these Protocols" and leave only Microsoft CHAP Version 2 checked. Then click the Advanced Settings button under the Type of VPN drop-down list at the top.
7. When the Advanced Properties window pops up check the Use preshared key for authentication then type 'ipvanish' for the Key. Then click OK on the Advanced Properties and the connection Properties windows.
8. Click the connect button on the VPN you created, after which you should be connected. If you run into any issues, please contact support though our support center.
9. Once you have the VPN connection set up, you can connect by either clicking the Windows key and typing VPN to bring up the Network and Internet page where your VPN connections are listed. You can then click the connect button to begin the connection process. The other option is to click your connection status icon down at the bottom-right of your taskbar, then clicking the VPN of your choice. The VPN window will pop up and as before you can click the VPN you want to connect to and hit the connect button.

IPVanish Free Trial: Try IPVanish Free for 30 Days
How to Set UP Android L2TP
1. From the home screen, find the 'Settings' app and open it. If you don't have it on your home screen, you can tap the application drawer at the bottom, search for the 'Settings' app to open it.
2. Once the 'Settings' app is open, scroll to the top and tap 'More' under the 'Wireless & networks' category.
3. Under the 'More' option in settings, tap 'VPN.'
4. The VPN settings dialog will appear. You will need to create a new VPN configuration by tapping the (+) symbol in the top right.
5. Once you tap the (+) symbol, an 'Edit VPN Profile' window will pop-up. You will need to fill in the form fields with the following information:
Choose a name for the VPN that makes sense to you
Select 'L2TP/IPSec PSK' for 'Type'
For the 'Server address' field, fill in the server you would like to connect to from our server list
Fill in the IPSec pre-shared key with 'ipvanish' minus the quotes
Tap the 'SAVE' in the bottom right
6. To connect, tap the newly created VPN connection and you will be presented with a login window. Fill in your IPVanish username and password in the form fields, select the 'Save account information' checkbox if you don't want to type it each time you initiate the connection, and tap 'CONNECT.'
7. You should now be connected to the VPN. You can verify your connection by looking for the key icon in your notifications at the top of your device. If you get a connection error, confirm that you entered your username and password correctly. If that fails, contact our support team for further assistance, making sure to provide our team with any error or warning messages shown in the status indicator.
8. To disconnect, tap on the connected VPN in your VPN settings.

Video Guides IPVanish Free Trial: Try IPVanish Risk-Free for 30 Days
Top 10 + Best VPN Services Worldwide
View More Top 10 Best VPN Services Here »
Summary of IPVanish Free Trial: Try It Risk-Free for 30 Days
IPVanish is reliable and strong VPN provider and used by thousands of millions of internet users all around the world. IPVanish offers advanced and excellent technology to make IPVanis VPN special and advantage over other VPN services. You can use IPVanish to VOIP to reduce the fees for international calls, because you can choose your country of origin and keep those bills lower. IPVanish bypass the internet censorship and reginal restrictions. IPVanish expands your world wide web in minutes Whether you're at home or on the go, IPVanish VPN encrypts all of your traffic, ensuring your complete privacy and security. By accessing media and interactive websites from anywhere across the world. You can stay safe and protected while using public Wi-Fi with the encryption that IPVanish provides. IPVanish VPN ensures that all your traffic remains private and secure no matter what kind of network you're using. Although IPVanish free trial is not allowed, if you want to test all features and functions provided by IPVanish, you can try its 30-day risk-free trial. IPVanish 30-day risk-free trial is a good way to test its VPN services.
Published by Tony Shepherd & last updated on January 4, 2021 10:33 am