Can't remove XP Antivirus Plus 2013 virus spyware on your computer as it blocked everything? Many computer users got a message on my laptop saying '"XP Antivirus Plus 2013 – Unregistered Version" and they want to know how they can fix this. As  lots of people who are not very computer savvy so they couldn't get rid of this malware completely from their laptops or desktops….., although you have antivirus protection but it didn't block this virus.

XP Antivirus Plus 2013 Virus Description
XP Antivirus Plus 2013 Virus is defined as a dangerous rogue security tool by YooSecurity Labs. It is a fake anti-virus program that you can not trust it at all. Just like Vista Antivirus Plus 2013 or Win 7 Antivirus Plus 2013 virus, this virus is created for the XP operating system. This fake program acts as the real anti-virus program so that many victims are fooled by this big virus. This tricky virus will create a lot of fake warning to scare you. Then will claim that your computer is in a high risk of being attacked, you need to pay to this program for activating so that it can help you remove all the problem in your computer. If you don't know anything about this fake program, you may believe it and pay to this virus and that is the way virus maker collects money from the victims all over the world. Not only can't it protect your computer but also can do damage to your system data. When your computer is infected by this virus, it can download different viruses and Trojans to slow down your computer, what is more, this tricky thing can install ransomware to block your computer. If you can not remove this fake program completely, it can update to protect itself, there is why many victims can not remove this fake program even they uninstall it in the control panel.
XP Antivirus Plus 2013 virus is a rogue anti-spyware created by cyber crimes to attack target computers with your concepts. It can automatically install itself in your computer and pops up a scanning screen, which looks just like licensed anti-virus program. And it shows you Windows recommend Activate XP Antivirus Plus 2013, if you clicked Yes to activate the rogue program, then you will be redirected to purchase its activation code to register for the full version. Actually, it is a scam not the think like you could see. What are you going to do at this time? Some innocent users are scared by those annoying problems and purchased the full version to activate the rogue XP Antivirus Plus 2013 firewall alert. What a bad decision! Don't be fell into the trap of Scam. Delete the malware from your computer ASAP.
To save your computer, Live Chat with YooSecurity Expert Now. You can follow the manual removal guide below to get your problem fixed. (For advanced computer users)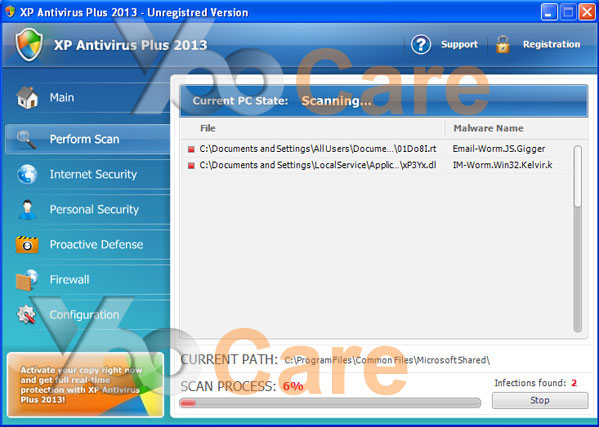 Firewall Alert XP Antivirus Plus 2013 Unregistered Version Warning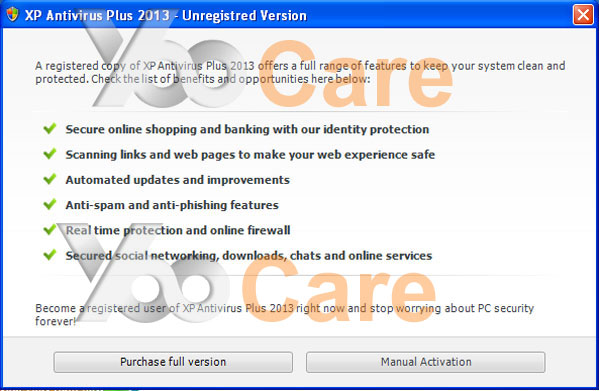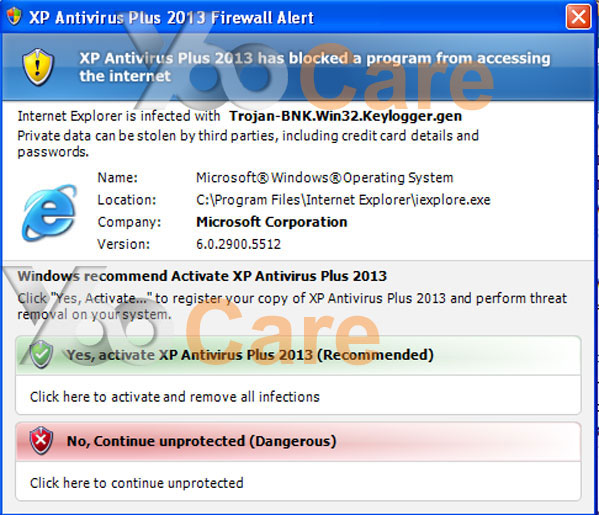 How Do You Know If Your Computer has been effected by The Virus.
Windows XP Antivirus Plus infection blocked your access to the internet and disabled your task manager as well as registry editor? If you realized the symptom, then your computer was infected with the fake XP virus. Become a registered user of XP Antivirus Plus 2013 right now and stop worrying about PC security forever! Although this tricky virus can escape the scan of legitimate antivirus program, it also can be picked up by its symptoms of fake alert.
1.Secure online shopping and banking with our identity protection
2.Scanning links and web pages to make your web experience safe
3.Automated updates and improvements
4.Anti-spam and anti-phishing features
5.Real time protection and online firewall
6.Secured social networking, downloads, chats and online services
What Is The Easy Way to Remove This Virus Without Deleting Files?
XP Antivirus Plus 2013 is a fake antivirus which looks very professional and is similar to other legitimate antivirus programs. Inexperienced Internet users may be easily cheated by it and believe that it can really do something helpful to protect their computers. In fact, XP Antivirus Plus is a rogue program which is designed by hackers to swindle Internet users' money away.
Most of time you may get XP Antivirus Plus virus from downloading unknown "free" software, opening unknown e-mail attachments, visiting malicious web site, etc.. After finishing its installation into your computer system, it can modify Windows Registry and set itself to run automatically when you boot up your computer. Your antivirus software will also be disabled by it leaving your computer in a dangerous condition. If you find that XP Antivirus Plus is scanning your computer, you should not count on the results. It is attempting to convince you that your computer is seriously infected by various viruses and you need to pay to get a license key to clean the computer. You will lose your money and your computer is still infected even if you purchase its license key. Well, manual removal of XP Antivirus Plus 2013 virus is the best guide.
Instructions On Removing The Rogue Antispyware Program Safely:
1. Restart your PC before windows launches, tap "F8" constantly. Choose"Safe Mode with Networking" option, and then press Enter key.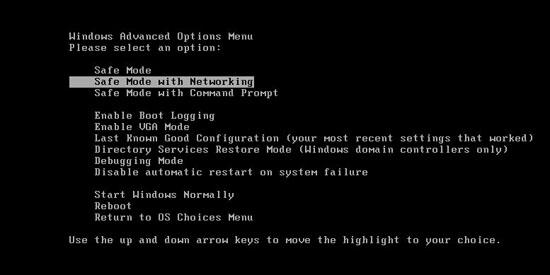 2. Press Ctrl+Alt+Del keys together and stop XP Antivirus Plus virus process in the Windows Task Manager.
3. Delete associated files from your PC completely as follows:
%AppData%\random
%AppData%\result.db
4. Search for all related registry entries infected by XP Antivirus Plus 2013 virus and wipe them out:
HKEY_CURRENT_USER\Software\Microsoft\Windows\CurrentVersion\Internet Settings "WarnOnHTTPSToHTTPRedirect" = 0
HKEY_CURRENT_USER\Software\Microsoft\Windows\CurrentVersion\Run\Random
HKEY_CURRENT_USER\Software\Microsoft\Windows\CurrentVersion\Policies\System "DisableRegistryTools" = 0
HKEY_CURRENT_USER\Software\Microsoft\Windows\CurrentVersion\Policies\System "DisableTaskMgr" = 0
HKEY_LOCAL_MACHINE\SOFTWARE\Clients\StartMenuInternet\IEXPLORE.EXE\shell\open\command "(Default)" = '"%LocalAppData%\random"'
5. Reboot the computer to normal mode when the above steps are done.
Video Guide to Remove XP Antivirus Plus Virus Malware
Up to now, you should learn more about XP Antivirus Plus 2013 virus and understand once this rogue program is installed, it generates false positives and alerts that your computer is seriously infected. Annoying security alerts and pop-ups will appear to take over your whole system. And finally it wants to allure the naive users to open its payment website to purchase the full version of Xp antivirus plus for cleaning up all "detected" threats. This rogue program also messes up your PC by popping up numerous fake alerts which will come out when you execute browser programs like Internet Explorer, Google Chrome, or Mozilla Firefox. Thus, it is impossible for you to surf online. Meanwhile, the real antivirus program will be disabled so that other vicious rogue programs or Trojans would be downloaded and executed on your machine at any time and make you experience money loss, even identify theft. Bear in mind that any attempts to purchase this rogue program will only give your financial information into criminal possession. Therefore, you have to get rid of this rogue at any cost to make sure your computer is safe enough.
Note: If you have tried your best to remove the nightmare but with no luck, to save your computer in time, please contact YooCare PC experts 24/7 online to help you remove XP Antivirus Plus 2013 Virus from your computer completely and safely.


Published by Tony Shepherd & last updated on April 10, 2014 4:46 am