Have you got Personal Protector 2013 Virus and can't remove it? Are you mad at getting an auto scan program popping up on your computer every time you launch the system? Do you have any ideas of such a fake anti-virus software? Why your anti-virus programs can't pick it up entirely? Go over this article to find out some ideas to deal with the rogue program in an effective and safe way.
Don't Fall for the Latest Virus Tricks –Learn how to manually remove Personal Protector virus
Malicious as Personal Protector 2013 virus is, it is a fake anti-spyware that encounters unwary users' computers during their improper web browsing activities. It is just another version of Security Shield Virus. Indeed, this fake program is distributed by cyber criminals to target your computer when you gain access to harmful websites, junk emails and even piracy software download attachments carelessly. Tricky cyber scammers create such a rogue program to make its interface look just like other licensed anti-virus software. For instance, on its interface, there are settings similar to real anti-virus software's, such as System scan, Quarantine and Security settings and so forth. Though this security scanner looks so similar to real security protector, it is totally fake program that may violate victims' privacy and corrupt the targeted computer terribly. Don't trust such a so-called "Personal Protector", as it is nothing useful but just a big scam that fools unwary users.
If you are not careful enough when surfing the web, you may become a victim of this Personal Protector 2013 rogue program, for the pesky rogue software targets users' computers all of a sudden. Once the fake anti-virus software infects your computer, it can install and run itself automatically the time you launch system. Is it really helpful for your computer with such an auto scanning? Absolutely, this fake anti-virus software just performs the same way as registered anti-virus software, trying to cheat unknown victims to change this trial protector into its so-called registered version by paying a great sum of money. Furthermore, the fake Personal Protector 2013 alert will display the state of your PC after scanning, and scan results all show that your computer is at great risk. For example, it states that risk of your computer, spyware and e-attack is pretty high. There is warning message claiming that "You are using unregistered version of Personal Protector. We highly recommend you to activate it now." Once you click on underlined "activate it now", you will be asked to purchase its registered editor. As a matter of fact, all these scan results are just false information to fool unwary victims to purchase its whole editor in order to regain a clean computer environment soon. However, if you do purchase this fake program, you will not only spend the money in vain but also take your computer at even greater risk.
Can't get rid of Personal Protector 2013 virus scam? And it asked you to pay to get the activation code? No matter how scared and worried you would be, you should not purchase this rogue program immediately without a second thought. However, you ought to deal with the fake anti-spyware at a quick time before any further damage occurs. As this rogue program does great harm to your computer in many aspects. To illustrate, it can slow down your computer performance and disconnect the Internet connection quite frequently. With such a fake virus, your computer system is also damaged gradually for the virus may bring other potential threats to the affected computer like malware and spyware. Find it difficult to handle with the fake program entirely? You are welcome to consult PC experts online who are very skillful at dealing with system files and registry entries to remove this notorious fake anti-spyware completely.
To save your computer, Live Chat with YooSecurity Experts Now, or you can follow the manual removal guide below to get your problem fixed. (for advanced computer users only)


Screenshots of Personal Protector 2013 Virus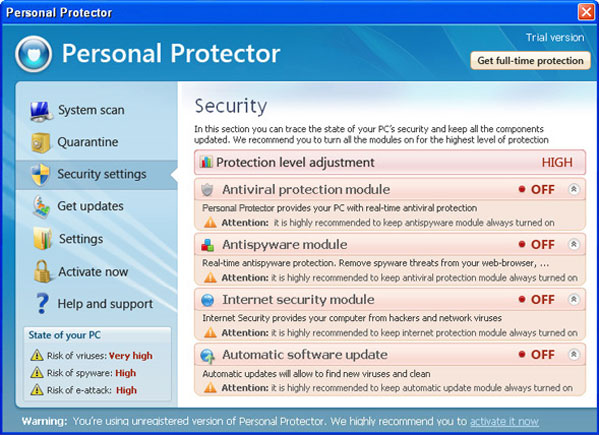 Many PC users can't understand how they suffer from this stubborn and annoying fake program infection, even though they are so responsible during all computer activities. In this case, it is of great importance to learn about symptoms and tricks of common computer viruses. You are also recommended to gain knowledge about these computer threats and be vigilant not to purchase any unknown anti-virus software. Instead, you'd better take measures to deal with the rogue infection before it corrupts your whole computer. All computer viruses are designed to be harmful and relentless to users' computers. Exactly, Personal Protector 2013 is one of those dangerous and malicious viruses that invade victims' computers aggressively after it takes control of the system. The rogue infection affects functions of programs terribly, and its main danger remains in the ability to trace your computer data and allow remote access to the targeted computer only for illegal purposes. Be aware of signs of such fake programs, in order to prevent it from further spreading to your whole system and processes. Keep in mind that this rogue program is a scam, rather than licensed anti-virus software that helps you to regain a safe computer environment.
Why My Anti-virus Software Didn't Pick Up the Personal Protector 2013 Virus?
Many computer users witness their computers being scanner thoroughly after startup system, and this auto-scanner is called Personal Protector 2013. Is it a real anti-virus software that can be used without any risk? Many users take quite a lot of hours setting before computers to surf the web, in order to get some ideas of this auto pop-up protector. Unfortunately, there are lots of victims stuck in a nerve and worried about their computer security state, as a result, they trust claims on the fake program screen and purchase this hazardous rogue software in the hope of getting a clean computer again. If you pay money to get a full editor of this Personal Protector, you just lose the money and come across further unexpected computer damages.
Users may have questions, for example, why their advanced anti-virus software can not pick up the fake virus totally? In fact, this nasty fake program is designed to bypass your anti-virus program to invade your computer deeply at random. That is, it also targets your executable programs to make them disabled so as to prevent them from functioning as usual, particularly the anti-virus software. Confronting with such an urgent situation, you are recommended to uninstall the rogue protector from your computer manually and entirely before it damaging your whole computer. To be honest, manually uninstalling this fake anti-spyware is initially suggested for skillful PC users, for any carelessness may crash the computer unpredictably.
Best Way to Remove Personal Protector 2013 Virus Step by Step
If you think your computer is under attack by the virus, these are the steps you can take to remove Personal Protector virus and regain control of your PC.
Step 1 – Reboot in safe mode with networking. Working in safe mode is the only way to locate and kill the virus and any infected files associated with it.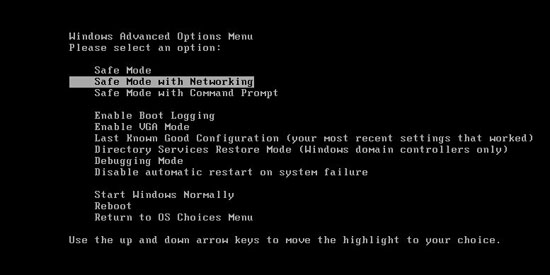 Step 2 – Go to the Processes tab in your Task Manager and delete all current processes running that were initiated by Personal Protector virus. You should be able to easily identify these processes.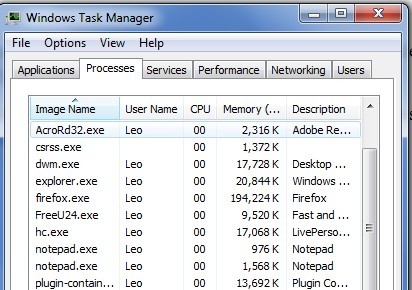 Step 3 – Go into your Windows Registry Editor and remove all fake entries. You should look for these fake entries generated by Personal Protector virus:
HKEY_CURRENT_USER\Software\Microsoft\Windows\CurrentVersion\Internet Settings "ProxyServer"="http=127.0.0.1:8888;https=127.0.0.1:8888;"
HKEY_CURRENT_USER\Software\Microsoft\Windows\CurrentVersion\Internet Settings "ProxyOverride"="<-loopback>;"
HKEY_CURRENT_USER\Software\Microsoft\Windows\CurrentVersion\RunOnce "<random characters>
Step 4 – Finally, you have to locate and delete infected files on your computer. To do this, search your system for the following:
%LocalAppData%\<random characters>.exe
%AppData%\Microsoft\Windows\Start Menu\Programs\Personal Protector 2013.lnk
Step 5 – Restart your computer in normal mode.
Video Guide on How to Remove Personal Protector Virus
By following these steps, you should be able to completely remove  Personal Protector 2013 virus from your computer. If these steps don't work as the virus changes fast, contact our professional PC security team for expert help on how to remove Personal Protector 2013 virus. As viruses become more and more sophisticated, it is becoming harder for the average PC user to fix the problem without the help of an online PC security services.
Our specialists have all the tools and knowledge required to uninstall Personal Protector 2013 rogue anti-spyware and all potential virus threats from your computer. Just one click in time!

Published by Tony Shepherd & last updated on May 31, 2013 7:30 am