Hi, unfortunately I was hit with this cyber police warning scam what can I do to remove it? They are giving me 48 hours to send $500 thru PayPal which seems strange because it would be untraceable and on top of that if it's a legal site why isn't there a contact number? It claimed that I had conducted illegal online activities which I didn't do and they have my all phone contact information, so now they are threatening me with exposing me to friends and family unless I pay a $500.00 fine through PayPal. Is it real? Anyway, my phone now is locked by this cyber scam. So can you help me get rid of this issue?
Cyber Police Virus Warning Blocked Your Android Phone – How to Unlock?
If you receive message that accuses of doing illegal online activities like viewing and storage of forbidden child porno and zoophilia and so on from cyber police, you get a ransomware on the device where this message popped up. This ramsomware can pretend to be cyber police to send those fake message to scare victims and trick them to pay so-called fine around 100$to 500$ through Ukash or PayPal. This cyber police virus alert will show on android phone, tablet and iphone with different police title in different countries.  For example, in USA, it will be in the title of Mandiant U.S.A Cyber Security or U.S.A Cyber Crime Center; and it will be titled with Metropolitan Police in British. When people see those police title message, they are scared and wondered that they have involved with law issue and worried that they will be taken into jail, so they soon send the money to get their device unlocked. But those scaring message is sent from those who create this scam virus not from real police department.

Once this cyber police warning virus gets on your phone or tablet device, it will soon attack your web browser and then next enter the device system to try to lock whole phone. cyber police warning alert can lock your web browser like Internet, Chrome and Safari and so on. Whenever you start the infected browser, you will just be blocked by this pop up message. When the whole phone is locked, the message titled with police department will always be on the phone. Even though you restart the phone, it will be there forever. You are blocked and cannot do anything on the phone. It displays a large warning window which occupies the whole screen of your phone to claim that your device has been blocked as a result of violating law violation, and also tell you in detail that your activities are involved with the following situation: Visiting websites containing pornography, viewing pornographic content, spreading spam, illegally using or distributing copyrighted content and so on. It claims that you have to pay penalty equal to$100~$500 or £100~£500 via PayPal, Ukash or paysafecard within 24 hours to unlock your phone. It claims that they have all phone contact information and if the penalty is not paid, they will expose info to your friends and family and all the data will be removed from your phone. But if you don't, a criminal case will be initiated against you automatically after 24 hours. Many people may believe that is true and pay the fine, but finally their phone are still locked and they cannot do anything on the phone. Please don't be such a fool to trust this scam malware but to figure out a way to get it removed from your phone as soon as possible.
Most android phone or tablet users have got infected with cyber police warning virus mainly by browsing unsafe websites contain porn, game, gambling or downloading free software from unlicensed sources or clicking on those junk attachments of spam email. Cyber hackers can upload this virus files to websites that they have already hacked into. There might be several malicious links, flash pictures, ads, fake security alert or fake software updating message on malicious websites. For example, it may pop up a message that Java, flash player or Video Player is outdated and you are asked to update or download those applications to continue browsing. If you don't make a second thought but just choose to click to update, you may really let this virus access your phone or tablet. Once this malware virus gets downloaded, it can be automatically activated right away. Therefore, please pay attention to your online behavior in order to keep your phone or tablet safe.
If your android phone or tablet is infected with Cyber Police Virus, it will be hard for you to remove it with security tool completely, because there is no perfect antivirus to kill threats on android phone and tablet and also this virus is very tricky and can escape from security apps. And how to unlock your android phone or tablets from Cyber Police Virus? In this case, removing it manually with sufficient expertise online is the best way for tablet users to completely eliminate it from android phone or tablet
Main Traits of Cyber Police Virus on Android Phone and Tablet
1. The Cyber Police Virus is designed to lock your android phone and tablet asking that you need to pay for a fine from $100 to $500 to unlock your device. In fact, it is just a big scam.
2. It locks your android phone or tablet, claiming that you've violated the law of local office by visiting illegal information online.
3. Soon as the Cyber Police Virus targets your phone or tablet, it blocks your device and prevents you from doing anything there.
4. It allows remote access to your android phone or tablet for your personal information and other sensitive information.
If you find any symptoms listed above showing on your android cellphone or tablet, then your device must be suffered with a malware infection(which can be FBI Online Agent virus, Vanilla Reload virus, Mandiant U.S.A. Cyber Security virus, FBI Moneypak virus, Prism virus, U.S.A Cyber Security virus, AFP Crime Commission virus and GVU Ukash Virus etc.) that blocks your access to your android smartphone or tablet. Welcome to contact YooSecurity Online Experts for manual removal guide. Also, we will provide a short removal guide below for android phone and tablet literate.
NOTE: Being afraid to do any wrong operation during the process of removing this Cyber Police Virus? Please contact YooSecurity Online Experts, we are here to help you:


Cyber Police Virus Manual Removal Guide on Phone and Tablet
1. Since your android phone or tablet is blocked by this Cyber Police malware virus, you will need to restart your phone or tablet to safe mode which starts up without loading any third-party add-ons. By this way, you are capable to carry out malware removal steps on your tablet. Here are two examples for you to put the android phone and tablet to safe mode. The method mentioned below is also applied to most android phone. Take Dell Tablet as an example:
For Dell tablet: 1) Power down. 2) Turn on till you see the Vendor's logo, press and hold Volume Down key till you access to safe mode.
Note: Samsung, Sony, HP and other brands' tablet users can also try the same way as Dell's to put your tablet to safe mode. If you have put your tablet to safe mode successfully, you should see a text "Safe Mode" at the bottom left corner.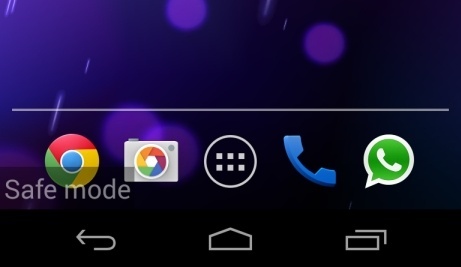 2. Once you have put your tablet in safe mode, you are capable to uninstall malicious apps of your tablet. However, the manual removal process of harmful apps requires sufficient expertise. To safely deal with the Cyber Police Virus and other hazardous apps, you had better contact an expert online for further removal help.
Conclusion
Android phone or tablet users who suffer from this Cyber Police Virus should figure out a feasible method to get it off your phone or tablet immediately. As the risky malware scam has been designed to block your phone or tablet running with Android and Mac OS X and swindle money from unknown victims. The interface of the Cyber Police Virus alert seems quite reliable, for it lists up details of your violation of copyrights and related laws on the warning page. In order to collect fake fines, it demands you to pay a big amount of fine through non-existing payment systems like Moneypak, Vanilla Reload and so on. There is seldom chance that you can unlock your Android phone or tablet by submitting the fake fine which is actually collected by cyber criminals. The Cyber Police Virus warning is nothing legitimate but a malicious phone malware that needs to be deleted completely. It has been modified into different variants which are possible to target phone and tablet users all over the world. Since the Cyber Police Virus malware is hardly removed via any security app, phone users had better uninstall it manually.
Suggestion: Have spent a lot of time but can't get out of Cyber Police Virus scam on your mobile device? Contact online experts for tech support now!


Published by Tony Shepherd & last updated on July 24, 2015 1:16 pm