This Government Block scam has seized my HTC phone and it displayed a scaring alert saying that my phone was blocked for safety reasons and I was demanded to pay a fine to unlock my device. According to the block message, any delay of submitting the fine will lead to a deprivation of liberty for several years. I tried to shut down the phone, but I received this Government Block page with message "Attention! Your phone has been blocked for safety reasons" on my screen soon as I turned it back on. Is this Government Block warning message real? If not, what damage or loss will this block scam bring to me? I really freaked out with this block message on the phone and had no idea to get it off the device. What should I do?
Android phone and Tablet blocked by Government Block Scam – How to Unlock?
It is identified that your Android phone or tablet is affected by this Government Block virus scam as long as you received the Government Block message on your Android device saying "Attention! Your device has been blocked up for safety reasons listed below." The Government Block scam can lock up either the whole screen of your Android phone, tablet or the Internet browser only. It is a changeable ransomware virus that can be named with FBI Department of Defense virus, Cyber Command virus, RCMP virus, PCEU Ukash virus, FBI Online Agent virus, AFP virus and PCEU virus, etc., sharing same scamming features and bringing great damage or money loss to Android victims. As a matter of fact, this tricky Government Block malware scam has become a big threat to worldwide users. It is changed into different variants with various names that are capable of affecting computers running with Windows OS, Mac machine, Android phone, tablet, iPhone, iPad, kindle fire and other devices. Almost all brands of computers, Mac machine, mobile phones and tablets can be affected by this Government Block Scam.

Many Android users are surprised at how they picked up this Government Block malware on their smartphone and tablet, as they didn't do anything wrong on the device. Usually, the ransomware virus is distributed through spam email attachments, hacked websites, downloads of apps, apk files, pdf files and other files. Once your Android phone or tablet is blocked by the Government Block ransomware virus, you will find that this malware has blocked your access to your Android device. Every time you turn on the affected Android phone or tablet, you will find it impossible to exit or bypass the threatening Government Block alert on your device. According to the fake ransomware alert, you are accused of violation of copyright and related rights law and demanded to send money through Ukash, Moneypak or Paysafecard payment system in order to get a so-called unlock code which is not helpful at all. The tricky Government Block virus scam threatens unwary victims that they will suffer from a punishment of deprivation of liberty for terms from 3 to 7 years or a big amount's fine in case that they don't submit the requested fine within 24 or 48 hours. However, this Government Block alert is nothing legitimate but a tricky ransomware virus that Android users should realize its high threat level and kick it off your Android device immediately. Submitting the fake fine won't help you unlock your Android phone or tablet but leads to the money loss. In fact, if you search for this Government Block on the web, you will find that lots of worldwide Android users have suffered from this Android virus with different names. Thus, you should not trust this Government Block virus scam or pay for it. All you need to do is to get the Government Block virus off your Android phone and tablet completely.
If your android phone (Samsung, Sony, LG, HTC, ZTE, Motorola, etc.) or tablet (Samsung, Dell, ASUS, HP, Sony, etc.) is infected with this Government Block virus, you will find it impossible to remove the Ukash malware with any security application. Since the Government Block virus is changed daily, there is no perfect anti-virus application that can get it off your phone or tablet completely. In this case, how to unlock your Android phone or tablet from this Government Block ransomware? Obviously, manual removal with sufficient expertise online will be your best choice to unlock the android phone or tablet.
Main Traits of Government Block Virus on Android Phone and Tablet
1. The Government Block malware Scam is designed to lock your android phone and tablet asking that you need to pay for a fine to unlock your device. In fact, it is just a big virus scam.
2. It locks your android phone or tablet, claiming that you've violated the law of local office by visiting illegal information online.
3. Soon as the Government Block virus targets your phone or tablet, it blocks your device and prevents you from doing anything there.
4. It allows remote access to your android phone or tablet for your personal information and other sensitive information.
If you find any symptoms listed above showing on your android cellphone or tablet, then your device must be suffered with a malware infection (which can be Ministry of Public Safety Canada virus, FBI Online Agent virus, Vanilla Reload virus, Mandiant U.S.A. Cyber Security virus, FBI Moneypak virus, Prism virus, U.S.A Cyber Security virus, AFP virus and GVU Ukash Virus etc.) that blocks your access to your android smartphone or tablet. Welcome to contact YooSecurity Online Experts for manual removal guide. Also, we will provide a short removal guide below for android phone and tablet literate.
NOTE: Being afraid to do any wrong operation during the process of removing this Government Block virus? Please contact YooSecurity Online Experts, we are here to help you:


A Screenshot of Government Block Virus Scam Blocked Android phone and Tablet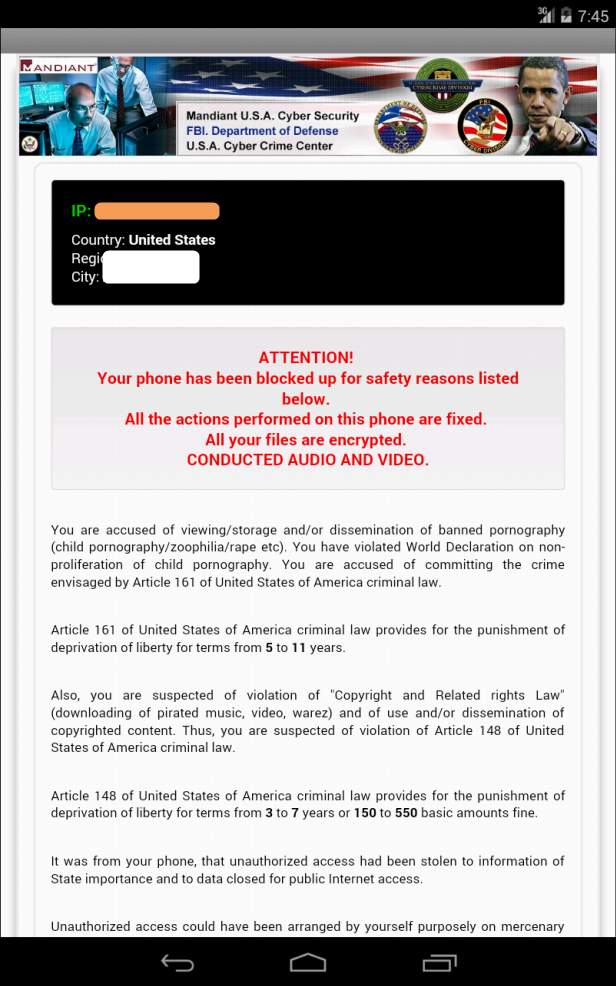 Government Block Virus Manual Removal Guide on Phone and Tablet
1. Since your android phone or tablet is blocked by this Government Block malware virus, you will need to restart your phone or tablet to safe mode which starts up without loading any third-party add-ons. By this way, you are capable to carry out malware removal steps on your tablet. Here are two examples for you to put the android phone and tablet to safe mode. The method mentioned below is also applied to most android phone. Take Dell Tablet as an example:
For Dell tablet: 1) Power down. 2) Turn on till you see the Vendor's logo, press and hold Volume Down key till you access to safe mode.
Note: Samsung, Sony, HP and other brands' tablet users can also try the same way as Dell's to put your tablet to safe mode. If you have put your tablet to safe mode successfully, you should see a text "Safe Mode" at the bottom left corner.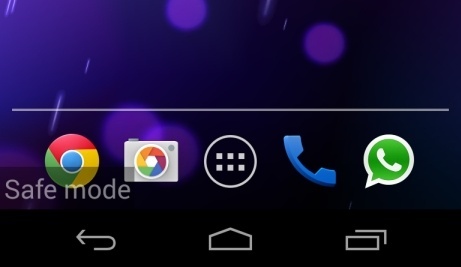 2. Once you have put your tablet in safe mode, you are capable to uninstall malicious apps of your tablet. However, the manual removal process of harmful apps requires sufficient expertise. To safely deal with the Government Block virus and other hazardous apps, you had better contact an expert online for further removal help.
Conclusion
From the above mentioned, we learn that this Government Block alert is not real or anything from law enforcement agency. It is a big Android virus scam that blocks up lots of worldwide smartphones and tablets and swindle unknown victims' hard earned money. It claims your Android phone or tablet has been blocked up due to your violation of associated law and asks you to submit a fine through its payment system like Ukash, Moneypak, Paysafecard to get a unblock code which does not help at all. It makes Android users so scared that they will tend to trust this Government Block malware scam and send the requested amount of money to supposedly unblock your device. In fact, the money you sent through its scamming payment system will only go to the pockets of cyber criminals'. Whenever you receive this Government Block virus scam on your mobile phone or tablet, you should take actions to remove it from your device manually with the assistance of online experts.
Suggestion: Have spent a lot of time but can't get out of the Government Block virus scam on your mobile device? Contact online experts for tech support now!


Published by Matt Johnston & last updated on July 23, 2015 1:14 pm