Hi I accidentally clicked on an unknown link while browsing Chrome, but seconds later I received an " FBI Prison Virus " on my Samsung Galaxy phone for being suspected child pornography which I found absurd and after some research I found out it was a scam. I'm requested to pay $500 to unlock my phone or I will be put into prison. I'm just wondering if there is any way to remove the virus or do I need to buy a new phone? I am completely locked out and unable to even restart my phone without removing the battery.
What Can I do Now? My Phone is Hacked by FBI Prison Virus?
FBI Prison Virus is the same variant of FBI Moneypak scam virus, FBI Prism Virus or cyber police virus. Similarly, the ransomware usually locks people out of phone or tablet by displaying a big FBI warning notice saying your phone is locked for your committing crime and demands people to pay for a penalty of $300-$500 in US dollar to unlock the device. It displays a fake FBI warning notice saying "Attention! You phone has been locked up f or safety reasons listed below. All the actions performed are fixed. All your files are encrypted. CONDUCTED AUDIO AND VIDEO." or "Your device is locked due to the violation of the federal laws of United States of America" because your device has been detected and found that your device was used to visit websites containing pornography. Once the phone or tablet is attacked by this FBI Prison Virus, you will see such similar screenshot of bogus FBI police warning notice message as below: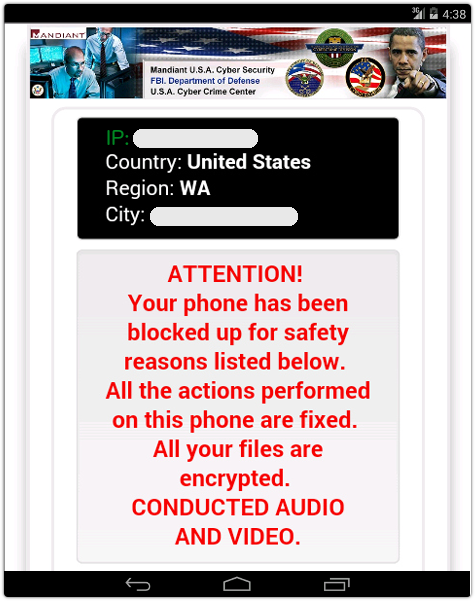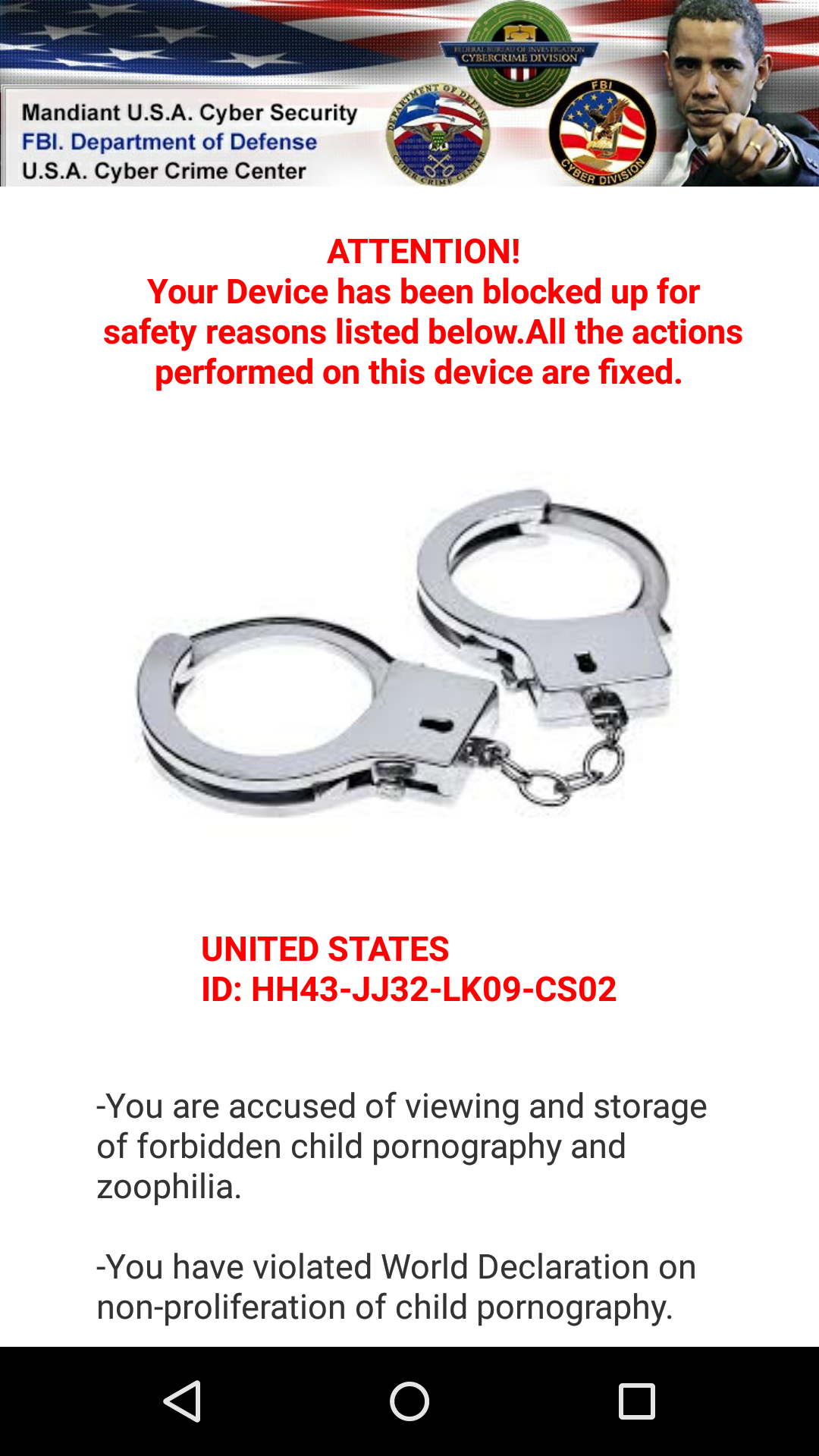 FBI Prison Virus mainly targets phone and tablet users from United States of America. This FBI ransomware can target different brand of phone&tablet like Samsung, LG, HTC, Sony, ZTE, Huawei, Motorola, Acer, or Asus and so on. FBI Prison Virus says itself to be from FBI Department of Defense to claim that you have viewing or distributing prohibited Pornographic content (child pornography/zoophilia/rapes) and illegally using pirated content (video, music or software) and you're suspected to violation of criminal laws of United States of America. Fake warning notice posted by this FBI Prison Virus alerts that you need to pay for a penalty of $300-$500 via Moneypak within 24/72 hours, if you settle the fine in time, your mobile device will be unlocked and all information will be decrypted in course of 24/72 hours. But if you let 24/72 hours pass without payment, the criminal case will opened against you and even worse you will serve in prison about 5 to 11 years. Inexperienced people see such FBI warning notice will be freaked out to death and then rush to pay the fine immediately, but even though you pay the money, the phone or device is still locked. The cyber hacker who creates this FBI Prison Virus just cares about the money, they will not really help you unlock the phone or tablet after hackers takes your money. Even though your IP address, city and country even your photo are all posted on the fake warning alert, which looks more genuine, you should think about FBI warning ransomware deeply and search around if anyone else has met the same issue as you before. Don't be such a fool to submit money as FBI scam virus requires so soon. And you should figure out a way to eradicate this FBI Prison Virus from your phone or tablet quickly.
What Changes will Happen to Phone or Tablet if Your Mobile Device Gets FBI Prison Virus Warning Alert?
1. The FBI Prison Virus is designed to lock your android phone and tablet for asking that you need to pay for a fine of $500 though Moneypak to unlock your device. In fact, it is just a big scam to extort people money.
2. It locks your phone or tablet, claiming that you've violated the law of local office by visiting illegal information online.
3. Soon as the fake FBI police Warning Message Block targets your phone or tablet, it blocks your device and prevents you from doing anything there.
4. It allows cyber hackers to remote access your android phone or tablet for your personal information and other sensitive information.
If you find any symptoms listed above showing on your cellphone or tablet, then your device must be suffered with a malware ransomware infection(which can be FBI Prison Virus, FBI Moneypak virus, FBI Prism virus, FBI scam virus, Mandiant U.S.A. Cyber Security virus, Cyber.Police Virus, AFP Crime Commission virus and GVU Ukash Virus etc.) that blocks your access to your android smartphone or tablet. Welcome to contact YooSecurity Online Experts for manual removal guide. Also, we will provide a short removal guide below for phone and tablet literate.
NOTE: Being afraid to do any wrong operation during the process of removing FBI Prison Virus, on tablet or phone? Please contact YooSecurity Online Experts, we are here to help you:


FBI Prison Virus Fake Police Warning Message Manual Removal Guide on Android
If you see FBI Prison Malware Alert Message blocking on your mobile device, it will be hard for you to remove it with security tool completely, because there is no perfect antivirus to kill threats on android phone or tablet and also this FBI Prison ransowmare is very tricky and can escape from security apps. And how to unlock your android phone or tablets from FBI Prison Virus? In this case, removing it manually with sufficient expertise online is the best way for tablet users to completely eliminate it from android phone or tablet.
1. Since your phone or tablet is blocked by this fake FBI Prison Warning Message, you will need to restart your phone or tablet to safe mode which starts up without loading any third-party add-ons. By this way, you are capable to carry out malware removal steps on your device. Here are two examples for you to put the android phone and tablet to safe mode. The method mentioned below is also applied to most android phone. Take Dell Tablet as an example:
For Dell tablet: 1) Power down. 2) Turn on till you see the Vendor's logo, press and hold Volume Down key till you access to safe mode.
Note: Samsung, Sony, HP and other brands' tablet users can also try the same way as Dell's to put your tablet to safe mode. If you have put your tablet to safe mode successfully, you should see a text "Safe Mode" at the bottom left corner.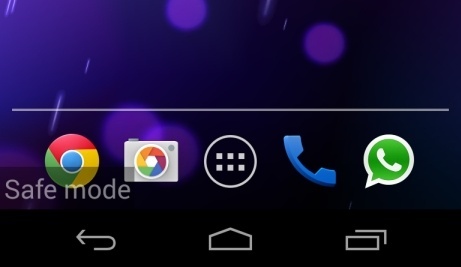 2. Once you have put your tablet in safe mode, you are capable to uninstall malicious apps of your tablet. However, the manual removal process of harmful apps requires sufficient expertise. To safely deal with this kind of FBI Prison Virus and other hazardous apps, you had better contact an expert online for further removal help.
Conclusion
Fake police warning message posted by FBI Prison Virus just aims at convincing people that they have done some illegal actions or committed the crime to break the law and will be put into jail. For this reason, your device is locked. It falsely accuse you of viewing/storage and/or dissemination of banned pornography (child pornography/zoophilia/rape etc) and distributing pirated content (Music, Video or Software) even though you have not done anything as it mentioned. To make the warning alert looks more genuine, FBI Prison Virus posts FBI logo and seal, your case number, IP address, country and location even it takes your pictures, but all things are scam and a trap to lure you paying money and intends to rip you off. Law enforcement, government department and police agency will not fine someone who does illegal actions or commit the crime to break the law by demanding him to submit penalty online. Paying so-called fine is to give cyber criminals money directly, and it's hard to find back your money.
Suggestion: Have spent a lot of time but can't get out of FBI Prison Virus Block on your android device? Contact online experts for tech support now!


Published by Tony Shepherd & last updated on July 30, 2016 5:18 am