Have just been attacked by the fake System Progressive Protection virus and am trying to remove it using the online web page. How did i get the System Progressive Protection Virus as i didn't open any porn sites? I have managed to reload in safe mode with networking but cannot find the virus details. Can you advise please?
Is System Progressive Protection a Scam or Legitimate?
System Progressive Protection is the latest malicious program we have detected in YooSecurity Labs as rogue anti-spyware. It indicates your computer is at high risk by showing you there are 38 infections or WARNING!38 infections found. System Progressive Protection is a rogue Windows fake-antivirus program and a new variant member of Rogue.WinWebSec  family. It is acting like most of other fake-AV programs like the prevalent spreading Live Security Platinum or Fake Internet Security 2013 by hijacking your computer via fake scanning and alerts. It is very disturbing to see the fake-AV industry still alive  even though The Federal Bureau of Investigation (FBI) is continuously taking heavy actions against the international scareware network in multiple countries and the Russian authority shut down the most infamous fake-AV gang founded by Pavel Vrublevsky. System Progressive Protection leverages various social engineering techniques to scare the infected users to believe the PC has been infected. After it has stealthily installed and hidden its tracks to the major security software, it continuously pops up fake scanning reports, useless security alerts and other scary techniques. It hijacks your computer until you will pay the license of SystemProgressiveProtection. It is being spread via malicious websites, P2P networks and downloadable files. On our tested machines in YooSecurity Labs, most of the major anti-virus and anti-malware programs do NOT detect this scareware and System Progressive Protection does not allow users to attempt any other normal operations. You can follow the instructions below to go around the tactics employed by this scamware.

To save your computer, Live Chat with YooSecurity Expert Now, or you can follow the manual removal guide below to get your problem fixed. (For advanced computer users)

System Progressive Protection Virus Screen Shot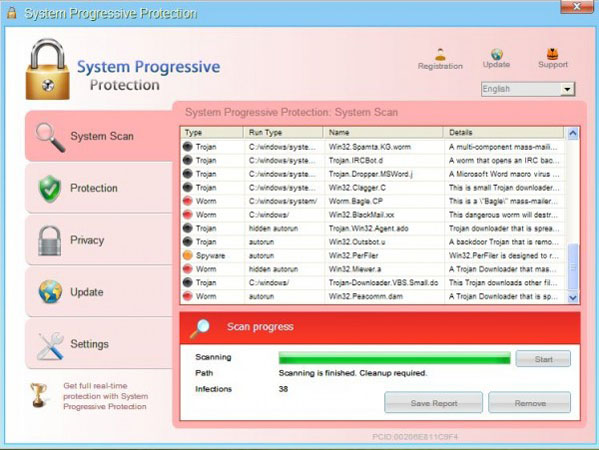 Activate System Progressive Protection Firewall Alert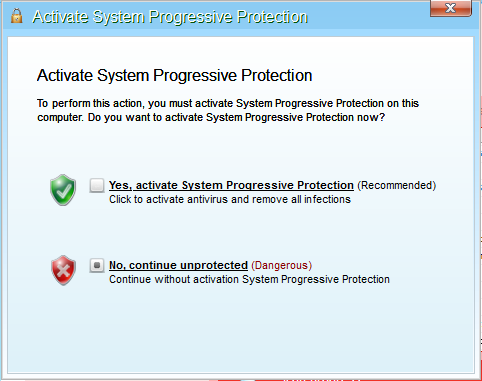 Have you encountered with Fake Firewall alert? Some experience from the victims
The nasty Virus keeps coming back in normal mode?
How to remove System Progressive Protection Virus manually from Windows 7, Windows Vista or Windows XP?
How do you remove a virus off your computer from safe mode with networking?
After removing some files generated by nasty Virus then malicious thing pop-ups?
It scans your computer with many X marks and tells these harmful programs cause: System crash,Permanent Data loss,System start-up failure, System slowdown,Internet connection loss, Infecting other computers on your network.
What is the best efficient way to eliminate System Progressive Protection ransomware if anti-virus software didn't work?
As you could see the virus is not easy to be terminated from your system, it blocked all tools or applications. Fake System Progressive Protection acts as it is a legitimate software comparing the files on your system against the code signatures of known viruses. The code signatures are stored in the program's virus definition database, which must be kept up-to-date on a regular basis. And it states the program is with real-time scanning function, System ProgressiveProtection is always on, working in the background to catch any infected file that may be copied or downloaded to your system. Real-time scanning checks all new files as they arrive, whether they come from data CDs, email attachments, instant messaging, or network or Internet downloads. no matter what it claims, System Progressive Protection virus is a big scam. In addition, if SystemProgressiveProtection discovers that an application running on your PC is exhibiting suspicious behavior, it enables its Dynamic Signature Service. This feature automatically checks for updates to the definitions library, and then compares the suspect application to the definitions.But all you see is not real, it is a ransomware. What is more, neither Norton nor MCAfee can catch it. So manual removal is the best efficient way to eliminate the virus. Manual removal of System Progressive Protection Virus step by step guide is below.
Guide to get in safe mode with networking to get rid of the Platinum Virus:
Restart your computer. As your computer restarts but before Windows launches, tap "F8" key constantly. Use the arrow keys to highlight the "Safe Mode with Networking" option, and then press ENTER.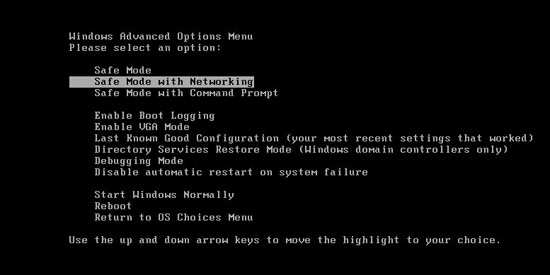 Manual Removal Step by Step Instructions
Press Ctrl+Alt+Del keys together and stop all processes of System Progressive Protection Malware in the Windows Task Manager.
Open the Registry Editor, search and remove registry entries related to the Malware.
All associated files of the evil virus should be deleted absolutely.
%Desktopdir%\System Progressive Protection.lnk
%Programs%\[random]\[random].exe
%AppData%\[random]\[random].exe
Manually clean out all registry entries created by the Scam
HKCU\Software\Microsoft\Windows\CurrentVersion\RunOnce\[random] %AppData%\[random]\[random].exe
HKCU\Software\Microsoft\Windows\CurrentVersion\Uninstall\[random].exe
HKCU\Software\Microsoft\Windows\CurrentVersion\Uninstall\SystemProgressiveProtection\DisplayIcon %AppData%\[random]\[random].exe,0
HKCU\Software\Microsoft\Windows\CurrentVersion\Uninstall\SystemProgressiveProtection\ShortcutPath "%AppData%\[random]\[random].exe" -u
Video Guide on How to Remove System Progressive Protection Virus
Note: System Progressive Protection Virus installed itself, and it blocked your task manager and registry editor. Sometimes the fake anti-virus program blocked your internet connection. Yes, many computer victims tried to fix the problem by themselves with manual removal methods as their anti-virus application didn't catch the virus. But lots of users cannot access task manager or internet explorer after restarting in safe mode. Well, why many users became the victims of System Progressive Protection virus and they couldn't remove it themselves? One can understand that people need their computers work in safe surroundings, so they need a system security tool. And hackers felt that there was an increasing need for an easy-to-use, small footprint, low-cost (or free) program to protect Windows users from malware threats, so they designed the malware to steal computer user's private information such as credit card and PayPal account to get their money. Just follow the steps above to kill the virus or you can get help from technicians who can help you quickly and safely.
Tips: If you still have problems with the nasty virus and don't want to make things worse, welcome to contact PC expert for further help to completely get rid of System Progressive Protection virus from your laptop or desktop.

Published by Tony Shepherd & last updated on May 27, 2013 6:45 am