Has your computer suddenly been locked up by a warning from buma*stemra POLITIE? What is this Buma Stemra page and why does it lock your computer screen? Are you accused to violate laws of the European area? Similar to other ransomware, this Buma Stemra Virus is created by hackers in order to collect money by deceiving. However, paying the requested fines does not help you unlock your computer. In order to get the PC back running properly, manual removal is suggested here.
Buma Stemra Virus Description
Buma Stemra Virus is a PC virus that you may come across once your computer gets infected. It can be categorized as a ransomware. Among this category, we often see victims' PCs get locked up by illegal reasons. And the only way to unlock computers is to pay the amount of fines. According to the statements, once the payments have made through to the national accounts, computers will be automatically unlocked. But is that true? Absolutely not! This Buma Stemra Virus is in fact controlled by hackers who aim at collecting money from innocent PC users all over the world for giving them nothing at all! This is definitely a cyber-fraud behavior. Looking for something similar to this Buma Stemra Pilitie ransomware? Have you heard about the well-known FBI MoneyPak scam virus? That's right. These two ransomware share the same factors.

A Screen-shot of This Buma Stemra Politie Locking Page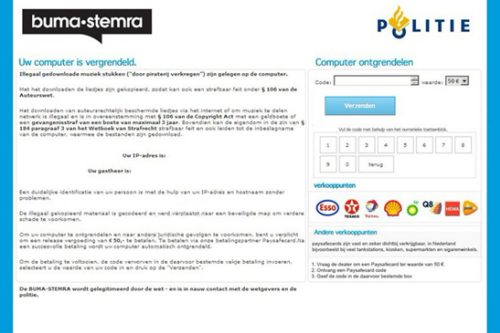 Uw computer is vergrendeld.
Illegaal gedownloade muziek stukken ("door piraterij verkregen") zijn gelegen op de computer.
Met het downloaden de liedjes zijn gekopieerd, zodat kan ook een strafbaar feit onder 106 van de Auteurswet.
Het downloaden van auteursrechtelijk beschermde liedjes via het internet of om muziek te delen netwerk is illegaal en is in overeenstemming met 106 van de Copyright Act met een geldboete of een gevangenisstraf van een boete van maximaal 3 jaar. Bovendien kan de eigendom in zin van 184 paragraaf 3 van het wetboek van Strafrecht strafbaar feit en ook leiden tot de inbeslagname van de computer, waarmee de bestanden zijn gedownload.
Uw IP-adres is:
Uw gastheer is:
Een duidelijke identificatie van uw persoon is met de hulp van uw-IP-adres en hostnaam zonder problemen.
De illegaal gekopieerd materiaal is gecodeerd en werd verplaatst naar een beveiligde map om verder schade te voorkomen.
Om uw computer te ontgrendelen en naar andere juridische gevolgen te voorkomen. bent u verplicht om een release vergoeding van €50,- te betalen. Te betalen via onze betalgspartner Paysafecard. Na een succesvolle betaling wordt uw computer automatisch ontgrendeld.
Om de betaling te voltooien, de code verworven in de daarvoor bestemde vakje betaling invoeren, selecteert u de waarde van uw code in en druk op de "verzenden"/
De BUMA-STEMRA wordt gestimuleerd door de wet- en is in nauw contact met de wetgever en de politie.
Once your computer is infected by this Buma Stemra Virus, you will get a locking screen as above coming out from nowhere to completely block you out of your computer. It could happen when you were surfing the Internet, browsing resources, watching a movie or communicating with friends on Facebook. That doesn't mean that you are blocked out for these normal online behaviors because the infection could have done for some time before that. So, what are the actual reasons for you to be infected by this Buma Stemra Virus? Hackers have put a lot of Trojans and malware onto the web. It takes some bad actions online to catch this virus. You may not do them with purposes. But sometimes it's hard to tell the differences between real web sites and hacked webpages.
When the infection is done, the most important thing is that you do not trust it and pay right away. Paying will not help you unlock your PC. Meanwhile, you will not get the money back after you pay. Try to figure that out first and make things clear to you. Then start to work on the resolution of removing this Buma Stemra Virus. Not very computer literate? Contact Online PC Expert now for assistance; or you can consider doing it on your own with the following instructions (for Advanced PC users).


Will There Be A Policeman Hunting You Down
Will you be hunted down by police after getting this Buma Stemra Virus on your computer? That is believed to be the most concerned question that everybody may ask. The Buma Stemra warning is quite real, isn't it? Written in Lithuanian language, this ransomware is trying to convince its victims that their online activities have violated certain laws. That's why the PCs are locked. Regulations will be listed one by another to make it more real. And by threatening to you that if you don't pay the required fines, Buma Stemra Virus will sue you and criminal cases will be automatically started against you right away! It is believed that this is the most threatening part of this locking screen.
However, the fact is Buma Stemra Politie is a real scam! To prove that, you can consult as many PC experts as you can; or do as many online researches as you can. It is 100% that Buma Stemra is a virus! So you don't really have to trust what it tells you, even though it does look quite legit. Hackers have made Buma Stemra Virus as legit as possible, so there will be more victims fall for it. And thus, hackers will benefit more. It is a sure thing that there won't be any policeman coming down to capture you.
Consequences You Will Experience When Getting Buma Stemra Virus
Getting infected by Buma Stemra ransomware, you will not only experience a locking screen, but also other pretty dangerous consequences caused by this fake police warning. Believe it or not. Even though the only thing you can see is the locking screen, Buma Stemra Virus is conducting some other bad activities beneath the screen at the same time.
A. This ransomware will be able to create more vulnerabilities on the infected computer so other viruses can get in and extend the infection;
B. Once Trojans have been dropped inside, remote hackers will have the chances to control the infected computer;
C. Malicious codes will then be dropped by Trojans constantly to mess up with system files and data;
D. System stability will be threatened generally.
Special hint: It is quite easy to judge whether your computer is infected by a ransomware like Buma Stemra Virus or not. According to all the above descriptions, the symptoms of being infected by a similar ransomware include: 1) computer screen being locked; 2) against national laws; 3) fines are required.
How to Remove Fake Buma Stemra Police Scam Virus
Following are some basic steps on how to manually get rid of Buma Stemra Virus. Not want to mess up all the files and data? Please back up all your important files before you get started.
Step A: Reboot your infected computer and keep pressing F8 key on your keyboard. Use the arrow keys to highlight "Safe Mode with Networking" and press E/Enter.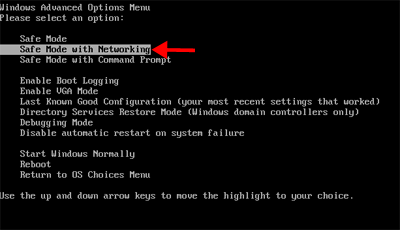 Step B: Press Ctrl+Alt+Del keys together to open Windows Task Manager and then end related process [Buma Stemra Virus].


Step C: Show hidden files. Go to Folder Options from Control Panel. Under View tab, select Show hidden files and folders and non-select Hide protected operating system files (Recommended) then click OK.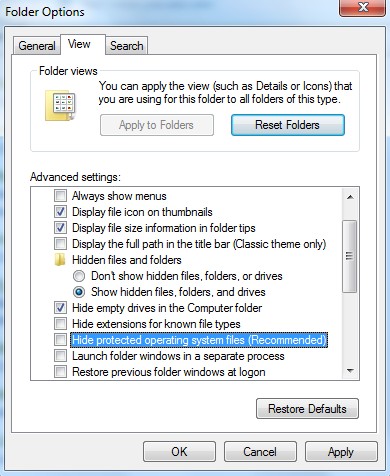 Step D: Press Windows+R keys to open the Run window and then type in regedit to open Registry Editor.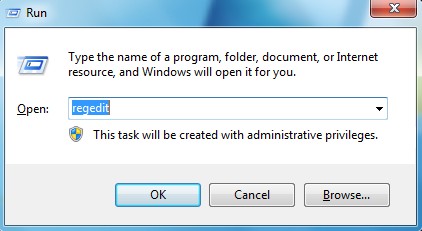 Step E: Find out and delete all these associating files and registry entries as below:
Go to %userprofile%\appdata\local\temp
%AppData%\Programs\[rnd].exe
%AllUsersProfile%\Application Data\.dll
%AllUsersProfile%\Application Data\.exe(rnd)
HKEY_CURRENT_USER\Software\Microsoft\Windows\CurrentVersion\Run "[\].exe"
HKEY_CURRENT_USER\Software\Microsoft\Windows\CurrentVersion\Settings "net
HKEY_LOCAL_MACHINE\SOFTWARE\Microsoft\Windows NT\CurrentVersion\Winlogon\Shell ""
Step F: Restart the computer back to regular mode and see whether the Buma Stemra Virus page still comes up or not.
Video Guide On How to Remove Fake Canadian Ukash Scam
Buma Stemra Conclusion
It is no longer a common phenomenon that PC users have been annoyed by all kinds of viruses including Trojan viruses, malware, spyware, browser hijackers, fake antispyware and ransomware because computer is a part of our daily life now. What to do after getting infected by a PC virus is the most concerned thing. For instance, your computer gets a Buma Stemra Virus on the screen one day and you are totally freaking out. What should you do and how will you do it? Is paying a wise choice? Absolutely not! Hackers are collecting money from lots of PC users through that way. If you pay, you are one of them. And the money you spend will not be returned. According to surveys, most PC users pay right away no matter how much they charge. 400 dollars or 100 euros could be the requested fines. And all these fines will be going into the accounts of hackers instead of the nations'. Because of the convenience of the network, anybody could have the chances to be infected by this Buma Stemra Virus.
Note: Still fail to remove this ransomware by following the above steps? Have no ideas left on how to get rid of this fake Buma Stemra Politie virus completely? Please contact YooSecurity Online Expert now for further removal assistance.


Published by Tony Shepherd & last updated on June 5, 2013 3:15 am