Help! How to get rid of XP Internet Security Pro 2013 Virus from my computer as it has taken over my whole screen? Recently, there are many computer users became the victims of the rogue thing. And they can't do anything as the virus stopped they to do that. The only message they got on the screen and it has blocked a program from accessing the internet. You need to click on activate now to get the activation code. What do you do at the moment?

XP Internet Security Pro 2013 – Unregistered Version Description.
What is XP Internet Security Pro 2013? Welcome to the Information and Technology age, where more products for purchase are not all that they are advertised to be.  A cyber space chock full of legitimate information as well as ill begotten ideas on how to scam the unaware out of their personal and financial information.  One of the new methods of manipulating a computerized machine to procure vital information of a personal nature includes the XP Internet Security Pro2013 Virus.  This malicious computer code is a member of the name changing variety of infectious and harmful illegitimate opportunities currently corrupting computers around the globe.
The XP Internet Security Pro 2013 Virus is transferred onto the online user's computer in a couple of different ways.  One of the methods of disbursement involves the use of an alert style warning system that entices the curious into believing they need to download and install a specific program in order to view an online video.  It can also be transmitted to a computer through the use of a computer that has been used to visit a hacked web site.  This hacked web site will attempt to install the harmful computer code without the visitor's knowledge after which it will install itself and expose any vulnerabilities the system has inherent to it.
To save your computer, Live Chat with YooSecurity Expert Now. You can follow the manual removal guide below to get your problem fixed. (For advanced computer users)


Screenshot: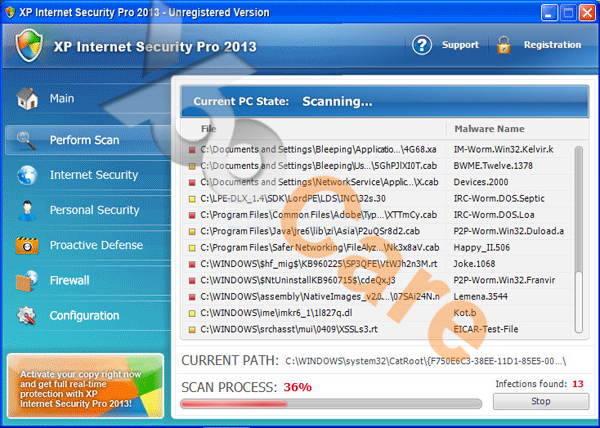 How a computer gets infected with Windows XP, Vista or Win 7 Internet Security Pro 2013 virus
It can be difficult to determine which web sites are already hacked to disburse the XP Internet Security Pro 2013 Virus to an inexperienced user's computer system.  Interested individuals can find an abundance of useful and helpful information on other web sites developed to assist the inexperienced internet enthusiast with discovering what to look for.  These web sites will assist the curious computer owner with detecting the smallest details which will alert them to discovering what to look for when they are considering the opportunity to download a legitimate program.
Once the system has been rebooted and the fake application is now running, it would begin to generate irritating pop ups and notifications of fake threats and viruses that have been detected in the computer on the right bottom corner. All these notifications are falsely generated to scare the PC user into paying for a fake non-existent licensed version.
How to remove XP Internet Security Pro 2013 step by step?
There are a couple of ways a curious computer user can help itself with eliminating the need to worry about contracting an infectious computer code of the XP Internet Security Pro2013 Virus variety.  Education regarding how to properly use a computer will be of the utmost importance.  Properly setting up the firewall system as soon as the computer is taken out of the box will be instrumental in this process.  A firewall without the proper filters in place will allow the user of the system to download anything they desire, with or without prior knowledge of what they are getting themselves into. The rogue security tool is preventing from scanning, so manual removal of XP Internet Security Pro 2013 virus is efficient way.
1. Restart your PC before windows launches, tap "F8" constantly. Choose"Safe Mode with Networking" option, and then press Enter key.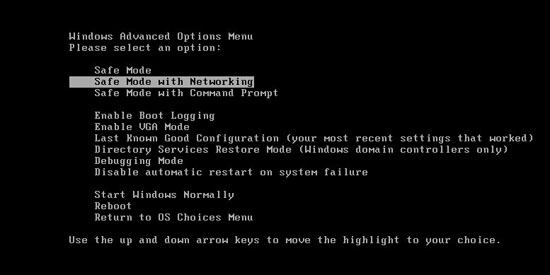 2. Press Ctrl+Alt+Del keys together and stop XP Internet Security Pro 2013 virus process in the Windows Task Manager.
3. Delete associated files of the virus from your machine absolutely:
%AppData%\random-
%AppData%\result.db
4. Search for all related registry entries infected by virus and wipe them out:
HKEY_CURRENT_USER\Software\Microsoft\Windows\CurrentVersion\Internet Settings "WarnOnHTTPSToHTTPRedirect" = 0
HKEY_CURRENT_USER\Software\Microsoft\Windows\CurrentVersion\Run\Random
HKEY_CURRENT_USER\Software\Microsoft\Windows\CurrentVersion\Policies\System "DisableRegistryTools" = 0
HKEY_CURRENT_USER\Software\Microsoft\Windows\CurrentVersion\Policies\System "DisableTaskMgr" = 0
HKEY_LOCAL_MACHINE\SOFTWARE\Clients\StartMenuInternet\IEXPLORE.EXE\shell\open\command "(Default)" = '"%LocalAppData%\random"'
5. Reboot the computer to normal mode when the above steps are done.
Video Guide to Remove the Fake Firewall aAlert

Friendly Reminder:
Computer users think this malware can also be removed by taking the additional step of purchasing a prepackaged software product from the originating manufacturer.  As the software products of this nature are guaranteed by the manufacturer to be free from the XP Internet Security Pro 2013 Virus and all other types of malicious computer code that can create havoc on the internal components of the computer.  But after trying many ant-virus programs they only to find out they are useless. So you need to do it manually by yourself or with the assistance of PC experts. After that, staying away from unknown or untrusted web sites will also assist in keeping the system safe.  Neglecting the opportunity to click on a download link found on a web site you are unfamiliar with will also make it easier to keep the computer being used virus free for the future.
Note: If you have tried many solutions to  remove XP Internet Security Pro 2013 firewall alert but failed from time to time, to save your computer in time, please contact YooCare PC experts 24/7 online to completely and safely clean out the annoying virus.


Published by Matt Johnston & last updated on December 12, 2012 9:48 am