You have no idea why Windows Efficiency Kit pops up on your computer? You do not remember when you agree this strange software to install in your computer? It starts to scan your computer when you power the computer on, which you cannot cancel? The scan result shows that the computer is infected with many malware infections and Trojan horse viruses? Is it a hoax or legitimate software? You already have a famous antivirus program, but you never get these risk reports? It covers the whole screen and blocks all other functions? What can you do to get rid of this unnecessary software completely and prevent it from returning back again and again?
Windows Efficiency Kit – How to Remove Fake AV
Windows Efficiency Kit is a rogue antivirus program from rogue software family which also contains Windows Prime Accelerator and Windows Prime Shield. It displays false scan results and alerts to scare you. When its installation completes, it will create many files with random names in your system and then inform you that these files are all related to dangerous viruses after an automatic scan. If you try to use this software to remove any detected infection, you will be required to purchase its license key. All its scan reports as well as alerts are fake, please do not purchase it.

Windows Efficiency Kit has the ability to run immediately each time the operating system starts to load and pop up a false computer security scanning. The scan definitely will end with a result showing your computer is full of virus infections. In fact, it just imitates an ostensible scan instead of really scanning your computer files. Many inexperienced computer users may believe that it is genuine at the first glance for the virus makers make its interface look as natural as possible to convince you to purchase its license key. The key of Windows Efficiency Kit to obtain money is to disguise as a useful antivirus program, which makes many victim users pay for a "full version". You will keep getting countless dangerous security threats and will be unable to use the computer if you do not pay for it. The virus makers rely on the fake program to acquire money, although you have paid for its full version, it still locks your computer. Every time you want to use your computer, it warns you about unauthorized remote connection, suspicious or malicious software, error messages and virus infections. Don't believe it! Don't be taken in by any of its false messages. It will take away your money, but it will not protect your computer. What is worse, it is able to take control of your computer to collect your confidential information. Thus, the best way to avoid further damages is to delete the fake antivirus program as soon as possible.
Suggestions: Not a computer literate yourself? Contact YooSecurity Online PC Experts now for removal help. Some basic manual steps are also given in the following (for advanced computer users):


The Screenshot of Windows Efficiency Kit Fake AV
* It is noticeable to all that this rogue pop up has a similar appearance as many legit antivirus programs. Hence, average PC users can be easily confused by this scam ware and will be more willing to pay to activate the rogue program. Warning! The amount of money you spend on this rogue won't be returnable once paid.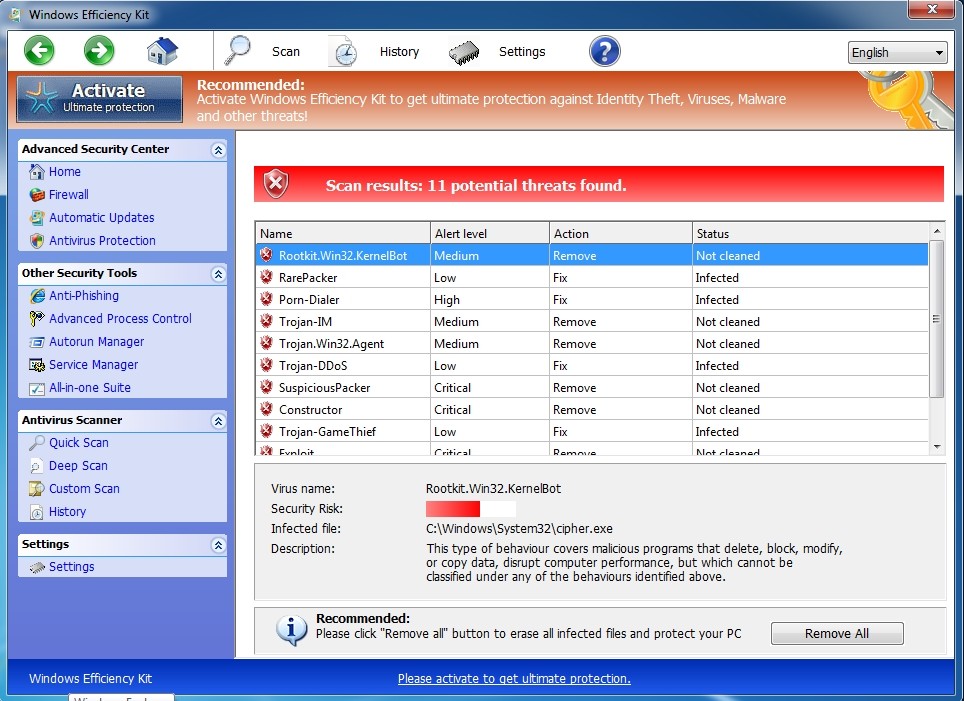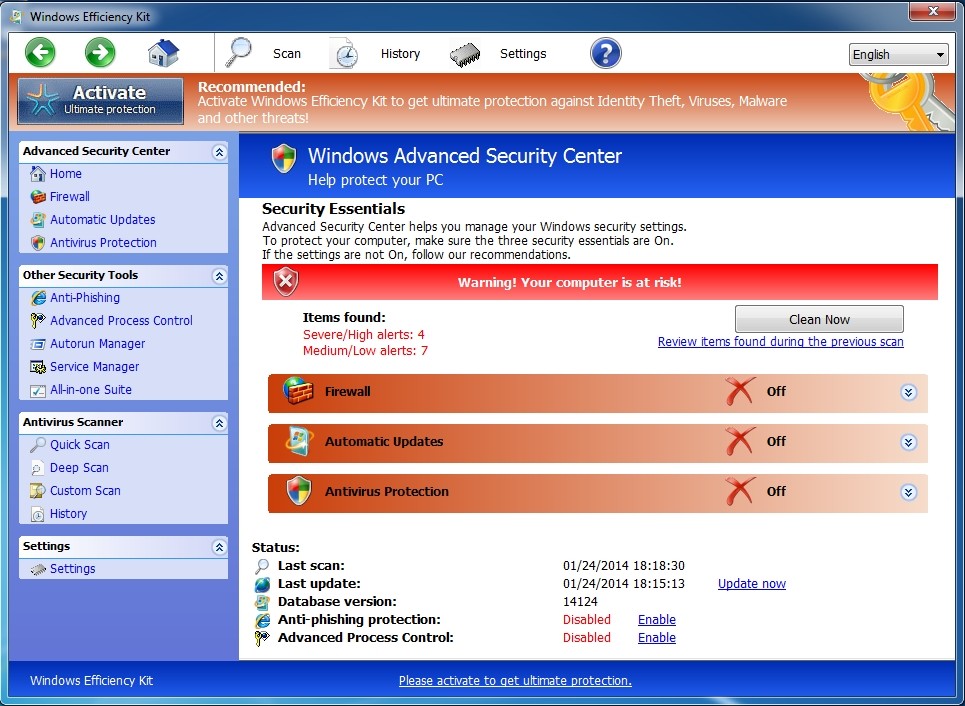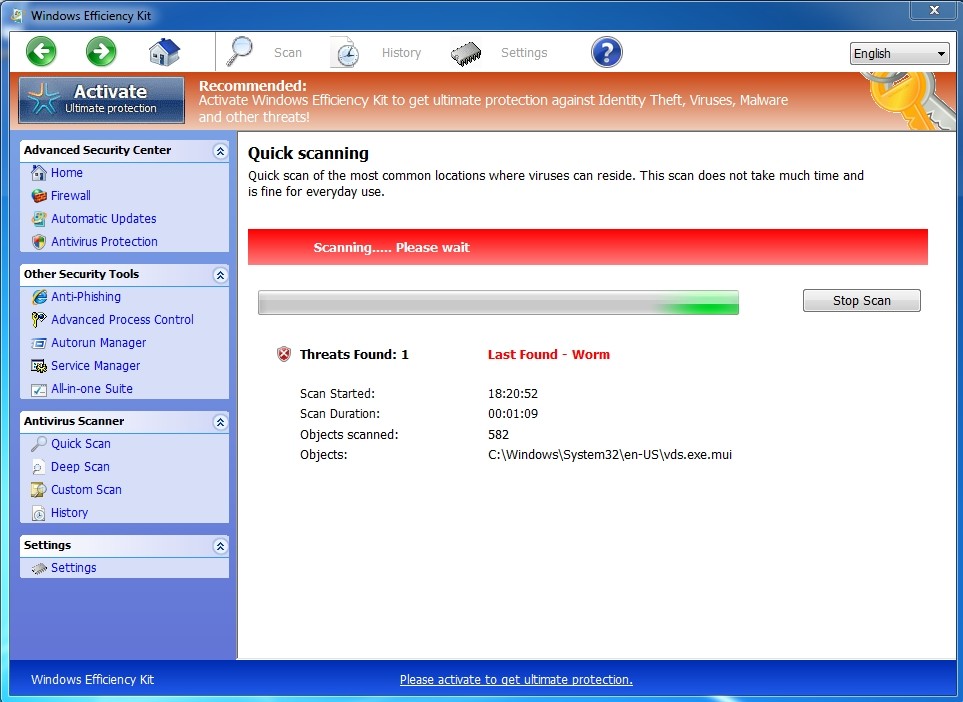 How do I remove all these Windows Efficiency Kit popups?
Once the rogue program is installed, it will not only automatically launch upon system startup, but report many potential threats inside your computer. Security popups will be displayed whenever you attempt to run a file or program on the infected computer. For instance:
"Firewall has blocked a program from accessing the Internet. Internet Explorer C:\program files\internet explorer\iexplore.exe is suspected to have infected your PC."
Similar programs or system files can be detected to contain viruses and are suggested to be removed by this rogue. As a matter of fact, these pop-up security alerts are fake. It's trying to confuse users and get them to delete important programs or system files on the PC. To block these annoying popups, delete Windows Efficiency Kit manually from the computer now.
Where can I get the activate code?
To remove all the "detected threats" from your system, you are required to activate Windows Efficiency Kit first. A certain amount of money can be requested from you in order to complete this process. If you are tricked and believe this pop up is legit, you may want to pay and have your PC protected. However, users will not get out of any of these troubles once paid. The scam ware will be left on your computer while remote hackers have probably taken your money away. Hence, we don't suggest victims of this rogue to pay any amount to this unknown pop up program. If it's bugging you, uninstall this scam malware ASAP!
A Step-by-Step Removal Instruction for Fake Antivirus
Manual Removal Steps: (For most Windows users)
1. Safe Mode with Networking/Safe Mode with Command Prompt.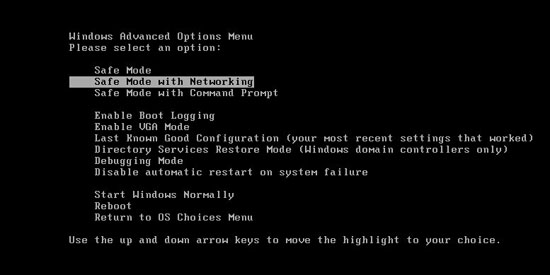 Restart the infected computer, tap F8 key constantly when computer is booting back up to get safe mode options on the screen, use arrow keys to highlight the option you want to enter then press E/Enter key. * Usually, this rogue program will be disabled from automatically starting in safe modes. Users will be able to fix the Windows Efficiency Kit malware problem without constant blocks from the fake AV.
2. Windows Task Manager.


Press CTRL+ALT+DELETE or CTRL+SHIFT+ESC; or pull up Run box from Start menu to type in taskmgr
Click on Processes tab
End process of the rogue virus
or
Click on Applications tab
Right click on tasks you want to end
Select Go To Process
End Processes
3. Delete virus files and registries from system.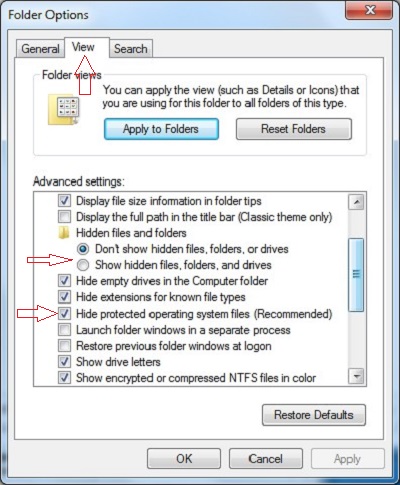 Click on Start button
Control Panel
Search for "folder options" on top right corner
Click on View tab
Show hidden files, folders, and drives
C:\Users\profile name here\AppData\random names
HKCU\Software\Microsoft\Windows\CurrentVersion\Run\rnd
* Special tips for Windows 8 users: To put a Windows 8 into safe mode, press CTRL+ALT+DELETE to get the Restart option, hold down Shift key then select Restart. On the Choose an option screen, select Troubleshoot, Advanced options, Startup Settings, Restart. If you are still having troubles with the fix process on a Windows 8, contact online PC experts for help now to remove Windows Efficiency Kit fake pop up.
Remove Windows Efficiency Kit:

Alternatively, you can view this fake AV removal video guide directly on our website.
Conclusion
Windows Efficiency Kit is a kind of fake antivirus software to cheat unsuspecting computer users and force them to buy its full version. It will display fake security alerts to make you think that your data is at risk or your computer is facing severe infections. You will catch it if you tend to visit illegal websites, download unsafe free programs and open spam emails. Once it is able to run on your computer, it will stop your original antivirus program and pop up fake security alerts constantly after a swashbuckling scan. If you try to clear up the non-existent infections through it, you first need to purchase its license key. You need to note that its scan result cannot be trusted since it even does not have an eligible virus reservoir. It is just a malware created by cyber criminals who aim to take your money without giving you anything back. For the safety of your information and computer, you had better remove it as soon as possible.
Note: Having troubles to understand the guide? Can't get rid of Windows Efficiency Kit pop up successfully? Contact YooSecurity Experts now to get help to secure your PC from potential threats:


Published by Tony Shepherd & last updated on January 25, 2014 12:01 pm