Is Windows Advanced Security Center fake alert keeps warning? This is a rogue thing comes from windows malware. How to get rid of Windows Advanced Security Center virus without wiping your computer?

Windows Advanced Security Center is an annoying fake alert created by the criminals who use the fake anti-virus to scare computer users worldwide. In fact, it's one of the fake family rogue programs the same as Windows Secure Surfer and Windows Pro Safety Release. Windows Advanced Security Center is preventing you from accessing the Internet, executable tools, so you will not be capable to make contact with helpful sites like YooCare/YooSecurity. This malware keeps popping up with urgent messages that your computer is infected, directs you to click "Prevent attack" and it immediately shuts down both IE & Firefox. And this keeps repeating and makes things worse. Once a user accepts this rogue software and allows it to enter the system it will cause all types of havoc in your system.
Your computer will experience malfunctioning programs and applications, web browser hijacks and pop-up alerts all the time. Once installed, you will be forced to run a bogus scan which reports there are a great deal of nonexistent malware in your computer. Later it will constantly prompt the victim the so called full version of this useless product in order to fix these problems. Of course, this so-called registration requires a credit card payment, which puts the victim at risk for identity theft and credit card fraud, including the money that the victim loses from paying for this useless application. Windows Advanced Security Center is part of a scam aiming to rip off your money. It will normally use Trojan viruses to be installed into your computer without your approval while you are browsing on the internet. You can't count on anti-virus to help you get rid of this malicious virus, since it is not allow you to run any anti-virus and executable applications that may assist to remove it. Besides, this program will attempt to launch itself automatically by modifying the registry entries and even doesn't offer any way to turn this 'feature' off. Considering it runs high risk for the compromised computers, it is strongly suggested users to uninstall this rogue as soon as possible before it causes all types of havoc in your system.
The Windows Advanced Security Center virus is an anti-spyware attach that infects the computers worldwide, it can get into system easily when the users carelessly click on links and downloads that contain the virus, sometimes the user can be hit by this fake alert by opening an email attachment that contains this attack. The virus does two things, first it begins to install and attack the system settings, really slowing down the computer and making normal operations appear to be very sluggish. The second thing this virus does is to show users a fake virus scan, which shows the infections on the screen, alerting them that there are lots of threats detected on the computer and they need to be removed and deleted immediately.
If the user start to clean out all the infected and dangerous files it will then state that the software is out of date and needs to be upgraded to the newest version, that means you need to purchase the full version to activate the software. Obviously this is a fake scan and results, and the hackers are just after one thing, and that is the credit card details of the user. Not only will they charge the user for an "upgrade" that doesn't really exist, but also they will then have access to their credit card number and can use it to commit additional fraud, or they will sell it to other cyber criminals groups oversea that will then use it to make fraudulent purchases. Once paid, the warning alert changed from red color to green color, but the virus is not gone but still stay in user's system, you have to remove it completely by manual.
Special tips: If your computer has been infected such virus and you want to remove it yourself. You can refer to detailed guide of how to remove Windows Advanced Security Center manually as follows. But please be careful of your operation. If you're not an expert with abundant computer skills, your any activity may cause information loss even system crash. Contact YooCare/YooSecurity experts online for assistance now.

Screenshot of Windows Advanced Security Center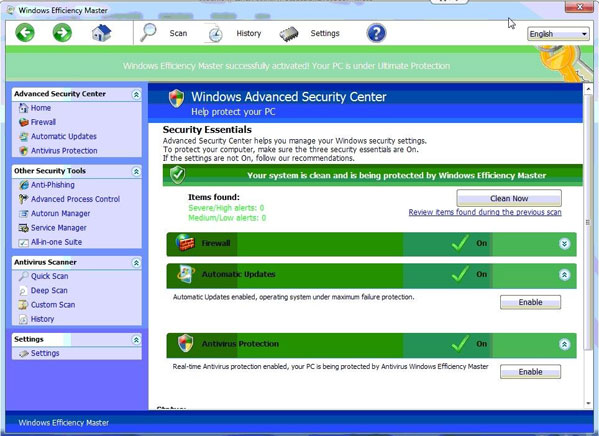 Windows Fake Warning Alert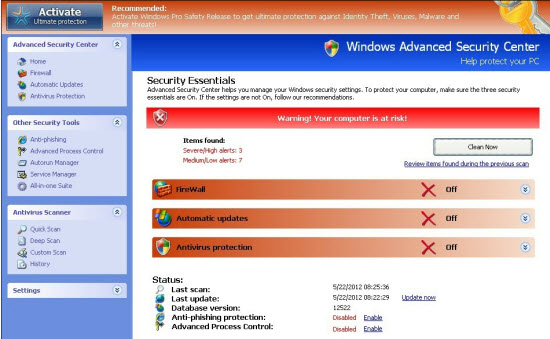 The fake alert information may like this:
Warning
Firewall has blocked a program from accessing the Internet
C:\program files\internet explorer\iexplore.exe
is suspected to have infected your PC. This type of virus intercepts entered data and transmits them to a remote server.
Error
Attempt to modify Registry key entries detected.
Registry entry analysis recommended.
Error
Trojan activity detected. System data security is at risk. It is recommended to activate protection and run a full system scan.
Windows Advanced Security Center Virus keeps crashing user's computer,  how bad was the virus if it stays on one's computer? "Windows Advanced Security Center" closes IE & Firefox. It looks like a program. However, whenever users go onto the control panel to turn off the firewall that keeps on cutting them off from internet explorer, it keeps on showing up again and again! It was a pain because it wouldn't let users go on internet for more than a few minutes. The malware can block your task manager and registry editor and mess up your system.
Manual Removal of Windows Malware Step by Step
Delete files related to the fake antivirus program:
%AppData%\NPSWF32.dll
%AppData%\Protector-[rnd].exe
%AppData%\result.db
Delete registry entries created by Windows scam malware:
HKCU\Software\Microsoft\Windows\CurrentVersion\Run\Inspector %AppData%\Protector-[rnd].exe
HKCU\Software\Microsoft\Windows\CurrentVersion\Internet Settings\WarnOnHTTPSToHTTPRedirect 0
HKCU\Software\Microsoft\Windows\CurrentVersion\Settings\UID [rnd] or ID 4
HKCU\Software\Microsoft\Windows\CurrentVersion\Settings\net [date instalation]
HKLM\SOFTWARE\Microsoft\Windows NT\CurrentVersion\Image File Execution Options\AAWTray.exe
To register this rogue application you can try the following serial number:
0W000-000B0-00T00-E0020
Similar Video Guide on How to Remove Windows Advanced Security Center Virus
There is bad news for consumers, as the "Windows Advanced Security Center" fake AV is not detected by real anti-virus software that is kept up to date, so to avoid attacking by virus or malware please make sure that the virus scanning software on your computer is always updated to the newest version and regular scans of the computer are performed. If is worth it to do it daily, especially if the computer is used to visit a lot of different websites. Detecting something like the rogue thing at its early stages can prevent it from fully installing and spreading deep in the files and can also reduce the total damage that it can cause to the computer.
NOTE: If you are still confused for all of this, welcome to contact PC experts for further help.


Published by Tony Shepherd & last updated on February 7, 2014 8:34 am