Nowadays, a variety of computer viruses make netizens fearful. At the same time, all sorts of antivirus software arise at the right moment. This also leads to many hackers making fake anti-viruses for illegal excessive profit. Windows ProSafety Release is such one fake thing. How to get rid of Windows Pro Safety Release virus without wiping my computer?

Windows Pro Safety Release Virus Description
Windows Pro Safety Release, it's interface looks as it is a legit antivirus program. In fact, it's one of the fake family rogue programs the same as Windows Secure Surfer and Windows Safeguard Upgrade. Once this nasty rogue Windows Pro Safety Release malware installed into your computer system, it will start to run automatically when computer victim starts computer Windows. Then this fake virus will display numerous fake scan and then stating there are numerous unsafe infections in your computer. The virus will use tactics to convince victim to buy its antivirus program. If you attempt to use the program to remove these infections, you will be definitely cheated. This is a scam as the scan results are all false. In fact, there are no any infected files exist on your computer. Therefore, please just ignore the scan results and do not buy anything this virus provided. This rogue antispyware will also hijack many applications of the infected computer. Fake Windows Pro Safety Release will terminate your executable when you run it; it also will hijack the Windows Task Manager and Registry editor so that you could not open these programs normally and instead of the rogue's control screen. These infections will take full control of your computer and cause many problems. Windows Pro Safety Release is a rogue antispyware that is produced by cyber criminals to cheat less experienced computer users into scam. It is a fake security tool which pretends to be a computer optimizing tool. In fact, this fake virus will show many insecure alerts to computer victim, stating that his computer has been into a high risk situation. To help you out of that threat, computer victim needs to purchase related antivirus program. Actually, Windows Pro Safety Release is a big scam and should be ignored. This fake virus often comes with a Trojan or rootkit, which increase degree of removal, as well as loading, installation and running of true antispyware. The way of being infected this malware is result in surfing unreliable websites and lacking of security tools on the infected computer. This Windows Pro Safety Release malware is difficult to be removed unless it is removed manually.
Special tips: If your computer has been infected such virus and you want to remove it yourself. You can refer to detailed guide of how to remove Windows Pro Safety Release manually as follows. But please be careful of your operation. If you're not an expert with abundant computer skills, your any activity may cause information loss even system crash. You can choose online computer professional service here, YooCare for assistance.

Screenshot of Windows Pro Safety Release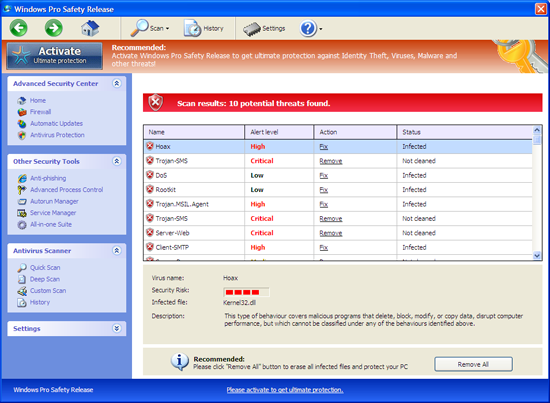 Windows Pro Safety Release Fake Alert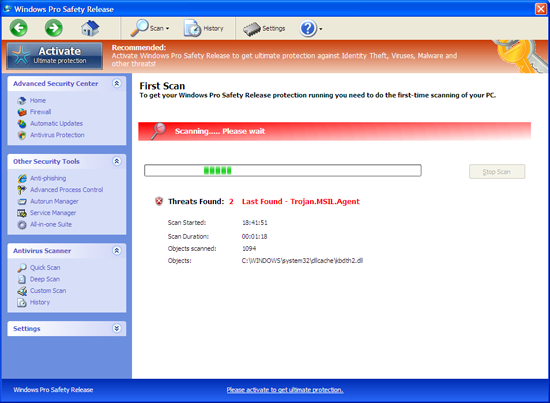 Windows Pro Safety Release Scam ScreenShot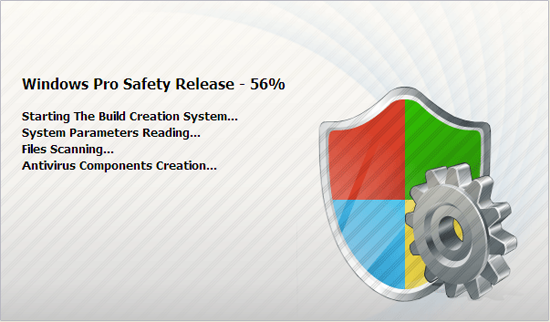 The fake alert information may like this:
Warning
Firewall has blocked a program from accessing the Internet
C:\program files\internet explorer\iexplore.exe
is suspected to have infected your PC. This type of virus intercepts entered data and transmits them to a remote server.

Error
Attempt to modify Registry key entries detected.
Registry entry analysis recommended.

Error
Trojan activity detected. System data security is at risk. It is recommended to activate protection and run a full system scan.
Similar Video Guide on How to Remove Windows ProSafety Release Virus
Manually Remove Windows Pro Safety Release Malware

? Delete files related to Windows Pro Safety Release spyware:
%AppData%\NPSWF32.dll
%AppData%\Protector-[rnd].exe
%AppData%\result.db
? Delete registry entries created by Windows Pro Safety Release malware:
HKCU\Software\Microsoft\Windows\CurrentVersion\Run\Inspector %AppData%\Protector-[rnd].exe
HKCU\Software\Microsoft\Windows\CurrentVersion\Internet Settings\WarnOnHTTPSToHTTPRedirect 0
HKCU\Software\Microsoft\Windows\CurrentVersion\Settings\ID 4
HKCU\Software\Microsoft\Windows\CurrentVersion\Settings\UID [rnd]
HKCU\Software\Microsoft\Windows\CurrentVersion\Settings\net [date instalation]
HKLM\SOFTWARE\Microsoft\Windows NT\CurrentVersion\Image File Execution Options\AAWTray.exe
To register this rogue application you can try the following serial number:
0W000-000B0-00T00-E0020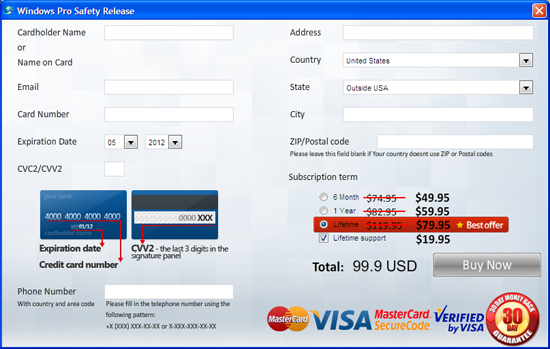 NOTE: If you are still confused for all of this, welcome to contact PC experts for further help.

Published by Matt Johnston & last updated on November 9, 2012 1:41 pm