Can't get rid of Win 7 Antivirus Pro 2013 Virus from your computer? Well, currently, lots of computer users hit by the Win7 Antivirus Pro 2013 malware/ spyware! And they can't connect online as the virus blocked everything. What is more, no antivirus programs installed on their computers can stop this firewall alert. Since Win 7 Antivirus Pro 2013 has blocked a program from accessing the internet. What can you do to sort it out?

Win 7 Antivirus Pro 2013 – Unregistered Version Description.
Win 7 Antivirus Pro 2013 is a malicious rogue antivirus program that should be avoided and removed from any computer as soon as it is noticed. The intention of this fake application is to trick PC users into believing that their computer is affected with various harmful viruses and spyware. A legitimate antivirus is supposed to help protect a computer from viruses, spyware and other malware that can compromise performance and security of the computer system. Win 7 Antivirus Pro 2013 is a fake antivirus application because it doesn't have any virus database and so cannot really detect, prevent or remove any virus or threat from the computer.
The main aim of this program like other fake Braviax applications is to scam unsuspecting PC users into parting with their hard earned money. As soon as the PC user begins getting several alerts and notifications of supposedly detected viruses and threats, they get scared and try to use the application to remove or delete the rogue programs. When they do that, the fake application prompts them to purchase the licensed version of Windows 7 Antivirus Pro 2013.
Win 7 Antivirus Pro 2013 is a fake application with no licensed version. The scans and notifications are all falsely generated and unreal and so paying for the licensed version is just a waste of money. There is no licensed version of the application and trying to pay for it only exposes your payment details to the hackers.
To save your computer, Live Chat with YooSecurity Expert Now. You can follow the manual removal guide below to get your problem fixed. (For advanced computer users)


Picture of Win7 Antivirus Pro 2013 Virus: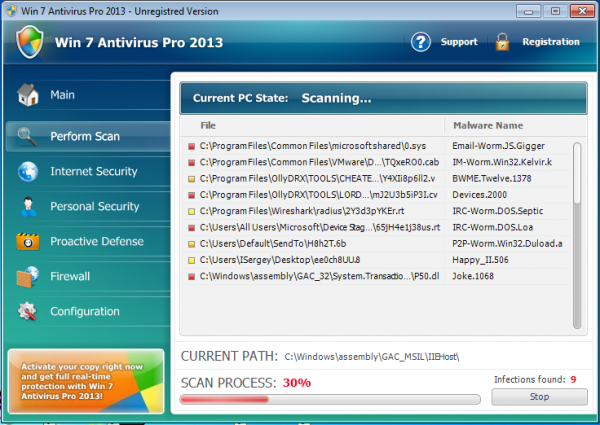 Win7 Antivirus Pro 2013 Firewall Alert: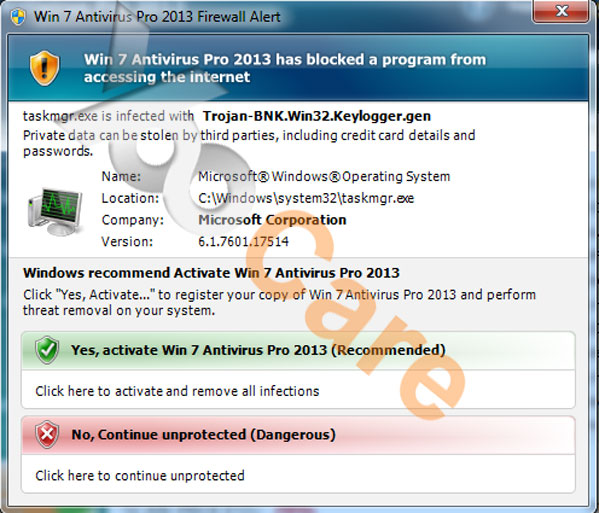 How a computer gets infected with Win7 Antivirus Pro 2013 virus
Win 7 Antivirus Pro 2013 is just one of several fake antivirus and antispyware applications spread around the internet using freeware. The fake applications get spread about using Trojan horse programs bundled with freeware content. Once an unsuspecting PC user downloads shareware, freeware, software updates, attachments in spam emails or video or audio codecs from affected websites the Trojan application also sneaks into their computer.
The Trojan program will immediately secretly download any other files it needs to run the fake Win 7 Antivirus Pro 2013 application. As soon as the application is set up, it would begin creating several infected executable files and also alter the PC settings and some registry values. The program will become effective and running at the computer system's next reboot.
Once the system has been rebooted and the fake application is now running, it would begin to generate irritating pop ups and notifications of fake threats and viruses that have been detected in the computer. All these notifications are falsely generated to scare the PC user into paying for a fake non-existent licensed version of Win7 Antivirus Pro 2013.
How to remove Win 7 Antivirus Pro 2013?
This malware disabled your task manager and registry editor, and it blocked many applications. With such a changeable fake infection, even the most advanced anti-virus software is hardly to get updated to its latest version to detect or remove any type of computer viruses.  And do you know if this virus would affect your audio system as well? Yes, sometime it did, many users did ran a program called combofix and the next time they turned their laptops on the audio system has completely disappeared, not allowing any audio to be played through the speakers or earphones. In such a case, manual removal of Windows 7 Antivirus Pro 2013 virus is required.
1. Restart your PC before windows launches, tap "F8" constantly. Choose"Safe Mode with Networking" option, and then press Enter key.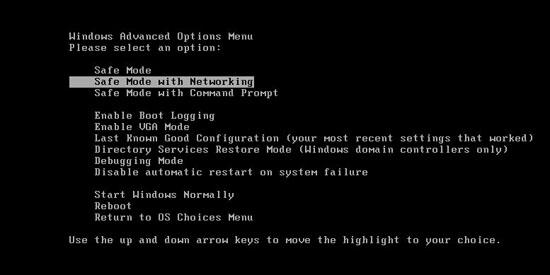 2. Press Ctrl+Alt+Del keys together and stop Win 7 Antivirus Pro 2013 virus process in the Windows Task Manager.
3. Delete associated files from your PC completely as follows:
%AppData%\random-
%AppData%\result.db
4. Search for all related registry entries infected by virus and wipe them out:
HKEY_CURRENT_USER\Software\Microsoft\Windows\CurrentVersion\Internet Settings "WarnOnHTTPSToHTTPRedirect" = 0
HKEY_CURRENT_USER\Software\Microsoft\Windows\CurrentVersion\Run\Random
HKEY_CURRENT_USER\Software\Microsoft\Windows\CurrentVersion\Policies\System "DisableRegistryTools" = 0
HKEY_CURRENT_USER\Software\Microsoft\Windows\CurrentVersion\Policies\System "DisableTaskMgr" = 0
HKEY_LOCAL_MACHINE\SOFTWARE\Clients\StartMenuInternet\IEXPLORE.EXE\shell\open\command "(Default)" = '"%LocalAppData%\random"'
5. Reboot the computer to normal mode when the above steps are done.
Video Guide to Remove Win7 Antivirus Pro 2013 Virus Scam
Friendly Reminder: Win 7 Antivirus Pro 2013 is clearly a fake application. First, you never installed it and so how did it come into your system if not through the back door? You can also tell that this application is a fake when you scan the computer using a genuine antivirus application. The antivirus will report Win7 Antivirus Pro 2013 as a malicious program and you would notice that it would be very difficult to remove the corrupted application or its files from your system. To remove Win 7 Antivirus Pro 2013 from your computer successfully, you would need an effective way and know the exact steps to take. But if you don't have expertise, be sure to remove this malicious program please contact PC experts for help to ensure that all its files have been completely erased from the system.
Note: If you have spent many hours to remove the virus but with no luck, to save your computer in time, please contact YooCare PC experts 24/7 online for assistance to clean our the virus from your computer completely and safely.


Published by Tony Shepherd & last updated on December 10, 2012 8:54 am