How to get rid of the 'Warning! You Have Excessive Pop-Ups' message on webpage? This problem won't be fixed even by restoring the browser. Is this some kind of adware? Is my computer infected by potential Trojans? I keep being redirected to this 'You have excessive popups' message. How can I make sure that my PC is not infected by virus? What do I do to restore my browser? Please help!

'Warning! You Have Excessive Pop-Ups' – Remove Trojan Infection
'Warning! You Have Excessive Pop-Ups' (also known as 'Warning! You have excessive popups. Windows may have been infected. Please call 1- (877) 987 2250 for immediate support!') is an adware message that appears on your browser to block you from accessing regular websites efficiently. Internet Explorer, Google Chrome and Mozilla Firefox are the three most popular browsers that can be affected by this problem. It can also be categorized as a Trojan horse infection for the pop up can be bundled with potentially unwanted malware/adware/other threats from the Internet. When having this annoying pop up on browser, you may also encounter malware problems on the system. Besides from affecting the performance of your browser(s), this 'Warning! You have excessive popups' infection may even collect your personal data online and bring unknown third parties in to remotely control the PC. It is as risky as other Trojan viruses.

The 'Warning! You Have Excessive Pop-Ups' message can appear on your browser when certain adware is installed. The adware can be installed by bundling with freeware that you got from unspecified resources online. It installs on your system aggressively which won't let you uninstall easily. Such pop ups not only threaten users' privacy security, but use up lots of CPU resources causing a slow performance on the PC. It acts like a Trojan horse on your PC but cannot be deleted by anti-virus software. If the threat cannot be removed in time, users will experience constant troubles on the computers. To be specific, one can expect the troubles listed in the following:
System defaults can be automatically adjusted to provide convenience for other threats.
Numerous security popups can be seen on the computer constantly.
Unknown downloads can be automatically started without consent.
System becomes rather sluggish.
BSOD can be expected.
Computer automatically shuts down every once in a while.
…
How to get rid of the pop-up 'Warning! You Have Excessive Pop-Ups' message completely without reappearing?
Have you been screwed by this annoying pop up for hours but haven't been able to figure out a way to get rid of it? Is your computer turning into a slow machine as time goes on? Although it can be classified as a Trojan infection, this pop up cannot be fixed in the traditional way (that is, by anti-virus software). This passage contains a general instruction for Windows users to restore their PCs from this problem. Manual removal is relatively efficient in deleting this pop up compared to other solutions. Besides from resetting browsers, uninstalling unknown browser extensions and programs, users also need to check for potential registry errors in order to completely restore computer from possible attacks. Certain levels of computer skills will be required during this manual removal process.
Suggestion: If you are not qualified with advanced computer skills and don't want to make things worse, contact YooSecurity Online PC Experts now to get help to get rid of virus popup safely and completely:


A Screenshot of The Pop-Up Threat
'Warning! You have excessive popups. Windows may have been infected. Please call 1- (877) 987 2250 for immediate support!' message keeps blocking you from accessing regular websites properly: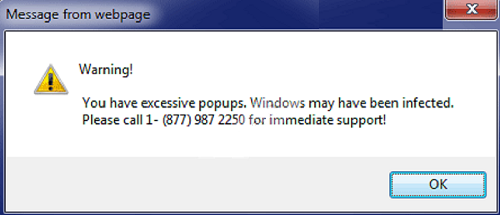 Guide to Remove Trojan Infection on Windows Manually
Step-by-step manual removal guide:
*Special hints: Below are some general steps on how to get rid of 'Warning! You Have Excessive Pop-Ups' virus popup manually. But the virus files and locations can change from time to time in order to hide itself deep inside the system. If you are having troubles identifying the files to delete, look closely and pay attention to those similar system files with different paths. This Trojan horse is capable of renaming its files quite similarly with system files. Confusing letters or digits like "1" and "I", "0" and "o" may be used to confuse users and trick them into deleting important files on the system.
1. Windows Task Manager.


Press CTRL+ALT+DELETE or CTRL+SHIFT+ESC; or pull up Run box from Start menu to type in taskmgr
Click on Processes tab
End process of items related to the Trojan
Or
Click on Applications tab
Right click on the items you want to End
Go To Process
End Processes
2. Delete virus files and registries from system.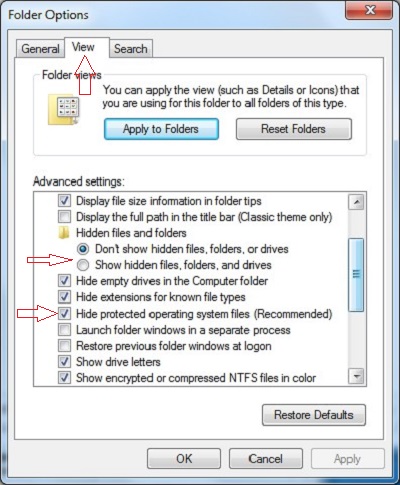 Click on Start button
Control Panel
Search for "folder options" on top right corner
Click on View tab
Show hidden files, folders, and drives
C:\Users\user name\AppData\local\temp\-
C:\Users\user name\appdata\local\-\cache\random.exe.
HKCU\Software\Microsoft\Windows\CurrentVersion\Run\-
…
Similar video guide to modify Windows registry:

Conclusion
This 'Warning! You Have Excessive Pop-Ups' message can be classified as a Trojan infection that sneaks onto your Windows via bundling with other freeware downloads. Basically, it attacks your browsers first and gives you constant interruptions whenever you are trying to get online. Other adware may also be installed on the browsers to display annoying pop-up ads to you all the time. Private information of users, especially online data stored in browsing histories by cookies can be collected and sold to unknown third parties for cybercrime activities. The overall performance of the system is greatly affected and system defaults can be adjusted to provide chances for other potential threats to attack the computer. Remove the pop up manually from the system as soon as possible to secure both the system performance and privacy security. The longer this pop up resides, the more problems you can get.
Note: Have tried different suggestions but still cannot get rid of the 'Warning! You have excessive popups' message successfully? To protect your PC from all the possible damages, Contact YooSecurity Online PC Experts to get help now to completely remove the nasty Trojan virus:


Published by Tony Shepherd & last updated on March 11, 2014 12:28 pm