I need help with 'Install this Software in a Flash' pop up on my computer. It started to appear yesterday after I downloaded an attachment from email. It must have come with this attachment onto my computer. I think it can mess up the system performance based on the fact that I am now having a hard time to run on the computer efficiently. I keep getting this pop up asking me to install this iLivid thingy. How do I delete this annoying pop up on PC?

'Install this Software in a Flash' Pop-up – Remove Trojan Infection
'Install this Software in a Flash' is a risky pop-up threat that has been reported to attack Windows users recently. This pop-up message, being able to bring potential malware, adware and other cyber threats onto the affected computers, can be categorized as a Trojan infection but in a different form. It appears on computers as a pop-up alert to trick PC users into installing unknown programs on the system to cause more problems. This form of Trojan virus is not catchable by many anti-virus programs. Hence, average PC users are coming through a lot of troubles to fix this problem. If you are currently seeing this pop-up on your computer, check for potential malware, adware or Trojans manually to secure your PC from being hacked secretly by anonymous hackers.

The 'Install this Software in a Flash' pop up can be put onto your PC in a bundle with freeware like other Trojan viruses do. Users should take a huge responsibility for this problem for downloading unknown freeware or unspecified items on the system. In most cases, the pop up will appear when you attempt to surf online. It recommends you to install this 'iLivid to download videos faster' and the download only takes a moment to complete. But this is misleading information. It seems to be a Flash plug-in issue but is not. Adware or malware can be downloaded onto the system together with this download and security settings may be modified for the convenience of other cyber threats or even remote hackers. One can expect the troubles listed in the following:
System defaults can be automatically adjusted to provide convenience for other threats.
Numerous security popups can be seen on the computer constantly.
Unknown downloads can be automatically started without consent.
System becomes rather sluggish.
BSOD can be expected.
Computer automatically shuts down every once in a while.
…
How to get rid of the pop-up 'Install this Software in a Flash' message completely without reappearing?
As mentioned above, the pop up cannot be dealt with by many anti-virus programs. One may detect other threats on the system but will not be able to get rid of this unwanted pop up by running security program. Browser reset and system restore can fail to fix this problem as well. In this case, manual removal is relatively efficient in deleting this pop up compared to other solutions. Besides from resetting browsers, uninstalling unknown browser extensions and programs, users also need to check for potential registry errors in order to completely restore computer from possible attacks. Certain levels of computer skills will be required during this manual removal process.
Suggestion: If you are not qualified with advanced computer skills and don't want to make things worse, contact YooSecurity Online PC Experts now to get help to get rid of virus popup safely and completely:


A Screenshot of The Pop-Up Threat
"Please install iLivid to download videos faster (Recommended)" message is displayed by this 'Install this Software in a Flash'. Users are not supposed to install this unknown application before verifying its legitimacy. Potential threats including malware and adware could be brought onto the PC with this download to further compromise your PC.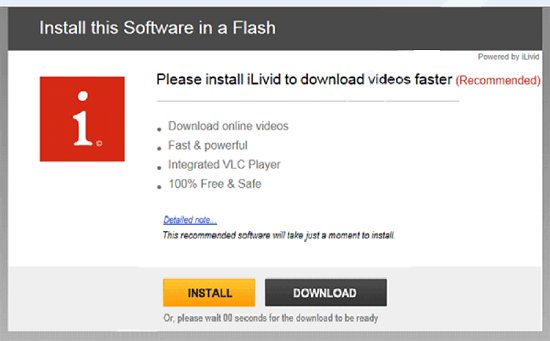 Guide to Remove Trojan Infection on Windows Manually
Step-by-step manual removal guide:
*Special hints: Below are some general steps on how to get rid of 'Install this Software in a Flash' virus pop up manually. But as mentioned before, the virus files and locations can change from time to time in order to hide itself deep inside the system. If you are having troubles identifying the files to delete, look closely and pay attention to those similar system files with different paths. This Trojan horse is capable of renaming its files quite similarly with system files. Confusing letters or digits like "1" and "I", "0" and "o" may be used.
1. Windows Task Manager.


Press CTRL+ALT+DELETE or CTRL+SHIFT+ESC; or pull up Run box from Start menu to type in taskmgr
Click on Processes tab
End process of items related to the Trojan
Or
Click on Applications tab
Right click on the items you want to End
Go To Process
End Processes
2. Delete virus files and registries from system.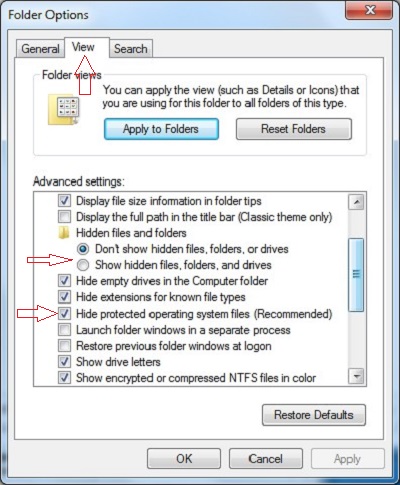 Click on Start button
Control Panel
Search for "folder options" on top right corner
Click on View tab
Show hidden files, folders, and drives
C:\Users\user name\AppData\local\temp\-
C:\Users\user name\appdata\local\-\cache\random.exe.
HKCU\Software\Microsoft\Windows\CurrentVersion\Run\-
…
Similar video guide to modify Windows registry:

Conclusion
The 'Install this Software in a Flash' pop-up 'Please install iLivid to download videos faster (Recommended)' message can be categorized as a Trojan infection that mostly attacks Windows users recently. It pops up on your computer without consent in a bundle with freeware download and will always interrupt your operations on the system. By recommending you to install unknown software on the system, the pop up can help other malware or adware attacks to get on the computer and provide remote hackers convenience to hack into the affected machine. All of these characters are similar to Trojan's. If you are ever annoyed by this pop-up Trojan alert, remove it manually to protect your PC from further consequences as soon as possible.
Note: Still can't figure out a way to successfully get rid of the pop up on PC? To save your PC from all the possible damages, Contact YooSecurity Online PC Experts to get help now to completely remove the nasty Trojan virus:


Published by Tony Shepherd & last updated on March 11, 2014 8:43 am