How does VPNArea work and what is VPNArea Chameleon? VPN provider VPNArea recently announced a new private protocol that masquerading as VPN traffic allows it to penetrate national firewalls. VPN is a good tool to safeguard the security and privacy, but it can't be completely anonymous. For firewalls in countries like Iran or China that recognize VPN traffic through deep packet detection, VPNArea offers its professional users a private Protocol named Chameleon Protocol that can easily evade detection by firewalls. VPNArea has fast VPN servers in 70 countries. You can get access to VPNArea's fast VPN network and take advantage of the vast high speed VPN infrastructure. Most of VPNArea servers are optimized for P2P, and you are allowed to gaming or torrenting. What's more, VPNArea provides unlimited bandwidth. It uses the military-grade AES-256 encryption to encrypt all the internet traffic. AES-256 encryption is an unbreakable bank-grade encryption which can keep from Internet Service Provider, WiFi snoopers and hackers. VPNArea does not keep logs as they have strict non-logging policy. It allows 6 simultaneous connections on multiple devices. Ad blocking, kill switch, double VPN are all employed into VPNArea technologies. VPNArea has 30-day money-back guarantee. If you are not satisfied with VPNArea service, you can ask their support team for a refund. VPNArea is compatible with all popular systems including Windows, Mac, Android, iOS and Linux and other platforms. It provides 70% discount if you sign up for a 3-year + 30-day money-back guarantee. VPNArea Chameleon for Windows, Mac, Android and iOS is the strongest and excellent technology to help circumvent censorship. 
VPNArea Plans and Pricing
1-Month Plan $9.90/Month ($9.90 billed every 1 month SAVE 0%)
1-YEAR Plan $4.92/Month ($118.8 $59.00 billed every 12 months SAVE 50% MOST POPULAR)
3-YEAR Plan $2.99/Month ($356.4 $107.64 billed at once. SAVE 70% BEST DEAL)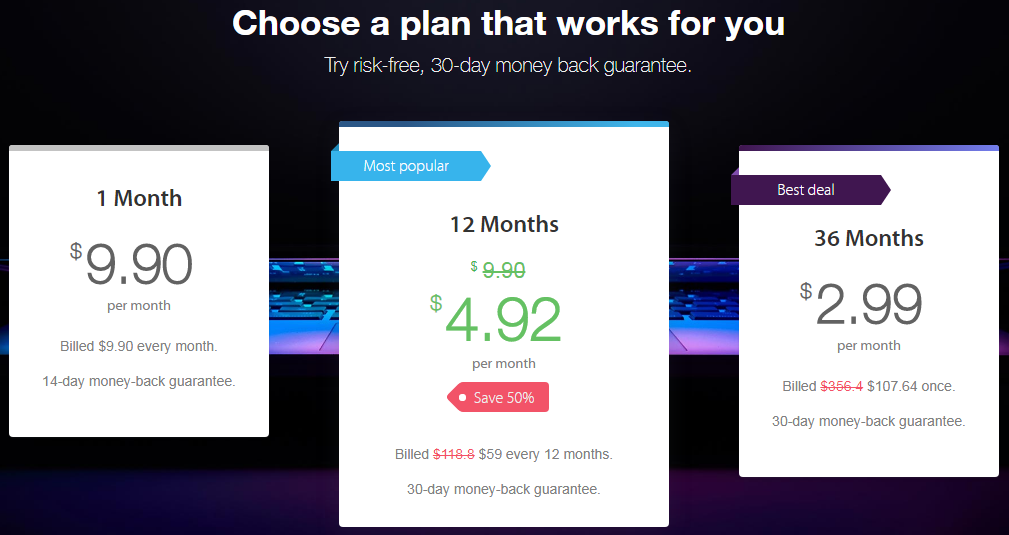 All plans include a 30-day money-back guarantee and no recurring billing. Whatever plans you choose, you can still enjoy the same awesome features including unlimted bandwidth, fast VPN servers in 70 countries, connect 6 devices, ad blocking, no-log policy, account sharing, double VPN, Stunnel, Torrents, P2P, Bitcoin payment method, 24/7 support.
Key Features of VPNArea
Change IP to 69 countries: Unlimited access to VPNArea's Big and Fast VPN network. Never oversold. High speed optimized.
Connect 6 devices: allows 6 devices like PCs, Phones to simultaneously connect to the services or share your account with your friends, family or colleagues.
Unlimited bandwidth: Don't worry about your data consumption, there are no limits.
Speed Test: Test Ping and Download speed to find out the fastest server for you.
P2P Allowed: You can download P2P content even on our servers in almost all countries, even in USA/Canada
Special Streaming servers: Unlock your favorite content from abroad with specially designed streaming servers (named NFLX)
No Logs DNS servers: Your DNS requests turning domain like google.com into IP are not logged thanks to our own DNS servers
Double VPN servers: We have Double VPN servers where your connection will go not through one but through 2 VPN servers of ours.
Stealth VPN / Stunnel: Are you in China or UAE? Our obfuscation option will mask your internet traffic to look like regular https:// (SSL) traffic with the help of Stunnel.
Kill Switch System: Kill Switch (if enabled) will protect your IP in case of VPN disconnection.
'Server Load' Monitor: With our software you can see how busy a server is before you connect to it.
Ad Blocking: Block Ads and stop your ISP from seeing what addresses you visit with our DNS servers.
No IPv6 & WebRTC & DNS leaks: WebRTC & IPv6 & DNS could leak your real IP address despite having a VPN. Not with our software.
Devices Supported: VPNArea provides software and apps working well with all version of Windows, MACOS, Android, iOS, Linux and routers. You can get setup instructions from VPNArea support team.

VPNArea Chameleon for Windows, Mac, Android and iOS
VPNArea has a solid and excellent technology called Chameleon which is compatible with Windows, Mac, Android and iOS. Chameleon is a user-friendly OpenVPN software designed to offer privacy and content restriction solution. It is based on OpenVPN in its core, but it also has quite a few extra functions that will make your VPN experience easier and more secure. Chameleon is able to bypass restrictive networks put in place by governments, corporations and ISPs to achieve an open internet experience. Chameleon works like Stealth VPN/Stunnel. Chameleon is proven to help users that live in or travel to countries such as China, Russia, India, Turkey, Iran and Syria from being blocked. It is also ideal for users worldwide experiencing VPN blocking and speed issues related to bandwidth throttling.
VPNArea Chameleon or 'Stealth VPN' is simply a VPN server or protocol that is able to disguise VPN traffic as regular web traffic, even when subjected to deep packet inspection by your network administrator or firewall. VPNArea Chameleon can either be implemented on a server or protocol. When you use a VPNArea Chameleon protocol or server, your VPN usage cannot be detected by firewalls or applications that want to block VPN traffic.
Usually when we connect to the internet visit some websites, you can find the URL of some websites begin with HTTP and others HTTPS. HTTP is regular traffic sent to your computer every time when you visit a website. HTTPS is a specific encrypted http traffic. HTTPS is encrypted and secured traffic. HTTPS connections are essential for secure data transmission on the internet (passwords, credit card numbers, etc). Usually when you login into important sensitive accounts like online banking account, credit card, paypal account, Gmail or Facebook etc, the URL of websites will show HTTPS starting with a green 'lock' icon in the browser bar. HTTPS encryption can prevent hackers, snoopers or someone sharing the same internet connection stealing your login/password information. Since HTTPS traffic is more secure than HTTP, HTTPS traffic is more easily recognized and verified by a router or firewall. That means HTTPS traffic more easily bypass the detection of a router or firewall of your network. HTTPS traffic uses port #443.
Most VPN products apply the same features of HTTPS traffic like TLS encrypting data using port #443, which easily masks your data as HTTPS data and slip through the detection of firewall of the network. However, even though the VPN uses technology of port 443, it's still possible for a firewall like the Great Firewall of China to recognize the data is going through VPN traffic tunnel because most regular VPN protocols have a data packer header which contains information identifying VPN encryption. However, VPNArea Chameleon protocols and servers can first take away the header part of the encryption by using a technique called "Obfuscation", which hides your use of OpenVPN. Moreover, VPNArea Chameleon protocols and servers use SSL/TLS encryption that wraps the OpenVPN payload in a second layer of encryption through port #443 (this is the port that normal HTTPs traffic uses), which looks like a normal HTTPS traffic. VPNArea Chameleon technology scrambles or disguises your VPN traffic, making it unidentifiable as VPN traffic, or disguising it as regular TLS encrypted web traffic. Using a VPN service with obfuscation or 'stealth' technology allows your VPN connection to rewrite or obscure the packet headers, so it's unrecognizable.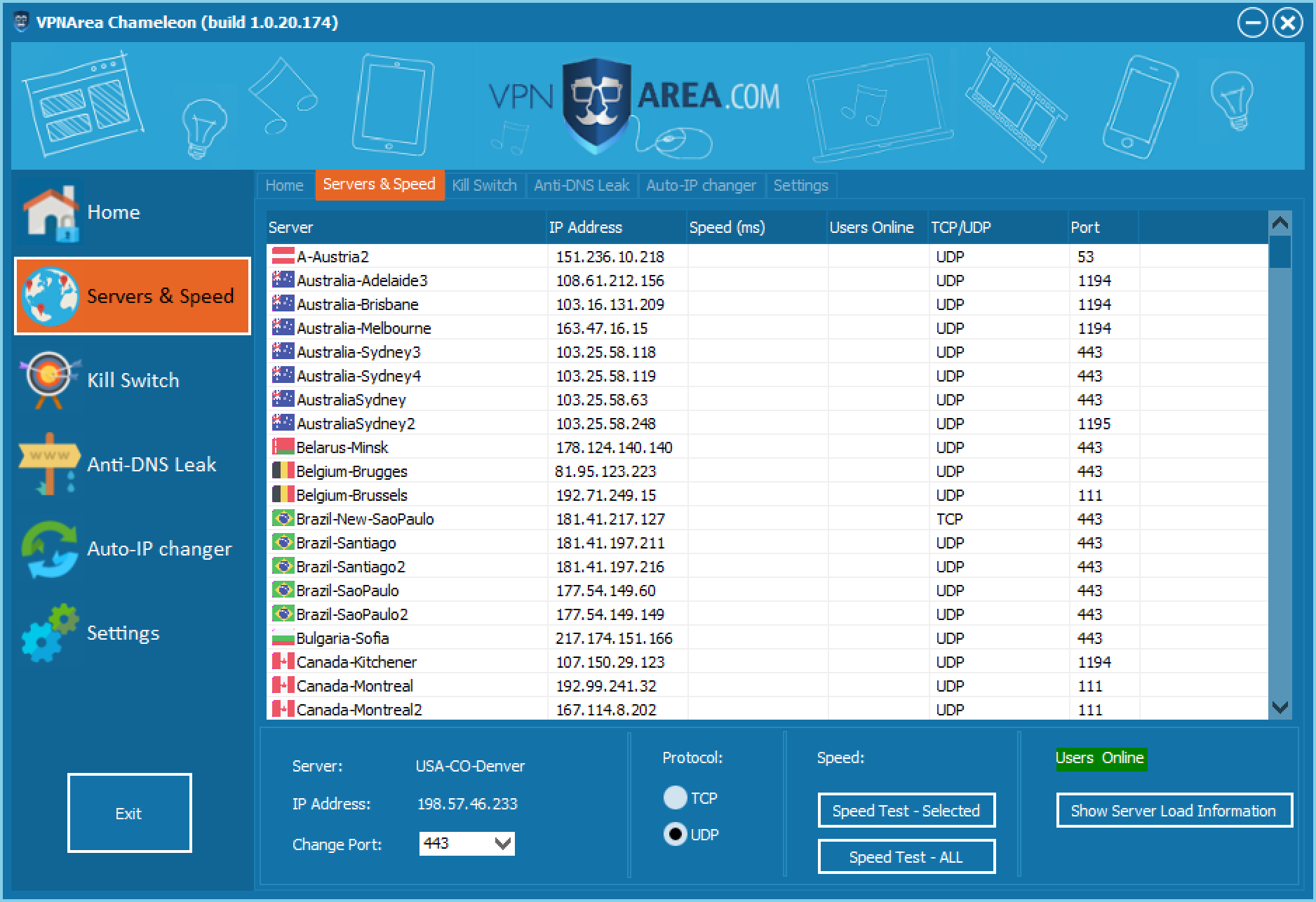 VPNArea is One of the Best VPN Perfectly Working in China
As all we know that China has the strictest and strongest internet censorship in the world to control and regulate national internet. almost popular foreign social media websites and apps like Facebook, Twitter, Instagram, YouTube, Snapchat, WhatsApp, Viber and more are blocked in mainland China, but you still can access these popular apps in Hong Kong, Macau and Taiwan. Why China's Internet Censorship is the strongest one in the world? Actually some countries like Russia, Turkey, India, Iran, Syria, UAE, South Korea and more also practice internet censorship. However, China's internet censorship can fast detect VPN usage and blocks VPN tools within few seconds. That's because China not only has strict censorship laws and regulations, but also work together with many ISPs and even many VPN-blocking tools. Therefore, if your VPN tool is not strong enough, your VPN will soon be filtered by the internet censorship of China. so, the internet censorship of China is called the Great Firewall system. If you are using FREE VPN, the VPN is definitely blocked by the Great Firewall system in China.
Your VPN should be powered by strong technologies which can defeat or go around the Great Firewall, or your VPN will be soon filtered by the GFW system in few seconds. VPNArea is the best VPN working perfectly in China, as it is powered by Chameleon. The Chameleon technology uses the unmodified OpenVPN 256-bit protocol for the underlying data encryption. The result is that VPNArea users are able to bypass restrictive networks put in place by governments, corporations and ISPs to achieve an open internet experience without sacrificing the proven security for which OpenVPN has long been known. VPNArea Chameleon has a strong ability and performance to hide data packer header to make the VPN traffic looks like normal HTTPS traffic, and meanwhile double encrypts OpenVPN payload with SSL/TLS encryption technology. That's why VPNArea is the best VPN for China, as VPNArea VPN uses Chameleon or Stealth VPN technology which can essentially bypass the detection of the Great Firewall. The strongest and strictest Great Firewall even can't filter and block VPNArea. With the obfuscation technique and rerouting of the port #, Chameleon or Stealth VPN masquerades VPN use as normal internet traffic (HTTPs). VPNArea with Chameleon or Stealth VPN technology is reliable and trusted.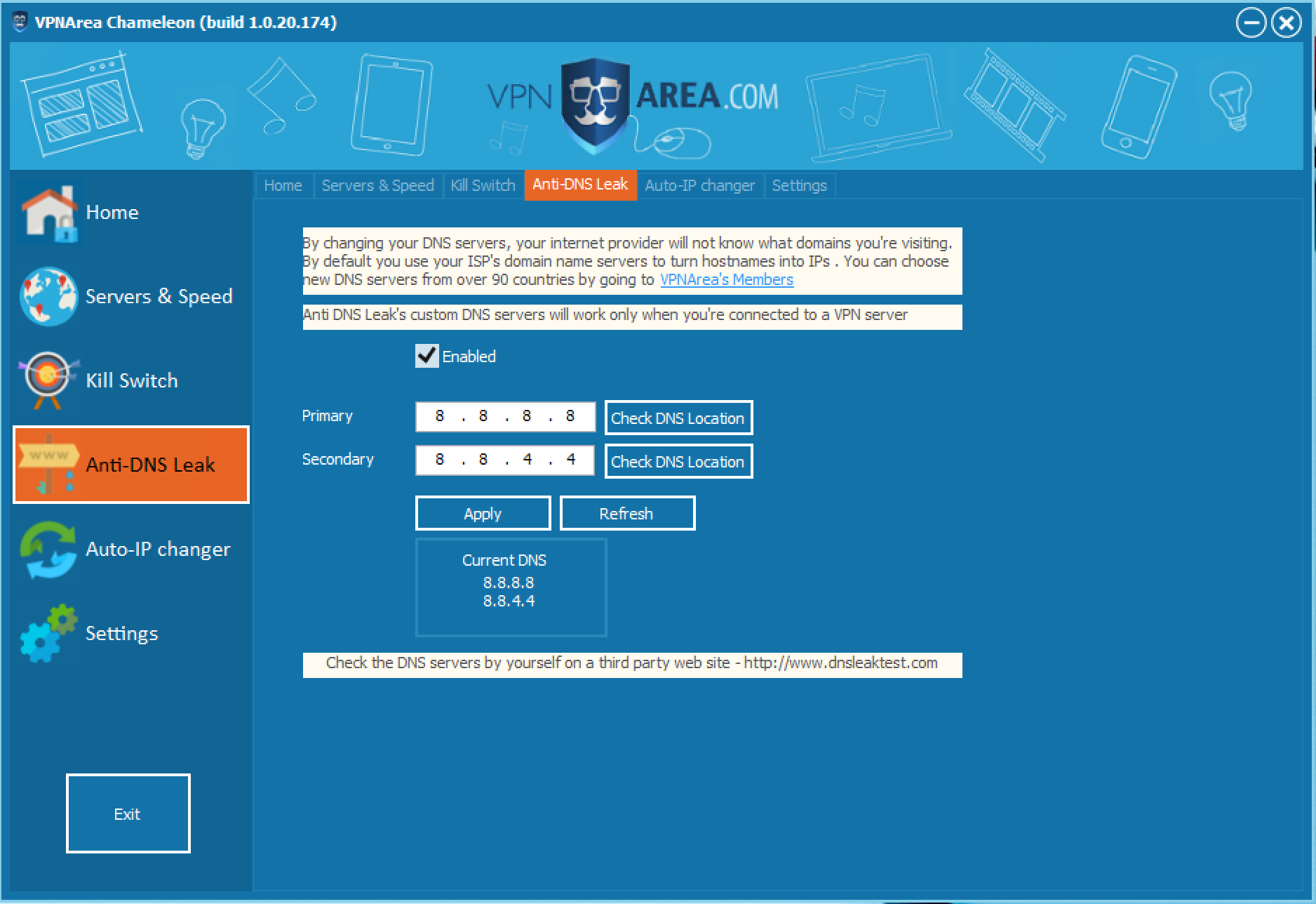 Other Excellent and Powerful Features of VPNArea
VPNArea provides other strong and excellent features and technologies to make gives users a piece of mind that your communication is safe. VPNArea provides AES-256 Encryption, Kill Switch, Double VPN, Ad Blocking and DNS Leak Protection.
1. AES-256 Encryption
VPNArea uses AES-256 cipher encryption with SHA256 to ensure integrity and 4096 bits RSA keys for handshake on our OpenVPN servers. For IKEv2 we also use AES-256 with SHA512. It is considered that this encryption combination is lifetimes ahead of any foreseeable decryption technology. AES-256 encryption is a military-grade encryption once used by US government to store high-secret files and information. In encryption, a mathematical algorithm scrambles your data into a cipher form, turning it into gibberish form. A key is then required to make sense of that information. 256-bit encryption is referring to the length of the encryption key used to encrypt a data stream or file. A hacker or cracker will require 2256 different combinations to break a 256-bit encrypted message, which is virtually impossible to be broken by even the fastest computers. AES-256 is a symmetrical encryption algorithm adopted by the U.S. and Canadian governments as standards for encrypting transited data and data at rest. Because of the 256-Bits length of the key and the number of hashes, it takes a long time for a hacker to perform a dictionary attack. Aes-256 encryption protect your information such as financial details, passwords, pictures, etc against malicious entities.
2. Ad Blocking
Ad blocking feature can effectively block ads and stop your ISP and third party from seeing what addresses and websites you're visiting with VPNArea's DNS servers.ad blocking feature can scan the websites addresses you visit and prevent blocklists and users from getting involved in phishing scams and other cyber threats. If you're visiting a website that may hide hosting malware, trackers, spyware or other malicious software, Ad blocking will immediately activate and stop your visit. VPNArea's Ad blocking feature also can help skip annoying ads by hiding unwanted popups, autoplay video ads and other advertising material once you open a website. Basically, ad blocking of VPNArea can make users enjoy their favorite contents without ads disturbing and also improves the load speed of the website and saves you some precious mobile data. Enjoy ad-free on the internet and complete security, VPNArea with ad blocking is the best choice.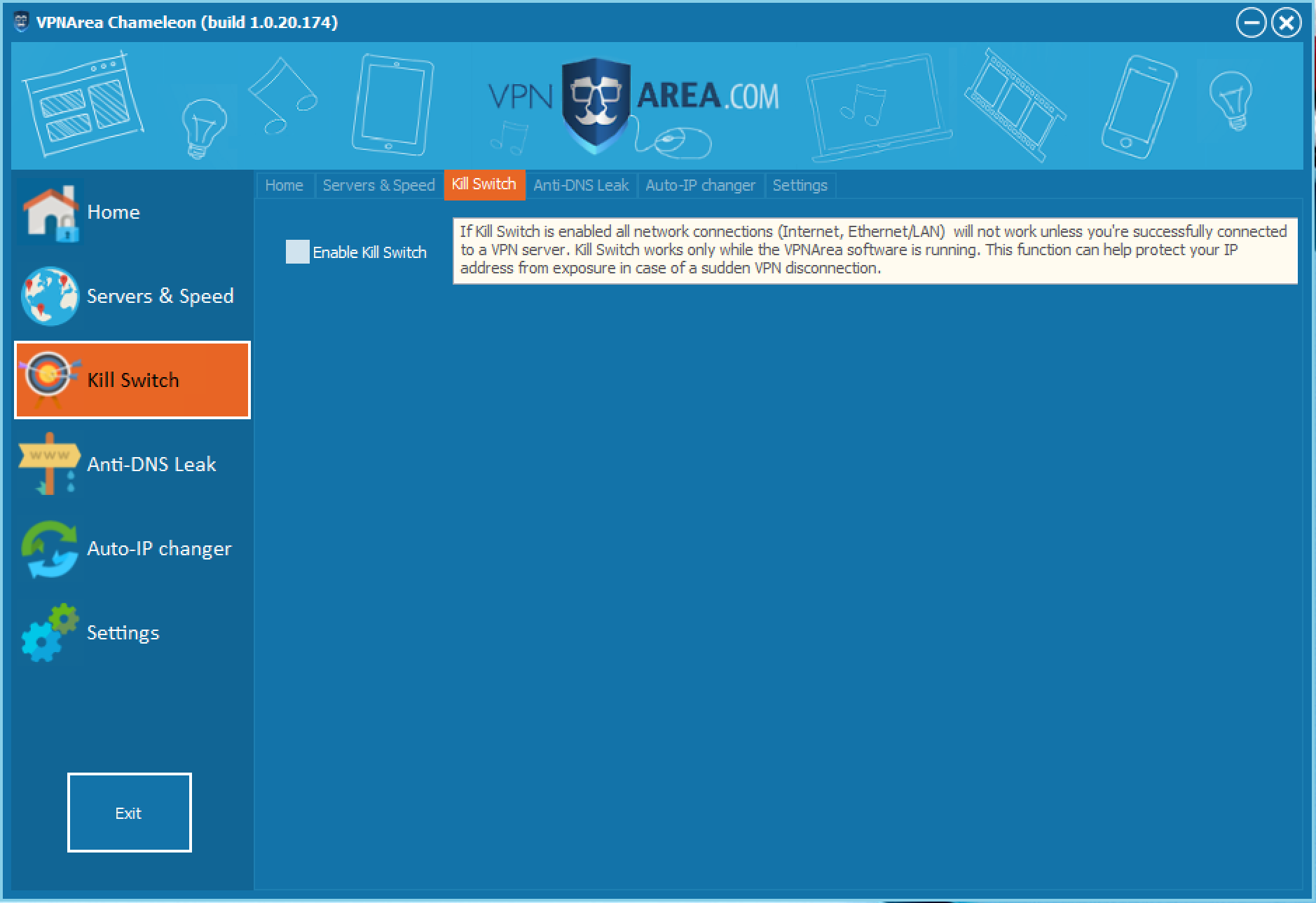 3. Kill Switch
A VPN encrypts and hides your network traffic from third parties. However, even the best VPN connections can fail, leaving your internet traffic exposed. So here comes the Kill Switch technology to solve this problem. Kill Switch is an advanced VPN feature that prevents you from accessing an unprotected Internet connection when your online traffic is not forwarded through VPN. The primary purpose of it is to protect your online activity and IP address from being suddenly exposed in case of a dropped connection from a VPN server.
A VPN kill switch solves this problem by automatically stopping all traffic from entering or leaving your device if you are disconnected from a VPN server location. This prevents your network traffic from being routed back through your internet service provider and exposed to prying eyes.
VPNArea's kill switch for Windows, Mac, Linux, and the app for routers. In case the VPN unexpectedly disconnects, VPNArea Kill Switch stops your computer from accessing the internet. Once you are reconnected to the VPN server location, kill switch restores your internet traffic automatically. Kill Switch feature is especially important for BitTorrent users and frequent torrent downloaders, because they probably don't want their IP address and location exposed to the torrent swarm.
4. Double VPN
Double VPN is a technology allowing to hide online activity behind several servers inter connected via VPN-tunnel. A client is connected to one server which in turn redirects traffic to the second server, with that the traffic is subjected to several encoding steps. Double VPN will make your VPN more secure. Double VPN allows hiding your online activity behind several servers via a VPN tunnel. As a matter of fact, the working principle is rather simple: you connect to the first VPN server, which in turn redirects all the traffic to another server, from which the online traffic reaches the final destination. This way, the connection goes through two separate servers in different locations: the external IP address is changed and the traffic is encrypted once, and then it gets re-encrypted in the second server in another location.
Double VPN can help achieve high level of online security and privacy, which is especially required by people like journalists, political activists and bloggers working and living in countries with authoritarian governments along with a high level of Internet censorship and surveillance.
5. DNS Leak Protection
The Domain Name System is the technology your computer uses to translates a domain (ex. vpnarea.com) into an IP (178.132.23.32 for example). Your DNS requests go to your Internet provider's server, thus revealing to them what web sites names are you opening. They can't see what you're doing on the web sites, or what data you transfer, but they can see that those are the websites you're opening. This is called DNS Leak. VPNArea Apps come with Anti-DNS Leak solution and they also have their own DNS servers that record no logs. VPNArea has 2 different types of DNS servers you can choose from, one with ad-blocking feature and one without. All are included in your membership.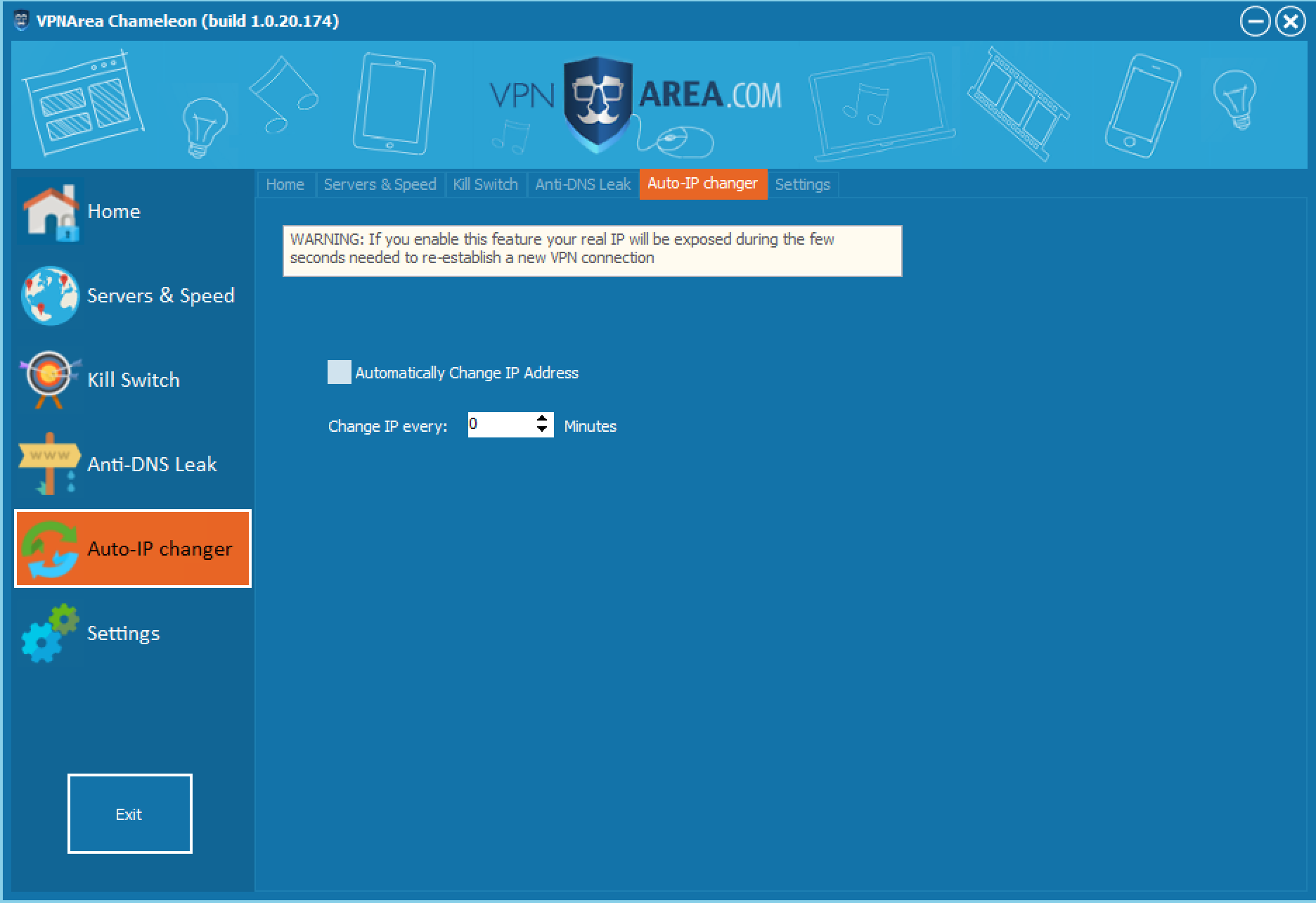 Top 10 + Best VPN Services Worldwide
View More Top 10 Best VPN Services Here »
Summary
VPNArea Chameleon for Windows, Mac, Android and iOS is the great design and new feature for VPNArea technology. VPNArea Chameleon has a strong performance and ability to bypass the restrictive internet censorship like Great Firewall of China. VPNArea experts regularly test their servers from various countries on a regular basis. In case you're located in a country with restricted internet, then you can make use of Chameleon or Stunnel technology which is also obfuscation technology. Chameleon technology can masquerade VPN traffic to look like normal https (SSL) traffic, then you can safely use VPNArea in restricted censorship country and access any websites. Besides, VPNArea choose the fastest VPN protocol IKEv2 and only second best in terms of security to OpenVPN. You can use VPNArea to stream favorite movies and TV shows from popular Netflix, BBC iPlayer and Hulu in anywhere whether you are at home or on the go. Even though you are in the restrictive censorship country, you still can stream Netflix, Hulu or BBC iPlayer with VPNArea. VPNArea Chameleon is compatible with Windows, Mac, Android and iOS, so you can enjoy the high-performance of Chameleon technology on devices based on Windows, Mac, Android or iOS.

Published by Tony Shepherd & last updated on July 1, 2020 3:52 am