Do you know if Trust.Zone free trial is available? How to claim the free trial to test its service before we signup for a plan? It says you can test it free for 3 days? We all know VPN is a good way to protect our privacy. However, since the VPN industry is booming with hundreds of companies offering a wide variety of services, finding a great VPN service can be a challenging task. You don't know whether or not a VPN provider is reliable before making any commitments. But thankfully, Trust.Zone VPN is offering a 3 days free trial to let you test out their services before deciding about whether or not to buy a package from them. During the free trial period, you can get full access to their servers in 142 locations and enjoy unlimited bandwidth. Though it only allows 1 simultaneous connection, the trial still provides you a great opportunity to test Trust.Zone service and check if it really delivers the speed and security as you expect. If you find it fits for your need, you can grab Turst.Zone Winter sale or Christmas deal to get this VPN for just $2.33/month, saving up to 74%. Grab the limited offer to try Trust.Zone 3 days for free now!


Trust.Zone VPN – A Trusted VPN That You Can Rely On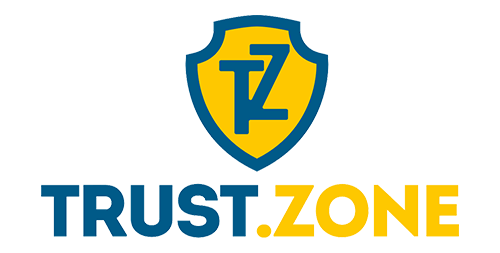 Trust.Zone is a virtual private network (as known as a VPN) that allows users to surf the internet without being tracked by ISPs and other online entities. Compared to those well-known brands, Trust.Zone is a smaller VPN with only 170 servers in 34 countries. However, 'bigger is better' does not always equate to the best VPN service though. A bigger VPN service always means more people are going to share the same servers and IP Addresses, thus affecting the performance and speed sometimes. And 170 servers for Trust.Zone VPN is actually enough for most people, especially for those who generally stick to a selection of locations. Where a VPN provider is headquartered can have a huge impact on the level of privacy the provider can actually offer. Trust.Zone VPN has a best jurisdiction as it is located in Seychelles where the government does not enforce any mandatory data retention. Trust.Zone VPN takes user's privacy seriously. They do not store any logs on their servers, or anywhere for that matter. The only thing they require from their users to get started is just an e-mail address to sign up. There are no names, no personal information, and no tracking of what you're doing on the Internet and on their servers.
Trust.Zone covers the most popular platforms and it supports routers as well. However, there's one important catch – you only can use it natively on Windows and Android. For other platforms, you'll need to configure it manually. Trust.Zone provides clear instructions to show you how to install their VPN on your device step by step, so even you are not a skilled person, you still can handle it easily. Good speeds, high security, good pricing overall, effective geoblock bypassing, and of course a dedicated IP address are all available from this provider. Besides, Trust.Zone relies on AES-256 encryption, which is the VPN industry standard. Paired with OpenVPN and L2TP over IPSec, you should be able to browse the Web carefree. With Trust.Zone VPN, you can get access to region-restricted sites, save yourself from hacking risks while using public Wi-Fi, and also get more control over your privacy. Moreover, you can get the benefits of anonymity in your daily life and be much safer while using BitTorrent for downloading purposes.
Now Trust.Zone VPN offers a three-day trial which lets users transfer up to 1GB of data on one simultaneous connection so you will have plenty of time to test out this VPN service to see if it is a good fit. If you are satisfied with the service, you can consider the paid version that allows you to transfer unlimited amounts of data across three simultaneous connections – which increases to five connections if you sign up for two years. If you are considering a VPN for your home or office connection, try Trust.Zone 3 days for free now!
Trust.Zone Pricing Plans: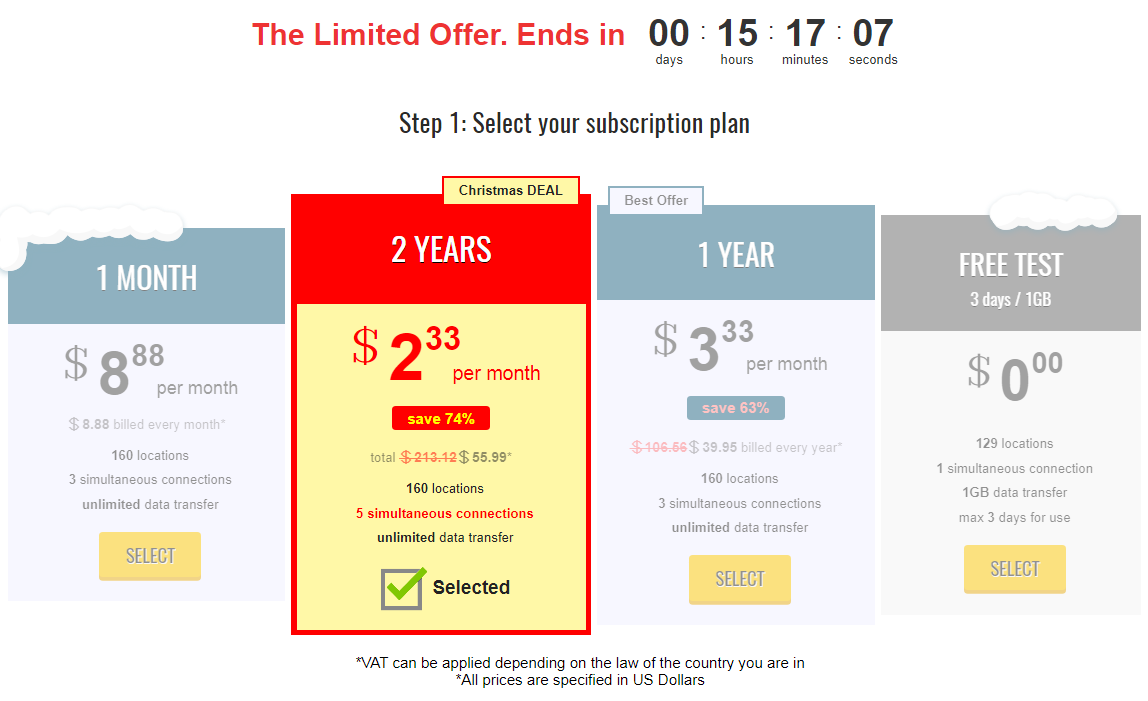 Trust.Zone is offering 4 pricing tiers and the best plan among all should be the FREE TEST offer. For the Internet user who wants to use a VPN to use the Internet with greater anonymity and privacy, the 3 days Free Trial offered by Trust.Zone VPN can help them make an informed decision. Each new customer will be given 3 days free access to Trust.Zone VPN. It allows a connection to 142 Trust.Zone VPN server locations, 1GB data transfer and unlimited data bandwidth.
Besides, depending on the different length of the subscription period, you can choose 1 Month Plan, 1 Year Plan and 2 Years Plan. Here are the pricing details:
1 month – $8.88 per month – Save 0%
1 Year – $3.33 per month (Billed $39.95 every 12 months) – Save 63%
2 Years – $2.33 per month (Billed $55.99 every 24 months) – Save 74%
As you can see, Trust.Zone is an affordable VPN service. Steep discounts are available for 1-year and 2-year subscriptions. Now the best pricing option is its 2-Year plan, which comes out to only $55.99 in total. That means you can get the most comprehensive plan with full access to 170 Trust.Zone VPN server locations and up to 5 simultaneous connections for only $2.33 per month if you pay for 2 years ahead. Besides, there are a number of add-ons that you can purchase. For example, dedicated IP addresses are priced at $6.99 per month, and you can buy three additional connections for $2.99 per month. These are often discounted, so you can find them priced more aggressively. Definitely take advantage of Trust.Zone 3 days free trial to decide if you like this service.

Trust.Zone VPN Free Trial & 10 Days Money-Back Guarantee

While Trust.Zone VPN delivers a well-rounded package of performance, security, and usability, potential buyers should note that Trust.Zone VPN is generously offering a full 3-day free trial version to let them test out their VPN service with no risk and no bandwidth limits. Although it did put some limitations on the number of server locations, transfer data and simultaneous connection during the trial period, the service plan is still appealing and enough for most people who need to check if Trust.Zone is the right VPN for them. Once sign up for the Free Test Plan, one will be able to enjoy fast speeds across 142 server locations on 1 device, 1 GB data transfer and a strict no logs policy. Take advantage of the 3 days free trial to get your online privacy protected.
In addition, Turst.Zone offers 10 days money back guarantee. If you are not completely satisfied with their VPN services, you can notify Trust,Zone team in writing via email within the first 10 days of your contract that you wish to cancel, then you will be given a 100% refund of the contract amount in case the bandwidth usage is not more than 1GB. No question asked. Please note requests made later than the 10 days purchase date window will be denied and if your paid subscription plan's quota is exceeded more than 1GB, you may only get a partial refund.
Payment Options:

Trust.Zone VPN offers a wide range of payment methods for people to choose from. You can pay with credit cards like Visa, Mastercard, American Express, JCB, or Discover, or Paypal if you don't want to expose your credit card number and other personal information. Other accepted payment methods include Bank Transfer, Alipay, WebMoney, Union Pay and more. It is worth mentioning that Trust.Zone accepts Bitcoin, which means people will be able to pay their service with 100% anonymity. Paying with Bitcoin doesn't require people to expose their real name, card number, billing address or any personal information, all it needs is an email address and that's it. Not only are the accepting BitCoin, but they incentivize it by offering a 10% discount if you use it for your purchase.
Trust.Zone provides users with 3 days VPN usage for FREE, plus they also have a 10 day money-back guarantee. Paid subscription starts from $2.33/mo only. If you pay via Bitcoin – it's just $2.10/mo. Why wait? Try unlimited features of Trust.Zone VPN totally for free. 
Why Choose Trust.Zone VPN?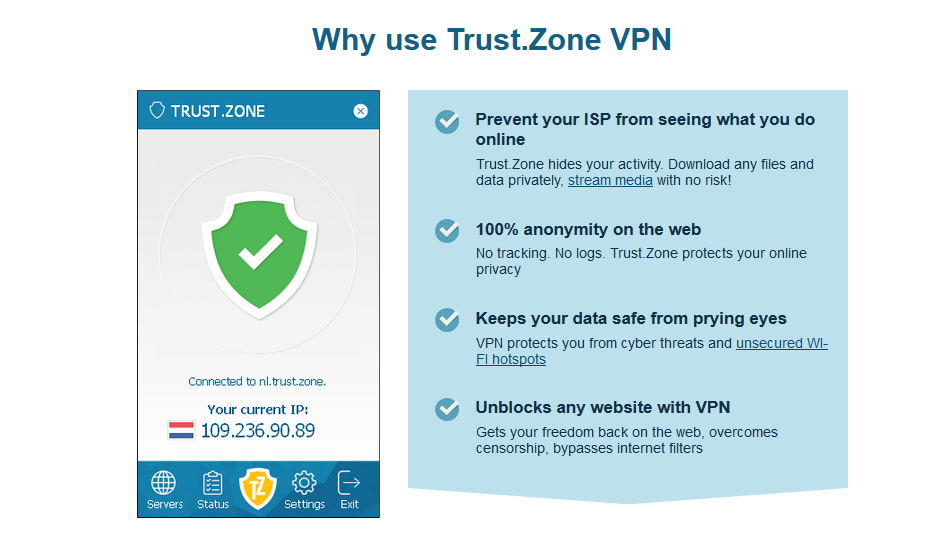 From social networks to government agencies, it feels like everyone wants a piece of your data nowadays. Your ISPs like AT&T, Comcast, Time Warner, Sprint and Verizon can sell your personal data like web browsing history to advertising partners, and your government may spy on your online activities and track every website you have been visiting. The more connected devices that you have, the more access points you've created for unscrupulous people to virtually break in and steal your information. The best way to protect your privacy is to mask your online identity by using a VPN.
Trust.Zone VPN is a reliable virtual private network created in 2014 by a company called Trusted Solutions, LLC that based in Seychelles, a country with no data retention laws. So, this VPN is very friendly to Internet users. It gives you access to over 170 VPN servers around the world while also maintaining a fast and reliable connection. Trust.Zone VPN provides you with complete anonymity on the Internet. It creates a secure, encrypted connection from your device to the web, disguising your IP address and online traffic. It hides your IP address, encrypts and secures your internet traffic and also keeps your online identity safe. You'll even be able to bypass those obnoxious content restrictions when you travel overseas – allowing you to keep up with your favorite content on streaming sites like Netflix and Hulu. Trust.Zone is one of the most private VPNs in the world as they don't ask for any information about you — not your name, your email address or your credit-card number. They let you pay anonymously in Bitcoin or other cryptocurrencies and even encourage you to do that by offering you an additional 10% discount. Trust.Zone VPN is now offering a free three-day testing option. Enhance your online security for FREE now!

Trust.Zone VS Free VPN – Which Should You Choose?
Online privacy is of paramount importance to every internet user. Your message and other private information can be hacked when you are not adequately secured. Virtual Private Networks are supposed to help people enhance online privacy, but the reality is that there are lots of hackers out there looking for ways to access your information. They create free VPNs to fool users into downloading the App and then further monitor and access their VPN traffic to exploit holes and access their private data. With a free VPN, the tunnel through which your data passes is not state-of-the-art. In fact, it is likely full of holes, and this means your data and IP address can be leaked to snooping outside parties. And the worse thing is free VPNs sometimes inject targeted ads and spam into your browser to interrupt your browsing activities. Take these drawbacks into consideration, choosing a free trial from a trusted VPN would be the smartest option for people who looking for security and anonymity online.
In most of time, it's difficult to decide whether a VPN is right for you without testing it yourself. Ready to try one of the most secure VPNs on the market for FREE? Before committing to a long subscription, Trust.Zone VPN gives you a 3-day free trial to fully test their service without any risk. So you can check if it unblocks the sites you want to reach, delivers the streaming speeds you need, and more. Although the free trial only allows 1 simultaneous connection and limits on 1 GB data transfer and some servers you can use within the VPN's network, it's still a generous offer that you should not miss out. You're also 100% backed by Trust.Zone 10-day money-back guarantee if you are not happy with the service within the first 10 days.

Top 10 + Best VPN Services Worldwide
View More Top 10 Best VPN Services Here »
Conclusion:
Trust.Zone differs from other VPN providers, as they do not keep any logs or history of your activity online. With it, you can be 100% annoymous online as the service helps encrypt all of your traffic that will stop you from having your money and identity stolen. When traveling or living abroad, Trust.Zone allows you to online shop, research and stream just like in your home country. Trust.Zone offers users a 3-day free trial that includes access to their servers in 142 locations and covers unlimited bandwidth, 1 GB data transfer and 1 simultaneous connection. So you can test out the service and decide whether or not you're sticking with it. If you are happy with the service, you can decide to go with a monthly plan, a 1-year plan, or a 2-year plan. For those who are not fully satisfied, cancel anytime within 10 days for a refund. No questions asked.


Published by Tony Shepherd & last updated on March 3, 2020 3:54 pm