My computer was infected with System Doctor 2014 virus last night. It scanned my computer each time when I logged in and didn't allow me to download programs from Internet. It showed that my computer was infected with a lot of viruses but it won't help me remove all of them until I purchased the full version. I don't know if this is legitimate program or just a fake security tool to cheat my money. I cannot find it in Control Panel. What should I do to uninstall System Doctor 2014 now?
Effected by "System Doctor 2014" Virus? How to Remove?
System Doctor 2014 is categorized as a Rogue Program that dresses up itself as a legit antivirus software to cheat you. In reality, it is a fake security tool created by PC attackers in order to scam money from its victims all around the world. Uses can easily get this virus by viewing porn sites or movies online which have been hacked by PC hackers or installing unfamiliar free software that might have been bundled with this nasty program. Until now, more and more computer users are annoyed by System Doctor 2014 virus because this tricky virus can access target computers without any permission.

This virus pretends to be a diagnostic and a repair program to secure your computer. But actually all it can do is to make chaos on your machine. As soon as it is downloaded, it launches a bogus scan and reports tons of infections, saying that your system desperately needs some solution for the soonest recovery. No doubt, it offers its so-called System Doctor 2014 full version to you, but you should understand that such full version doesn't exist at all. Don't be tricked by this hoax. It only shows excessive error and security alert messages to convince user that the PC is in a very bad condition and persuade user to buy the full version so that cyber criminals can get money from that.
This fake AV modifies your system settings in order to be started automatically together with every system startup. This means that you will eventually see the GUI of this hoax each time you turn your computer on. In addition, once infected, users are not allowed to download things from the Internet. If they do that, they will get a prompt saying the program is infected as well. Thus, to avoid further damage or money loss, you must remove System Doctor 2014 virus once upon detection.
Notice: Have no idea on how to remove this unwanted software from your computer since real antivirus programs have failed to do the job? Cannot seem to stop this program from popping up constantly?Manual removal will be suggested here as it's guaranteed on a complete removal (advanced computers skills required). Contact YooSecurity Online PC Expert right away for instant assistance.


Screenshot of System Doctor2014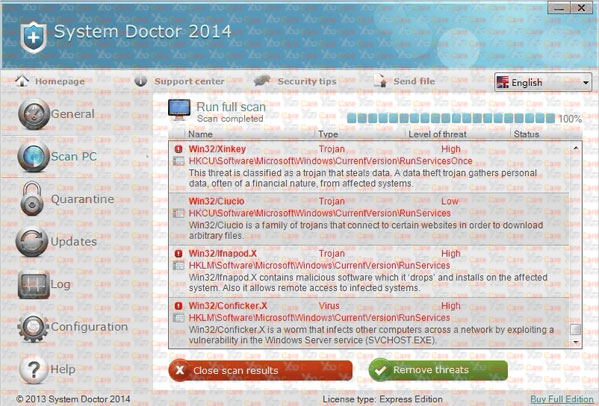 System Doctor Rogue Antispyware is Hard to Remove
The hackers distribute this virus through a variety of different methods. They infect several sites with the virus and place the virus within download links making it take just one click for the visitors PC to become infected. These sites include file sharing sites and other sites that they build claiming free downloads, but the downloads only contain the System Doctor 2014 computer virus. Another popular way that they spread the virus is through mass email campaigns. The SPAM millions of emails and each message contains an attachment that contains the virus. If the recipient opens the attachment the virus will become installed on their computer. When they send out the huge volume of emails they are bound to get some unsuspecting individual that will open the attachment because they simply do not know any better.
Consequences brought up by this nasty program:
A) System Doctor 2014 virus will change the operating environment for its own good which might at the same time disable some functions of the computer;
B) One may not be able to access the computer when it's running a scan through the computer forcibly;
C) False reports and fake security alerts will keep popping up on the screen making it impossible to use the computer properly;
D) System will become more vulnerable as the program stays longer and other viruses and malware could be brought inside;
E) Personal privacy may be affected as well.
Are you still looking online for a better software hoping to remove this unwanted System Doctor 2014 virus? It is believed that this rogue software could stop real antivirus from functioning well. Hence, one should stop searching online for another program while having the risks to come into another malware. What's more, it blocked your access to the internet.
Easy Way to Remove System Doctor 2014 Virus
It is important that all of the System Doctor 2014 computer virus files are removed manually to make sure that the system is completely cleaned out. Follow the manual removal instructions located below in order to get rid of this attack.
Step 1: Try to plug out the internet cable then restart your computer normally. After you can see the desktop, plug in the cable again. If the virus doesn't pop up, you can continue from step 3. (If it's wireless connection, turn off/on instead of plugging in/out cable)
Step 2: If you can't seem to be able to access any applications under regular mode instead of getting this unwanted pop up constantly, please restart the infected computer and put it into Safe mode with Networking before processing step 3. To do this, please keep pressing F8 key before windows launches until you get there shown as below(If your OS is Windows 8, please check here for details).: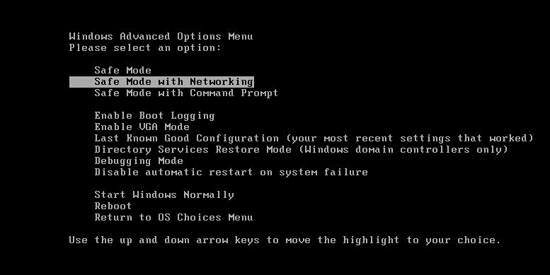 Step 3: Press Ctrl+Alt+Del keys to open the Task manager to stop the progress of System Doctor 2014 Virus. Because the name will be changed fast, it will be displayed with different names with random letters.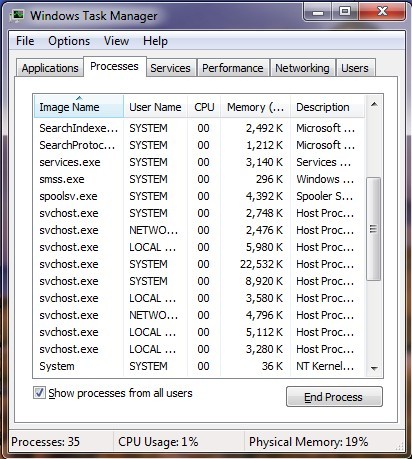 Step 4: Delete all the files related to this malware
%AppData%\Programs\[]"rnd"
%AllUsersProfile%\Application Data\""
%AllUsersProfile%\Application Data\""[]
HKEY_CURRENT_USER\Software\Microsoft\Windows\CurrentVersion\Run "[rnd].exe"
HKEY_CURRENT_USER\Software\Microsoft\Windows\CurrentVersion\Settings "rnd"
HKEY_LOCAL_MACHINE\SOFTWARE\Microsoft\Windows NT\CurrentVersion\Winlogon\Shell
Video Guide On How to Remove System Doctor2014 Fake Antivirus Program From Regedit
Please bear in mind:
System Doctor 2014 Virus is a rogue antivirus, which is a program that looks like common antivirus but detects non-existing infections. It only asks people to pay for a  full version of the scam. Instead of helping users protect the computer, this program only damages your PC and infects it considerably. It takes over your computer screen and then disables legitimate programs, including many of antivirus programs. Furthermore, it prevents you from downloading programs. The malicious program is distributed through Trojan viruses that can install rogue applications without users consent. No matter how convincing it looks like, you should never trust it. Ignore all the fake alerts generated by 2014 System Doctor and get rid of it as quickly as you can.
Special Tips: If you have no idea to get rid of System Doctor 2014 virus completely from your computer, contact YooSecurity experts 24/7 online in time for professional service to make your computer green.


Published by Tony Shepherd & last updated on June 5, 2013 7:28 am