The VPN market has grown exponentially over the past 10 years since people come to realize the importance of  protecting their data and securing their privacy. With a wide variety of VPN options in the market, finding a great VPN is not an easy job. You might want to find out whether a VPN fits all your needs before making any commitments. Now SaferVPN offers a 30-day money-back guarantee as a month-long free trial, plus a 24-hour free trial that can be activated without a credit card. In this trial period, you can access to all of their top-quality features without any restrictions. There are no caps on bandwidth or speed. You will have plenty of time to test their complete service. So, without further delay, let's discover how to get started with SaferVPN free trial.
What's SaferVPN?

If you are looking for a free trial VPN in order to test out the service without any risk and see if it meets your unique needs, then SaferVPN is one of the best options. The service not only offers a 24 hours free trial with no credit card required, but it also gives you a 30 days money back guarantee. So, you will have a month to test everything out, and if you aren't completely satisfied with the service, just ask for a refund, no question asked.
SaferVPN is an ultra-fast and super simple VPN service that allows you to surf the web in privacy. The service is available for Windows, Mac, Android, iOS and Linux, and there are also extensions available for Chrome and Firefox. In addition, the company sells routers with its services built in. You can connect up to 5 devices simultaneously with single SaferVPN account. Now SaferVPN operates over 700 premium VPN servers in over 34 countries so you can enjoy full internet freedom anytime, anywhere. With just a simple click, you can hide away your real IP, surf on an encrypted connection, and access content that is unavailable in your region while you are traveling. SaferVPN allows you to get freedom from monitoring and logging and your personal details are never shared with anyone even you are using a public Wi-Fi. As for security, SaferVPN offers a variety of VPN protocols (including IKEv2, OpenVPN, L2TP/IPSec and PPTP) to meet your specific needs and make your browsing experience as swift and secure as possible. It also can automatically select the VPN protocol best suited to your network. Moreover, SaferVPN encrypts your data and traffic with 256-bit bank-level encryption, adding an extra layer of your security. So, your data, personal information and communications are always protected from hackers and thieves.
As mentioned above, SaferVPN offers any new customers a 24-hour free trial. All it requires from the customers to start is an email and password. If you decide to sign up, SaferVPN accepts Bitcoin, PayPal, and credit cards, allowing for various levels of anonymity when paying. The paid SaferVPN plan comes with a 30 days money back guarantee. This implies that you get 1 day to use SaferVPN service on all your devices. Once the free trial period expires and you want to continue the service, you will be charged. However, you have the grace of 30 days to request for your money back. This is actually equivalent to a 30 days free trial. Now experience the ease of use and the performance of SaferVPN before you decide whether you want to purchase it. No risk at all!

SaferVPN Pricing Plans & Deals: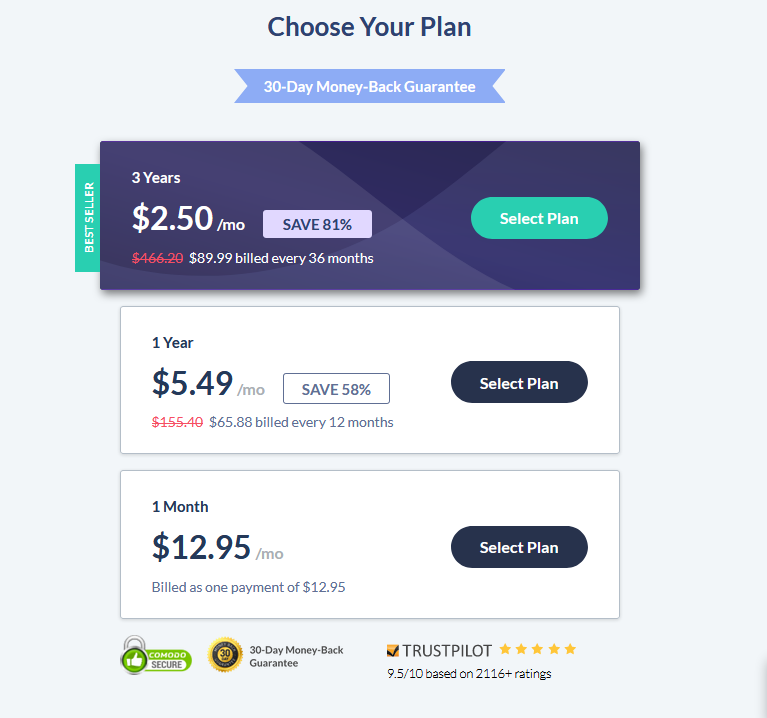 SaferVPN is actually marketed at an incredibly budget friendly and affordable price. Depending on the different length of the subscription period, they list 3 pricing plans: 1 Month, 1 Year and 3 Years:
1 Month – $12.95 per month – Save 0%
1 Year – $5.49 per month (Billed $65.88 every 12 months) – Save 58%
3 Years – $2.50 per month (Billed $89.88 every 36 months) – Save 81%  

BEST SELLER
As you can see, SaferVPN's one-month plan is a little expensive at $12.95 per month (£8.45), but this drops to $5.49 with the one-year plan, and only $2.50 a month if you sign up for three years. So, the longer the package, the better the value. For a limited time, you even can get an extra 10% off your subscription. With the deal, you can get SaferVPN for as low as $2.25/month. Get the simplest, fastest and safest Virtual Private Network at SaferVPN now!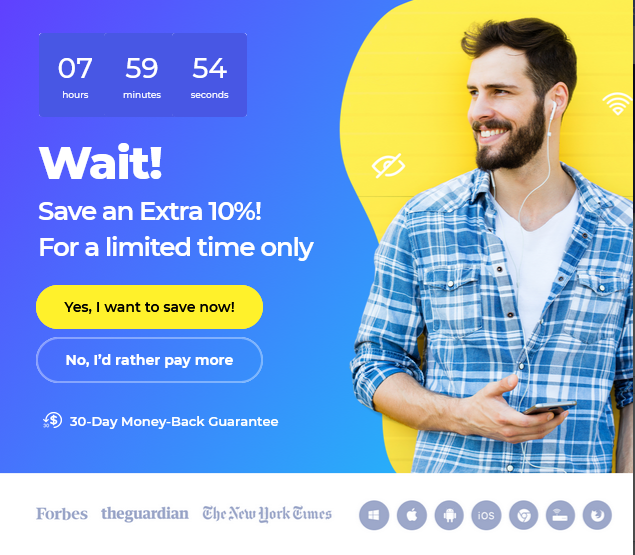 Payment Options: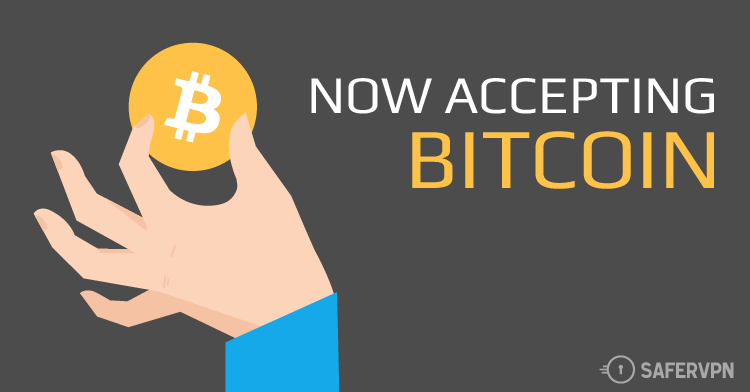 SaferVPN offers a wide range of payment methods for people to choose from:
PayPal
Visa
Mastercard
American Express
Discover Card
Bitcoin
Alipay
WebMoney
YandexMoney
Mint
With various options for paying the service, SaferVPN did really make your life much easier. SaferVPN values your privacy and online security, therefore they offer you anonymous mean of payments. You can pay with Bitcoin which gives you 100% anonymity as it doesn't require you to expose your real name, card number, billing address or any personal information. All it needs is an email address and that's it. SaferVPN is good for people who want higher anonymity. Try it free now! No credit card required.
SaferVPN 24 Hours Free Trial & 30 Days Money-Back Guarantee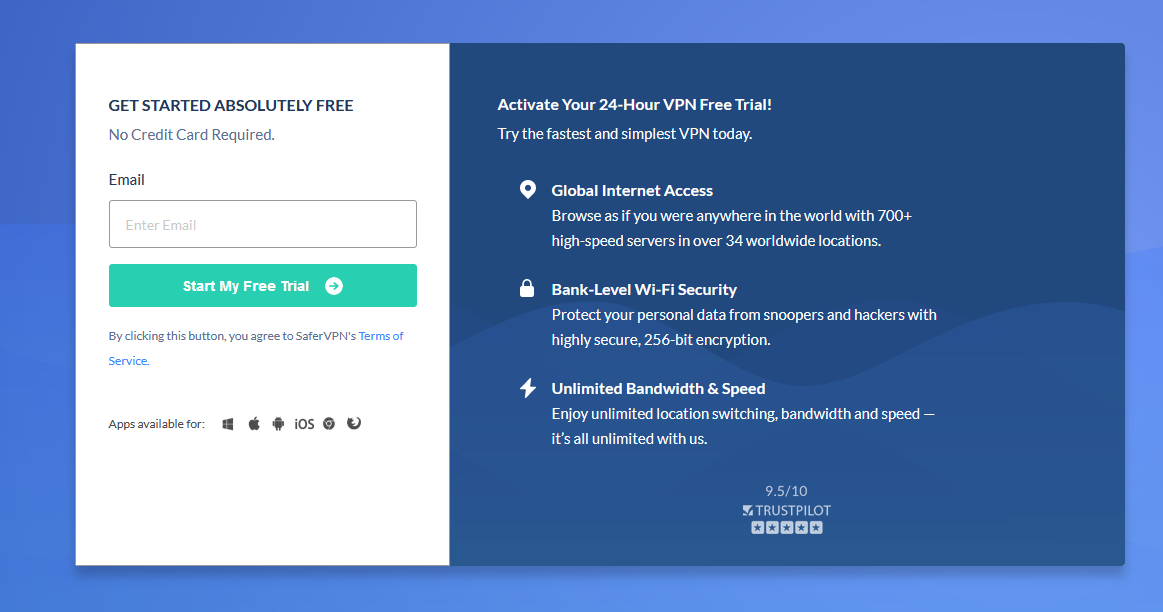 Top-rated VPNs always offer the best free trials and so does SaferVPN. SaferVPN offers a 24 hours free trial for potential customers who want to test out their service. In the trial period, there are no limits on bandwidth or speed and you can get full access to its 700+ high speed services in over 34 locations worldwide. Though 24-hours is a short time to tell whether this VPN truly delivers the speed, safety and performance that you expect, the service kindly offers a 30 days money back guarantee if you are not satisfied with the service. With this guarantee, you can fully explore the service, check out what types of activity logs are kept, what encryption methods are being used, and so on. It is worth mentioning that SaferVPN 24 hours free trial doesn't require your credit card or debit card. All you need to supply is your email address, and you need to come up with a password. The sign up process for this limited-time trial is a breeze. Get SaferVPN free trial here to test it fully, and decide whether it's worth the investment now!
Main Features:
700+ Servers in 34 Countries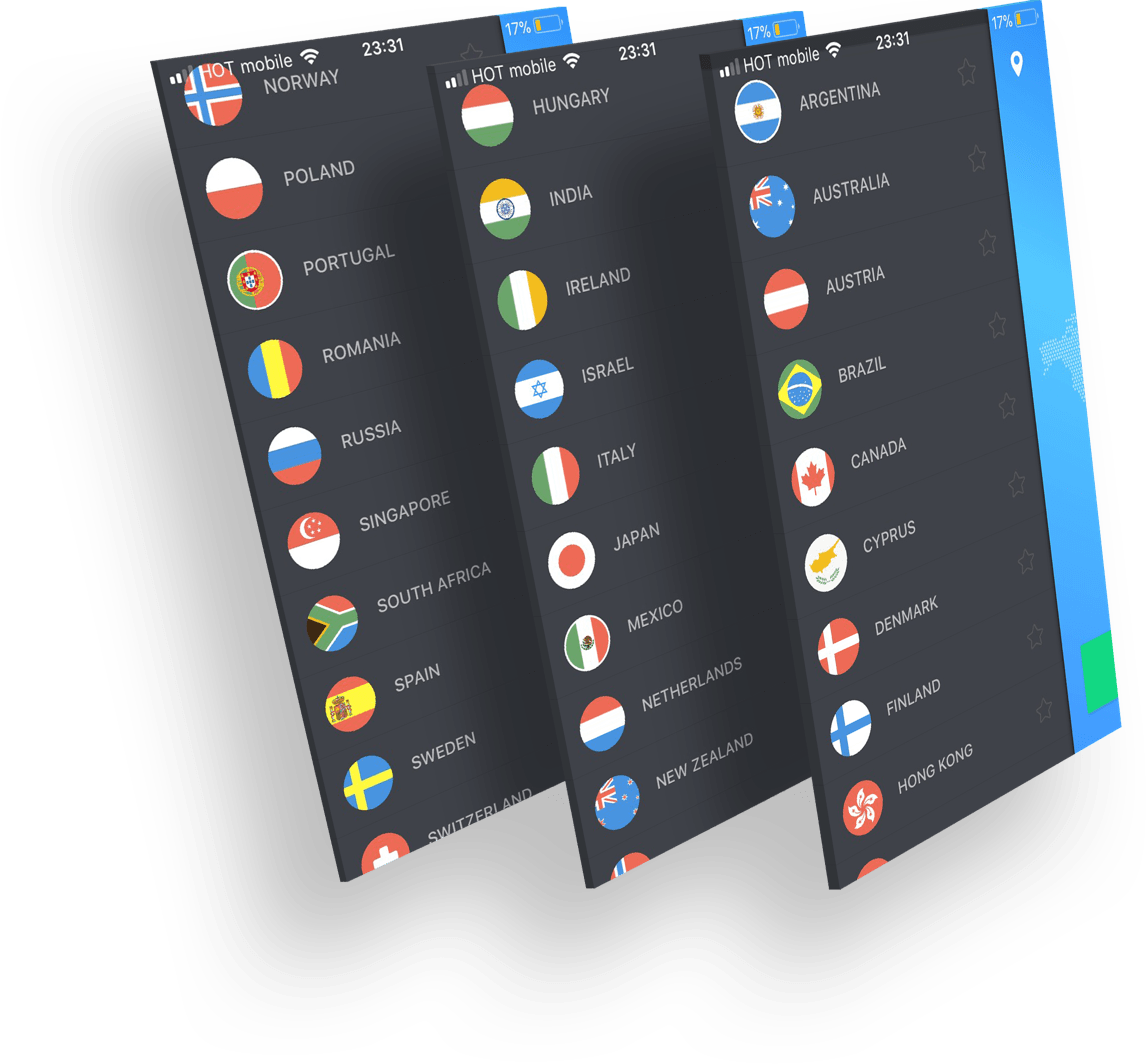 SaferVPN operates a total number of servers to over 700 in 34 different countries across the world, including Australia, Austria, Argentina, Finland, Belgium, Brazil, Cyprus, France, Sweden, New Zealand, Hungary, Switzerland, Italy, India, United Kingdom, United States, Ireland, Germany, Hong Kong, Canada, Spain, Singapore, Japan, Russia, Denmark, France, Israel, Poland, Netherlands, Norway and so on. By connecting to one of their servers, you will receive a totally different IP address which enables you to access any geo-blocking content while traveling. Please note the best server will be the one closest to you.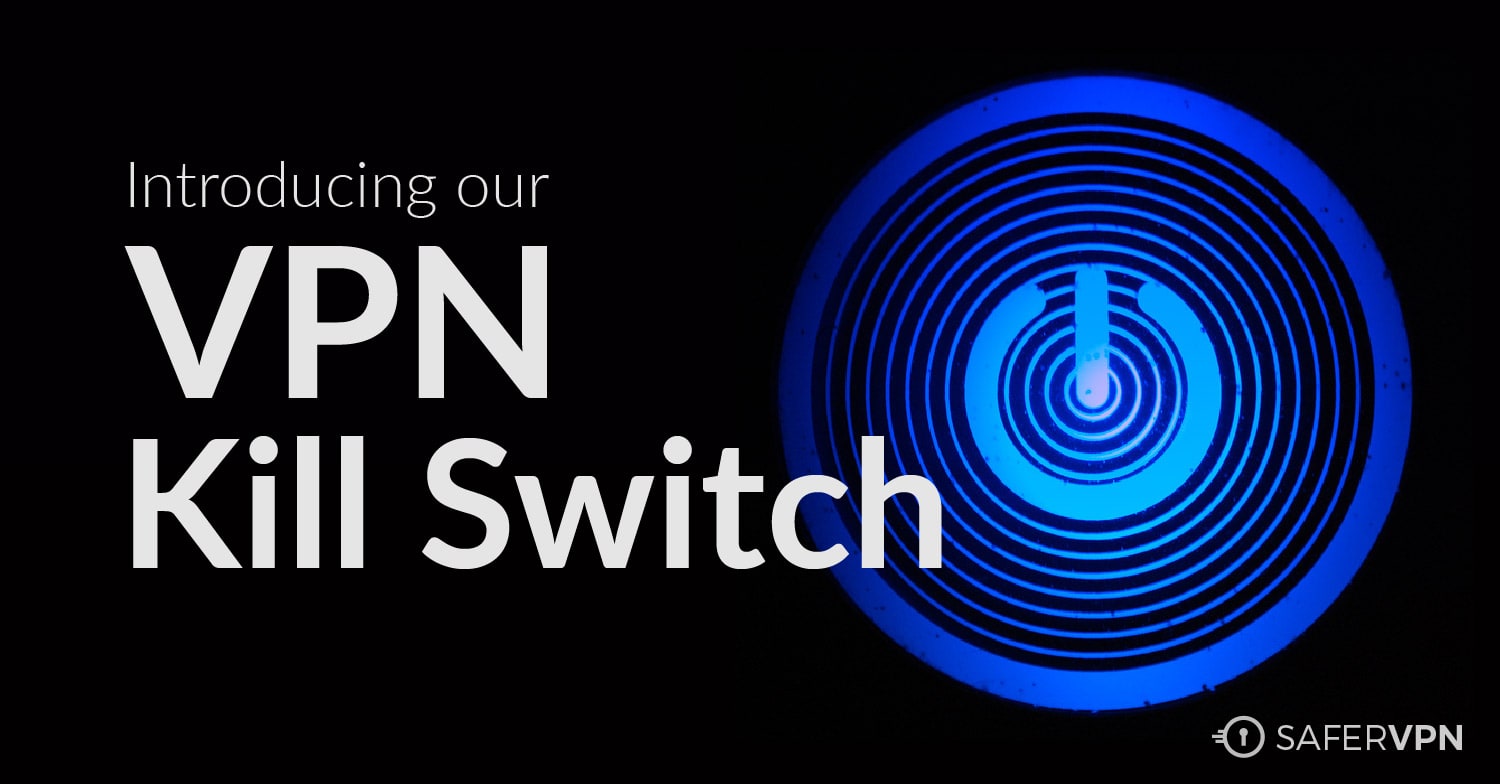 SaferVPN adds Kill Switch feature to its VPN Client as an extra layer of protection. This feature is available for Windows, Mac, Android and iOS. When it is enabled, it can disconnect you instantly when your Internet connection drops for any reasons. Its main role is to avoid your IP being leaked and maintain user's anonymity. Kill Switch is more than just an additional feature, it is a completely vital, critical addition to your security.
5 Simultaneous Connections
The ability to connect multiple devices is highly convenient for users looking to enjoy the full benefits of a VPN. There are three pricing plans available for SaferVPN, and you get 5 Simultaneous Connections on all plans. So, all your devices are completely protected, whether it is a desktop, mobile or any smart device.
Automatic Wi-Fi Protection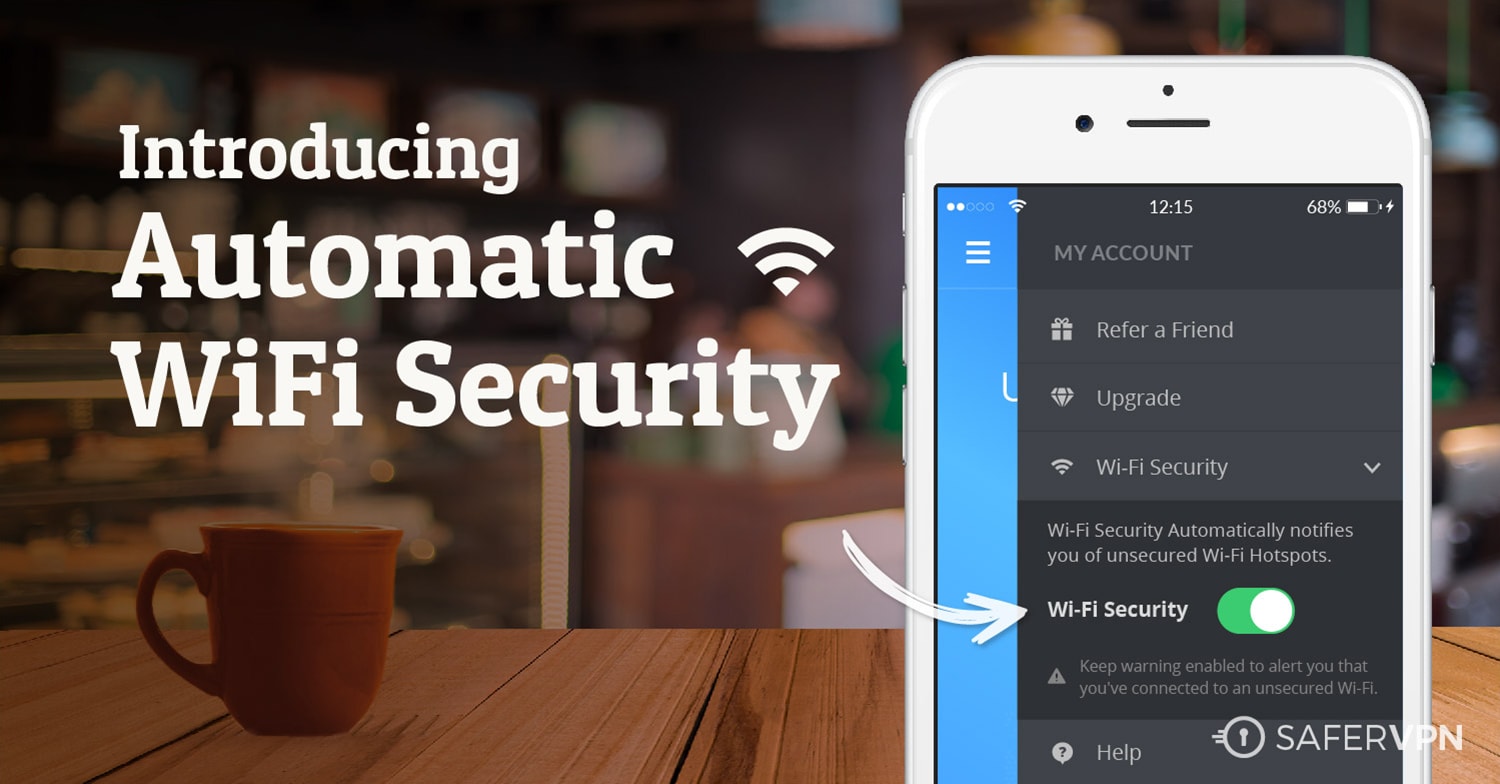 SaferVPN offers an additional feature that helps you browse over any public Wi-Fi hotspot without worry or fear. Once the user downloads the SaferVPN app, the app automatically turns on the VPN protection when the user connects to an unsecured Wi-Fi. So, the Automatic Wi-Fi Security feature lets you automatically be protected against online identity theft and cybersecurity threats – without having to do a thing!

Unlimited traffic bandwidth & Unlimited data usage
Break free of download limits set by your ISP and other VPN services. SaferVPN lets you enjoy unlimited location switching, bandwidth and speed. You can prevent your ISP from throttling your service and no one can monitor how much data you are using. Besides, SaferVPN supports unlimited server switching and access to every server available without reservation, regardless of the plan you're paying for.

Why You Should be Using SaferVPN?
Have you ever been concerned about how private your online activity is? Have you realized that the advertisers and other entities could track your online activity without your consent? Even your internet Service Provider (ISP) or government can see your browsing history. That's why you need a VPN. SaferVPN keeps every moment you spend online completely private. By accessing to one of the 700+ servers in 34 countries, SaferVPN masks your IP address and replaces it with another from a location of your choosing. This means you can bypass geo-restrictions on websites such as those offering streaming services, gaming, gambling, and more. It will encrypt all of the internet traffic using the bank-grade encryption and prevent third parties from monitoring your online travels. With SaferVPN, it's unreadable to your ISP or anyone else snooping on your activity, such as network administrators, government agencies, or hackers. Thanks to its Automatic Wi-Fi Security feature, SaferVPN keeps your web browsing secure and private over public Wi-Fi hotspots. You can also get past regional restrictions for video and music-streaming sites and even evade government censorship restrictions with the help of SaferVPN. The VPN even protects yourself from being logged while torrenting. Activate SaferVPN 24 hours free trial and enjoy 30 days risk-free trial. SaferVPN allows you to connect up to 5 devices under one account, so go ahead and set it up on your mobile, computer, or even home router.
How to Get SaferVPN 30 Days Risk-Free Trial?
1. Click here and you will be redirected to SaferVPN homepage. Click on the "Get SaferVPN" button.

2. Select a payment plan, sign up with an email address, and then add your payment information. Next, download the SaferVPN app on your device. It's easy and fast, and you'll be set to go in no time.
3. Take it for a test drive. You can browse, shop, and safely enjoy the content you love with no limits on your bandwidth or speed. Top-notch security is included. Within 30 days, you can either choose to continue using SaferVPN or cancel your subscription and get your money back.
Note: Beside the 30 days risk-free trial, SaferVPN also allows you to test their service free for 24 hours. In the 24 hours free trial period, you only have to provide any payment information after the trial expires. This is really nice to have. Not a lot of premium VPN services are offering any kind of free trial. Not to mention the service is on sale for only $2.50/month. Start your risk-free VPN trial now!

Top 10 + Best VPN Services Worldwide
View More Top 10 Best VPN Services Here »
Conclusion:
There are many free and paid VPN options available in the VPN market, which makes choosing the best VPN become a difficult task. However, you need to bear in mind that free VPNs always come with a price and that is the exposure and even abuse of your data. SaferVPN is a good option for anyone concerned about their online security and privacy. It comes equipped with an Automatic Wi­Fi Security feature, bank-level 256-­bit encryption, and single-click applications for every device in your tech collection. Even though it's a paid VPN service, it offers 24 hours free trial to let customers test out their service before they pay. While most "free trial" programs offer a demo version of the product with limited functionality for only one device, SaferVPN doesn't put any limitations on their trial version and you can get unlimited bandwidth and speed like usual. Besides, SaferVPN comes with 30 days money back guarantee. It is like giving you 30 days risk-free trial to let you experience all its features on all of your devices. If for any reason you're unhappy with the service, you'll get the money refunded, quibble free.


Published by Tony Shepherd & last updated on February 26, 2020 4:51 pm