Hi I had the Interpol scam on my iPad today so I sent an email as requested asking for my iPad to be unlocked. In the meantime my provider told me to reset my iPad and this has cured the lock down but I've received an email from the scammers saying I need to pay a fine. I obviously realize now this is a scam but can they still hack my iPad through email. Please tell me how to remove it?
"Your device has been locked for illegal pornography" Scam – How it Works?
"Your device has been locked for illegal pornography" Scam is defined as a terrible thing that will lock your safari and ask you pay a fine to unlock your safari. According to our experience, some victims pay on that scam but their browser just keep locked, and they have no way to get their money back, the fine is about 100~500 US Dollar, Euro or pound. It means the virus has spread in many countries including United States, United Kingdom, Australia, and Newzeland. Just like the FBI Moneypak scam, it seems as legitimate as possible so that innocent computer users will fall for it and pay for the fines. In this way, hackers can collect as much money as possible. Thus, please be careful when your computer gets locked by this fake Canadian Police warning page. The Police Cybercrime Investigation Department Virus is also treated as ransomware that is to extort money from as many mobile device users as quickly as possible by attempting to fool them into believing that they have participated in several serious violations online and must now quickly pay a fine or face severe consequences down the line in the form of legal action and additional monetary fines. This type of virus is spread for the sole purpose of tricking users into sending money to the hackers, and there is not a serious system threat from this ransomware unlike most viruses that give the hackers remote access to the Mobile device (Android phone or Tablet). The hackers only want to infect the mobile device with the Police Cybercrime Investigation Department Virus and then move onto a new victim.
The Screenshot Of This Warning Scam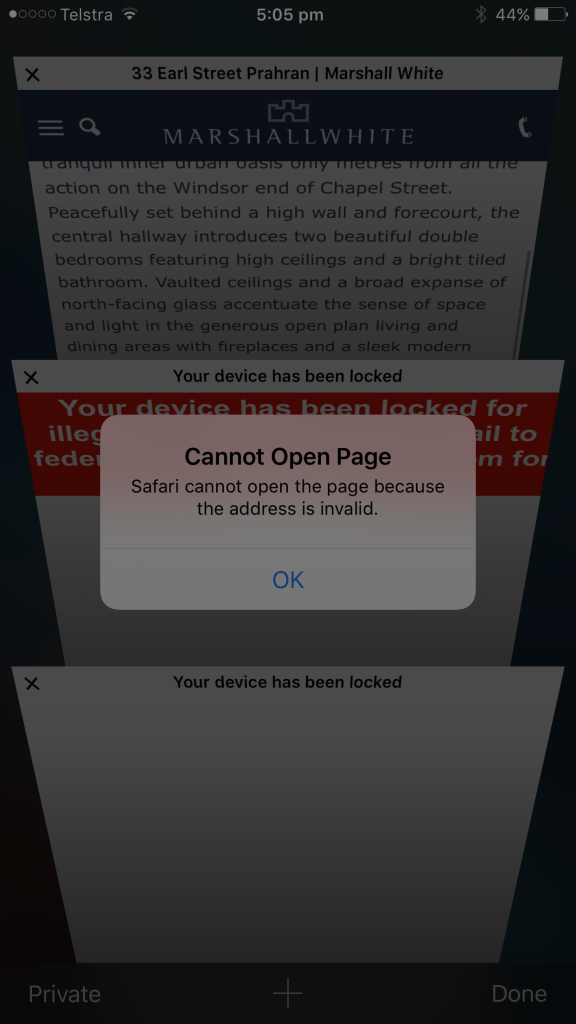 What is worse, pay a fine is not the only benefit that scam malware wants from its victims, this malware invades your system with the help of Trojans which may open backdoors for hackers to control your system. Via this nasty malware the hackers are able to steal your important private information such as user name, password, credit card number, banking information, business secrets, etc. Therefore, "Your device has been locked for illegal pornography" Scam must be kicked off completely and permanently from your safari as soon as possible before it can bring further damages to the system. Unfortunately, this malware is very stubborn and pretty difficult to remove because no anti-virus programs are able to kill it successfully up to now. As the most effective solution, manual removal needs expert skills so it's only feasible for advanced users. If you think you are skilled and experienced enough on computer and software issue, you can try to follow the following guide to remove this virus by yourself.
Suggestion: To save your apple device, live chat with YooSecurity experts now, or you can follow the manual removal guide below to get your problem fixed.

How did I have this Warning Scam on my Safari
There are many ways for cyber hackers to spread this warning Scam to innocent people. It is comes to you unconsciously when you click some links on the website, opened unknown e-mail attachments, or download unknown "free" software and so on. Freeware download websites encourage users to use small download programs (called 'installers', 'download managers', 'download tools', 'download clients', and so on) to download the chosen software. Download apps supposedly ease the download process. However, they offer installation of third party applications with the chosen software. When you download some documents or apps which you are interesting, this virus program will also be attached to download, and run as document application. There are also set up that contain the hijacker and users are directed to those sites from links within email messages that are sent out. Some of the emails will not contain the link, but they will instead have an attachment that they will be asked to click on. Once the virus goes into the target device, it may be trying to hijack your android and lock your apps began to generate advertising revenue. We strongly recommend that you don't do that above behavior, because they are likely to be false. No matter whatever how you get the virus, it is necessary to remove it from your computer before the arrival of more dangerous.
Manually Remove "Your device has been locked for illegal pornography" Scam on Safari
The Virus is upgraded by hackers to target more and more iPhone or iPad or other Mac OS X system product to get more illegal profits. Now it can hide Safari and make victims believe that Safari has really been deleted. We used to believe that Apple products with Mac OS X system is greatly immune to viruses and malware. However, since this version of virus is improved to attack iPhone/iPad, this scam will easily spread online and hits Apple iOS device.
1. Once you see "Your device has been locked for illegal pornography" Warning message on your iPhone or iPad, please get this ransomware off your iPhone/iPad manually.
2. "Send email to this Warning scam will pop up and lock your iPhone/iPad, you could get this virus by visiting a phishing site, opening a junk e-mail attachment, clicking on an unknown link or downloading an application from an unsafe source, especially after you jailbreak your device.
3. Currently no app is able to detect or remove this malware scam, even for preventing the virus from attacking the mobile device again.
4. Manual removal process requires sufficient expertise. To safely deal with the scam from iPhone/iPad, you are recommended to Contact an Expert .
Conlusion
Up to now, you realized the Law of loyalty to the people locked your safari police cybercrime investigation department and "Your device has been locked for illegal pornography" Scam is a popular virus. Also, hijacker likes dress up as legit warnings from the nations. And they are all related to laws mostly Copyright and Related rights Laws. By stating that your online activities have been violating certain rules of laws and threatening to you about the criminal cases that might be initiated against you, it tries to deceive you into paying the requested amount of fines. Through this way, hackers not only get the fines but also collect your personal information at the same time. It is very dangerous! Some people may still wonder how they can get their money back. It is believed that the possibility is rare since it's not legit payment processing. The most important things to do are 1) to renew the related personal information immediately; 2) to get rid of this Police Cybercrime Investigation Department Virus manually as soon as possible. Even though you will not be in any legal troubles if you don't pay the fines, it is still dangerous to leave your safari unlocked. It can help other viruses and malware sneak into your apple device without permission and can drop infected files to take places of authorized system files.
Special tips: Having trouble to deal with this scam on your safari? Be confused with the whole removal processes of "Your device has been locked for illegal pornography" Scam? To safely and completely get rid of it please contact YooSecurity experts for further help:


Published by James B. Gonzalez & last updated on February 19, 2017 10:21 am