Can't uninstall XP Smart Defender Pro virus from your computer? Got the fake system security alert that blocked your access to the internet! You are required to purchase XP Smart Defender Pro Reg Key or activation code to get the full version! It looks like a real fake anti-virus program and scans my computer in only a few minutes, so i know it is not real.  Is there any video instruction to remove trojan-bnk.win32.keylogger.gen on windows vista in safe mode when web cannot be accessed? What to do after you realized it is a scam?

Is XP Smart Defender Pro – Unregistered Version Fake or Real?
XP Smart Defender Pro virus pops up on the screen and disabled my antivirus? This fake XP Pro, Vista Smart Defender Pro Virus and Win 7 Smart Defender Pro Virus all come from the same family rogue. 2013 is yet another new year with so many things to look forward to. Unfortunately, this also means that hackers now have a new weapon to use against us! There are tons of viruses that are packaged in the form of an anti-virus. An example of which is the XP Smart-Defender Pro 2013. This is actually a virus that was developed by the ever annoying hackers in order to make some quick buck out of everyone. As a computer owner, you must be aware of such viruses in order to prevent your computer – and even your personal life from getting damaged.
XP Smart Defender Pro virus is a form of program that comes from the family Rogue; FakeRean-Braviax or the rogue anti-spyware programs. This is classified under this category because it provides fake scan results and security alerts. It can also take over your own computer which can potentially ruin your system and leave you no choice but to buy a new one. But you have efficient solutions to fix this problem here.
This virus masquerading as an anti-virus is aimed at milking some money from people who are in dire need of "protection" for their computer. It fools you into believing that your computer is actually infected with multiple viruses and malware so that you are forced into a state of panic. Once you panic, you are then more likely to make rush decisions – such as downloading the XP Smart Defender Pro which is nothing but just a scam and a virus.
To save your computer, Live Chat with YooSecurity Expert Now. You can follow the manual removal guide below to get your problem fixed. (For advanced computer users)


XP Smart DefenderPro Screenshot: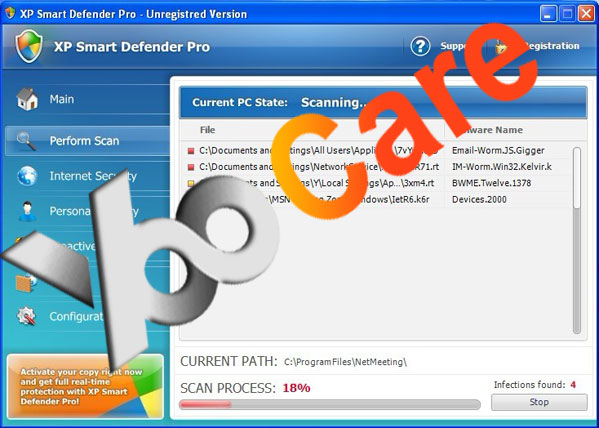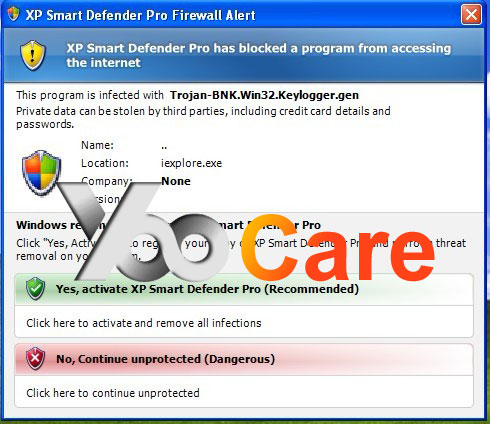 How Did You Suffer from The XP SmartDefender Pro Virus?
Right after you have installed the said program, it will automatically hijack your own computer in order to create even more complex system problems. In some cases, the program also closes other applications. Thus, this will slowly creep in the system of your computer creating chaos to your computer. As long as the virus is in your computer, it will never be safe. The virus creates a domino effect to your computer. It not only weakens your computer system, but it also leaves your computer vulnerable from other viruses to enter it.
This is one mean virus because it prevents you from actually removing it from your system! Yes – it blocks you from using Windows Task Manager or any other program that can get rid of it. This smart virus will install a rootkit in your computer which is why it's virtually impossible to get rid of it easily.
How to remove XP Smart Defender Firewall Alert Manually?
Once you feel that XP Smart Defender Pro virus is already lurking in your computer, make sure to seek professional help to eliminate this program. It would be easy for you to eliminate the virus and restore optimum functionality of your computer with the help of experts.
1. Restart your PC before windows launches, tap "F8" constantly. Choose"Safe Mode with Networking" option, and then press Enter key.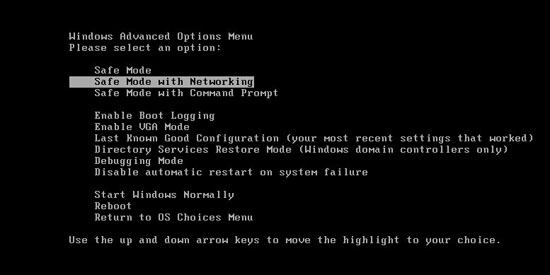 2. Press Ctrl+Alt+Del keys together and stop the alert process in the Windows Task Manager.
3. Delete associated files of the XP SmartDefender Pro Firewall Alert virus from your machine absolutely:
%AppData%\random-
%AppData%\result.db
%TEMP%\Random
%DirDesktop%\Random
4. Search for all related registry entries infected by virus and wipe them out:
HKEY_CURRENT_USER\Software\Microsoft\Windows\CurrentVersion\Run\Random
HKEY_CURRENT_USER\Software\Microsoft\Windows\CurrentVersion\Policies\System "DisableRegistryTools" = 0
HKEY_CURRENT_USER\Software\Microsoft\Windows\CurrentVersion\Policies\System "DisableTaskMgr" = 0
HKEY_LOCAL_MACHINE\SOFTWARE\Clients\StartMenuInternet\IEXPLORE.EXE\shell\open\command "(Default)" = '"%LocalAppData%\random"'
5. Reboot the computer to normal mode when the above steps are done.
Video Guide to Remove XP Smart Defender Pro Virus Alert
Friendly Reminder:
You can clean out the rogue thing from your computer after following guides here, and the next is to prevent from it. Now that you know what XP Smart Defender Pro is, you will be able to avoid it and find your way around it, if (God forbid) this virus infects your computer. To those of you who think that there is something wrong with your PC or laptop – and XP Smart DefenderPro virus is involved – act fast and seek professional help because this virus has no business hanging around inside your beloved computer. Nevertheless, if a computer is infected by such fake AV then it is important to have it removed as soon as possible to avoid further damage.
Note: If you are not computer savvy and don't know how to remove XP Smart Defender Pro virus, to save your computer in time, please contact YooCare PC experts 24/7 online to completely and safely sort it out.


Published by Tony Shepherd & last updated on March 4, 2013 3:15 am