Help Removing Win 7 Antispyware Pro 2013 Virus Alert that blocked everything on my screen. Recently, a couple of computer users have been infected with the rogue spyware. And they can't do anything on theirs computers as the virus didn't allow them to run anything. The only message pops up saying Win 7 Antispyware Pro 2013 has blocked a program from accessing the internet. Windows recommend activate the Win7 Antispyware Pro 2013 to protect your computer. Is it real or fake thing?

Win 7 Antispyware Pro 2013 – Unregistered Version Description.
Win 7 Antispyware Pro 2013 is a fake antispyware product that should be immediately and completely removed from a computer system as soon as it is noticed that it has gained entry to a computer system. Is it a secret that this is another version of Win 7 Antispyware 2013? No. An antispyware is a program designed to help protect your system from any type of spyware or malware viruses that would compromise the security and efficiency of a computer system. The antispyware tool is supposed to help you detect and identify hidden spyware programs that try to sneak into your computer system. With this tool you should be able to scan and remove any malware and spyware that have already sneaked in.
Win7 Antispyware Pro 2013 is designed to look like an effective or original antispyware program even though it is not. It is categorized as a Braviax program and is designed to swindle unsuspecting PC users. This fake program tries to pass as an original antispyware tool by creating alert images of various fake virus and spyware threats detected. Once the user tries to use the program to clean up the detected viruses and threats, it prompts the user to purchase and upgrade to the Win 7 Antispyware Pro 2013 licensed version to be able to do so. This is a scam program that is useless. It has no database of virus or spyware and so cannot do anything. Paying for the licensed version is a waste of money. The program should be deleted as soon as the useless detected threat alerts begin to pop up.
To save your computer, Live Chat with YooSecurity Expert Now. You can follow the manual removal guide below to get your problem fixed. (For advanced computer users)


Win7 Antispyware Pro 2013 Virus Screenshot: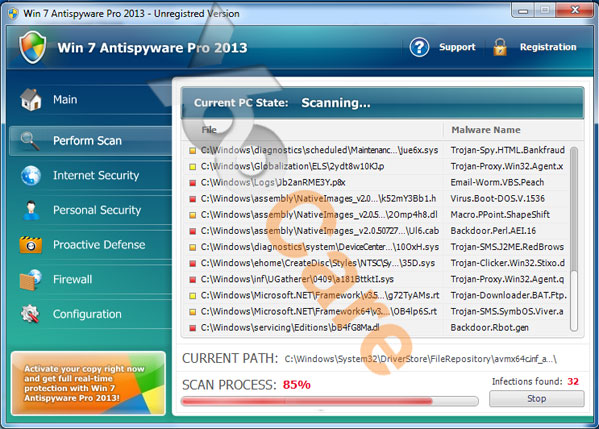 Windows 7 Antispyware Pro 2013 Firewall Alert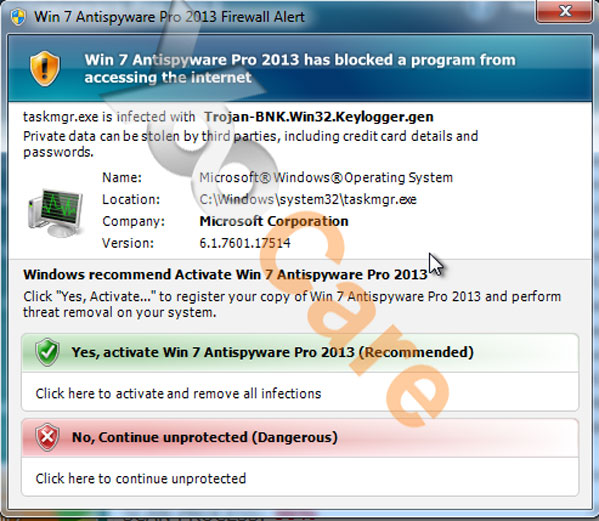 How do computers get infected with the fake Windows 7 Antispyware Pro 2013?
Win 7 Antispyware Pro 2013 is a fake spyware that is spread by Trojans inserted inside corrupted freeware materials available on the internet. Some websites have been hacked and when you download content or shareware from such sites you also get to download the dangerous Trojans.
One a Trojan containing the fake Win7 Antispyware Pro 2013 gets on a computer system it will immediately begin to secretly download all the other files that it needs to run. Once the system is rebooted, the rogue spyware program begins to work and generate irritating alert pop ups and notification about fake threat detects.
How to Remove Win 7 Antispyware Pro 2013 Virus Step by Step?
All threat alerts, notifications and pop ups generated by this program are fake and are just designed to lure you to purchase the licensed version. An unsuspecting PC user would be scared by these threat notifications into purchasing the licensed version which is utterly useless. To avoid causing serious harm to your computer, you would have to stop and remove this fake program and its files from your computer MANUALLY.
1. Restart your PC before windows launches, tap "F8" constantly. Choose"Safe Mode with Networking" option, and then press Enter key.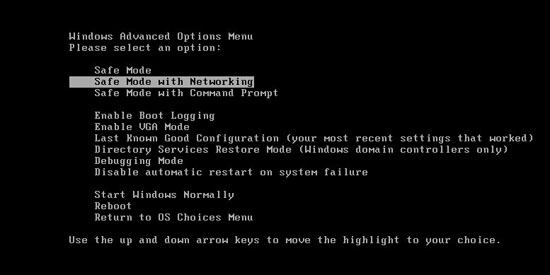 2. Press Ctrl+Alt+Del keys together and stop Win 7 Antispyware Pro 2013 virus process in the Windows Task Manager.
3. Delete associated files of the Win 7 2013 virus from your machine absolutely:
%AppData%\random.exe
%AppData%\result.db
%TEMP%\random.exe
4. Search for all registry entries related to the malware and wipe them out immediately:
HKEY_CURRENT_USER\Software\Microsoft\Windows\CurrentVersion\Internet Settings "WarnOnHTTPSToHTTPRedirect" = 0
HKEY_CURRENT_USER\Software\Microsoft\Windows\CurrentVersion\Run\Random
HKEY_CURRENT_USER\Software\Microsoft\Windows\CurrentVersion\Policies\System "DisableRegistryTools" = 0
HKEY_CURRENT_USER\Software\Microsoft\Windows\CurrentVersion\Policies\System "DisableTaskMgr" = 0
HKEY_LOCAL_MACHINE\SOFTWARE\Clients\StartMenuInternet\IEXPLORE.EXE\shell\open\command "(Default)" = '"%LocalAppData%\random"'
5. Reboot the computer to normal mode when the above steps are done.
Video Guide to Remove the Fake Win7 Antispyware Pro 2013 Firewall Alert
Summary:
Now you can get a clean PC after processing the steps above. But Win 7 Antispyware Pro 2013 is hard to uninstall or remove from your computer. This is because the program would try to stop you from removing it from your system. You would have tried many antivirus programs but with no luck, yes, you need an effective way to help you to remove this program after which you would have to do a full scan of your system to ensure that all its files and traces has bee
Published by Tony Shepherd & last updated on June 4, 2013 8:07 am