Police want £100 or €100 to unblock computer? While the priest climbs a foot, the devil climbs ten. It's really a good sentence to describe the rampant computer viruses, especially ransomware. What is more abhorrent, ransomware always change its appearance to confuse people. Willkommem Bei Windows Update Virus is such virus has been bringing much pain to people.

Locked by Willkommem Bei Windows Update Ukash Virus?
Willkommem Bei Windows Update Virus is not a new ransomware at all, or you can say except for the different language and interface, it is the same as other ransomwares in its heart. When you get infected by such virus, that means your computer has been locked by it already. The first time you realize its existing must be when its alert information pops up on your desktop. And at this time, you have almost lost all the functions of your computer since the virus has completely dominated your computer. The maker of this type virus has designed many versions such as Canadian Security Intelligence Service (CSIS) Ukash virus, Police Central e-crime Unit (PCEU) Ransomware, Politie-Korps Landelijke Politiediensten malware and GVU Lock Screen Virus according different countries and areas. When it attacks canada area, it adopts English as its language. And Willkommem Bei Windows Update is the name when it attacks Germany. It's obviously Germany language. Of course the appearance is different from other versions too. The rogue malware pretends to be originated from local government and pops up a mendacious warning declaring that you have done something illegal through the internet. And your computer has been locked by the government offices. And you are unable to get rid of Willkommem Bei Windows Update Virus virus as everything has been blocked with the Ukash payment screen. In order to unlock your computer you have to pay 100 Euros for fine in the way as the alert guides. It's really a tricky method to make people fall in the trap because most of them will be afraid if they are warned by something official. Otherwise, some people even if know it's not real, they will pay the ransom by taking a chance that their PCs will be unlocked if they do as the threat requires. If you think so, you are completely wrong, you will get nothing after you pay money to the hackers, instead, your computer will be still locked. The hackers will continue their attack to your computer without any mercy.
To save your computer, live chat with YooSecurity experts now, or you can follow the manual removal guide below to get your problem fixed. (For advanced computer users)
Live Chat with Support Now
The routes of Willkommem Bei Windows Update ransomware transmission
Willkommem Bei Windows Update Virus may lurk in anywhere on the internet. In most cases, Willkommem Bei Windows Update malware hides in some unsafe websites or links waiting for your visiting. The chance for its spreading may be one of your unconscious click of some place when you want to download something or open some pages. Most of people even don't know how they get caught by such virus since they don't know that any activity they do may has a risk in bringing such virus. The virus may be bounded together with other legal programs or files, as long as you get them, you also get the virus at the same time. So you'd better never visit informal websites. Before you click some links or download something, look before you leap!
It seems that my antivirus is useless to remove Willkommem Bei Windows Update Virus?
In fact, when you get infected such ransomware, antivirus is not just useless, but entirely paralyzed. The reason is that, when the virus accesses into your computer, it will do whatever to capture the computer and after it get the control authority, it will disable all the legit programs in its way. So the antivirus will be blocked to militate. actually, you almost can't do anything you want if your computer has been attacked by such virus unless you remove it completely.
One picture of Willkommem Bei Windows Update Virus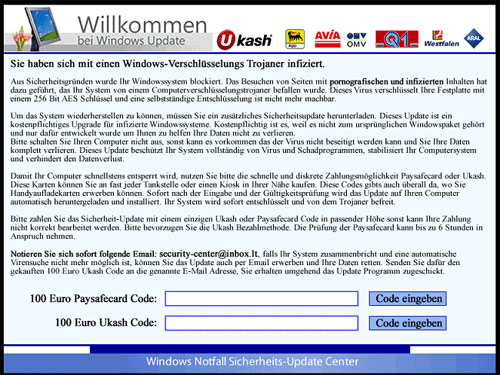 Symptoms or Harmfulness of Willkommem Bei Windows Update Virus Infection
? Continually pops up fake alert to threaten you pay ransom which is really annoying.
? Bring in much more other Trojans or malwares for vicious purpose. These viruses can gradually destroy your computer operating system.
? Willkommem Bei Windows Update Virus can lock your computer and you can't run normal applications.
? It will steal your personal information for illegal usage, which may bring you great harm both from finance and psychology aspects.
? When you suffer from economic losses, you makes the cyber cribbers have tasted the sweetness of illegal activities.
Best Way to Remove Willkommem Bei Windows Update Virus Efficiently
Since your computer is locked by such nasty virus, you have to delete the virus manually with professional computer knowledge.
Step A: Restart your computer in safe mode. To do this, please press F8 key before the system is started like this: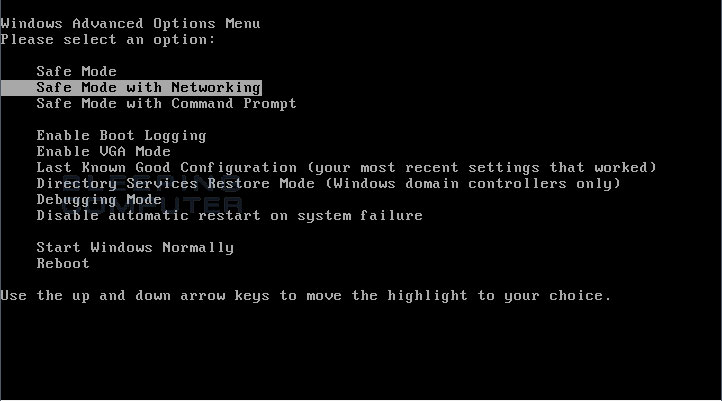 Step B: Press Ctrl+Alt+Del keys to open the Task manager to stop the progress of Willkommem Bei Windows Update Virus. Because the name will be changed fast, it will be show with different name.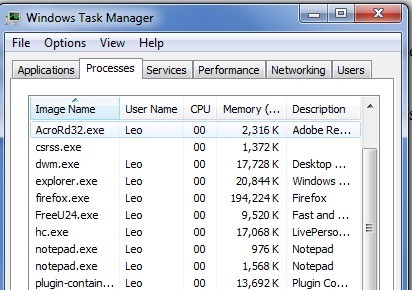 Step C: Delete all the files related to Willkommem Bei Windows Update Scam
Step D: Delete Willkommem Bei Windows Update Virus register entries created in computer system.
By the way: Manually remove Willkommem Bei Windows Update Virus is a rather difficult work, if you are not a professional computer expert. I recommend you to get YooCare online service 24/7 in time. This is the real fastest and safe way to remove it.
Video Guide to Buma Stemra Politie Virus
Special tips: Spending a lot of time fixing your computer but in vain? Still be confused with the whole removal process? Why don't you have a try of online support? Just click here for further help here:
Live Chat with Support Now
Published by Tony Shepherd & last updated on November 13, 2012 11:04 am