What is The Firewall Of The United States Virus? Is it real when it says The Firewall Of The United States blocked computer and your account and u meed to pay to activate your com.back? Is this cyber [email protected] 0.00 Moneypak?  Once your whole screen is taken up by the Firewall of the United States – Computer Blocked. This computer has been blocked to Americans by the US Government Firewall. You have 72 hours to pay via MoneyPak. How to unlock a government locked page that has appeared on your laptop?

Details About The Firewall Of The United States Virus (Moneypak Scam)
Is there a computer virus claiming you have a copyright infrigment and you must pay $200 to unlock your computer? Yes, The Firewall Of The United States Virus is one of those ransomware Scam. Using your computer and being connected to the internet most of your time can and surely will result in your PC contracting some type of malware software, spyware, bugs and viruses. It is good as long as those viruses and such are just harmless attempts of hackers to harm your computer software without any further agenda. And it is good as long as you can capture those threats and remove them by running your virus scanners and anti-virus software.
But some not so harmless threats that may befall your computer software may make you go into panicking mode once you realize there is nothing you can do now that you are under the attack. Maybe that´s why it is advisable for every human being to be educated in computer science, at least to some extent, in order to be able to answer this type of event. One of those threats which does not seem so harmless actually, and especially to all of us who do not possess the knowledge of removing it, is the Firewall Of The United States Moneypak Virus Scam.
The Firewall Of The United States Virus you may gather somewhere along during your internet surfing sessions is not some random virus or malware, but is considered to be one of the most dangerous forms of threats. And it is considering the fact it is a ransomware type of malware created in order to take money from people whose computers become entirely locked when they encounter this ransomware. And for the creators and beneficiaries of this ransomware it is possible to do because this virus takes the form of the FBI´s warning which states that your computer contains copyrighted and illegal software, either music, movies or anything else, which was the reason for your computer lock down.
Namely, this very type of the Firewall Of The United States Virus Scam is called the FBI Anti-piracy Warning Moneypak Ransomware. It also informs you that your IP address as well as your hostname were recorded by the FBI and listed under the Criminal Code of the United States of America, meaning that now you, according to the warning you got, have the criminal record opened by the FBI. And who would not believe such a warning which bears the FBI´s seemingly official logo.
Further, it is asked of you to pay 200$ worth fine for breaking the Federal laws, via Moneypak as a trusted source, so your record can be erased and you freed from the criminal convictions. And that is why these types of viruses are the most dangerous ones. That is how internet hackers extract money from innocent civilians who are not aware this is just a virus attack and not some true Federal warning.
Tips: A manual removal guide will be listed below. However, the instructions are for those who are very familiar with the virus and good at computer. If you are not confident to get rid of it, you can contact YooCare/YooSecurity for help:

Screenshot of The Firewall Of The United States Scam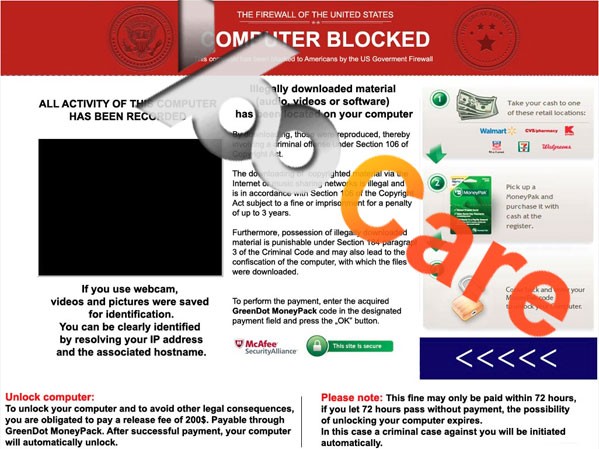 Symptom Of Firewall Of The United States Virus Scam
ALL ACTIVITY OF THIS COMPUTER HAS BEEN RECORDED. If you use webcam, videos and pictures were saved for identification. You can be clearly identified by resolving your IP address and the associated hostname.

Illegally downloaded material (audio, videos or software) has been located on your computer

By downloading, those were reproduced, thereby involving a criminal offense under section 106 of Copyright Act.
The downloading of copyrighted material via the internet or music sharing networks is illegal and is in accordance with section 106 of the copyright act subject to a fine or imprisonment for a penalty of up to 3 years.
Furthermore, possession of illegal downloaded material is punishable under section 184 paragraph 3 of the criminal code and many also lead to the confiscation of the computer, with which the files were downloaded.
To perform the payment, enter the acquired GreenDot MoneyPack code in the designated payment field and press the "OK" button.

Unlock computer:
To unlock your computer and to avoid other legal consequences, you are obligated to pay a release fee of 200$. Payable through GreenDot Moneypack. After successful payment, your computer will automatically unlock.

Please note: This fine may only be paid within 72 hours, if you let 72 hours pass without payment, the possibility of unlocking your computer expires.
In this case a criminal case against you will be initiated automatically.
Detailed Steps to Remove Firewall Of The United States Virus Scam Manually
Since The Firewall Of The United States Virus blocked computer and you can't do anything on it, so there are no anti-virus software can be used to fix this problem, you need to manually unlock the computer and get rid of the Moneypak virus scam from your system.
Step 1: Try to plug out the internet cable then restart your computer normally. After you can see the desktop, plug in the cable again. If the virus doesn't pop up, you can continue from step 3. (If it's wireless connection, turn off/on instead of plugging in/out cable)
Step 2: Restart your computer in safe mode with networking. To do this, please keep pressing F8 key before windows launches until you get there shown as below: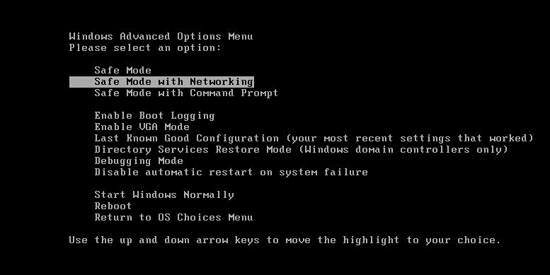 Step 3: Press Ctrl+Alt+Del keys to open the Task manager to stop the progress of Fake The Firewall Of The United States Scam. Because the name will be changed fast, it will be displayed with different names with random letters.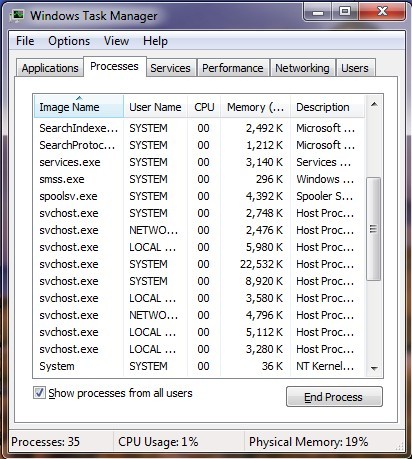 Step 4: Delete all the files related to The Firewall Of The United States Virus
Login to profile in which you are getting The Firewall Of The United States Ransomware…
%appdata%/random
HKCU\Software\Microsoft\Windows\CurrentVersion\Run\Random.exe
HKLM\Software\Microsoft\Windows\CurrentVersion\Run\Random.exe
HKLM\SOFTWARE\Microsoft\Windows NT\CurrentVersion\Image File Execution Options\*.exe\
Video Guide to Remove Firewall Of The United States Virus From Registry Editor
Please bear in mind: This virus must be removed at a quick time. If you leave it alone, it will not only stay in your computer, but also can harm your whole machine! The Firewall Of The United States Virus will continue to do what the hackers designed originally. That is why you have a malware virus that has blocked your computer and it says you have to pay 200$ to unblock your computer when boot up the computer. And sometimes it says your PC that has had a green dot money pak virus pop up on it, saying you were looking at child porn. No luck many people paid for the virus and became the victims.  And last although they knew this is a GreenDot Moneypak Scam, but it is hard for many computer users to remove the infection as they are not computer savvy. If you really can't remove it yourself, please find an expert for assistance. This is the best choice.
Special tips: Spending a lot of time resolving your computer with no success? Contact experts now to unlock your computer and remove The Firewall Of The United States Virus that asks for Moneypak code safely and permanently.


Published by Tony Shepherd & last updated on February 4, 2013 4:27 pm