Computer got a Sinergia Cleaner Fake Anti-virus? It blocked the Internet access that you can't open any web sites? It stops almost all programs in your computer running? Have no idea about this malware and don't know how to uninstall it from your computer? The malware tells you that your computer has been infected many threats or viruses? Is that real? Is your computer really in bad condition? If it's just a malware, how can completely remove Sinergia Cleaner from your computer to make your computer safe?
Sinergia Cleaner Fake Anti-virus Introduction
Sinergia Cleaner Fake Anti-virus, as its name suggests, is a malware which pretends as one anti-virus program to attack people's computer and asking for money. People will always be cheated by the appearance of this malware since it claims it is a powerful computer baseline shield that can comprehensive protect your computer from any virus infection. So many people will be attracted to download and install this malware. However, it can't provide any protection, instead, it can place your computer in very bad conditions. And it itself is a hideous virus that can bring in threats into your computer and destroy your computer operating system. Never try to pay money to purchase Sinergia Cleaner. This will only waste your money on this rubbish but you can't get any benefit from it!
Let's know about how this Sinergia Cleaner Fake Anti-virus works. Firstly, it will be attached on some other programs on the Internet such as some download links or some buttons on some web sites. When you click on the links or images to download those programs or files, you will download the fake anti-virus as well. Then when you install the downloaded programs, if you are careless, you will install the Sinergia Cleaner Fake Anti-virus into your computer at the same time. At this time, the malware will be configured to start automatically when windows starts. Then it will block your previous anti-virus program running and disable it. At this time, it will replace all the anti-virus programs or safeguard programs and nothing can stop it starting its evildoing in your computer.
As long as windows started, Sinergia Cleaner Fake Anti-virus will pop up a so called scanning window as if it's really doing some scanning to pick up viruses. Don't be blinded by this nonsense false scent. It's only just a show. Then the malware will show you that it has scanned out several fatal viruses. The big red warning will make you feel flustered. Don't worry, those threats don't even exit. Its purpose is to scare you into believe that your computer is really in dangerous condition. Finally, the Sinergia Cleaner Fake Anti-virus will ask you to purchase the full version so that you can clean those scanned viruses. So we can see that the final purpose of this virus is for money. Don't waste even a penny on this nonsense malware!
People will always be hastily to find a solution to remove Sinergia Cleaner Fake Anti-virus after they got this infection. However, they also will find that this malware can block the network access. At this time, you have no network connection. So you almost can't download any real anti-virus program to remove this virus. What's worse, even if you get a real anti-virus program, the fake anti-virus will block its running without any mercy. So once get this fake anti-virus infection, you need to find a safe way to remove this virus manually and completely.
Tips: Removal work is a tough job especially for this fake anti-virus. You need to do this with professional skills. If you are not confident to get rid of Sinergia Cleaner, you can contact YooCare/YooSecurity for help:

A Screenshot of Sinergia Cleaner Fake Anti-virus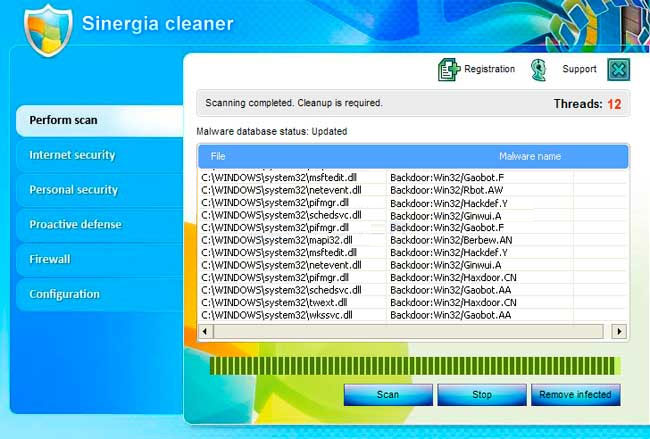 Main features of Fake Anti-virus Infection.
A. Your previous formal anti-virus programs will be replaced by Antivirus System fake.
B. It always pops up scanning reports telling you that your computer is in danger.
C. You are always persuaded to purchase this fake malware to protect your PC.
D. You almost can't do anything freely with the virus in your computer. It will block almost all programs running.
E. The fake slows down your computer.
Manually Remove Sinergia Cleaner Fake Anti-virus with Substeps
Step 1: Restart your computer in safe mode with networking. To do this, please keep pressing F8 key before windows launches until you get there shown as below: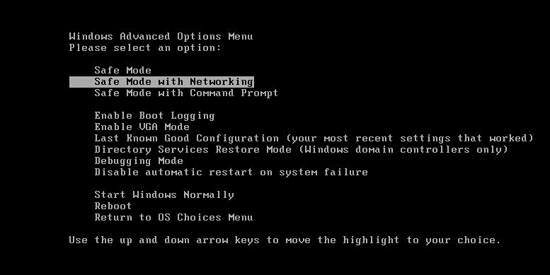 Step 3: Press Ctrl+Alt+Del keys to open the Task manager to stop the progress of Sinergia Cleaner Fake Anti-virus. Because the name will be changed fast, it will be displayed with different names with random letters.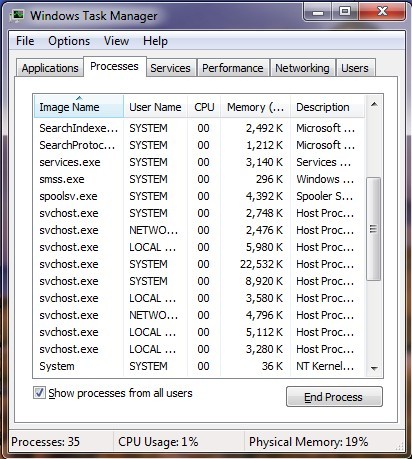 Step 4: Delete all the files associated Sinergia Cleaner Fake Anti-virus
Login to profile in which you are getting Sinergia Cleaner Fake…
Go to my computer
Then press ALT button once
Go to tools on menu bar
Goth select Folder options…
Click on view tab
Select Show hidden files, folders, and drives
Click OK button
HKCU\Software\Microsoft\Windows\CurrentVersion\Run\Random ( it will be named randomly)
HKLM\Software\Microsoft\Windows\CurrentVersion\Run\Random ( it will be named randomly)
HKLM\SOFTWARE\Microsoft\Windows NT\CurrentVersion\Random ( it will be named randomly)
Video Guide to Remove Registry Entries That is Related to Sinergia Cleaner
Kindly remind: When you got this Sinergia Cleaner fake anti-virus infection, you always can't run any programs. This means you can't download software to install. So you can't even run a real anti-virus to start a scan. What's worse, at present, no such perfect anti-virus can remove this virus completely. If you have someone who is familiar with the virus and has much computer knowledge, you can follow the steps above to remove the virus. However, usually, all the associated files of Sinergia Cleaner would be named randomly. That is to say, different computers may have different file names. So to distinguish the files of the virus is a real hard job. For safety and convenience, to find a PC expert to help you remove this virus is your best choice.
Tips: To contact an expert such as YooCare/YooSecurity for professional service will make you at ease if you really don't know how to remove the Sinergia Cleaner Fake Anti-virus:


Published by Leo R. Oscar & last updated on September 18, 2013 4:35 am