Message that says your internet has been blocked by Rikspolisstyrelsen Virus scam? How do you know is it real or a scam? If that is a uaksh scam , how do you unlock your computer from the Sweden police virus computer locked screen? Please help.

Computer Has Been Blocked by Rikspolisstyrelsen Virus Ukash Scam – How to Unclock Your PC From The Warning Screen?
The Rikspolisstyrelsen virus (Sweden) is a computer virus that is also called the Rikspolisstyrelsen ukash ransomware, and it attacks the computer and displays a fake warning message in an attempt to get the PC user to send the cyber criminals money for violating the law. It is similar to Metropolitan Police Ukash Virus and FBI. To an untrained eye, the message will appear to come directly from the Swedish police and it notifies the user that the computer has been blocked by them for the illegal use and distribution of copyright material. It also goes on to suggest that the user has also been involved in SPAM activities as well as sending pornographic material through the Internet.
While of course this is a completely fake threat, the fact that the Rikspolisstyrelsen virus (Sweden) is picked up mainly through sites that contain downloads and file sharing the user will often think that the violation occurred then and will tend to believe that this is a legitimate offense. The truth is that the Swedish police will never lock a users computer or demand money be paid online.
Once the Rikspolisstyrelsen Virus is picked up it will start to alert the settings of the computer to accomplish two things. First, it will set it that the warning message displays immediately after start up, and secondly it disables all other functions of the computer. The user will not be able to close the warning window and they will not be able to open another Internet browser window either. Without being able to access the start menu the user will be forced to shut the computer down by holding the power button. This will then trigger the system to ask if they want to restart in "safe mode" and even when this is done the warning message will pop up and block all other features.
To save your computer, Live Chat with YooSecurity Expert Now. You can follow the manual removal guide below to get your problem fixed. (For advanced computer users)


Screenshot of Rikspolisstyrelsen Virus (Sweden Police Scam)
How Do You Know The Rikspolisstyrelsen Computer Locked Virus Is Real or Fraudulent?
At this point the average PC user will begin to think that the Rikspolisstyrelsen virus (Sweden) is indeed real. The detail that has been put into the warning message also serves to help make it appear real. The users IP address and location are displayed and the virus also accesses the computers web cam and displays a live video feed right in the warning message. While this is done by simply triggering the webcam to be turned on, many people get scared and think that the Swedish police are now watching them. The warning message is straight to the point, demanding a 100 payment by either ukash or through a paysafecard:
"Rikspolisstyrelsen
Institutionen för att bekämpa IT-brottslighet
OBS! VARNING! Datorn har blockerats. Din Dator är blockerad på grund av minst ett av de skäl som anges nedan.
Böternas belopp är SEK 1000 eller €100.
Do kan betala bötala böter via Ukash eller PaySafeCard."
Best Way to Remove Rikspolisstyrelsen Virus Ukash Scam Efficiently
Since the Rikspolisstyrelsen Virus Ukash scam fully lock your screen and you can't do anything at the moment. YooCare/YooSecurity provides the most professional online PC service. YooCare experts can plan out a solution to access your computer in safe mode with networking at first. For complete removal instructions please see below:
Before all you people who are going to get in safe mode with networking or safe mode with command prompt, you need to keep hitting F8 key, where is the key?

Step A: Restart computer in safe mode with networking. To do this, just need to press F8 key constantly before the system is started like this: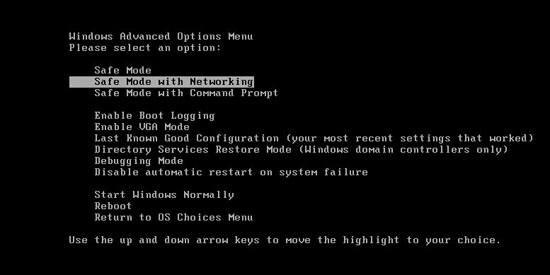 Step B: Press Ctrl+Alt+Del keys to open the Task manager to stop the progress of Rikspolisstyrelsen Virus Ukash Scam Malware. Because the name will be changed fast, it will be show with different name.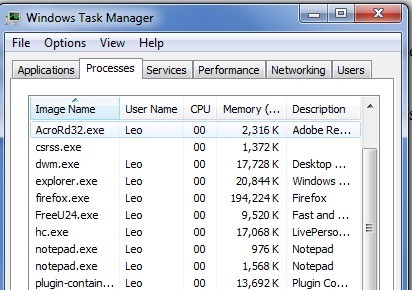 Step C: Delete all the files related to Sweden Police Ukash Paysafecard Scam Malware.
%desktop%/random.link
%Appdata%/random letters
Step D: Then by calling your register through the Run option, delete all the registry entries made by this virus.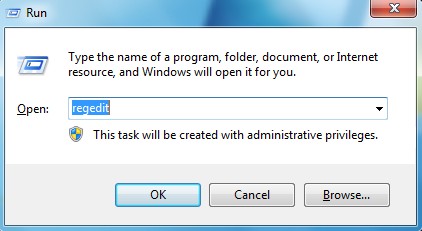 Delete registry entries of Rikspolisstyrelsen Virus Sweden Police Ukash scam created in computer system.
HKCU\Software\Microsoft\Windows\CurrentVersion\Run\random
HKCU\Software\Microsoft\Windows\CurrentVersion\InternetSettings\WarnOnHTTPSToHTTPRedirect
HKLM\SOFTWARE\Microsoft\Windows NT\CurrentVersion\Image File Execution Options\AAWTray.exe
HKLM\SOFTWARE\Microsoft\Windows NT\CurrentVersion\Image File Execution Options\AAWTray.exe\Debugger svchost.exe
Step E: Restart your computer normally to take it effective.
Video Guide to Remove Sweden Police Ukash Warning Virus
Note:
The reason the hackers demand that these payment methods be used is for their own safety. They money cannot be tracked back to them and once the PC user understands that they have been scammed by the Rikspolisstyrelsen virus (Sweden) it is too late and they will not be able to retrieve their funds. The virus is a scam and it is important to know that no law enforcement agency or cyber organization will ever demand money and lock a computer. While distributing copyright information online is indeed illegal they will not go after users in this manner. As the message will not go away, even with payment, it is important to remove the virus files manually.
Special tips: Spending a lot of time fixing your computer with no success? Don't want to get things worse, please contact PC experts to unlock your computer and remove Rikspolisstyrelsen Virus Switzerland Police scam safely and completely.

Published by Matt Johnston & last updated on March 22, 2013 4:51 am