Metropolitan Police Total Policing Ukash Virus blocked my computer and i need to pay a fine of 100 pound via Ukash to unlock my computer, is that real or just a scam? On the screen it tells "Your computer has been locked". Attention! All data on your hard drives is encrypted. To avoid data loss do not try to restore, reinstall your operating system or unlock it manually. I have another PC that has had a Metropolitan Police Total Policing Ukash Scam Virus pop up on it, saying i was looking at child porn. Is it new viruses for PC that needs to pay 100 euro or pound? How can i remove this virus that states i have to pay 100 to some Police Government people?

PC is Locked? How to Unlock Computer From Metropolitan Police Total Policing Ukash Virus?
Metropolitan Police Total Policing Ukash Virus is the latest fake ransomware scam we have detected in YooSecurity Labs. Read this post to learn more. Once upon a time computer systems, and later the internet space were created first for necessity and later for enjoyment. But step by step the existence of the internet as the pathway to every server and every client computer, started to be used for not so nice purposes. Namely, some folk came up with the idea to harass the internet users, threaten them, attack them on and off the internet sphere through their internet connection, and to even misuse the information those users left in the cyber space to empty their bank accounts and steal their identities. That is the criminals purpose in creating Metropolitan Police Total Policing Ukash Virus. They use the virus to scare you violate the law of police for penalty. This virus not only locks your computer but also encrypt your files and documents. What to do then?
How do i get this virus? One of the victims said: I have a problem, I think I had Ukash virus attack last week but all virus scanners tell me I have no virus or malware, but I now have 100's of jpegs, MS docs encrypted and even my itunes .itl file is encrypted. MS essentials say I have no virus and they are both the latest updates??? One of those latest types of scams they came up with is the Metropolitan Police Total Policing Ukash Virus. Namely, it is the virus that attacks your computer as the ransomware type, which is one of the most dangerous ones. It locks your system down and displays the warning note across your computer monitor which says that this warning comes from the New Scotland Yard Police Force because you violated the laws of Great Britain. It informs you that you will be persecuted under the Criminal Laws Acts and if you want to be spared, you need to pay the amount of fine asked of you. Considering the warning has the New Scotland Yard or PCeU Police UK logo, many people fall for that. Though luckily not everyone. Now that we revealed this scam, let´s see how to clean the system from this virus.
To save your computer, Live Chat with YooSecurity Expert Now, or you can follow the manual removal guide below to get your problem fixed. (For advanced computer users)

Fake Metropolitan Police Total Policing Ukash Virus Scam Screen Shot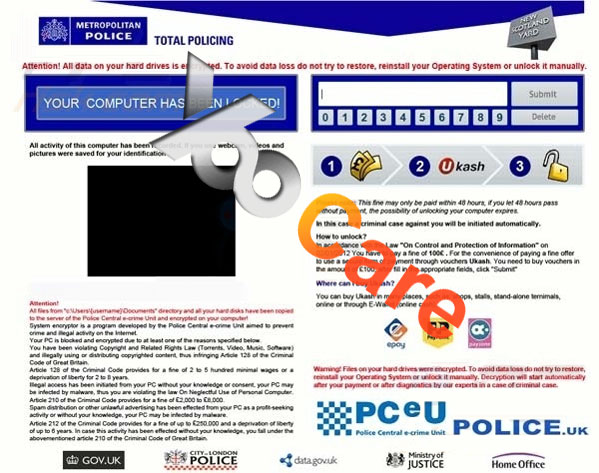 How Did I Get The Metropolitan Police Total Policing Ukash Scam?
Money scam that freezes computer and asks for Ukash? Even nowadays, with loads of protection we have, we are not always safe in the internet sphere, nor we are sometimes safe even when we log out.
We do have a great amount of antimalware software, antispyware one as well and a lot of antivirus protection, too. Either it is Avast or AVG, Kaspersky systems or ESET NOD, Norton Antivirus and many others, those few only to mention as the top of the tops of protection lines. And they are all equipped with such a protection systems like real time shields which scan every area of our internet session and computer software such as are e-mail, web,  file, network, IM, P2P etc; or Sandboxes which prevent every single suspicious internet particle to access our computers and infect and harm them. There are also computer firewall systems, as well as browsers which are all until the last one equipped with type of protection against internet threats in the form of offering their users to let them block every single web page which is on the international list of the suspicious and mistrusted ones.
And when you read all of this, all you can do is ask yourself how, after all, we end up attacked and harmed.
Well the simple answer is that those hackers are not sitting idly at all, but are thinking up new sorts of threats every waking hour, unfortunately. One of the ransomware scam is Metropolitan Police Total Policing Ukash Virus.
What is the best efficient way to eliminate Metropolitan Police Total Policing Ukash Ransomware if anti-virus software didn't work?
As you cannot do anything with your interface now as it is locked, you need to restart your system manually and before it is up again to enter your boot mode via F8 button. Then choose to start your system through safe mode with networking and once it is up call manually for the Task Manager by pressing simultaneously Ctrl+Alt+Del . Turn off every single working entry which is unknown to you and looks like the virus and once your computer is finally unlocked, delete all the registry entries created by the virus.
Guide on how to get rid of Metropolitan Police Total Policing Ukash Virus:
Step1: Restart your computer. As your computer restarts but before Windows launches, tap "F8" key constantly. Use the arrow keys to highlight the "Safe Mode with Networking" option, and then press ENTER(Just for Windows XP, Vista and Win 7). (If your OS is Windows 8, please click here for details).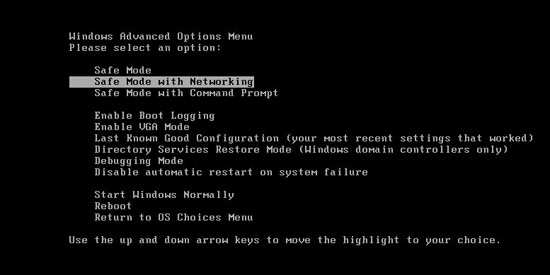 Step 2: Open Windows Task Manager to end [Metropolitan Police Total Policing Ukash Virus]. To do that, press Ctrl+Alt+Del keys at the same time or right click on bottom Task Bar.

Step 3: Go to Folder Options from Control Panel. Under View tab, select Show hidden files and folders and non-select Hide protected operating system files (Recommended) then click OK.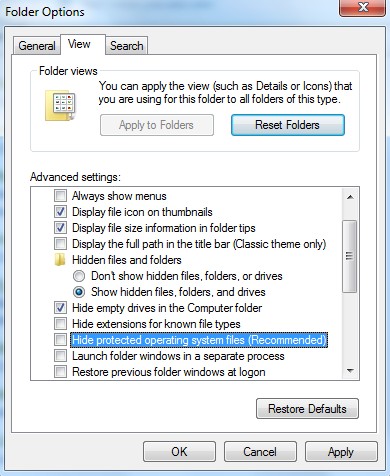 Step 4: Go to Registry Editor. First press Windows+R keys and then type regedit in Run box to search.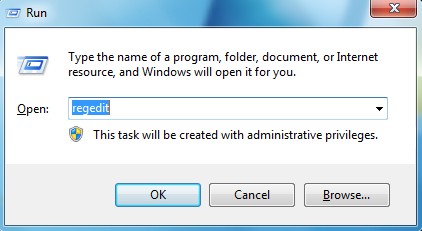 Manual Removal Step by Step Instructions
Press Ctrl+Alt+Del keys together and stop all processes of Metropolitan Police Total Policing Ukash Virus Scam in the Windows Task Manager.
Open the Registry Editor, search and remove registry entries related to the Malware as we described.
All associated files of the evil virus should be deleted absolutely.
%Programs%\[random]\[random].exe
%AppData%\[random]\[random].exe
Manually clean out all registry entries created by the Scam
HKCU\Software\Microsoft\Windows\CurrentVersion\RunOnce\[random] %AppData%\[random]\[random].exe
HKCU\Software\Microsoft\Windows\CurrentVersion\Run\[random]\[random].exe
Video Guide on How to Remove Metropolitan Police Total Policing Virus Scam
Summary:
My laptop has that Metropolitan Police Total Policing Ukash Virus thing on it and I don't know how to get it off. The whole screen is that warning. Why did something just pop up on my computer about child porn and paying a fine. How can I fix it? Since you know you have a message that your computer has been locked by the police Ukash virus and it is not real but a scam. You need to take a quick time to unlock your computer and remove the ransomware absolutely from your computer. But it pops up quickly and totally blocks your whole screen, so you are required some computer skills, otherwise, you will get your computer messed up.
Tips: If you haven't any knowledge about computer and don't want to make things worse, please contact YooSecurity PC expert 24/7 online in time for help to completely remove Metropolitan Police Total Policing Ukash Virus from your computer.

Published by Tony Shepherd & last updated on April 10, 2014 3:47 am