My computer keeps saying it is blocked by Mandiant U.S.A Cyber Security Virus and you have to pay a fine of $300 via Moneypak code to unlock computer, otherwise, you will be arrested or have to go to jail. I was simply on my computer, clicking on various video links, and I received this virus message popped up and it stated I needed to send 300$ to the police with MoneyPak code. I received the virus at random while web  surfing. Is Mandiant U.S.A Cyber Security real or just a scam? How to unlock computer from Mandiant U.S.A Cyber Security warning screen without paying $300? Learn more to get the best solutions below:
Computer Locked Down by Mandiant U.S.A Cyber Security Virus $300 Scam – How to Remove?
Can the Mandiant U.S.A Cyber Security Virus Scam block or lock your computer? Yes. It is also know as Mandiant Virus, very similar to FBI Cybercrime Division Virus, it blocked everything on the screen asking for $300 via Moneypak code. One of the victims said:"when I start up my laptop I get a screen that states I need to pay $300 from Mandiant U.S.A Cyber Security?" The Mandiant U.S.A. Cyber Security virus is a ransomware that attempts to trick its victims into paying a nonexistent fine of $300 via MoneyPak within 48 hours in order to regain access to their computer after it has been locked due to several violations. This is a virus that has been created by computer hackers in order to target United States computer users and attempt to extort $300 from everyone they infect with this attack. The virus is designed to scare the users into thinking that they have violated several laws online via their computer activity.
The screen that displays all of the information is a lock that is not able to be removed or closed once it is displayed. It is meant to appear as if it is coming directly from the FBI Department of Defense and Department of Justice. The main violations that The Mandiant U.S.A Cyber Security Virus alleges the user to be guilty of include looking at pornography involving children, sending spam email messages, using unlicensed software, and sharing copyright files with other computer users.
The virus is very aggressive and demands that the payment of $300 is completed within 48 hours, so this leaves little time for the user to do any research. The fact that this virus blocks the computer also makes it difficult to research online. The details of the message state that if the money is paid within the 48 hour window then all pending legal action and fines will be dropped. It also mentions that after 48 hours passes then the opportunity to pay the fine is withdrawn and then the legal action will be filed. This is just a scare tactic to get the victims to quickly send in $300 within 48 hours. Unfortunately it works like a charm and these cyber criminals are able to extort thousands of dollars every single day from unsuspecting victims.
In a word, the Mandiant U.S.A Cyber Security Virus is a ramsomware attack that has been developed by computer hackers in order to trick users into believing that they have violated several laws and now much quickly pay a fine in order to escape serious legal troubles and additional monetary fines. By leveraging an authentic looking message along with blocking the user's computer from operation, they are able to use fear as a way to force these individuals into sending money to these criminals. You need to remove the scam right away to keep your computer safe.
Tips: A manual removal guide will be listed below. However, the instructions are for those who are very familiar with the virus and good at computer. If you are not confident to get rid of it, you can contact YooCare/YooSecurity for help:

Let's Have A Look at the Mandiant U.S.A Cyber Security Virus Scam $300 Screen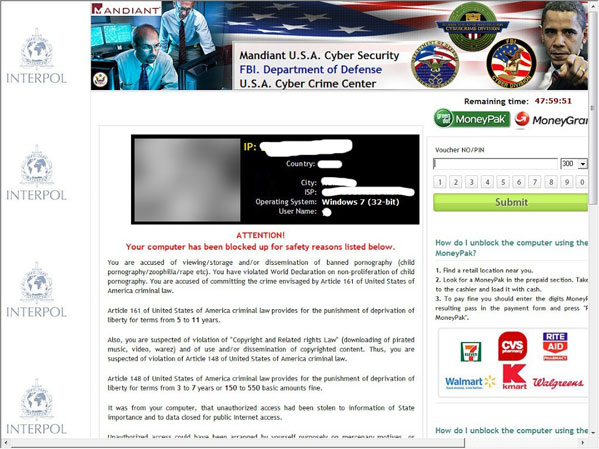 New Mandiant U.S.A Cyber Security
$300

Scam Can Shut Down Your Computer And Make Your Desktop Blank With White Screen

Once the Mandiant U.S.A Cyber Security Virus is installed onto a computer it begins to make changes to the system settings, which prevent all of the applications and files on the computer from being accessed when the virus launches. A warning message displays all of the details of the demand and accusations and also acts as a block screen. This screen will not go away regardless of what the user attempts to do. The message screen is designed to appear as if it is coming directly from the Mandiant Police and it accuses the user of participating is email spamming, the distribution of child pornography, and the use and distribution of unlicensed copyright material.

The message then demands that the user pay 300 dollars with Moneypak code, which is form of prepaid electronic payment transfer. The user enters in the 19 digit code on the back of the cards once they load them with cash and that automatically sends the money to the hackers. While the users think they are satisfying a fine in order to avoid trouble and to get their computer unblocked, they are really just sending their hard earned money to criminals. The virus does a great job at tricking the users into believing that it is coming directly from the authorities because the message contains their personal details, such as IP address, Internet service provider (ISP), location, and even a live video feed in the event that the computer has a web camera installed. The message alerts the users that the police are watching and using the video in order to properly identify them. While the message may look convincing, the Mandiant U.S.A Cyber Security Virus is a complete scam and it is very important to never send money through the computer.

A lot of the people that fall victim to the Mandiant U.S.A Cyber Security scam virus are new computer users and senior citizens that are not aware that there are these kinds of scams found online. Many consumers can quickly point this out as a potential scam and they know that law enforcement agencies will never just block a  computer and ask for money to be sent in an unsecure manner. The forms of payment that are demanded provide zero protection to the consumer and it gives the hackers instant access to the funds.

Many victims feel that they could possibly be guilty of sharing files or using a piece of software that was not properly registered so they will pay this fine in order to escape any trouble and also because they are told that the computer will be unblocked once the payment is confirmed. This is not the case at all, and the Mandiant U.S.A Cyber Security Virus can only be removed if all of the files that were installed are deleted. The best way to get rid of the virus and to regain access to the computer is to follow the directions located below. This explains what is needed to be done in order to remove the virus and the block. Following these instructions will give the PC user full access to his or her computer again.
Detailed Steps to Remove Mandiant U.S.A Cyber Security Scam Virus Manually
Step 1: Try to plug out the internet cable then restart your computer normally. After you can see the desktop, plug in the cable again. If the virus doesn't pop up, you can continue from step 3. (If it's wireless connection, turn off/on instead of plugging in/out cable)
Step 2: Restart your computer in safe mode with networking. To do this, please keep pressing F8 key before windows launches until you get there shown as below (For Windows XP, Vista and Win 7); If your OS is Windows 8 please click here: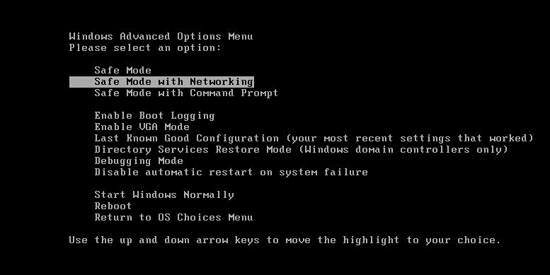 Step 3: Press Ctrl+Alt+Del keys to open the Task manager to stop the progress of Mandiant U.S.A Cyber Security Virus Scam. Because the name will be changed fast, it will be displayed with different names with random letters.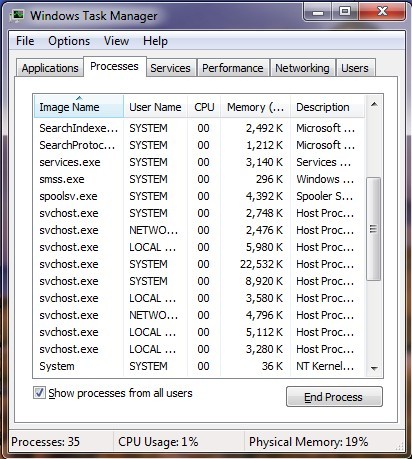 Step 4: Delete all the files related to Mandiant Cyber Security Virus Scam.
Video Guide to Remove Mandiant U.S.A Cyber Security Scam From Registry Editor

Alternatively, you can view this Mandiant U.S.A Cyber Security Virus scam removal video guide directly on our website.

Please bear in mind:
No legitimate law enforcement agency would ever lock a computer and demand that money be sent through the computer in an unsafe manner such as with a Moneypak, Ukash or Paysafecard. These computer criminals are taking advantage of the PC users that are not fully educated on how the Internet works yet. There are so many scams online and with so many new users getting computers every day they always have a groups of people to target and take advantage of. If this message is displayed on the PC then it is important to not follow the instructions. While they assure the users that the block placed on the computer will be lifted once the payment is confirmed this is a lie. Once they get their hands on the money they will never be heard from again. In order to remove the block that the Mandiant U.S.A Cyber Security Virus Scam installed, all of the virus files must be deleted from the root directory. The instructions above outline the steps needed in order to fully remove the virus. Completing this will restore the PC back to regular operations.
All for your sake: To contact an expert such as YooCare/YooSecurity for professional service is well recommended if you really don't know how to remove Mandiant U.S.A Cyber Security scam virus that asks for Moneypak code:


Published by Tony Shepherd & last updated on January 14, 2014 6:11 am