What does the remaining time mean on Interpol Virus Scam on iPhone/iPad? Yes, I was cruising a free porn side didn't download or look at anything on my IPAD when suddenly my IPAD safari locked up with a pop up message that says I must pay a fine of 100 Euro logging into to my apple ID and using either paypal or a cash card. How do I get rid of this Interpol alert on my iPad? I was really scared by this threatening message popping up on my Safari and saying that I was accused of violating related laws. Is this Interpol notification really from the law enforcement agency? Am I in trouble with the police or worried about being taken to jail? I was almost cried. Please save me and advise some useful ransomware scam removal on iPad.
Description of Interpol Virus Scam on iPhone or iPad
Interpol Virus Scam recently blocks your safari or other web browsers on iPhone/iPad in order to swindle fake fines from unknown victims. It is distributed widely through the network, such as visiting hacked sites, opening fake attachments and downloading apk files and so on. It has been circulated for a long time and capable of affecting lots of worldwide net users using Windows PC, MacBook, Android devices and iOS devices. Though iOS is considered to be safer than other mobile operating system, it is still hacked by the tricky Interpol virus scam. Initially, iOS devices are seldom targeted by the FBI virus, AFP virus and Interpol malware scam, etc., but nowadays cyber hackers have changed this Interpol ransomware into different variants which altogether are able to infect Windows OS, Mac OS X, Android and iOS. That's why your iPad, iPod touch and iPhone are aggressively hacked by the Interpol virus scam. Once the Interpol malware pops up on your Safari or Chrome browser, it will immediately block your Internet access on the iPad/iPhone. Though you still have access to your affected Apple device, you'll have no access to safari or any other Internet browser.

Furthermore, the Interpol virus scam blocking your safari or chrome on iPad/iPhone, telling that your Apple device has been blocked by the Europol Interpol department. It accuses that your iPhone/iPad/iPod touch get blocked by the Interpol malware because of your recent illegal activities including violating the copyrights law (Video, Music and Software) and related rights law, distributing porn software/video and so on. It also asks you to pay a fine of 100 Euro through recommended payment scheme like Ukash or Paysafecard in order to unlock your safari on iPad/iPhone. It tricks you into paying the money to unblock your safari with a so-called code which does not help at all. Any delay of submitting the fine will lead to a punishment of deprivation of liberty for several years. Many people are not familiar with this old trick used by the cyber criminals, so they are apt to submit the fake fine without giving it a second thought. Absolutely, you will lose the amount of 100 Euro if you send it through fake payment system recommended by the Interpol scam in any cause.
If your Apple devices, such as iPad, iPhone and iPod touch, are infected with this Interpol virus scam, you will find it impossible to remove the Europol Interpol ransomware with any security app. You will need to get rid of the Interpol scam from your safari on iPhone/iPad as soon as possible. You might get a chance to kick off the Interpol pop up from your safari, but for your safety, you had better remove the Interpol virus infection from your Apple device completely. Apparently, an effective manual removal with expertise will enable you to delete this scaring Interpol virus scam from your iPad/iPhone/iPod touch promptly.
Main Traits of Interpol Warning Scam on iPhone or iPad
1. It is designed to lock iPhone or iPad and asks you to pay for a fine of 100 Euro to unlock your device. In fact, it is just a big scam.
2. It locks your Apple device, claiming that you've violated the law of local office by visiting illegal information online.
3. As soon as this virus targets your Apple device, it totally blocks your access to the Internet and prevents you from doing anything there.
4. It allows cyber criminals to remotely access your Apple device iphone/ipad for stealing your personal information and other sensitive information.
If you find any symptoms listed above showing on your iPhone or iPad, then your device must be suffered with a malware infection (which can be this Interpol virus, Department of Justice Virus, Ukash Paysafecard Virus, FBI warning notice virus, Australian Federal Police virus and RCMP Ukash virus etc.) that blocks your access to your device. Welcome to contact YooSecurity Online Experts for manual removal guide. Also, we will provide a short removal guide below for device literate.
NOTE: Being afraid to do any wrong operation during the process of removing this Interpol Virus from iPhone or iPad? Please contact YooSecurity Online Experts, we are here to help you:


Similar Screenshot of Ransomware Warning Scam on iPhone/iPad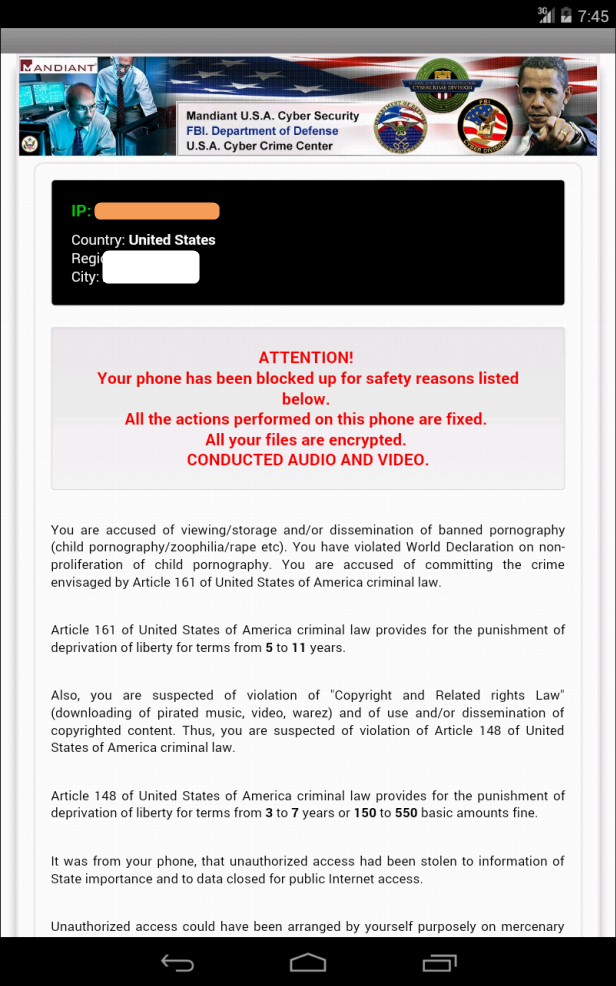 Stop and Remove Interpol Virus Scam on iPhone/iPad Immediately
I was trying to get on my internet on my phone and then Interpol warning pop-up blocked my access to safari on my iPhone with something regarding pornography, how can I get the tab off of my internet viewing to continue using my internet? Interpol virus scam is upgraded by hackers to target more and more iPhone or iPad or other Mac OS X system product to get more illegal profits. We used to believe that Apple products with Mac OS X system are greatly immune to viruses and malware. However, since this version of virus is improved to attack iPhone/iPad, this Interpol malware will easily spread online and hits Apple iOS device.
1. Interpol warning infection will pop up and lock your iPhone/iPad you visit a phishing site, open a junk e-mail attachment, click on an unknown link or download an application from an unsafe source, especially after you jailbreak your device.
2. Once you see Interpol Warning message on your iPhone or iPad, please get this ransomware off your iPhone/iPad manually.
3. Currently no app is able to detect or remove this malware scam, even for preventing the virus from attacking the mobile device again.
4. Manual removal process requires sufficient expertise. To safely deal with the Interpol malware Scam from iPhone/iPad, you are recommended to contact an expert online for further removal help.
Conclusion
As we learnt that this Interpol virus scam is capable of affecting Apple devices like iPad, iPhone and iPod touch, etc. in order to violate victims' privacy and swindle their money without any knowledge. It claims that you are breaking related laws and demanded to send 100 Euro through Ukash or Paysafecard in order to unblock your safari on iPhone/iPad. However, this Interpol warning message is completely fake or ever related to real law enforcement agency. Thus, Apple users had better search on the web to learn more about this Interpol virus scam and be familiar with any other similar ransomware attack. Don't trust or submit any money to the Interpol fine. All you need to do is to remove the Interpol ransomware scam from the iPhone or iPad manually.
Kindly Reminder: Fake Interpol warning on iphone/ipad wants you to pay them and it won't go away? Contact online experts for help now!


Published by Matt Johnston & last updated on September 17, 2015 6:26 am