What does it mean when security alert pops up on web browser saying I've been accused of illegal activity like watching child pornography? I got a message from the FBI while surfing the internet and it told me I have to pay 500 dollars in paypal in next 24 hours or 72 hours, I recently found out it was a FBI Header virus malware and that it could lock my device. What is when I was surfing the web on safari on my iPhone and I got this ransom message and they have now blocked my safari app unless I pay 500 dollars fine? I wondered how to get rid of this spam and fix it, what do i do?
Computer or Mobile Device is Locked Saying Pay $500 Fine to FBI via Paypal Code?
The FBI Header Virus is a wide spread computer or mobile device attack that is classified as a ransomware, since it attempts to trick the users it infects into paying a nonexistent fine that ranges between $100 – $500 depending on the version of the virus that is installed. There are multiple versions that all relate to the users IP address and the location of the computer, android phone/tablet and iPhone/iPad. There are versions of this virus for virtually every language and location across the globe. Even though they are written in different languages, and reference different law enforcement agencies, the overall concept of each version of the FBI Header Virus malware is the same.
FBI Header Virus warning came up on your computer and you can't get access to internet or get the warning to go away? The virus disables all of the functions on the computer and then displays a message, locking the screen and forcing the victim to read the message. In the message the computer is said to have been linked to spam emailing, child pornography, and multiple copyright violations related to the use of unlicensed software on the computer to sharing of pirated files across the Internet. Each version of the FBI Header Virus message requests that a payment be made within a specified time period in order to squash the entire problem. It is stated that paying the fine will result in the pending legal action being dismissed as well as the additional fines that accompany the charges. With many different versions of the FBI Header Virus lock screen that relate to the region and location, the messages will vary, although the concept and point of the message are identical.
Can the government lock your phone or tablet? Apple ID is frozen for watching explicit porn, do police hack phones if you watch porn? Yes. When your mobile device gets an FBI notice that has accused you of watching child pornography and you have to pay a 500 dollar fine thru paypal code. But you haven't even been on anything like that then you must have been attacked by FBI Header Virus, a form of malware, it is claiming to be an FBI alert and asking for 500$ in paypal. When hacked by this ransomware, you have to get it off your device.
To save your computer or mobile device, Live Chat with YooSecurity Experts Now, or you can follow the manual removal guide below to get your problem fixed. (for advanced computer users only)


Fake FBI Header Virus Pay $500 Paypal Fine Scam Screenshot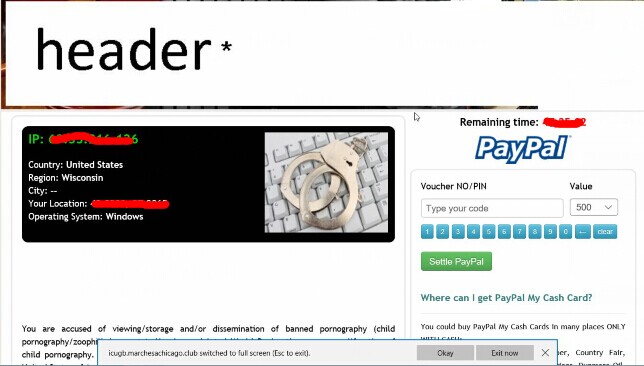 Symptoms of Fake FBI Header Virus Paypal Scam That Asks For 500 dollars Fine
1. ATTENTION! Your browser has been blocked up for safety reasons listed below.
2. All the actions performed on this PC are fixed.
3. All your files are encrypted. AUDIO AND VIDEO RECORDING IN PROGRESS.
4. You could buy PayPal My Cash Cards in many places ONLY with CASH.
5. You are accused of viewing/storage and/or dissemination of banned pornography (child pornography/zoophilia/rape etc). You have violated World Declaration on non-proliferation of child pornography. You are accused of committing the crime envisaged by Article 161 of the united states of America criminal law.
Best Way to Remove Fake FBI Header Scam Virus Efficiently
As you can see, this version of the FBI Header Virus demands that a payment of $500 is made within 72 hours or all of the above mentioned charges will be filed. This is enough to scare many consumers into running out and getting a paypal code to send the payment through the computer or mobile devices (android phone/tablet, iPhone/iPad) as the message asks. This is why the hackers are only concerned with getting the virus onto the computer or mobile device then they are on to the next victim. once it is installed it does all the work to scare the user into paying the fine. There is no need for them to spend any more time. Once FBI Header Virus is installed it automatically disables the PC or mobile device and displays the message. This allows the hackers to focus on spreading it and also developing additional versions of the virus for all countries and regions. It is quickly becoming one of the largest ransomware viruses in existence.
The user can shut their computer down and try everything they can think of to try to disable the FBI Header Virus scam, but there is only one way to stop the virus from blocking access to the computer, and that is by deleting all of the files that have been installed. We have prepared complete instructions located below that walk the user through all of the steps needed to fully delete the virus from the computer, ultimately removing the block and allowing regular use of the PC.
Step 1: Restart your computer in safe mode with networking. To do this, please keep pressing F8 key before windows launches until you get there shown as below: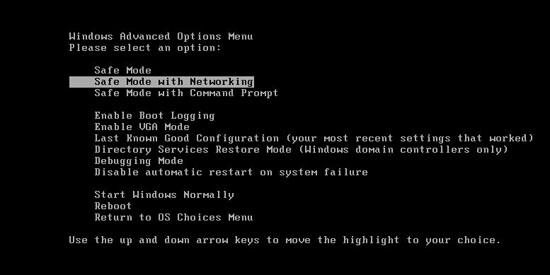 Step 2: Press Ctrl+Alt+Del keys to open the Task manager to stop the progress of Fake FBI Header Virus scam. Because the name will be changed fast, it will be displayed with different name with random letters.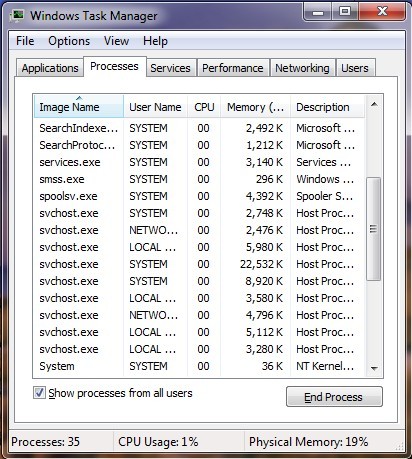 Step 3: Delete all the files and Windows Registry entries related to fake FBI PayPal scam
Login to profile in which you are getting FBI Header Virus with $500 PayPal.
Goto my computer, then press ALT button once.
Goto tools on menu bar
Goth select Folder options
Click on view tab
Select Show hidden files, folders, and drives
Click OK button
Goto C:\Users\profile name here\AppData
HKCU\Software\Microsoft\Windows\CurrentVersion\Run\Random.exe
HKLM\Software\Microsoft\Windows\CurrentVersion\Run\Random.exe
HKLM\SOFTWARE\Microsoft\Windows NT\CurrentVersion\Image File Execution Options\AAWTray.exe
Video Guide to Remove Fake FBI Header Virus From Registry Editor
Manual Removal of FBI Header Virus Scam On Android Phone/Tablet or iPhone/iPad
1.Press and hold the power button as you would to power down or reboot.
2.A menu will pop-up on your Android device. TAP and HOLD the "Power off" option.
3.A dialog should appear offering you to reboot your Android device to "Safe Mode". When this happens, click on "OK" to enter "Safe Mode".
4.If you have managed to select "Safe Mode", you will see the text "Safe Mode" at the bottom left corner of the screen.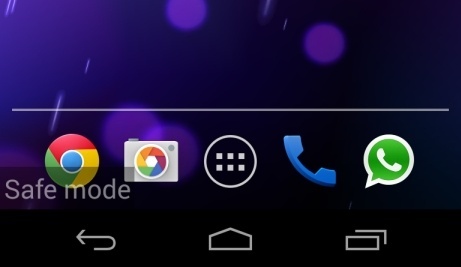 5. Then remove malicious things from your mobile device and reboot your phone to take it effective. If you can't figure out what to do, contact an expert for further help.
Summary:
In a word, the FBI Header alert is a malware thing. On the alert message screen, it always blames victims for being involved in illegal activities including downloading copyrighted material and viewing pornography and then it demands a fine of $500 within 48 hours. But you don't need to get paypal my cash cards to settle paypal to send it $500 fine. If FBI Header Virus notice message pops up and tells you that you are accused of viewing pornography, rape, you don't be taken in as all kinds of nasty things are fake! The FBI notification message is not from real FBI department as it mentioned on the device screen, but instead it's just a tricking tactic to convince you that you have broken the law and police would come to your house. Don't be such a fool to trust FBI Header Virus fake notification warning alert! Police won't come to your house and you won't be sent to jail even if you don't pay the fine. What you should do is to figure out the way to remove the FBI Header Virus completely from your PC, android phone/tablet or iPhone/iPad.
Special tips: Are you scared to make a mistake for it will lead to damage your PC, android phone/tablet or iPhone/iPad? Contact an expert now to remove the fake FBI Header Virus scam permanently and safely.

Published by Tony Shepherd & last updated on September 12, 2015 8:11 pm