I was on Fackbook earlier and then Dream Scan Soft popped up on my screen and scanned my computer automatically. I need help!!! It overrode my computer, made all .exe file terminate when I tried to open them, ran all the fake system scans and popped all kinds of messages talking about how bad is my computer. No matter what options I chose on this program, it just took me to a page asking me to pay for the full version. I knew it was a fake antivirus, however I just tried everything I can but still cannot uninstall it. Any idea?

What is Dream Scan Soft Fake Antivirus?
Fake Antivirus (FakeAV) threats have been rampant in the past few years. Dream Scan Soft, as the latest fake antivirus program, is designed with the same aim like other rogue programs – to cheat inexperienced computer users into purchasing a useless product. Generally speaking, this kind of rogue program can infect a computer without any consent and permission. It appears to be beneficial from a security perspective but provides limited or no security, generates erroneous or misleading alerts, or attempts to lure users into participating in fraudulent transactions like the previous virus called Windows Activity Booster and Smart Guard Protection. It could be installed automatically through by clicking malicious code or unsafe advertising pop-ups, visiting pornographic website or downloading attachment from spam emails. As soon as it gets installed, it scans your computer just like a real PC cleaner does and tells you your computer is seriously infected. But that's only what the whole process looks like and it is not real at all. The scan does not reveal any true facts about how your system is functioning for the moment and whether or not it has spyware on board. It just reports the things you don't actually have.
Dream Scan Soft will be configured to start automatically when computer is on. You even can't end its related processes once it's active. This program can not only display various security notifications warning that your system is at risk to confuse you, but also can disable all the programs installed on your computer. It blocks you from accessing any .exe file in order to prevent you from finding a solution and get rid of it. Your computer will be filled with numerous fake alerts that you cannot find any way to close them. Those alerts are used to lure you into a fraudulent transaction. By using this scare tactics, it did cause panic among users. This program pressures users to purchase rogue antivirus applications in the hope of resolving the issue so that they can get money from that, more worse, they can steal your personal information without your awareness. In addition, this virus can disable Windows updates or disable updates to legitimate antivirus software which makes your computer more vulnerable to be attacked by different threats. If you don't want pop-up windows with false or misleading alerts bother you and experience money loss, it is necessary to remove Dream Scan Soft from your computer.

Dream Scan Soft Virus Screen Shot: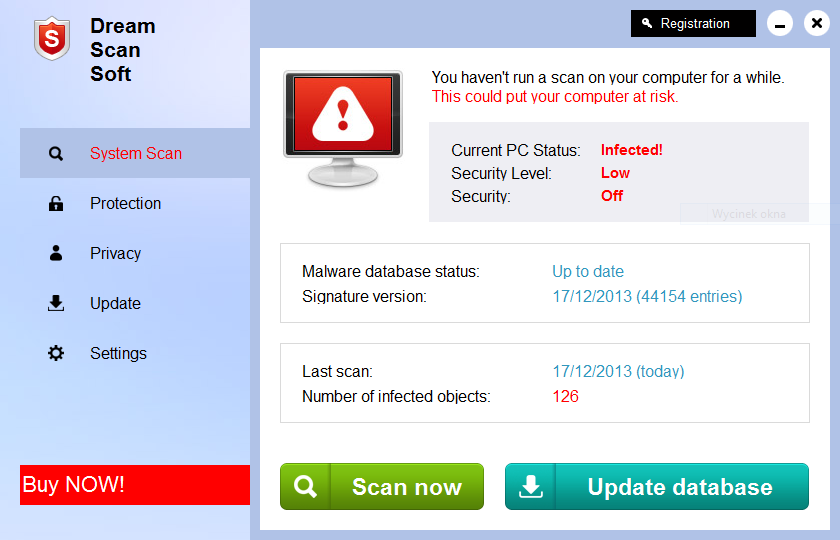 Fatal Damages Caused By This Rogue Program:
Hijack your whole computer that you can't freely use it.
Disable the security system in your computer to expose your computer in very dangerous situation.
Block many programs' running and functions that you can't use them anymore.
Constantly freeze your computer and make it dull often.
Continually cause vital errors and destroy files without your notice.
How to Uninstall/Remove Dream Scan Soft From Computer Completely?
People will be blocked to do almost anything on their PCs once their PCs get infected this fake anti-virus. However, they can restart the infected computer in safe mode with networking to do the removal work in usual. So the first step is to try to start the infected computer in safe mode with networking.
>>>>>> Press power button to start the computer, before windows launches, keep tapping F8 key at a very fast pace, then you will see safe mode options. Use the arrow keys: Up or Down to highlight "Safe mode with networking" and press Enter.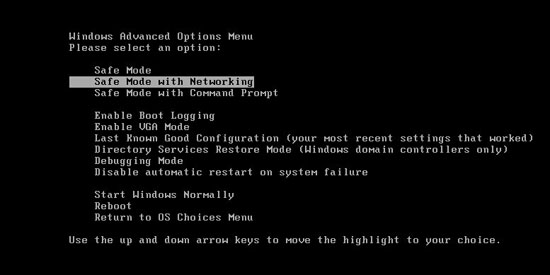 >>>>>> After that, you will see the log in screen just like when you start your computer normally. If it asked for password to log in, you just need to enter your password to sign in. Finally, you will see the desktop with icons. In safe mode, because of a lower resolution, the icons are larger and blurry. The background is totally black.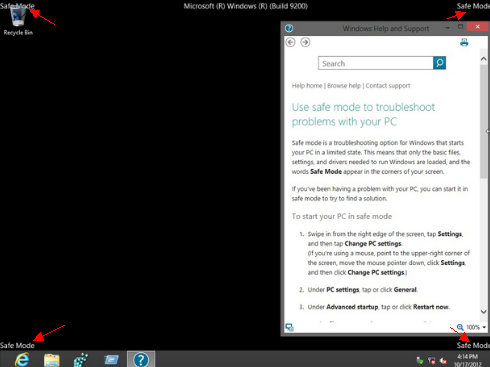 >>>>>> Press Ctrl+Shift+Esc keys simultaneously to get the Task Manager to stop the active processes of the Dream Scan Soft. To do this, you will need to click the "Processes" tag at the top then find out the suspicious processes and right click on them and select "End Process".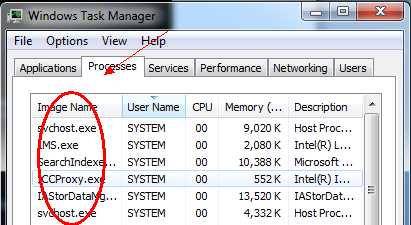 >>>>>> Click Start menu > Control Panel > Programs and Features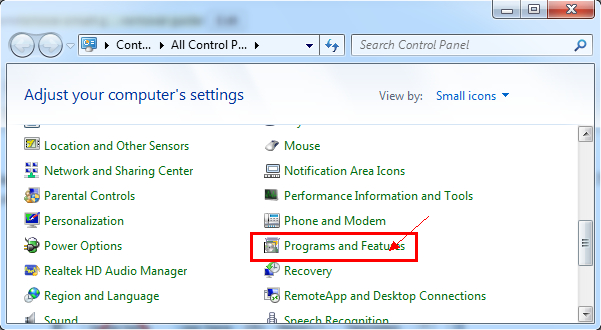 Find Dream Scan Soft and right click on it and click "Uninstall\Change" then finish the installation according to the guide.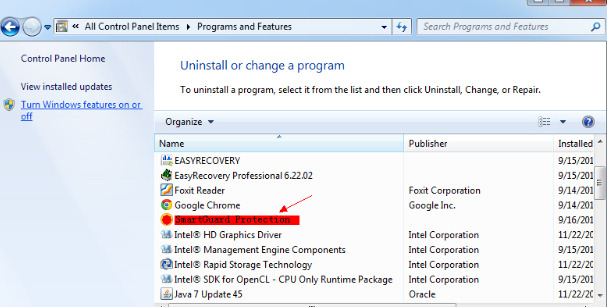 >>>>>> Click "Start" menu at the lower left corner and type "regedit" in the search programs and files box and press Enter key. Then you will open the "Registry Editor".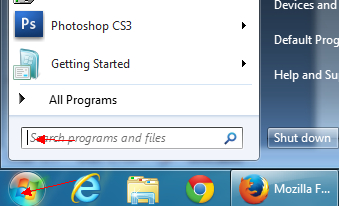 >>>>>> You will need to find out the suspicious registry files in the Registry Editor, They are usually located in: HKEY_LOCAL_MACHINE > SOFTWARE. You will need to distinguish them from their "Name" and "Data" at the right column. All of them will be randomly distributed. If you are not good at this, ask for an expert for help.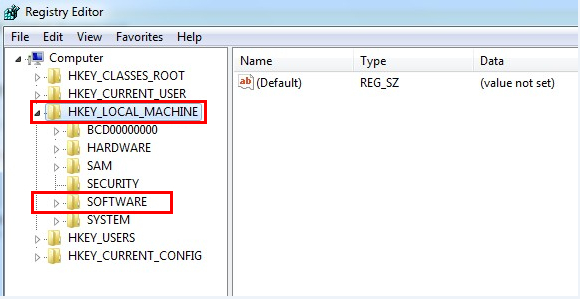 >>>>>> After you find out the suspicious registry files, you also will know where the .exe files of the virus locate. Usually, they will be in the operating system drive. To open it, you will need to click Start menu > Computer & My computer. Generally speaking, the Operating System drive is Local Disk (C:).

>>>>>> Basically speaking, all the related files of the Dream Scan Soft Virus will be located in Windows > System32. Find out all the files of the scam virus and delete them. Make sure that all the files you deleted are viruses, not the files of the operating system. Any mistakes will cause data loss even system crash.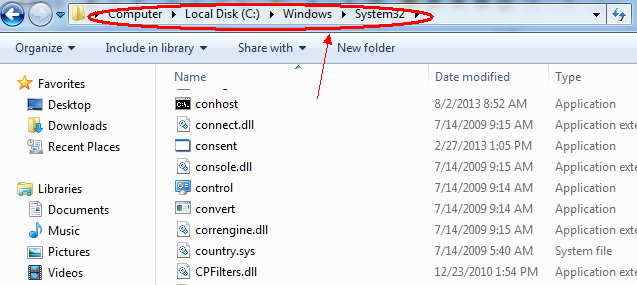 (What calls for special attention is that Windows 8 has its own way to start in Safe mode with networking or Safe mode with command prompt)
Here is the guide to start Windows 8 PCs in Safe mode with networking or safe mode with command prompt:
1. Please press CTRL+ALT+DEL at the same time, then you will see a 'Shut down' button in the lower right corner.
2. Hold the 'Shift' key and then click 'Shut down' and choose' Restart'

3. Then you will need to click on the "Troubleshoot" option.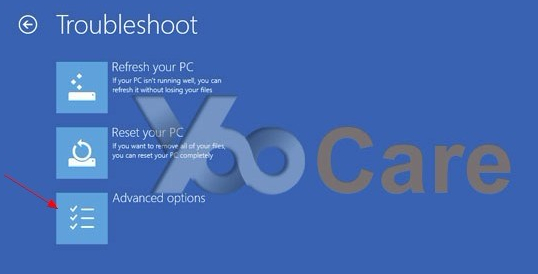 4. Now select Advanced Options.
5. Now choose the "Startup Settings" option.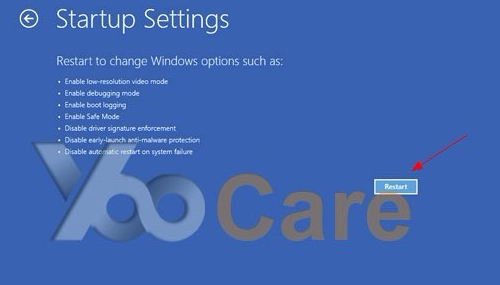 6. Finally hit the Restart button.
7. You will be displayed Safe mode options there. Press F5, computer will restart to safe mode with networking. And press F6, computer will restart to safe mode with command prompt.
(After you successfully restart your computer with windows 8 operating system in safe mode, follow from the third step as the mild infection solution above to continue the next steps to finish the whole removal work)
Similar Removal Guide For Uninstalling A Rogue Program:

Words in the End:
Dream Scan Soft is a bogus security tool that is circulating on the web and annoying computer users. Typically, it installs itself on the victimized PC with the help of a Trojan. Once downloaded and launched, it starts its attack the targeted computer by displaying fake pop-up security notifications and detecting falsified malware threats in order to frighten the victim into believing the PC is infected with various security infections. Then it offers its victims the so-called licensed version which claims can help to fix detected malware threats and other PC problems. Don't spend your money on the rogue program since any attempts to purchase this rogue will only give your financial information into criminal possession. It is a phony security program designed to swindle victims out of their money. Now computers that have Windows OS installed (including Windows 8, Windows 7, Windows XP and Windows Vista) are the major targets of this virus. If your computer is displaying messages from a supposed security application named Dream Scan Soft, please follow the manual removal guide above to have it uninstalled quickly.
Suggestions: Can't uninstall Dream Scan Soft from computer? Have tried many online instructions with no success? Please contact YooSecurity Experts right away to get further assistance in order to save PC from all the potential risks:

Published by Tony Shepherd & last updated on December 20, 2013 10:19 am