How to remove Data Text US Police or Data Null Message on iPad/iPhone in Safari? The data://(null) message pops up on apple iPad locking out my safari, is it real US Police or scam? I was using my tablet last night and everything was fine, but when i woke up i couldn't do anything on it and it says that i said something illegal on it and i have to pay $100 with a gift card or paypal, I don't know if its real or how to remove it, It says that i watched some kinds of child porn or animal porn, what do i do? I clicked a link and was put to a porn site I Trudeau to close my browser immediately but this box piped up saying something about the Data Text US Police had my Apple ID and I need to put in my pass word to pay $500 thru paypal. I'm a Gramma I don't leave $500 and am not computer savvy what do I do? I'm not the most up to date user of a smart phone and became really worried when a Data text US Police message popped up stating that my iPhone would be blocked after 24 hours when browsing the Internet and that if I did not pay fine through Paypal that I would be reported to police and under investigation for viewing child pornography which could result in losing all my items on my iPhone and even result in going to jail. What can i do?
Description of FBI Data Text US Police or Data Null Message on iPhone or iPad
It can be really bad if you get into trouble with the FBI or police. However, nowadays, the authority has been abused by cyber hackers to commit cyber criminals. In the past several years, cyber hackers have designed a series of FBI ransomware virus to attack computers. With the development of technology, mobile devices have become a more and more important part for people's daily life,so now hackers mainly attack mobile devices like tablets and phones. Besides Android phones and tablets, devices with IOS systems can be the second main targets for the ransomware to attack as many people use Apple products on their life. People who get this FBI warning on their IOS devices shouldn't be panic as what it talks about is totally forged.
Similar Screenshot of FBI Warning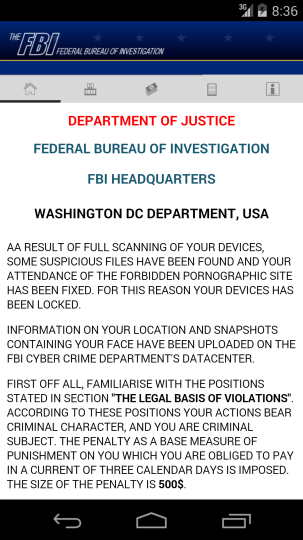 What happens when FBI Data Text US Police or Data Null Message blocks safari after watching pron? My mobile device has a notification telling me to pay $500 fine to paypal or i will be arrested. I have an iPhone 6 plus and I was using the browser and when I clicked on something the FBI MoneyPak popup appeared. How do I get this off my phone and make it safe again? There are various ways for cyber hackers to spread this FBI ransomware to innocent people. Usually, cyber criminals can put this infection onto websites which have already been hacked and controlled by them. In this case, once people go to the corrupted pages, their devices can be attacked by this infection immediately. Porn sites can be main resources for hackers to hide this infection as those pages can contain many kinds of viruses on the servers. When people visit the infected sites, they can be redirected to the fake warning if they click some links which contain this virus automatically. So, to avoid being targeted by this scam virus, we don't suggest users to go the unknown or porn sites.
When FBI ransomware sneaks into target devices, it would block the Internet access which means when users open the browsers, they can be redirected to this warning page all the time. Users are not able to close or bypass the scam page as it has fully controlled the browser. On this scam page, users are prosecuted for watching illegal materials and will be chased by the police. Also, it tells users that all things saved including Apple ID and data on the devices can be locked or erased after 24 hours. In addition, the page tells users a solution to avoid further punishment, that is to pay a great amount of money on the page, so that they can save their data and unlock their devices. It is no use to pay the so-called fine as it won't help users unlock the devices as the virus can still be saved on the machines.
If FBI Data Text US Police or Data Null Message pops up on your iPhone or iPad, your device is infected with FBI Warning virus, it will be hard for you to remove it with antivirus completely, because there is no perfect antivirus to kill threats on iPhone or iPad and also this FBI Malware Notification is very tricky and can escape from security apps. In this case, removing it manually with sufficient expertise online is the best way for phone, tablet or iPad users to completely eliminate it.
NOTE: Being afraid to do any wrong operation during the process of removing this Data null warning message from iPhone or iPad? Please contact YooSecurity Online Experts, we are here to help you:


Screen of Data Text US Police or Data Null Message on iPad/iPhone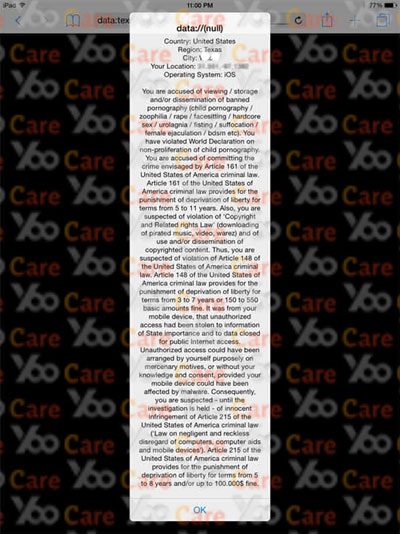 Main Traits of US Police Virus Notification on iPhone/iPad
1. It is designed to lock iPhone or iPad and asks you to pay for a fine from $100 to $500 to unlock your device. In fact, it is just a big scam.
2. It locks your Apple device, claiming that you've violated the law of local office by visiting illegal information online.
3. As soon as this virus targets your Apple device, it totally blocks your access to the Internet and prevents you from doing anything there.
4. It allows cyber criminals to remote access your Apple device iPhone/iPad for stealing your personal information and other sensitive information.
If you find any symptoms listed above showing on your iPhone or iPad, then your device must be suffered with a malware infection(which can be this FBI Malware Notification virus, Australian Federal Police virus and RCMP Ukash virus etc.) that blocks your access to your device. Welcome to contact YooSecurity Online Experts for manual removal guide. Also, we will provide a short removal guide below for device literate.
Stop and Remove Data Text US Police Warning Message on iPhone/iPad Immediately
FBI virus is upgraded by hackers to target more and more iPhone or iPad or other Mac OS X system product to get more illegal profits. We used to believe that Apple products with Mac OS X system is greatly immune to viruses and malware. However, since this version of virus is improved to attack iPhone/iPad, this FBI virus will easily spread online and hits Apple iOS device.
1.FBI warning message will pop up and lock your iPhone/iPad you visit a phishing site, open a junk e-mail attachment, click on an unknown link or download an application from an unsafe source, especially after you jailbreak your device.
2.Once you see FBI warning message on your iPhone or iPad, please get this ransomware off your iPhone/iPad manually.
3.Currently no app is able to detect or remove this malware scam, even for preventing the virus from attacking the mobile device again.
4.Manual removal process requires sufficient expertise. To safely deal with the FBI Malware Notification from iPhone/iPad, you are recommended to contact an expert online for further removal help.
Conclusion
I'm so scared this fake Data Null message popped up on my iPhone and I don't know what to do, it says I was watching child porn and if I don't pay a 500 dollar PayPal I go to jail. How does FBI track child porn online? Recently I got a pop up from the "FBI" saying I need to pay a 500$ fine with paypal payment for watching child pornography. I got it by accidentally clicking a pop up while looking at a gaming website. How do I get rid of this? When you see the FBI Data Text US Police or Data Null Message appears on your IOS devices, you cannot trust what it says as it is fake. It doesn't come from the real US Police. It is a well-designed scam virus spread by cyber hackers who want to get illegal incomes by threatening people for nonexistent crimes. Once it infiltrates target devices, it will block users from using the Internet and keep coming out to users to ask people to pay. Under no circumstance, should people pay on the warning page as it is completely a scam virus that needs to be removed without any hesitation.
Kindly Reminder: Can't figure out how to get rid of Data Text US Police or Data Null Message on iPad/iPhone? Contact online experts for help now!


Published by Tony Shepherd & last updated on February 18, 2016 7:11 am