I really need help! I can't start my computer because a Bundeskriminalamt Pressestelle Virus held my computer. Every time when I entered my password to sign in, the locking page would arise before I was able do anything. It gave me much information that I have done something illegally. But I have not done those things. I don't know what it is. I'm crazy now because I need to my laptop for an important meeting. Who can help me? I will do whatever I can. Do you have the same problem? Why don't you read this blog for help?
What Is Bundeskriminalamt Pressestelle Virus?
Bundeskriminalamt Pressestelle Virus has been infecting many PCs in Germany on a large scale. Insiders define this virus as ransomware or scam malware for the reason that it's created to frighten people into paying money and the hackers who made this virus can make huge profit. Many people in Germany believed this was the real Bundeskriminalamt Pressestelle, so they paid the money and thought their computers will  really be unlocked in 72 hours. However, the hackers will not free your computer because Bundeskriminalamt Pressestelle Virus has nothing to do with the real department. And even if they unlocked your computer for the moment, they will lock your computer again and ask for even more money. You can never quench their desires. Don't waste your money to take a chance. And if you enter your password of your Ukash account, the ransomware can record your password. Your Ukash account will never be safe any more.
People who got this virus infection would not understand how they got this Bundeskriminalamt Pressestelle Virus because they thought they have installed anti-virus software in their computers. Actually, anti-virus can prevent most of viruses, but not including some very smart viruses. And this one can't be stopped by any anti-virus. New viruses will be created everyday and anti-virus needs much time to work out  plans to deal with the new viruses that's why you almost everyday, your anti-virus needs to be updated. Before an anti-virus can take effect, those new viruses can infect your computer. And this Bundeskriminalamt Pressestelle Virus is just a new one that has been found in Germany. But it also has other versions such as ICE Cyber Crimes Center Virus. The difference between them is that this ransomware is using German as its language and ICE virus is using English. However, both for them are designed to lock people's PCs and ask for money. At present, no anti-virus can remove this kind of scam virus.
You may be tricked by this Bundeskriminalamt Pressestelle Virus not because you really have done something illegal just like the locking message says, but because you will be convinced by the appearance of this ransomware. Of course, some people might really do those illegal things, but remember that a real police department will never announce you in this way. They will not send you a message via the Internet. So even if you really did those things, don't be afraid, and don't be taken in. The image of the badge Bundeskriminalamt Pressestelle is not real. The hackers just copied one from the official website of this department. But you may ask, why they knew what I did such as they took a photos of my activities? The answer is simple. Because they just put a rootkit in your computer so that it can control your webcam. That's why they can easily have your photos. Don't be scared by this Bundeskriminalamt Pressestelle Virus. The real right way is to find a best method to get rid of it to free your computer.
Tips: A manual removal guide will be list below. However, the instructions are for those who are very familiar with Bundeskriminalamt Pressestelle Virus. If you are not confident to get rid of it, you can contact YooCare/YooSecurity for help:


Here Are Some Screenshots of Bundeskriminalamt Pressestelle Scam:
A. Main interface to tell you that your computer has been locked. On this page, you will see the reasons that theBundeskriminalamt Pressestelle Virus fabricated.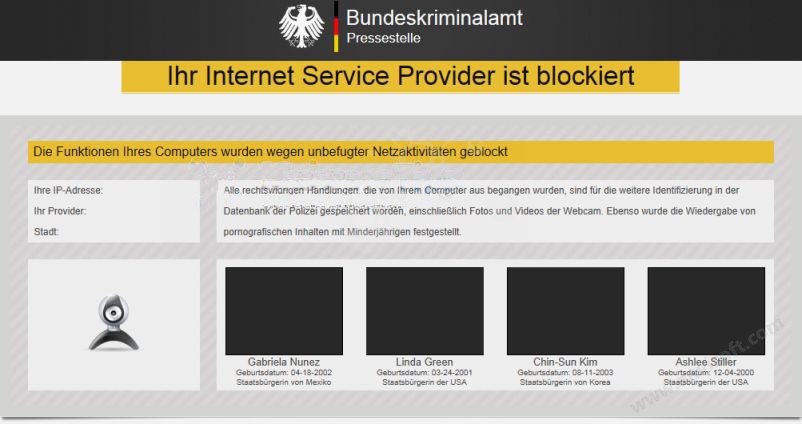 B. This photo is showing you how the Bundeskriminalamt Pressestelle Virus would ask you to avoid being prosecuted, that is to pay money via Ukash.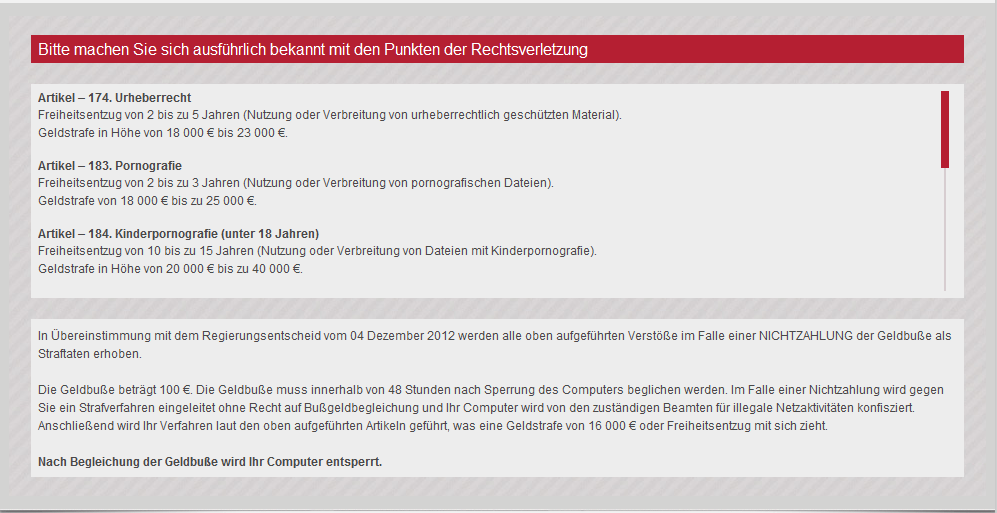 C. This screenshot is to show you the Bundeskriminalamt Pressestelle Virus asks you how to pay the "fine". On the page, two blank boxes are there for you entering your Ukash code.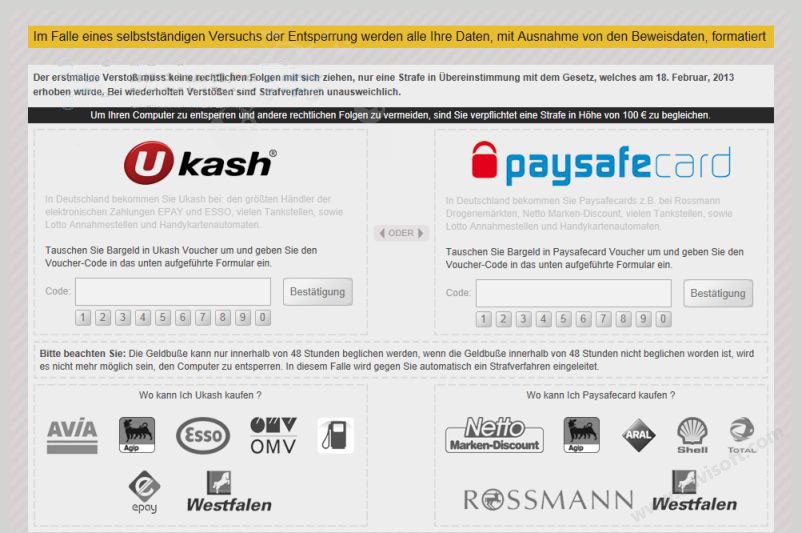 Steps to Remove Bundeskriminalamt Pressestelle Ransomware Manually
Step 1: Try to plug out the internet cable then restart your computer normally. After you can see the desktop, plug in the cable again. If the virus doesn't pop up, you can continue from step 3. (If it's wireless connection, turn off/on instead of plugging in/out cable)
Step 2: Restart your computer in safe mode with networking. To do this, please keep pressing F8 key before windows launches until you get there shown as below: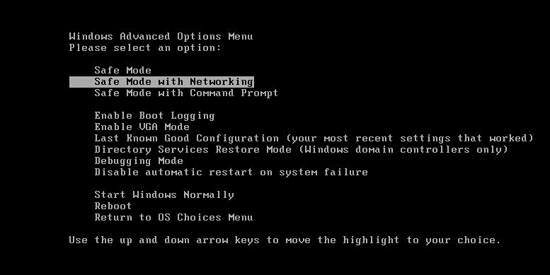 Step 3: Press Ctrl+Alt+Del keys to open the Task manager to stop the progress of Bundeskriminalamt Pressestelle Virus. Because the name will be changed fast, it will be displayed with different names with random letters.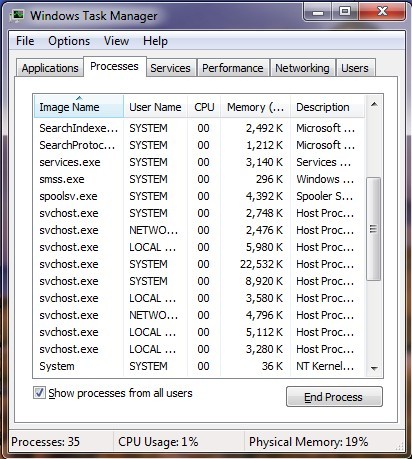 Step 4: Delete all the files related to Bundeskriminalamt Pressestelle Virus
Login to profile in which you are getting Bundeskriminalamt Pressestelle Virus…
Go to my computer
Then press ALT button once
Go to tools on menu bar
Goth select Folder options…
Click on view tab
Select Show hidden files, folders, and drives
Click OK button
%AppData%\program\[random]\""
%AllUsersProfile%\Application Data\BEGIN.exe (this is just an example because the name would be named randomly)
%AllUsersProfile%\Application Data\.exe(rnd) (this is just an example because the name would be named randomly)
Step 5: Go to Registry Editor to remove infected registry files. To do so, press Windows+R keys to open Run box first, then type in regedit to search. Search through the following files and entries to delete them: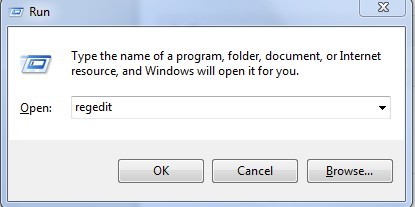 HKCU\Software\Microsoft\Windows\CurrentVersion\Run\Random (it will be named randomly)
HKLM\Software\Microsoft\Windows\CurrentVersion\Run\Random (it will be named randomly)
HKLM\SOFTWARE\Microsoft\Windows NT\CurrentVersion\Image File Execution Options\random (it will be named randomly)
Video Guide to Remove Bundeskriminalamt Pressestelle Lock Computer Virus
Please bear in mind: Bundeskriminalamt Pressestelle Virus should be removed as soon as possible. If you leave it alone, it will not only stay in your computer, but also can put your IP address in very dangerous condition. However, if you can remove it in time, it can't do any harm to your computer and won't ask for money any more. Also please don't pay money to this scam, even if you pay to the hackers, they won't unlock your computer. Never believe those so called free software! Don't download to install those stuffs in your computer. They can not remove the Bundeskriminalamt Pressestelle Virus for you, but also bring you much more other virus such as ransomware, scam virus even fake things. You may not be aware that those so called free software can be another cheater, which will make you gain just more loss. Please don't take a chance to have a try. It's nonsense. There is no free lunch! If you really can't remove Bundeskriminalamt Pressestelle Virus yourself, please find an expert for assistance. This is the best choice.
All for your sake: Contact an expert such as YooCare/YooSecurity for professional service if you really don't know how to remove Bundeskriminalamt Pressestelle Virus that asks for Ukash code:


Published by Tony Shepherd & last updated on May 9, 2013 11:17 am