How do I remove Antivirus Security Pro 2014? Where can I get the code to activate antivirus security pro? It keeps popping up and telling me my PC is at risk! I can't run any program on the computer and keep being told the program contains virus. I'm totally blocked from using my laptop due to the pop-up Antivirus Security Pro software screen. How do I fix this problem on my PC? How do I uninstall Antivirus Security Pro fake AV from my computer?

Antivirus Security Pro 2014 – Rogue Antivirus Uninstall Guide
Antivirus Security Pro 2014 is a fake antivirus program which can trick victims into paying for its fake "registered" version. It's the newest variant of the Antivirus Security Pro rogue. When computer users have this potentially unwanted program on their computers, they will come across all kinds of difficulties when operating on the computers. The most annoying part of this scam must be its ability to constantly block PC users from running executable programs on the infected computers. Claiming itself as a helpful PC protection tool, the unregistered version of this rogue antivirus will require you to upgrade it to a full version if you decide to delete the infections reported by this program. The fact is, this fake AV program is not friendly to computers at all! It can not only scam innocent PC users all around the world, but mess up the compromised computers massively. We need to uninstall Antivirus Security Pro 2014 malware from computers for good.

Fake antivirus malware is a major computer threat with a large amount of numbers. Computer users from all around the globe can be affected by this type of computer attack even if they have got PC protection tools on their computers. This malware, acting like regular antivirus program, does not help protect PCs from all kinds of cyber threats but will instead disable the protections on the computers to provide chances for potential virus attacks. This fake Antivirus Security Pro 2014 scam virus normally doesn't need permissions to be installed. It can get on your PCs via bundling with the malware or adware you download from unidentified resources online. Setting itself as the startup process of the system, this rogue antivirus software will become activated every time the PC is turned on. It then will run security scans automatically through your computer. Are you confused by the fact that this unknown Antivirus Security Pro detects some viruses on your computer while other anti-malware programs find nothing? Do you also get lots of security popups? By convincing you to believe that your computer is at risk, this malware is trying to get you to purchase its fake "registered" version so as to help hackers scam innocent PC users. The infected computer will face more problems if a complete uninstall of this fake antivirus cannot be done timely. To remove Antivirus Security Pro 2014 fake antivirus from computer, manual removal process with expertise will be required since most programs cannot be run on the infected computer due to the constant blocks from this rogue.
How to uninstall fake Antivirus Security Pro scam malware from computer? Contact YooSecurity Online PC experts right away to get help if you are not a computer savvy. You can follow the manual removal guide below to get your problem fixed. (For advanced computer users)


Fake Antivirus Security Pro Virus Screenshot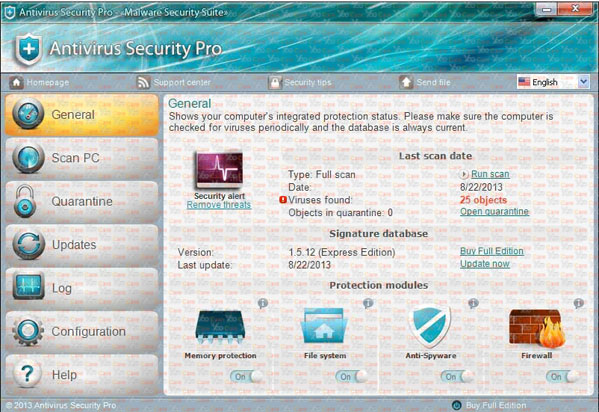 Fake AV Rogue Chaos
When a computer is hacked by Antivirus Security Pro 2014 virus, it will be completely messed up by this rogue software. By far, this type of rogue only attacks computers with Windows systems (Windows 7, 8, XP, Vista). It can attack your computer due to non-behaved cyber activities by users on the machine. To be specific, if users on the computer visit suspicious websites online, install unknown freeware accidentally or download unidentified files/programs from the internet, they can get this rogue attack without knowing. Besides from scamming you to send money to remote hackers, this fake AV virus can:
– set its program as the start-up process of the infected computer to launch the auto security checks each time PC starts
– block users from running other executable programs on the computer by constant pop-up virus alerts
– report fake detections to get users to pay for a fake "registered" version of this fake application
– create potential security loopholes for the convenience of other cyber threats
– affect and slow down the performance of the system massively
Manual Removal of This Fake AV Step by Step Guide
A manual removal process is suggested here to help you remove this Antivirus Security Pro 2014 Virus. Virus files and registry values can be named differently. Hence, expertise will be required during the process to achieve a complete removal.
To put the infected computer in safe mode with networking or safe mode with command prompt, you need to keep hitting F8 key, where is the key?

Step A: Restart computer in safe mode with networking. To do this, press F8 key constantly while PC is booting up till the 3 safe mode options show on the screen like this: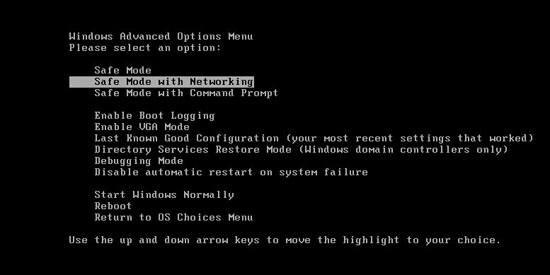 Step B: Press Ctrl+Alt+Del keys to open the Windows Task Manager to stop the progress of this Antivirus Security Pro virus. Because the name will be changed fast, it will be shown in different random names: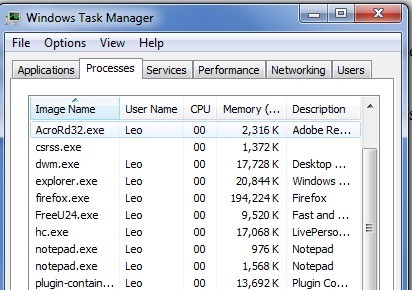 Step C: Delete all the files related to fake scam ware:
Go to %userprofile%\%AppData%\Programs\[rnd].exe
Step D: Delete registry entries of the rogue created in computer system: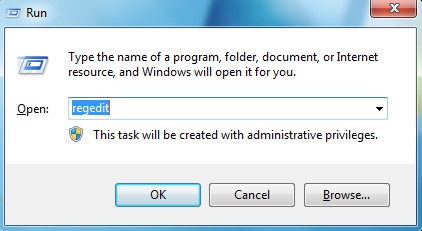 HKEY_CURRENT_USER\Software\Microsoft\Windows\CurrentVersion\Run ""
HKEY_CURRENT_USER\Software\Microsoft\Windows\CurrentVersion\Settings "net
HKEY_LOCAL_MACHINE\SOFTWARE\Microsoft\Windows NT\CurrentVersion\Winlogon\Shell ""
Similar Video Guide to Remove Fake AV Rogue:

Conclusion
Fake Antivirus Security Pro 2014 virus is so stubborn that it cannot be removed easily from computers. Once it's installed, the fake AV virus acts like a helpful PC protection tool. It pops up upon PC startup and launch security checks automatically to detect many infections in your computer. These infection reports are actually false statements trying to convince you that your PC is at risk. When having this virus attack on computers, users will also be blocked from operating on the machines due to this malware infection. Each time you attempt to run a file or program on the infected computer, you will constantly get popups from antivirus security pro rogue telling you that the file/program is blocked from running because of potential infections. By creating all these troubles, the rogue program can get as many PC users as possible to pay for this fake antivirus and help hackers benefit. To avoid all these consequences, a complete removal should be performed instantly. Manual removal is the most efficient way compared with other solutions to get rid of this rogue.
Suggestions: Can't get rid of fake Antivirus Security Pro 2014 scam? Have tried the online steps but seem to be no help? Contact online PC experts now to get professional help to save PC from potential system problems.


Published by Tony Shepherd & last updated on November 28, 2013 3:24 am