I have this Proven Antivirus Protection Virus on PC that I need help get rid of. I am not familiar with this Antimalware Proven Antivirus Protection software and didn't get in online. It just showed up on my PC the other day and stays on the system ever since then. I tried to uninstall it but failed constantly. Will this Antimalware virus do any damage to my system? What do I do to remove Antimalware Proven Antivirus Protection from PC?

Antimalware Proven Antivirus Protection Virus – Remove Fake Antivirus
Proven Antivirus Protection Virus (also known as the Antimalware Virus) is believed to be a newly released variant of rogue that usually pretends to be legit PC protection tool to deceive innocent PC users. This rogue or fake antivirus is a very common computer problem around the world and can affect most Windows OS including Windows 7, Windows XP, Windows Vista and Windows 8. By dressing up like regular and legit antivirus software, Proven Antivirus Protection rogue can trick innocent PC users into believing that their computers have contained many infections and a complete fix is needed urgently via this rogue program. Then a certain amount of fee will be required to "Activate" this unfriendly program so as to gain its full privileges or services. It's warned that this Proven Antivirus Protection popup is a rogue program created by computer hackers to display scams on computers. It actually doesn't have a "Registered" version to provide services to PC users. All it's trying to do is to get as many PC users to pay as possible so that computer hackers can benefit more.
Normally, victims of this Proven Antivirus Protection Virus do not know exactly when and how they fall into this cyber scam trap because this rogue program doesn't need permissions from PC owners to be installed. By bundling with online freeware, spam ware and many other malicious files and applications, this rogue can be distributed widely through different servers to attack PCs in different locations. To be more specific, when users download an unknown file or executable application from the Internet which turns out to be bundled with this Proven Antivirus Protection rogue, they will install the scam ware at the same time without knowing. And because of its ability to escape from protections of legit antivirus programs, the rogue will be able to sneak on to different systems without drawing users' attentions in the beginning. Soon, the affected machines will perform with odd actions which will certainly annoy PC owners.
Even though it acts like regular antivirus programs, this fake Proven Antivirus Protection Virus should not be trusted! Soon as the affected PC starts, this rogue program will automatically pop up and run security checks through the system which seems to be a friendly gesture. But your impressions will be dramatically changed after several fail attempts to run programs on the PC. Most of the executable programs you try to run will be stated by this Proven Antivirus Protection rogue to have contained viruses and have been blocked from launching. Basically, you cannot launch any program now because of the constant blocks from this unknown program. Later, you will notice that many infections are detected by this Proven Antivirus Protection Virus and a complete fix is urgently needed. Wonder why other antivirus programs on the PC haven't detected anything? It's possible that they have been disabled by this rogue software. Now this Proven Antivirus Protection rogue says that it's available and able to help you get rid of all these infections. But first, you will need to activate the unregistered version to a licensed one. Of course a fee will be involved. So far, this is the general process of a rogue program scams innocent computer users. After knowing this, we shouldn't trust this pop-up fake Proven Antivirus Protection and should remove it right away to re-gain full privileges on the PCs.
To completely remove Antimalware Proven Antivirus Protection Virus, manual removal is the best option. Live Chat with YooSecurity Expert Now if you are not a computer savvy:


Screen Shots of Antimalware Proven Antivirus Protection Rogue
1. Proven Antivirus Protection Virus detects many infections in the system: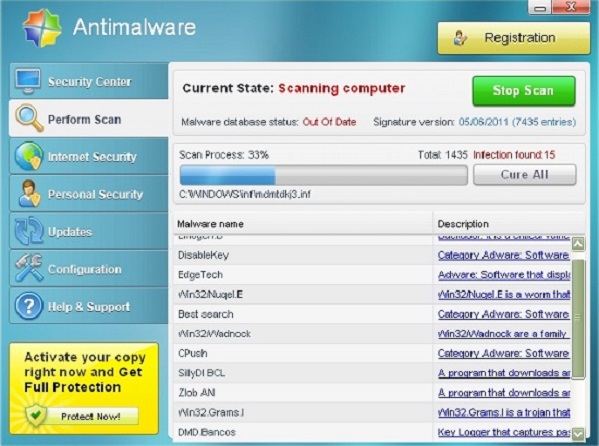 2. Security Level: LOW. Activate your copy right now and Get Full Protection: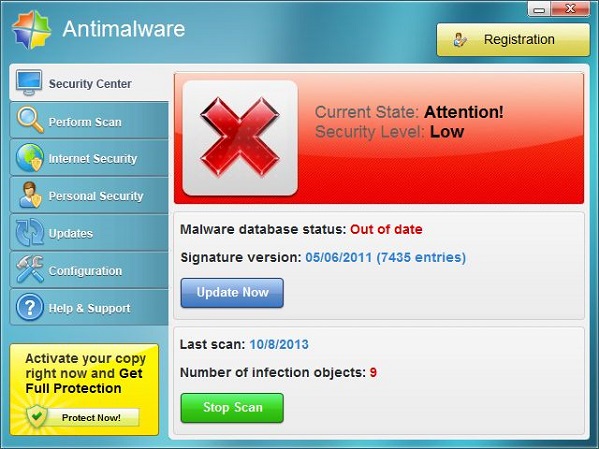 Fake Proven Antivirus Protection Rogue Chaos
This Proven Antivirus Protection Virus not only has the ability to modify the default structures of an affected system, but can disable authentic antivirus programs on the machine to provide more chances for other cyber threats and put the PC into more potential risks. Therefore, a complete removal is needed timely to prevent all the potential consequences. Although fake Antimalware virus looks and acts like regular antivirus, its aggressive characters will give the truth away. The Proven Antivirus Protection rogue scam virus can:
– set its program as the start-up process of the infected computer in order to launch the auto security checks each time PC starts
– block users from running other executable programs on the computer saying they contain viruses
– report fake detections to get users scared and to trick them to pay for a fake "registered" version of this rogue
– help prompt other malware or spyware to compromise the vulnerable system
– affect and slow down the performance of the system massively
Proven Antivirus Protection Rogue Manual Removal Guide
A manual removal process is suggested here to help you remove this Proven Antivirus Protection Virus. Virus files and registry values can be named differently. Hence, expertise will be required during the process to achieve a complete removal.
To put the infected computer in safe mode with networking or safe mode with command prompt, you need to keep hitting F8 key when PC starts:

Step 1: Restart computer in Safe Mode with Networking to temporarily terminate the process of this Proven Antivirus Protection Virus first. To do this, press F8 key constantly while PC is booting up till the 3 safe mode options show on the screen like this: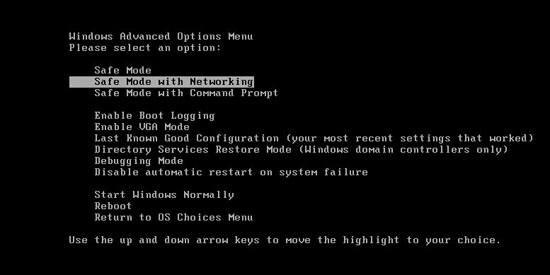 Step 2: Press Ctrl+Alt+Del keys to open the Windows Task Manager to stop the progress of this Antimalware virus. Because the names will be changed fast, they can be shown in different random names: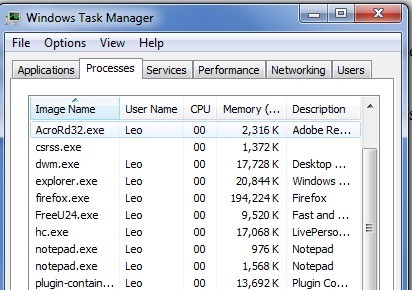 Step 3: Delete all the files related to fake Proven Antivirus Protection Virus:
Go to %userprofile%\appdata\local\
%AppData%\Programs\[rnd].exe
%AllUsersProfile%\Application Data\random
Step 4: Delete registry entries of Proven Antivirus Protection rogue created in computer system: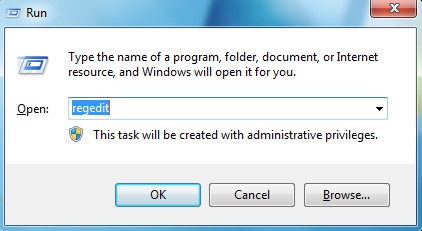 Similar Video Guide to Remove Antimalware Proven Antivirus Protection Rogue
Conclusion
Computer troubled by the Antimalware Proven Antivirus Protection Virus? Have tried to uninstall this rogue but keep failing? Antivirus removal may not help much because most executable programs will be blocked from running by this rogue scam virus. And manual removal process requires expertise because there could be many program files and registry values to be verified and deleted. But before this rogue program is deleted, system will function differently. Most programs on PC will be blocked from running by this Proven Antivirus Protection rogue and fake security alerts will be displayed to scare victims in order to get them to pay for the scam ware. As a matter of fact, these infections do not really exist in your computer. They are just some fake alerts generated by this rogue program to convince victims to believe it's legit and helpful. Hence, you don't need to believe anything this Proven Antivirus Protection rogue says or sign up for its registered version. A complete removal of this rogue ware will get you out of all these troubles.
Special tips: If you are still having difficulties getting rid of this Proven Antivirus Protection Virus, Contact PC experts now to get professional help online to remove this potentially unwanted program from PC right now:

Published by Karen Lawrence & last updated on October 9, 2013 12:50 pm