Can the Polizei AKM "Ihr Computer ist Gesperrt" Virus lock your computer? I have the Polizei AKM "Ihr Computer ist Gesperrt" scam thing on a different computer. I put it into safe mode and it took it off. when i restarted my computer it started doing an update. Will this update remove the scam from the startup? How do I get into task manager in safe mode? Last time i tried, my computer booted up normally asking for my password. after i put in the password it looked as if it was doing the usual and then the screen went white and stayed that way untill i did the ctrl+alt+delete and shut it down. How to unlock my computer from AKM "Ihr Computer ist Gesperrt" notice – fake Austria Polizei Government message?

Infected with AKM "Ihr Computer ist Gesperrt" Virus (Paysafecard Scam) and have to pay €100 to get it unlocked? How to bypass the locked screen?
The Austria Polizei government virus, or AKM "Ihr Computer ist Gesperrt" Virus is a ransomware that freezes the users computer screen and then demands a € 100 payment within 48 hours for violation of several Canadian laws. The hackers have gone to great lengths in order to make the virus appear to be completely legitimate and the page contains a very convincing message that also displays the users IP address and location so it appears that they are indeed targeting them directly.
There are many ways that the virus is picked up, and they range from licking on websites that have been infected by the virus and it is also spread through file sharing sites and also music and movie download sites. These sites are often the cause and the AKM "Ihr Computer ist Gesperrt" Virus scam makes mention of downloading illegal content so many users assume that it why they were "caught" and they quickly pay the fine as they do not want future problems with the Austria police. The virus is set up in a way to scare the users into paying and since it is a small enough amount it is something that many will just pay in hopes to avoid legal troubles.
There is no way to get around the virus without removing it 100% as it changes the settings and sets it to pop up and lock the computer every time it is booted up or restarted. It is a script that does not stop so removal is the only way to stop it. Since the computer is locked there is no way to access the antivirus programs and scan the system. The user is tricked into believing that if they pay the fine that they will avoid legal troubles and possible jail time and once payment is received the computer will be unlocked.
Do not fall for the AKM "Ihr Computer ist Gesperrt" Virus scam, because it is not real. There are no legitimate government or law enforcement organizations that have the authority to lock someone's computer without consent. There are several privacy policies in place that prevent law enforcement from simply locking a computer screen. If they truly did have an issue they would show up in person or send a court ordered notice to the user.
To save your computer, Live Chat with YooSecurity Expert Now. You can follow the manual removal guide below to get your problem fixed. (For advanced computer users)


Screenshot of Fake AKM "Ihr Computer ist Gesperrt" Paysafecard Scam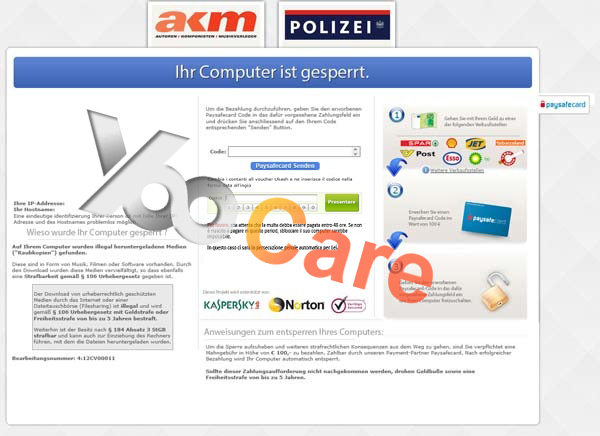 Best Way to Remove AKM "Ihr Computer ist Gesperrt" Scam Efficiently
Since the AKM "Ihr Computer ist Gesperrt" virus scam locked your computer without your concept and asks for money to get it unlocked. The truth is that the hackers are getting more clever and making more realistic threats and the way that they spread the virus it infects such a large number of users that there are always going to be victims that believe it and pay the money out of fear. Do some simple math really quick and you can see exactly how much money they extort. Lets assume that over 1 million computers are infected each week and 1,000 of those users send the payment. This would result in the police cybercrime investigation department virus bringing in €100,000 a week. That is over €5 million a year, and the sad thing is that the number are probably much higher then that!
It requires some advanced computer knowledge, but there is also professional help available for those users that are not advanced PC users. YooCare/YooSecurity provides the most professional online PC service. YooCare experts can plan out a solution to access your computer in safe mode with networking at first. When it's possible to do that, their experts will do as follows:
Before all you people who are going to get in safe mode with networking or safe mode with command prompt, you need to keep hitting F8 key, where is the key?

Step A: Restart computer in safe mode with networking. To do this, just need to press F8 key constantly before the system is started like this: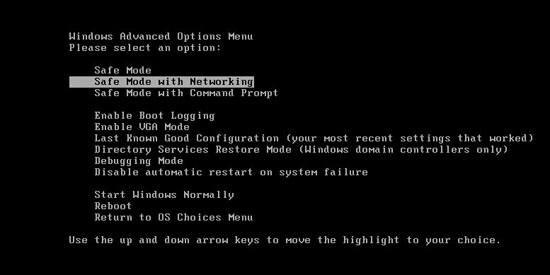 Step B: Press Ctrl+Alt+Del keys to open the Task manager to stop the progress of AKM Polizei Virus Scam Malware. Because the name will be changed fast, it will be show with different name.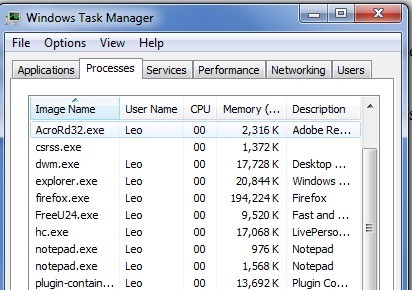 Step C: Delete all the files related to AKM  Virus Scam Malware.
Step D: Delete registry entries of Austria Polizei scam created in computer system.
By the way: Woke up and I have apparently downloaded the AKM "Ihr Computer ist Gesperrt" virus on my laptop.  I am currently on my desktop computer and am trying to get my laptop unlocked from that virus.  Can you help? Manually remove New Zealand Police Ukash Virus is a rather difficult work, if you are not a professional computer expert. We recommend you to get YooCare online service 24/7 in time. This is the real fastest and safe way to remove it.
Similar Video Guide to Remove Austia Polizei Warning Virus
Since the Polizei AKM "Ihr Computer ist Gesperrt" scam requires payment of the fine to be made by Paysafecard, there is no way for the user to get the funds back once they are aware that they were scammed. The card you give the hackers can be took out money as it is virtually the same as paying cash. Avoid paying the extortion attempt and instead get the virus removed. If nothing is done it will continue to pop up at the start and the user will not be able to use the PC. Removal is the only way to regain access to the computer. Always remove a virus manually as a way to make sure all of the corrupt AKM "Ihr Computer ist Gesperrt" Virus files have been deleted.
Special tips: Spending a lot of time fixing your computer with no success? Don't want to get things worse, please contact PC experts now to unlock your computer and remove AKM Ihr Computer ist Gesperrt polizei scam safely and completely.

Published by Tony Shepherd & last updated on March 1, 2013 5:46 am