Lately, my computer screen always pops up an antivirus screen. It's the 24/7 PC Guard which seems to be an antivirus software. But I haven't given permission for it to install on my PC. Where does it come from? Is this 24/7PC Guard a legit antivirus software? Why does it always run scans through the PC automatically and detect many problems while my other antivirus won't? It's absolutely annoying. I want to get rid of this 2/7PC Guard software.

24/7 PC Guard – Rogue Antispyware Description
24/7 PC Guard is a software that looks like an antivirus application. It's been reported to show up on many computers without permission lately. As a matter of fact, this PC Guard is a rogue antisypware which belongs to a computer virus. We can also find out this fact from the "Internet Security 2013" virus which is quite active in these days. A fake antivirus software is usually associating with computer hackers behind the surface. This 24/7PC Guard virus looks like a real antivirus software. It even acts like a legit antivirus program. However, judging from its characters, this unwanted software is being categorized as a rogue antispyware which has been a computer problem for a long time and should be watching out. Ordinary computer users will be easily tricked by this program and their money will be collected as well as private info. It's actually an international issue as this 24/7 PC Guard virus can be spread over the internet and can attack PCs from different areas.

If your computer hasn't got any PC protection software, you may think 24/7 PC Guard is an option. This fake antivirus software can install itself without permission from PC owners. But some may consider it as a product from Microsoft which will usually come together with the computers. These computer users can be a large target for this rogue antispyware. Learning the characters of this 24/7PC Guard virus and similar viruses (Win 7 Protection 2013) will help you realize the dangers of this issue and avoid from getting into the same tricks in the future.
First of all, all of the rogue antispware are dressed up as real antivirus programs. They provide PC protection services including scanning, optimizing and settings ect. But different from real antivirus applications, 24/7 PC Guard virus will get itself installed without permission from PC owners. It can come into your computer from a simple hacked link you clicked on; another unknown program you downloaded or an email attachment you opened. And once it's successfully got in, it will pop up out of nowhere and start scanning processes through your PC. Usually, these scanning actions are non-stoppable. By aggressively scanning through your computer, 24/7 PC Guard is trying to report many errors, infections and problems to you convincing you that the PC has gone really bad. These problems will only be detected by this 24/7PC Guard virus while other antivirus in the computer won't report anything even after scanning. Now this PC Guard software will provide removal services for you. But you will need to sign up for its full registered version first which is to pay an amount of money. This is where the trick should be caught. Do not pay for any registered version of this unknown 24/7PC Guard which turns out to be a scam!
To save your computer, Live Chat with YooSecurity Expert Now if you are not a computer literate yourself and don't know how to remove this 24/7 PC Guard rogue antispyware.


Screenshot of Fake 24/7PC Guard Antivirus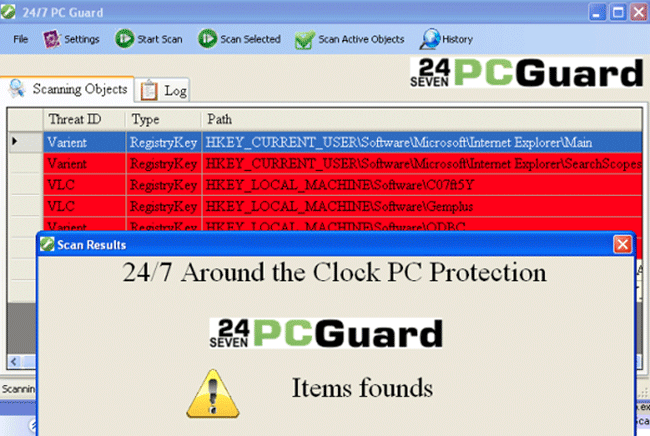 24/7PC Guard Virus – Dangerous of Fake Antivirus
Similar to other computer viruses, rogue antispyware issues can be dangerous to computers as well. 24/7 PC Guard virus shares the same evil characters with others and can create many troubles on the targeted computers to annoy and threaten PC owners. Generally, fake antivirus programs try to run non-stoppable scans in order to tell computer users that their computers have been caught up by so many viruses. And while other antivirus programs haven't detected anything wrong, they provide removal assistance. To receive helps from them, you will need to pay for their registered or full versions beforehand. This is the general process of how this 24/7 PC Guard virus scams your money.
To sum up the characters of this rogue software:
1. 24/7 PC Guard rogue can get itself installed without permission from PC owners;
2. It can prevent you from running other programs on the infected computer;
3. There will be constant security pop ups all over the screen in order to threaten you that PC has gone bad;
4. Real antivirus and certain functions of the computer may be disabled by this fake antivirus;
5. Remote computer hackers will be able to gather the money you spend on the fake "registered" version of PC Guard;
6. System will stuck often and programs will stop responding constantly.
A Step-by-step Manual Removal of Rogue Antispyware
Step 1: Press Ctrl+Alt+Del at the same time to open the Windows Task Manager; go to Processes tab on top; then End processes associated with 24/7 PC Guard virus or processes that are not belonging to system.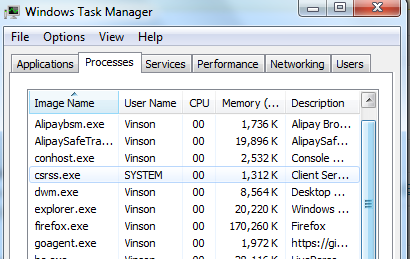 Notice: If Windows Task Manager has been disabled under regular mode, please try to reboot the infected machine into Safe mode with Networking to do Step 1. To put the computer in Safe mode with Networking, please hit F8 key repeatedly while system is booting up BUT before it's logging in till you get advanced options on a black screen; use arrow keys to highlight Safe mode with Networking option and hit enter key to proceed system loading files into that mode.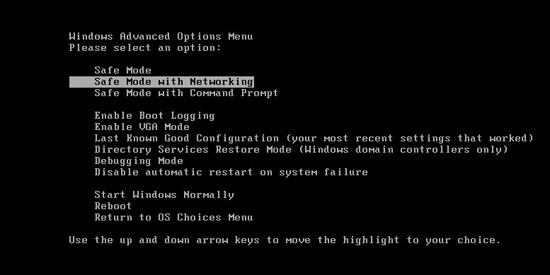 Step 2: Delete all the files related to 24/7PC Guard scam.
Go to %userprofile%\appdata\local\
%AppData%\Programs\[rnd].exe
%AllUsersProfile%\Application Data\random
Step 3: Delete registry entries of 24/7PC Guard virus created in computer system.
HKEY_CURRENT_USER\Software\Microsoft\Windows\CurrentVersion\Run "[\].exe"
HKEY_CURRENT_USER\Software\Microsoft\Windows\CurrentVersion\Settings "net
HKEY_LOCAL_MACHINE\SOFTWARE\Microsoft\Windows NT\CurrentVersion\Winlogon\Shell ""
Video Guide to Remove This Fake Alert
Conclusion
It's not that hard to tell the differences between a legit antivirus and a fake one. This 24/7 PC Guard virus doesn't share any common characters with real antivirus software except they both have the similar looks. Ordinary computer users may not notice that this software is actually fake in the beginning. However, when a computer is attacked by this fake antispyware, it won't act properly until the virus is removed completely. 24/7PC Guard screen will pop up automatically after it's installed. It will start scans which are not stoppable. And it will report many detections and infections to you while other PC protection tools don't. Being threatened by these fake detected problems, computer users will rush to the payment where they can get help from registered version of this 24/7 PC Guard. Payments will be sent to remote PC hackers who are controlling this rogue program. Credit cards info could even be collected at the same time while you sign up online. Therefore, this rogue PC Guard antivirus should be removed ASAP.
Special tips: Have spent a lot of time on removing but still cannot uninstall this 24/7 PC Guard rogue software? Please contact PC experts now to get help on a complete removal.


Published by Tony Shepherd & last updated on May 14, 2013 4:37 am