Cannot get rid of Win32/Sirefef.AC completely? How to delete the virus easily?
Win32/Sirefef.AC is a nasty Trojan horse recently created by hackers, it is hateful the same as TR/Sirefef.BV.2. This backdoor virus will attack your system in many ways. And you don't know how you get this virus as you have visited any malicious web addresses or porn sites. Recently, many computer users detected Trojan:Win32/Sirefef.AC by using McAfee security software, however it was not able to remove it. Many of them have also tried to use System Restore which also failed. Some others have followed the Step Removal Instructions online and have included the logs, it seemed something has been blocked, but they're not really sure what that is). As A result, you still have problems for dealing with the stubborn virus. Win32/Sirefef.AC replicates itself via email or over a computer network cause the subsidiary problem of increasing the amount of Internet and network traffic. This fast-replicating virus—called backdoor infection—can completely overload a company's network, shutting down servers and forcing tens of thousands of users offline. Viruses are spread by contact with other computers, or data copied from other computers. So whenever you share data with another computer or computer user, you risk exposing your computer to potential viruses. That is how Win32/Sirefef.AC attacks people's computer easily and secretly. And what is frustrating, there is no a perfect antivirus software can delete it completely. Fortunately, you can get this virus off your computer permanently by manual removal instructions here.
To absolutely eliminate this virus, live chat with YooSecurity Support now, or you can follow the manual removal instructions below to get rid of this virus (for advanced computer users).


What can i do if antivirus application didn't help?
Just how can you catch a computer virus like this one Win32/sirefef.ac? Since there are many ways you can share data with others, there are also many ways a virus can be transmitted:
Opening an infected file attached to an email message or instant message .
Launching an infected program file downloaded from the Internet .
Sharing a data CD, USB memory drive, or floppy disk that contains an infected file .
Sharing over a network a computer file that contains an infected file
So the parasite is everywhere. When you are surfing online, playing games on Facebook, watching movies or listening to musics on Youtube, you are unware be attacked by trojan virus. If you did search online for more solutions to kill the virus, you might know that there is no a perfect antivirus program can handled it. AVG, Norton, Mcafee, Avast, MES, Spybot won't be able to help. Manual removal of Win32/Sirefef.AC is required. Before you take the action, you have better get in safe mode with networking.
Guide to get in safe mode with networking:
Restart your computer. As your computer restarts but before Windows launches, tap "F8" key constantly. Use the arrow keys to highlight the "Safe Mode with Networking" option, and then press ENTER.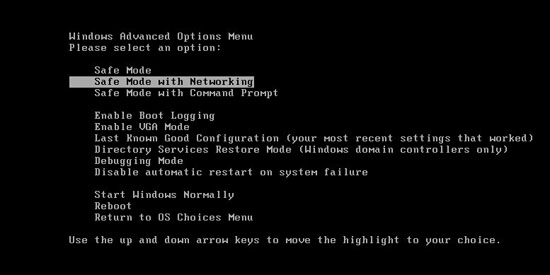 Removal Video Guide On How to Change Registry Entry
Virus Win32 Sirefef AC Removal Step-by-Step Instructions
1.The associated files of Win32/Sirefef.AC to be deleted are listed below:
C:\WINDOWS\system32\ random letters.exe
%SYSTEMDRIVE%\*.*
C:\Documents and Settings\Lounge Lizard\My Documents\Downloads\7zip.exe (PUP.Adware.Installer)
C:\Documents and Settings\Lounge Lizard\My Documents\Downloads\7Zip_Setup.exe (Adware.IBryte)
C:\Documents and Settings\Default User\Start Menu\Programs\Startup\yxdyif.exe (Trojan.Agent)
2.The registry entries of Win32/Sirefef.AC that need to be removed are listed as follows:
HKCU\Software\Microsoft\Windows\CurrentVersion\run\random.exe
HKCU\Software\Microsoft\Windows\CurrentVersion\Internet Settings: "ProxyServer" = :0
HKEY_LOCAL_MACHINE\SOFTWARE\Microsoft\Windows\CurrentVersion\Run\Win32/sirefef.ac
HKCU\Software\Microsoft\Internet Explorer\Toolbar,LinksFolderName = C:\WINDOWS\Internet*.exe
Almost as risky is the act of downloading files from so-called file-sharing sites or peer-to-peer (P2P) networks. Although no individual machines might be damaged, this type of communications disruption can be quite costly.
If you were failed to remove the virus as you haven't experienced in dealing with program files, processes, .dll files and registry entries, please contact professional technicians to fix it.

Published by Tony Shepherd & last updated on June 4, 2013 3:42 pm