Can the Metropolitan Police Ukash lock your android phone, tablet and PC? I was on my chrome browser on my android phone when a message came up from the metropolitan police blocking my screen and saying that I have to pay ?200 via an iTunes gift card to unblock my browser, I was wondering if you know how to get rid of this as I have read up on it and it seems like a scam. It states"Do not turn off or restart your device. Otherwise, the recovery process will be very difficult or impossible. Do not leave network coverage area WiFi/LTE/3G. In case of lack of access to the Internet your device will not be unlocked". "We have the metropolitan police Ukash virus. It locks the computer and says to unlock the computer we have to pay £100. I'm not sure if you have heard of this Metropolitan Police Ukash porn scam in order to get money that completely locks you out of your phone. My friend evidently was on a website when this screen popped up stating that he had to pay 100 pound for looking at certain porn or he would go to prison in 3 days. so we need to know how to unlock his phone from this scam. I Googled the virus and I have found a thread on a forum that explains how to remove the virus and it requires booting the computer up in safe mode. But no matter how many times I tried that, I can't boot my computer in that mode." If you have the same problem as this victim says, is there an effective way to delete this scam malware? On my mac a Metropolitan Police alert popped up saying that my IP address has been blocked, is this the apple virus? What do i do when my Samsung galaxy S6 has been blocked by the met police ukash thing?
What is Metropolitan Police Ukash Virus? Your PC, Mac Book, android phone, android tablet is blocked by Metropolitan Police and have to pay £100 to unlock it?
Metropolitan Police Ukash virus, no matter how deep it disguises, it can't change its essence as a rogue ransomware which has been bringing much harm to computer or mobile device users in Great Britain. It is launching an invasion in the United Kingdom areas by threatening users pay £100 as "fine" for the plausible-sounding reason: This operating system is locked due to the violation of the federal laws of the United Kingdom! Is this true? Is the alert sent by the real Britain government department? The answer is not. Metropolitan Police Ukash Virus is a ransomware just like other one, for example, Gema and GVU from Germany, Sacem from France, Politie Federal Computer Crime Unit Ukash Virus from Belgium and Buma Stemra from the Netherlands. In fact, this virus was designed by the same hackers. Now the virus attacks mobile device freezing it down, although you pay the ukash as it required it won't go away. Wanting to know if this is some sort of virus to your phone? Indeed it is! How to get it off your mobile devices (Android phone, android tablet, iphone, ipad)?
Metropolitan Police Ukash Virus just constantly changes its GUI or interface to deceive people according different countries and areas. And this time it has a name of Metropolitan Police. This is a local government department, but the warning doesn't really come from that department. The name is given so that it looks like perfectly justifiable. Once installed, it hijacks your Desktop with a rather professionally done full screen warning claiming to be from Metropolitan Police. Then tells you that your activities online are violation of the laws of the United Kingdom! You may be stigmatized that your IP address was used to visit websites containing pornography, child pornography, zoophilia and child abuse. Your computer also contains video files with pornographic content, elements of violence and child pornography! Spam-messages with terrorist motives were also sent from your computer. You will be required to pay 100 dollars through Paysafecard as the forfeit. Don't believe even one word of this message. Even if you pay £100 to those criminals behind, your computer will be still locked and they may ask for more money from you. The only solution is to find a correct way to remove Metropolitan Police Ukash Virus from your computer. But just like the victim says, even if you try to reboot your computer in safe mode with networking, the virus still can block your screen. At the same time,  since it stops you running any software, you can't remove it via anti-software. So the only best way to kill this virus is to remove it manually with expertise.
To save your computer or mobile device, Live Chat with YooSecurity Professionals Now. You can follow the manual removal guide below to get your problem fixed. (For advanced computer users)


A picture of Metropolitan Police Ukash Scam Virus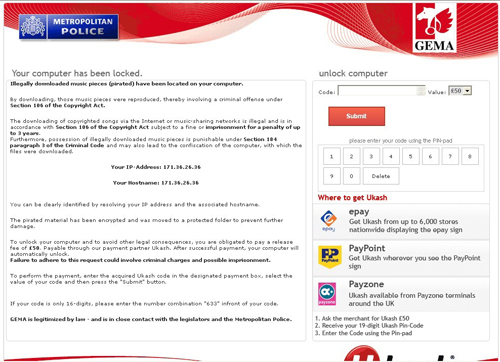 Police Central e-crime Unit Metropolitan Police Virus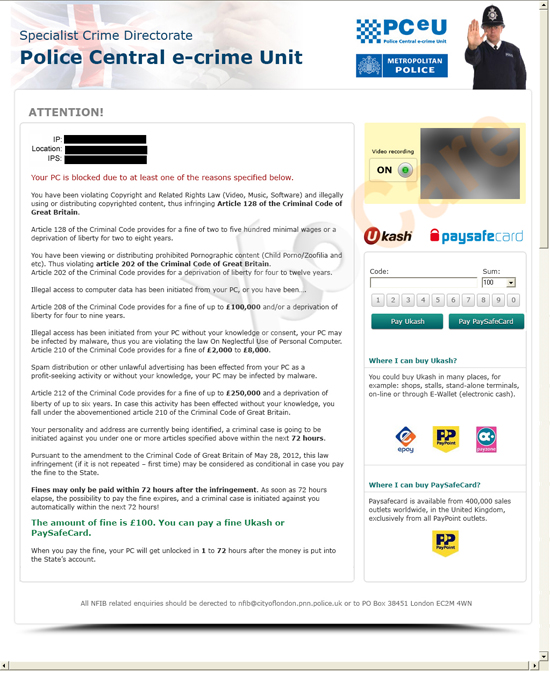 New Version of Specialist Crime Directorate Malware – Metropolitan Police Virus Scam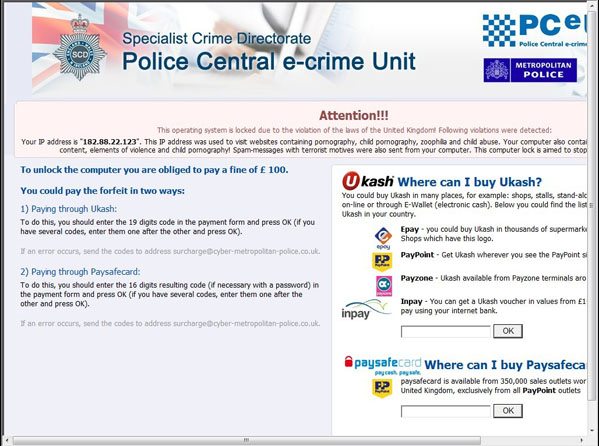 New Version of Metropolitan Police Ukash Virus Your Computer has been locked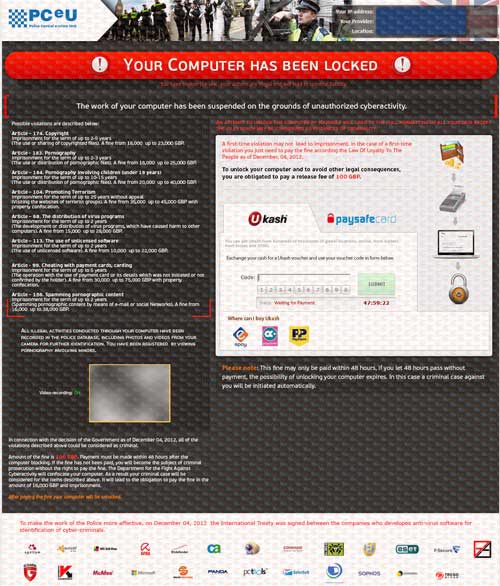 Metropolitan Police Ukash Virus Screenshot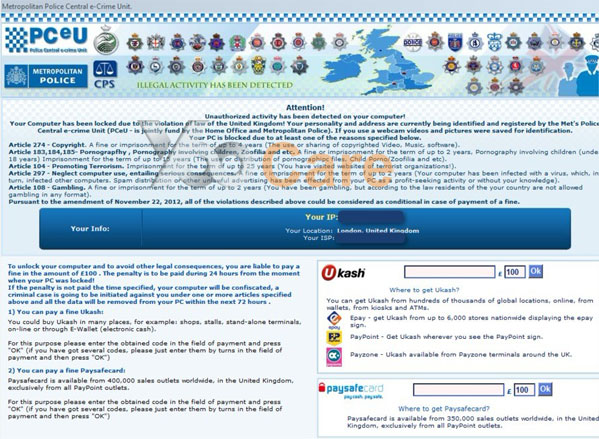 The Routes of Metropolitan Police Ukash Scammer Transmission
Metropolitan Police Ukash Virus may lurk in anywhere on the internet. In most cases, it hides in some unsafe websites or links waiting for your visiting. Most of people even don't know how they get caught by such virus since they don't know that any activity they do may has a risk in bringing such virus. Never try to download unknown free software. Metropolitan Police Ukash Scam may be bounded together with those free software such even other legal programs or files, as long as you get them, you also get the virus at the same time. So you'd better never visit informal websites. Before you click some links or download something, look before you leap!
Symptoms or Harmfulness of Metropolitan Police scam Virus £100 Infection
? Warning that you have been violating Copyright and related rights Law(Video, Music,Software) and illegally using or distributing copyrighted content, thus infringing Article I, Section 8, clause 8, also known as the Copyright of the Criminal Code of the United Kingdom.
? It can lock your computer and telling you have been viewing or distributing prohibited pornographic content(Child Porno/Zoofilia and etc). Thus violating article 202 of the Criminal Code of United States of America. Article 202 of the criminal provides for deprivation of liberty for two or twelve yours.
? Illegal access to computer data has been initiated from your PC,or you have been…. Article 210 of the Criminal Code provides for a fine of up to $100,000 and/or a deprivation of liberty for four to nine years.
? Fines may only be paid within 72 hours after the infringement. As soon as 72 hours elapse, the possibility to pay the fine expires, and a criminal case is initiated against you automatically within the next 72 hours! (Sometimes it shows you within 2 hours or 48 hours).
Best Way to Remove Metropolitan Police scam Ukash Malware Efficiently
Since the Metropolitan Police Ukash Virus can block you even if you boot your computer in safe mode with networking, you have to contact an expert to deal with it. YooCare/YooSecurity provides the most professional online PC service. YooCare experts can plan out a solution to access your computer in safe mode with networking at first. When it's possible to do that, their experts will do as follows:
Step A: Restart computer in safe mode with networking. To do this, just need to press F8 key before the system is started like this: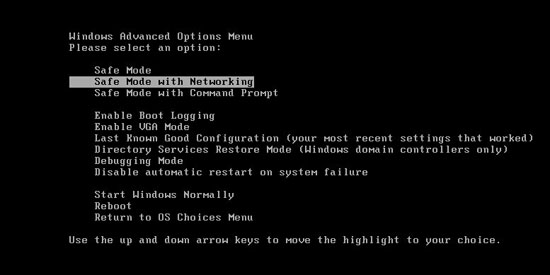 Step B: Press Ctrl+Alt+Del keys to open the Task manager to stop the progress of Metropolitan Police Ukash Malware. Because the name will be changed fast, it will be show with different name.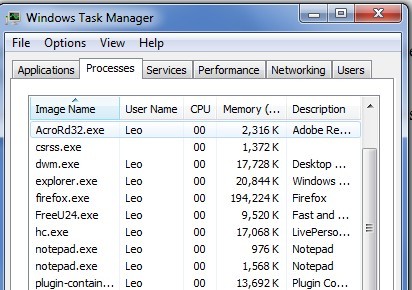 Step C: Delete all the files related to Metropolitan Police Ukash Malware
Step D: Delete prs for music Virus register entries created in computer system.
By the way: Manually remove Metropolitan Police Ukash Virus is a rather difficult work, if you are not a professional computer expert. We recommend you to get YooCare online service 24/7 in time. This is the real fastest and safe way to remove it.
Video Guide to Remove Metropolitan Police Warning Virus
Metropolitan Police Ukash Virus Scam Manual Removal On Android Phone or Android Tablet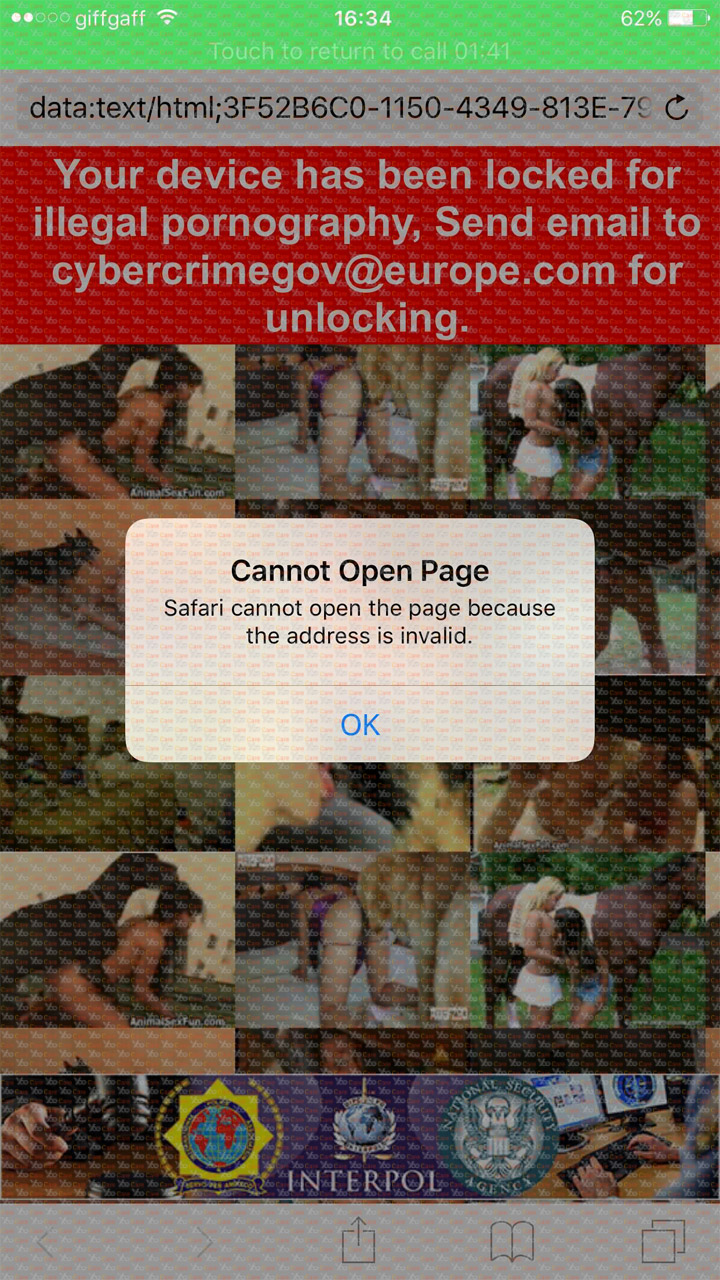 Step 1: Restart your phone to safe mode.
Note: "Safe Mode" on Phone starts up without loading any third-party add-ons and different devices have different ways to access safe mode.
For Samsung Galaxy S6, S5, S4: 1. Power down. 2. Turn on and repeatedly tap the soft-button for "Menu."
For Samsung Galaxy S3, Galaxy Note and others: 1. Power down. 2. Turn on, then press and hold Volume Down (Galaxy S3 and others), Volume Up (ZTE, LG, HTC One and others), or Volume Down and Volume Up together (various Motorola devices) when the vendor's logo appears.
If you have managed to select Safe Mode, you will see the text "Safe Mode" at the bottom left corner of the screen.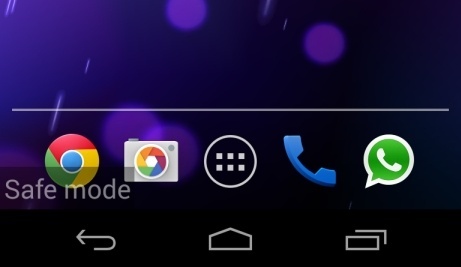 Step 2: Once you have put your phone in safe mode and don't know what to do, contact an expert for further removal instruction.
The Metropolitan Police Ukash Virus is a malware which is also named as PCEU virus or Specialist Crime Directorate virus. It is a popular virus which is created by cyber criminals to hijack internet users and lock their computers and mobile devices like android phone, android tablet, iPad or kindle fire. Once get the infection of the Metropolitan Police virus, the screen will be blocked and displayed a page which scares you of such a message which says "You computer has been locked due to the suspicions and demands to pay a fine of £100 using Ukash or Paysafecard in order to unlock your computer" or "Attention! Your phone has been blocked up for safety reasons listed below". Please don't be fooled by that because it is a total scam.
Special tips: Spending a lot of time fixing your problem with no success? Contact experts now to unlock your computer or mobile device and remove Metropolitan Police Ukash Virus safely and completely.

Published by Tony Shepherd & last updated on February 26, 2018 9:20 am