Have you ever encountered such a problem that 'the uploader have not made this video available in your country' when you try to watch some videos on YouTube? And you can't watch that video at all. Other videos not restricted by this kind of limitation can be watched normally. Does that mean I have to pay for the video uploader if I want to watch the video? Why is there certain restriction imposing on some specific video on YouTube? How to Watch YouTube Videos Not Available in Your Country? Is this a common problem? How can I solve this kind of problem?

What's YouTube and What Can You Do With YouTube?
YouTube is an American video-sharing website. YouTube has apps for mobile device like android and iOS, so that internet users can watch YouTube video anywhere and anytime. You can watch what the world is watching – from the hottest music video to what's trending in gaming, entertainment, news, and more. YouTube also provides different attractive channels and you can choose your favorite, share with friends and also you can watch the channels you love on any device. It's interesting that you are allows to subscribe to your favorite channels, create playlists, edit and upload videos, express yourself with comments or shares, cast a video to your TV, and mote – all from inside the YouTube App. That's why YouTube is popular and attracted by millions of users all around the world as people can learn more interesting and useful videos from YouTube.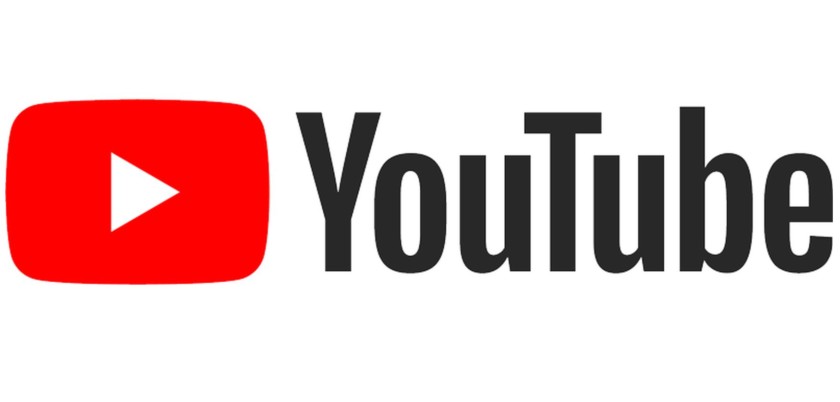 YouTube Videos Can't be Watched Due to 'The uploader has not made this video available in your country'?
Even though YouTube is a video-sharing websites and videos can be watched free, some videos can't be watched due to different certain reasons. You may be blocked by 'The uploader has not made this video available in your country' prompt message. How this YouTube video not available in your country message happen? According to the YouTube Help center explanation:
Video not available in my country
Some YouTube videos may not be available in your country for the following reasons:
Video owners have chosen to make their content available only to certain countries (usually due to licensing rights)
YouTube may block specific content in order to comply with local laws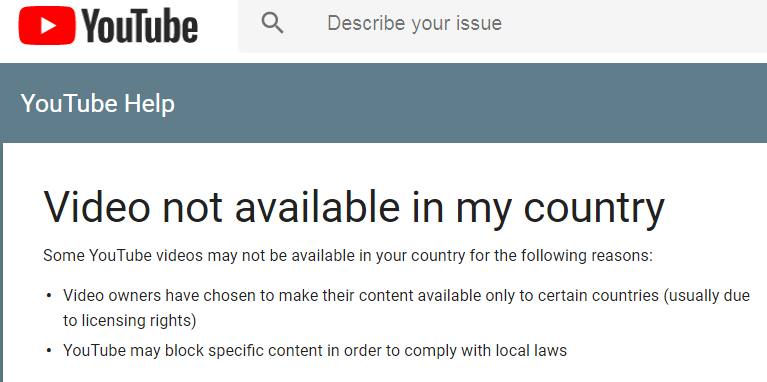 You could be staying in a country like US, UK or India but may not be able to watch every video on YouTube – that's because the content owners have allowed access to that video only from certain countries or geographic regions. If your computer's IP address falls outside that geographic region, YouTube will display an error saying "This video is not available in your country" – this message has nothing to do with censorship, it's the owner of the video clip who could be limiting access. How to Watch YouTube Videos Not Available in Your Country? For Example, a video uploaded to YouTube by Warner Brothers or Sony Entertainment may not be available outside US. Similarly, BBC videos on YouTube can only be watched from UK.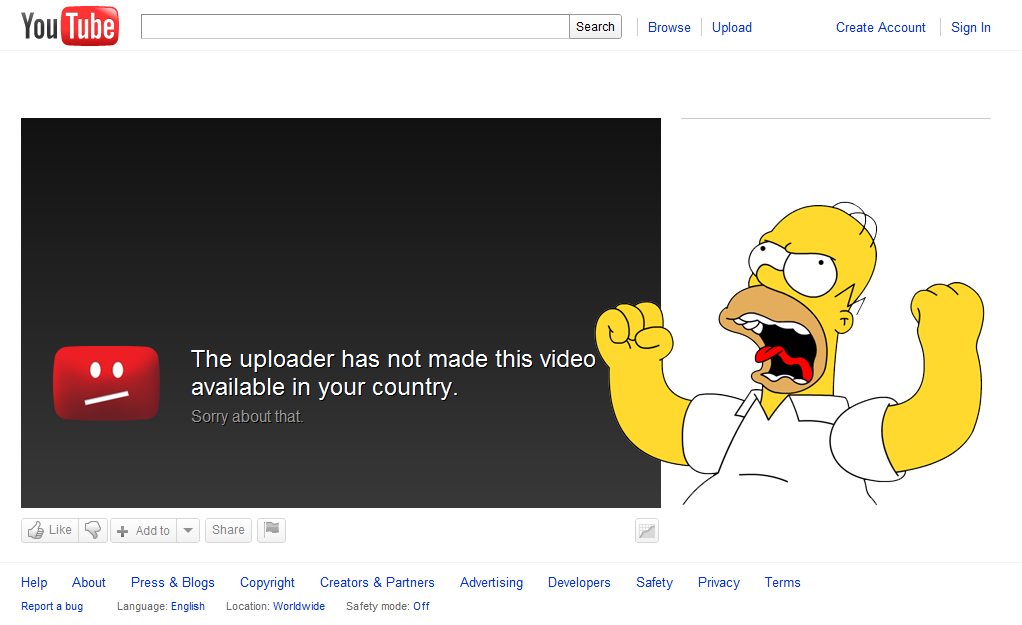 How Can YouTube Videos Recognize Your Country is Not Available?
Some YouTube Videos are suing geo-blocking or Geo-restrictions technology. Geoblocking is the system used to limit your access to the internet, based on your geographic location. Geo-blocking technology is usually used by companies and websites to allow people only in a specific geographic location to access certain site or service. When the website detects that you're not in the specific geographic location, you will be blocked to access any contents or servers from the websites. The websites detect by checking your device's IP address and tell where is your location. IP Address can tell your location, device information, ISP and more information. When YouTube Video detects and checks your IP address, it will soon recognize where you're located. You are definitely blocked if your location of the IP Address is not recognized by that YouTube Video Geo-blocking system.
How to Watch YouTube Videos Not Available in Your Country? – By Using VPN!
Since the geo-blocking YouTube Videos check your IP address to recognize and decide if you're allowed in its specific countries, you have to change or mask your real IP address if you're watch that YouTube videos from other countries. But how can you change, hide or mask your real IP address? The best way is to use a trusted and strong VPN service. VPN creates a secure and encrypted network tunnel over your internet between your device and the server provided your VPN service supplier. The VPN encrypts your internet traffic, hides your real IP address, replaces with another new IP address assign by the servers you connect and access geo-blocked contents like YouTube Video and any internet censorship like the Great Firewall in China.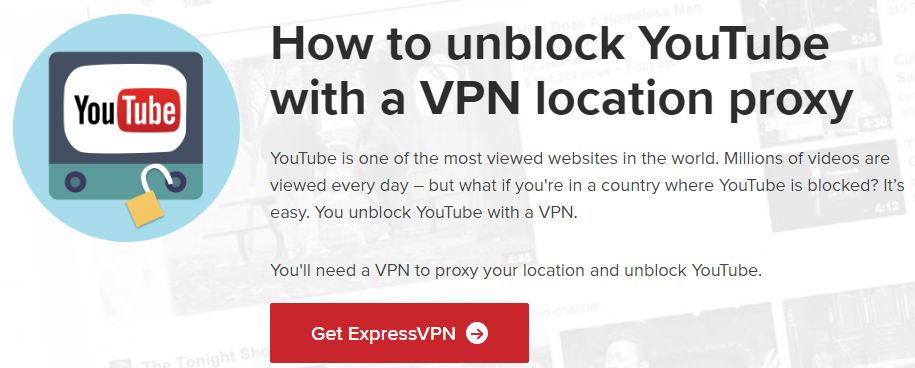 How does A VPN Helps You Watch YouTube Videos Not Available in Your Country?
A VPN, or Virtual Private Network, allows you to create a secure connection to another network over the Internet. It hides your internet activity from your ISP and government, allows you to escape from censorship controlled by school, work, your ISP, or government, enables you to "geo-spoof" your location. VPN technology employs sophisticated encryption to ensure security and prevent any unintentional interception of data between private sites. The strong and reliable VPN protects personal privacy and data by using encryption technologies, such as IP security (IPSec), Layer 2 Tunneling Protocol (L2TP)/IPSec, and Secure Sockets Layer (SSL) and Transport Layer Security (TLS) to create a virtual encrypted "tunnel" between your device and a VPN server. How to Watch YouTube Videos Not Available in Your Country?
With a VPN service and install VPN software into your device where you want to watch the YouTube videos, you can definitely watch any YouTube video anytime and anywhere. For example, if the YouTube Video you want to watch is just available for residents in the United Kingdom, you just need to run your VPN tool on your device and connect to the UK server. The VPN hides your real IP address but allows you to connect to U.K. servers from anywhere in the world. Then you will be assigned a British IP address which looks like you're from the U.K. VPN routes all your internet traffic through a remote location and all technology used by VPN is secure and reliable. Your privacy will not be monitored and leaked out. To hide your real IP address, the VPN tool can help you access and watch any geo-blocking YouTube Videos anytime and anywhere.

How to Watch YouTube Videos Not Available in Your Country?
What's the Best VPN for Watch YouTube Videos Not Available in Your Country?
VPN tool is mostly used to bypass internet censorship and access region-blocked contents on the internet like geo-blocking YouTube Videos. And right now VPN service providers are flourishing on the internet market and there are tons of various VPN tools. When you come to choose the useful and strong VPN, you should work with the certified and world's trusted VPN provider. How to watch YouTube videos not available in your country? Which VPN providers are the best for watching geo-blocking YouTube video not available in your country? Here we will give some recommendations:
1. ExpressVPN – World's #1 Trusted Leader in VPN
ExpressVPN is the top recommendation as ExpressVPN provides a huge network of 3000+ global VPN servers optimized for fast connections from 148 cities in 94 countries. with unlimited speeds and unlimited server switches, you can connect from anywhere in the world. ExpressVPN is an offshore VPN based in the British Virgin Islands, a tropical oasis without data retention laws. No activity. No connection logs. It allows 5 simultaneous connections. ExpressVPN uses VPN Split tunneling, internet kill switch and zero-knowledge DNS technology to increase online security and privacy. You can switch any servers you want across the globe to access and watch any YouTube video and visit geo-restrictions websites like Netflix and BBC iPlayer. ExppressVPN now is offering 49% discount on yearly plan. It is down to $6.67/month! There is no risk to use ExpressVPN, as it provides no-hassle 100% 30-day Money-back Guarantee. If you're not happy with ExpressVPN, you can ask for a refund. But ExpressVPN is confident with their fast and stable VPN service. That's why millions of internet users choose ExpressVPN as their top choice! And yes, ExpressVPN is also the top recommendation for you to access twitter and other internet-censored websites in China.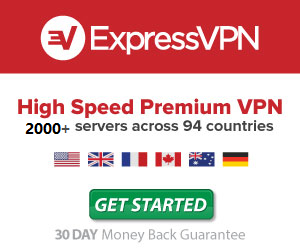 ExpressVPN is the best VPN to unlock Vevo on Youtube
Have you ever tried to watch a Vevo music video by your favorite artist, only to see that the content is "not available in your country" and blocked on YouTube?  With ExpressVPN, you can defeat geo-restrictions that stop you from enjoying the videos you want. Simply connect to a VPN location that is not blocked, and you'll be enjoying the best songs and videos on Vevo in no time! How to Watch YouTube Videos Not Available in Your Country?
With a VPN proxy for YouTube, you can unlock the web and stream content from anywhere in the world. By changing your IP address, a VPN helps you watch videos that are restricted to certain geographies and discover the best of YouTube worldwide. Follow a local YouTube celebrity, stream a regional eSports final, or see what's trending somewhere else in the world. It's all possible with ExpressVPN. And with ExpressVPN's unlimited server switches, you can put all of YouTube's content at your fingertips.
2. VPNArea – High Speed VPN
VPNArea is located in Switzerland in terms of hosting, VPNArea company Offshore Security EOOD is registered in eastern Europe in the Republic of Bulgaria. VPNArea peovides unlimited access to over 200 servers for you to choose from in 70 countries. You can experience high speed network. There is no unlimited bandwidth, unlimited data transfer, no throttling. It practices strict no logs policy. VPNArea allows torrents or P2P files sharing. It allows 6 simultaneous connections on multiple devices. All plans of VPNArea include 7-day money-back guarantee and 24/7 support. VPNArea may be the only VPN out there that allows account sharing with friend, family or colleagues. It specifically designs special streaming servers to unblock your favorite content from abroad with specially designed streaming servers (names NFLX). The most awesome and powerful feature is Stealth VPN/Stunnel which is a strong technology to hides your IP address and bypass the strongest internet censorship like Great Firewall in China and get around the detect of VPN-blocking tools. If you are in China or UAE, the VPNArea's obfuscation option will mask your internet traffic to look like regular https traffic (SSL) with help of Stunnel.
VPNArea now is providing 50% discount and down to $4.92/month, which is almost the lowest offer in industry. There is no risk to use VPNArea service because of 7-day money-back guarantee. How to Watch YouTube Videos Not Available in Your Country?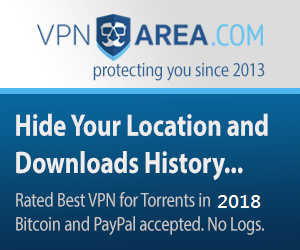 3. Surfshark VPN – One of the World's Powerful VPN
Surfshark is based in the British Virgin Islands. Surfshark VPN is also a trusted and reliable VPN provider you can work with. Unlike other VPN competitors, Surfshark VPN runs 100% without third parties, own their own hardware and runs their own network. You can freely switch servers between 800+ servers in 50+ global locations. It provides 200,000+ IP address and zero restrictions, now download caps and it helps you access 8 extensive Netflix content libraries. The most powerful and remarkable performance of Surfshark VPN is not the proprietary technology Chameleon VPN which defeats VPN blocking for an unrestricted internet but Smart DNS and Diamond-strong encryption. Chameleon is proven to help users that live in or travel to countries such as China, Russia, India, Turkey, Iran and Syria from being blocked. It is also ideal for users worldwide experiencing VPN blocking and speed issues related to bandwidth throttling. Surfshark VPN starts $1.99/month, but you can enjoy the Camouflage Mode protocol and unlimited simultaneous connections. Surfshark VPN is also a great VPN for China.

Strongly Recommend Paid VPN Service to Watch YouTube Videos
You're suggested to sign up with a paid VPN service to streaming YouTube Video and other streaming service like Netflic, BBC iPlayer, HBO Now and more. Anyway, the paid VPN service like ExpressVPN, VPNArea and VyprVPN can offer strong performance and functions to ensure a high-quality, fast and stable stream. How to Watch YouTube Videos Not Available in Your Country? Paid VPN have a stronger feature to unblock the videos you want to watch. With a powerful and trusted paid service, you will not be blockked by 'The uploader has not made this video available in your country' while streaming YouTube Videos. You can choose the best Paid VPN service by check:
Fast download speeds for HD and even UHD streaming without buffering
A large international network of servers so you can unblock anything
Strong security and maximum privacy
Simple and responsive apps for desktop and mobile
Avoid Free VPN to Stream YouTube Videos
Many internet users may like to look for free VPN to watch YouTube Video or access any websites, but actually free VPN service is not secured and reliable. Many of free VPNs log your traffic, collect your information and sell the data to advertisers, and in some cases even inject advertisements into your browser. Some even may carry malware payloads that can infect your device. That's why free VPN is not suggested to work with. Moreover, many free VPNs often limit you to select servers, cap your downloads, and limit bandwidth. It is annoying to wait in a queue to connect. You're strongly suggested to use Paid service like ExpressVPN, VPNArea and VyprVPN, as they also provide money-back Guarantee. For example, ExpressVPN offer 30-day money-back guarantee. If you are not satisfied with ExpressVPN, you can ask for a refund with no-hassle. it is actually a free trial, within 30 days, you can experience all features of the ExpressVPN service. How to Watch YouTube Videos Not Available in Your Country?

Video Guides How to Watch YouTube Videos Not Available in Your Country?
Top 10 + Best VPN Services Worldwide
View More Top 10 Best VPN Services Here »

Warm TIPS: If you are now reading this post, you will know that some YouTube videos are limited by some uploader to limit people in certain locations to watch their videos. If you are not in the specific locations, you will not be approved to watch their funny videos. How to watch YouTube videos not available in your country? It is not a problem now. To watch all YouTube videos without any restrictions, you are strongly suggested to use a strong, stable and reliable VPN tools like ExpressVPN, VyprVPN, VPNArea, NordVPN, IPVanish VPN and you can find more in the table above. However, ExpressVPN is the Top recommendation for you to use to unblock YouTube geo-blocking contents. ExpressVPN is particularly powerful to unblock limitations imposing on YouTube popular Sport Events. ExpressVPN has a huge network and fast and stable speed. You can have their 30-day money-back guarantee. There is no risk to use ExpressVPN service. ExpressVPN surely make you successfully watch all different videos through YouTube.

Published by Tony Shepherd & last updated on January 17, 2020 8:54 am