How can I watch some programmes and channels online from BBC iPlayer in China? I open BBC website but I can't open and watch any channels and programmes, it prompts "BBC iPlayer only works in the UK. Sorry, it's due to rights issues" or "it is available only to UK users" or "it is not available in your region". So how can I Watch Programmes on BBC iPlayer in China?
What is BBC iPlayer and How Does It Work?
BBC iPlayer is a famous and popular TV, channel and programmes streaming video in British. There are many programmes and channels on Drama & soaps, comedy,food, documentary, films, channels, TV programmes, entertainment, music, news, sport, science & nature, culture, art etc. BBC iPlayer provides a large different range of live streaming for British public. However, BBC iPlayer service is available only to UK users. Many people from different regions and countries outside British can't access BBC iPlayer service. BBC iPlayer is an internet streaming catchup television and radio service in the United Kingdom. The BBC iPlayer service is available on a wide range of devices, including mobile phones and tablets, personal computers, and smart televisions. Neither the iPlayer services nor the individual TV programmes display any commercial advertising. Although BBC iPlayer service is only available to UK users, there are still many users outside British from other parts of the world. Then here comes the problem, how can users not from UK watch any programmes and channels from different countries and regions? Nowadays, BBC iPlayer service is attracted by more and more China users, and it's supposed that China will develop the large market promoting BBC iPlayer service. But How to Watch Programmes on BBC iPlayer in China?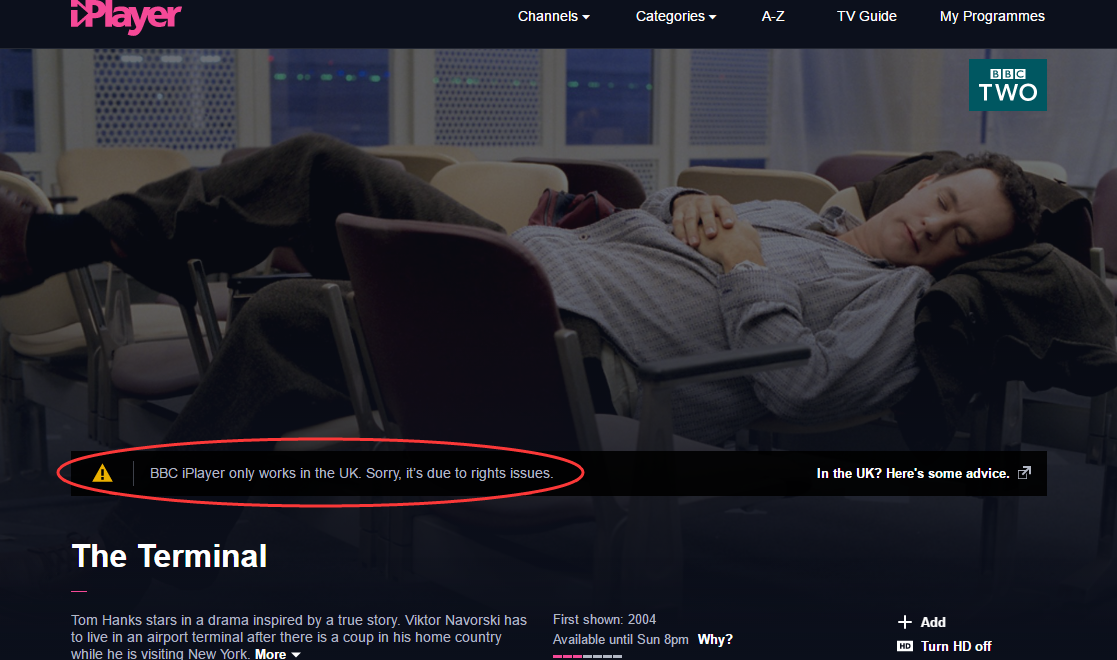 How to Watch Programmes on BBC iPlayer in China?
Even though BBC iPlayer attracts more and more China users, it is still a big problem to access BBC iPlayer service completely not only for BBC iPlayer service has not open yet in China, but also due to China's Firewall. It is very frustrating and inconvenient for BBC iPlayer user in China especially for those iPlayer addicts. So How to Watch Programmes on BBC iPlayer in China? China's Firewall is a sophisticated net censorship system both limits the places people can go online and what they can search for and discuss. Therefore, China's internet censorship blocks potentially unfavorable incoming data from foreign countries and restrict access to certain websites especially social media websites and apps. The best choice to Watch Programmes on BBC iPlayer in China is to use a strong and reliable VPN.
How does a VPN Help You to Watch Programmes on BBC iPlayer in China?
A VPN client provides a secure and encrypted network which is created over the public internet connection to enable the users to hide their identity over the worldwide web. It hides your internet activity from your ISP and government, allows you to escape from censorship controlled by school, work, your ISP, or government, enables you to "geo-spoof" your location. For example, you're now in CHina but want to access BBC iPlayer, you just need to connect to UK server on a reliable VPN, and then it will assign you a proxy IP address, which seems like you're from United Kingdom. All your Internet traffic is route to that server where you'll be provided with a proxy I.P. address. So, if you're based in China and are surfing the web, websites won't see a China based I.P. address, but they'll see a UK one. Then you can successfully watch programmes and channel online on BBC iPlayer in China.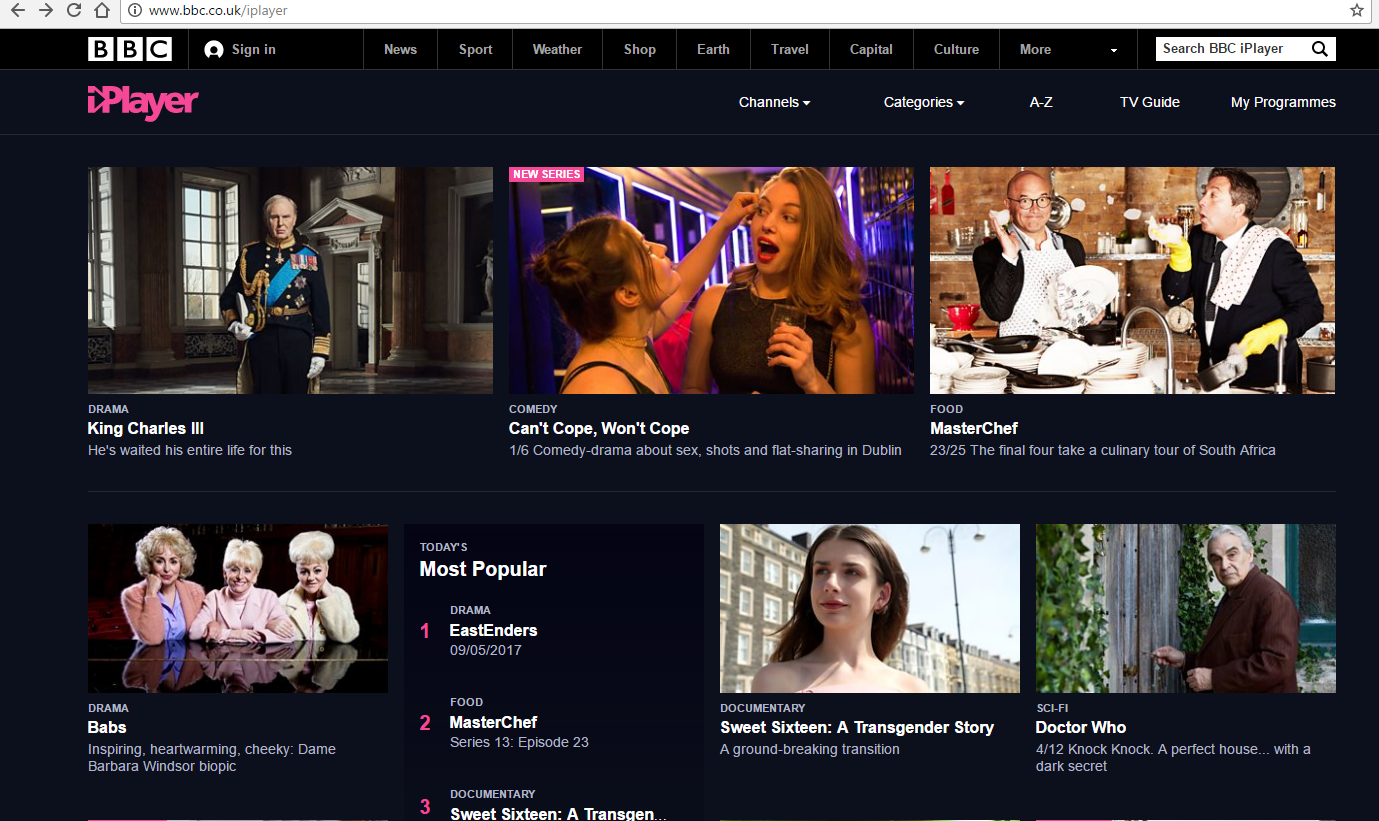 How to Use VPN to Watch Programmes on BBC iPlayer in China?
VPN is the software mainly helping internet users to unblock websites blocked by geo-restriction like strongest and strictest China's Firewall. It creates a "tunnel" over your internet network to let you access any websites. Virtual Private Network is applications to use unblock overseas sites in countries like China. An individual needs to install and download a VPN association and open an account subsequent to doing so, and then the VPN will start with a proxy IP address as an alternative of their unique IP address to give permission them to use any websites which are blocked in China together with Telegram.
What is VPN protocol?
A VPN protocol is an online service which acts as a host to the VPN program to give permission it to work efficiently previously it has been installed and downloaded.
The consumer has to progress forward by downloading the VPN program and followed by installing it.
After consecutively exploring the web in China to install and download a VPN, one should be receiving links to install it. Although from time to time a consumer can't locate a link to establish the VPN they want to install, in addition to that period, an individual is supposed to attempt downloading the documents from a torrent.
Start running the VPN program.
When an individual installed and downloaded the application, he will be asked to run VPN program. For the most time, the consumer of the VPN user interfaces is comparable while it comes to using them. Therefore the consumer would not be having several troubles during administration. At the same time, the consumer will be asked to select their preferential nation, in addition to doing thus the VPN will create the alternative IP address appear similar to it is from a different kingdom, and as a consequence, a consumer will be able to access BBC iPlayer and watch programmes on BBC iPlayer in China.
For a VPN connection, a consumer needs a strong internet network; therefore it is advised to use a VPN only on broadband or a Wi-Fi system.
Kindly Prompt: if you are confused about How to Watch Programmes on BBC iPlayer in China and don't know which VPNs you should choose or have any other questions about VPN, you're welcome to contact our Yoosecurity online technical team by clicking Start Live button bellow:

The Best Way to Access BBC iPlayer in China – VPN (Step-by-Step Guides to Set Up A VPN Service on iOS device)
First, you should register and sign up with a VPN service, and next you should install its apps into your iPhone or iPad or android device, and then move on some set-up on your device, last you can smoothly use the VPN internet successfully, here below is the guide on how to set up a VPN on iPhone. This guide is also applied to iPad. If you now are not familiar with all steps or can't finish processes by yourself, you can contact our online support!
Step 1: Tap Settings >>> General >>> Network >>> VPN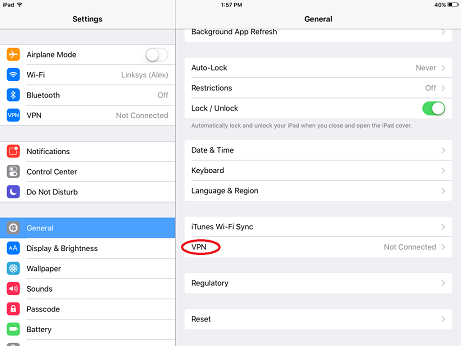 Step 2: Click Add VPN Configuration, select type of configuration (IKEv2, IPSec, L2TP or PPTP) depending on the type of VPN you want to connect to, and click then Back.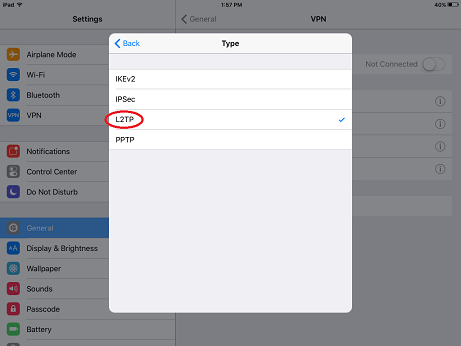 Step 3: Enter your VPN's account information on this screen to connect-server, account and password. You get these data from the VPn service in the e-mail after your ordering the VPN. Fill the Secret field – secret (small letters). If your VPN is provided by your workplace, it should provide you with these details.Enter the information for your VPN in the corresponding fields. If you used a proxy, make sure to enable it towards the bottom of the settings page.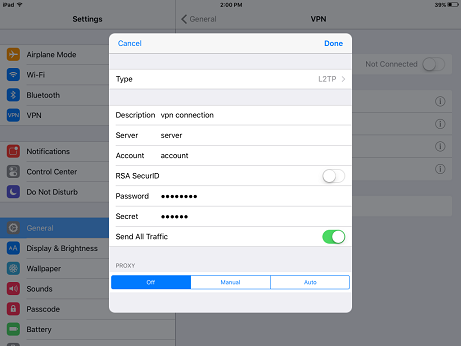 Please note: Server address must be exactly as in your account data (without http://, www or any other symbols)
Step 4: Tap Done to save the settings.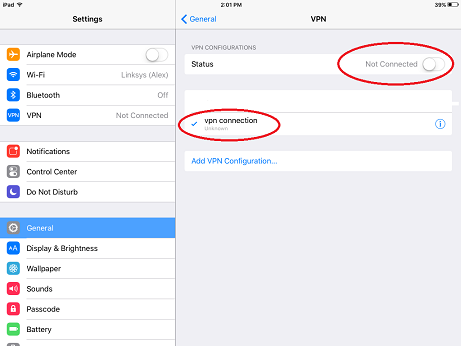 Step 5: After finish setting up your VPN, go back to homescreen, tap Settings, then see a VPN option which will appear only when you have a VPN installed. Toggle the switch to On.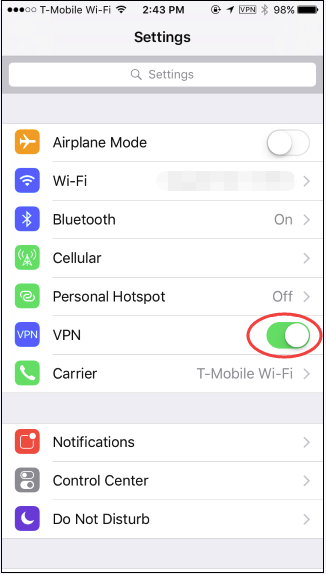 Step 6: Then iPhone will connect to VPN server. If an error message pops up, go back into your VPN settings and make sure all your settings are input correctly. Besides, if you want to set up multiple VPNs on your iPhone or iPad, you can switch between them by heading to Settings >>> General >>> VPN—on the same screen where you added those VPNs.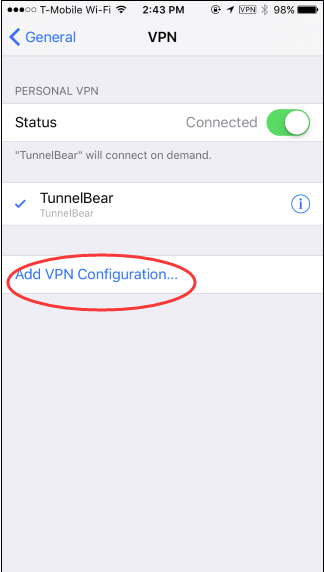 Top 10 Best VPN Services Worldwide
| VPN Provider | Server | Jurisdiction | # of Connections | Price(USD) | WebSite |
| --- | --- | --- | --- | --- | --- |
| | 1500+ VPN servers in 94 countries. | British Virgin Islands | 3 | $6.67/Month (Save 49%) | Best Deals |
| | 1,000+ VPN servers in 60+ countries. | USA | 5 | $6.49/Month (Save 46%) | View Deals |
| | 2643 servers in 56 different countries. | Panama | 6 | $3.29/Month (Save 72%) | View Deals |
| | 750+ VPN servers in 140+ countries. | Hong Kong | 5 | $2.04/Month (Save 79%) | View Deals |
| | 70+ global servers in many countries. | Switzerland | 3 / 5 | $4.16/Month (Save 50%) | View Deals |
| | 700+ VPN servers in 34+ countries. | Israel | 3 | $2.49/Month (Save 75%) | View Deals |
| | 30+ locations in many countries. | Malaysia | 5 | $4.99/Month (Save 50%) | View Deals |
| | 3000+ Servers in 55+ Countries. | USA | 5 | $5.95/Month (Save 50%) | View Deals |
| | Over 200 servers in 69 countries. | Bulgaria | 6 | $4.92/Month (Save 50%) | View Deals |
| | 300+ VPN Servers in many countries. | Seychelles | 3 | $3.33/Month (Save 34%) | View Deals |
| | Servers in 30+ locations around the globe. | Germany | 1 | $1.62/Month (Save 82%) | View Deals |
Conclusion
How to Watch Programmes on BBC iPlayer in China? Even though BBC iPlayer service has not been available in China, it is still possible for many iPlayer users to watch any live streaming video, programmes, channels, films and documentaries and so on from China. The best way to achieve this goal, you are strongly suggested to use a strong VPN. VPN service can bypass China's Firewall which prohibits many foreign websites and apps like BBC iPlayer, Google, Gmail, Facebook, Instagram, Twitter, Youtube, Netflix, Hulu, Line, Skype and Snapchat etc. VNP software is specifically designed to unblock these websites due to geo-restrictions and China's Internet Censorship Great Firewall. What's more, if you use a strong and reliable VPN, you will be able to watch any programmes, channels and other live streaming online on BBC iPlayer from China without hang. With one VPN, you can smoothly browse all your favorite foreign websites outside China. ExpressVPN $6.67/Month (Save 49%) is stable and super fast with high ratings that still work in China.

Warm Prompt: If you don't know how to select the best VPN to watch live streaming on BBC iPlayer in China, or how to set up VPN on Mac, PC, android smartphone, tablet, or iPhone/iPad device, you're recommended to live chat with Yoosecurity Online Expert for instant help!

Published by Leo R. Oscar & last updated on April 16, 2018 8:02 am